The number of women working in construction and industrial work environments and similar occupations has risen so much that it has become necessary to create specialized work boots for their needs and feet.
Women need a work boost with a specific fit and design for their foot shape and type, which differs from men's. Thus we will be looking at a steel safety toe work boost designed specifically to last for women's feet. Women require good underfoot cushioning features and usually have a more narrow foot shape; that is why women should rather avoid men's work boots.
Women's steel-toe work boots offer ultimate safety and protection in these work environments, with a fit suited for women's feet.

---
---
Why do Women Need Specialized Work Boots
There are a few factors to consider when it comes down to women's work boots;
The Male and Female Foot – Women's feet are not just smaller than men's feet. They also have other different anatomical differences. Women tend to have shorter and more narrow feet, unlike men, who have wider and longer feet. Most women also tend to have a higher arch than men. The heel on a woman's foot is substantially smaller than that of a man.
Manufacturing – Work boots are manufactured on a specific last or foot form. The last differs for men and women, as their foot shapes and size usually differ.
Size Differences – Men's work boots are usually available in much larger sizes, and women wearing men's work boots will have to size down with men's work boots. Women's specific work boots are available in a smaller sizes to accommodate women's smaller feet.
---
Choosing the Best Steel Toe Work Boots for Women
If you are sure you need a steel safety toe work boot, you are at the right place. Also, consider that there are other safety features you may need, depending on your work environment. These may include electrical hazard-safe materials, waterproofing, and an underfoot shank for puncture resistance.
Your work boot will likewise need a slip-resistant outsole that is a lugged rubber.
Please look for work boots for women with comfort and support features to accommodate your foot shape and arch type.
---
Features of a Good Women's Steel Toe Work Boot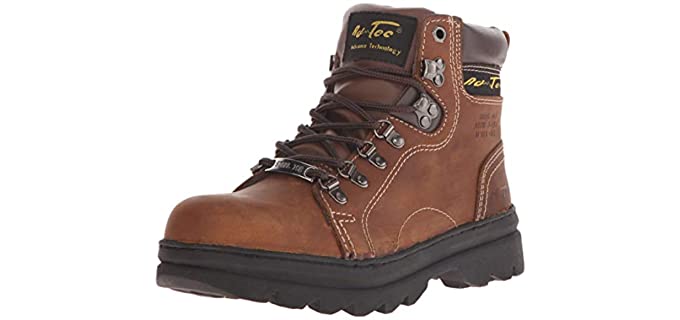 Uppers – The uppers can consist of genuine or synthetic leather with mesh or textile insets. There may be a moisture-wicking interior lining to keep your feet dry and comfortable.
Safety Features – All the reviewed work boots will have a steel safety toe cap. There may be some models that are electrical hazard safe.
Comfort and Support Features – Depending on the brand, the work boot may be cushioned and have a more ergonomic footbed for support. They may also have an underfoot shank for puncture protection and stability.
Outsole – The Outsole will be a durable and slip-resistant rubber. Some may also offer abrasion and oil resistance.
Options – Most of the steel toe work boots for women offer a few more color options and wider width fits.
---
Reviews: The Best Steel Toe Work Boots for Women
In our list are some of the top-rated women's steel-toe safety work boots;
---
1
---
2
Ad Tec brings you their steel-toe work boot, especially for ladies.
There are two color options, as well as a wider width fit.
The work boot has leather uppers that will withstand the elements.
There is a steel protective toe.
The work boot has a soft padded collar and a comfortable insole.
The rubber outsole is ideal for wet surfaces and provides good slip and oil resistance.
---
3
The Skechers Workshire Peril is a popular steel-toe work boot for women.
The work boot is 100% leather with a smooth lining and a relaxed fit.
There is a protective steel toe that meets ASTM F2412/2413-2011 I/75 C/75, EH standards.
For comfort, you have a removable gel-infused memory foam footbed.
The work boot features a durable slip and oil-resistant outsole.
---
4
The Safety Girl Steel toe work boot is fun and feminine pink.
It has leather uppers with Goodyear Welt construction that is durable and comfortable.
The work boot is water-resistant and has a comfortable padded collar.
The outsole is slip and oil resistant.
Furthermore, you will be secure with reliable steel toe protection.
---
5
The Ariat Krista is a Pull-on steel toe work boot for ladies.
The work boot has a long solid leather shaft and Westerns Cowboy style.
It has a steel protective toe, ASTM F2413-11 F/I/75 C/75 EH rated.
There is a U-Turn entry system for easy wearing.
The work boots have 4LR technology for high rebound cushioning and support.
The outsole is durable and slip-resistant rubber.
---
6
The MooseLog is a slip-on steel toe work boot ideal for women.
The work boot is available in solid black or dark brown color options.
There are leather uppers with elastic gore for entry.
The Composite Lenzi plate triggers more relaxed walking, while the steel toe caps protect you from impacts.
The work boot has a PU/TPU comfortable footbed for support.
The Outsole is a durable and slip-resistant polyurethane.
The sole is likewise punctured-resistant and electrical hazard safe.
---
7
The Wolverine Floorhand is a durable steel-toe work boot for women.
The work boot has full-grain leather uppers that ensure excellent waterproofing to dry your feet in wet conditions.
There is a strong steel toe that meets ASTM standard f2413-11 m i/75 c75 EH standards.
The lug rubber outsole is slip-resistant in the most slippery of conditions.
The work boot has lightweight cement construction that will help fight fatigue during daily wear.
---
Index Table: Top Rated Women's Steel Toe Work Boots
---
---