The Steel Toe work boot is a work boot that is compulsory by many companies and for many occupations as a safety standard procedure or requirement.
Finding comfortable Steel Toe work boots, especially if you have flat feet, may not be the easiest task.
That is why we want to help you find the best Steel toe work boots for flat feet, that offer optimal support, accommodating fit, and a safety standard steel toe.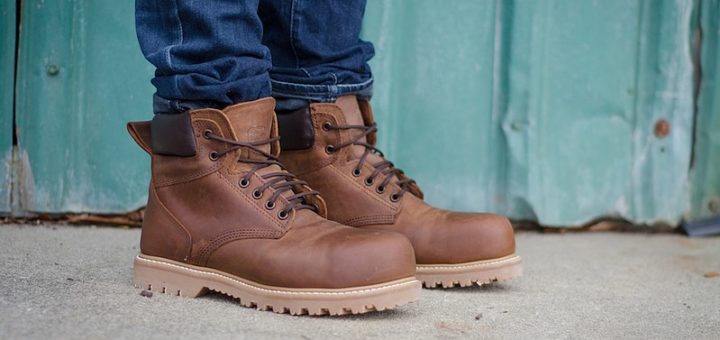 ---
Flat Feet Causes and Issues
Flat feet are a very common and usually painless condition, where the arches of your feet are completely flat or collapse and touch the ground.
Some people have no issues with their flat feet. In contrast, others may have problems such as heel pain and plantar fasciitis, ball of the foot pain, and issues with walking and standing such as Overpronation, or Supination, where the feet roll inward, or outward excessively.
Flat feet may be genetic or caused by aging, being overweight, injury, or medical conditions such as arthritis.
---
Choosing Work Boots for Flat Feet
When choosing work Boots for Flat Feet Specifically you need to consider these features;

Arch Support – It is vital to have good arch support in a work boot for flat feet, as there is a lack of arch support in flat feet. Arch support helps to align your feet and body in turn and will evenly distribute weight and impact across your feet rather than on a specific spot, such as the heel. Your foot mechanics, such as pronation issues, will also be corrected with good stability and arch support features.
Cushioning – You will need good cushioning to absorb impact, however firmer cushioning, and stability features are recommended for flat feet.
Good fit – Make sure that your work boots fit well, especially n the toe box. Flat feet also tend to be wider, which may require a wider-width work boot with a more roomy toe box.
---
Features of a Good Steel Toe Work Boot for Flat Feet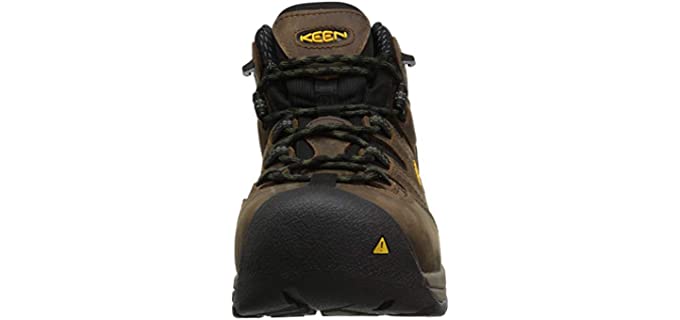 Uppers – For flat feet, I will suggest a work boot with a roomy toe box with a more rounded toe design and availability in wider widths, should it be needed. The chosen work boots will have leather uppers that may be waterproof with a lining or a Gore-Tex membrane. There may be a moisture-wicking interior lining for comfort. The uppers may have genuine or synthetic leather mesh insets for breathability.
Comfort and Support – Look for a work boot with a cushioned and contoured or arch support footbed or insole. The Insole and midsole need to offer slightly firmer support. You can also opt for Work Boots with removable insoles, enabling you to use your orthotics.
Outsole – As a safety work boot, you will need a slip-resistant outsole with durable and high abrasion-resistant rubber. Some work boots will have oil and slip-resistant rubber outsole. For flat feet opt for work boots with a slight heel rather than a completely flat sole.
Safety Features – Safety work boots will have steel, alloy, or composite toe for impact protection. Most work boot models have safe electrical materials and are waterproof for full protection. For the purpose of this article specifically, we will only look at work boots that have a Steel toe cap which is the most protective and durable safety toe available.
Options – I have included work boot models that have wider width fit options for flat feet. Some work boot models also offer more color options.
---
Reviews: The Best Steel Toe Work Boots for Flat Feet
These are some of our favorite Steel toe Work boots with comfort and support features that are ideal for Flat feet;
---
1
The Keen Utility Lansing is the perfect Steel toe work boot for flat feet.
The work boots have a very roomy toe box and fit for flat feet, and a cushioned and supportive footbed.
There are leather and textile uppers for breathability, with a padded collar.
The work boots have a protective steel toe and is electrical hazard safe.
They have an oil and slip-resistant rubber outsole and a TPU stability shank.
Inside is a moisture-wicking textile lining that helps to reduce odors.
The work boots are likewise fully waterproof.
---
2
The Timberland Pro Pitboss is a quality, industrial work boot for flat feet.
The work boot has rugged nubuck leather uppers, moisture-wicking lining, and quality Goodyear Welt construction.
It features Pro 24/7 Comfort Suspension technology, a unique comfort system providing good cushioning and support for flat feet and fighting foot fatigue.
The work boots meet safety standards with a steel protective toe and are electrical hazard safe.
---
3
The Cat Diagnostic work boots have a steel toe and roomy fit for flat feet.
They are full leather work boots that are insulated and fully waterproof for colder and outdoor climates and elements.
The work boots have a full steel toe and protective rubber toe bumper for durability.
They come with a removable EVA foam insole with Gel cushioning technology, which is ideal but allows you to use your own selected orthotics.
The outsole is a durable rubber that is fully slip-resistant.
---
4
The Delleker Lakehead from Skechers is a comfortable and supportive work boot for flat feet that comes with a protective steel toe.
The work boots have a seam-sealed waterproof design, durable leather uppers, and a more athletic hiking boot style with breathable panels.
There is a padded gusset tongue and padded collar for your comfort and breathability.
Inside is a colling air-cooled memory foam insole for cushioning and support for flat feet.
The outsole is fully slip-resistant and durable rubber.
---
5
The Ariat Groundbreaker is a fully supportive Pull-On Work Boot for flat feet.
They have a full leather upper, additional metatarsal protection, and a steel safety toe.
The work boots feature the Four Layered cushioned insole that offers exceptional shock absorbency, soft underfoot cushioning, and good arch support for flat feet.
They are electrical hazard safe and come with a Duratread rubber outsole that is oil and slip-resistant, with a 90-degree heel for added stability and support.
---
6
The Groundbreaker Chelsea work boots are the perfect steel-toe work boots for ladies with flat feet.
They have leather uppers with stretch gore and are easy on and off, with a more secure fit.
There is a pull tab at the back of the boot for easy pulling on the work boots.
The fit is roomy and accommodating for flat feet.
The work boots are leather with a steel protective toe and are fully waterproof.
A four-layer cushioning system for support and shock absorbency is ideal for flat feet.
The outsole is a durable Duratread rubber that is oil and slip resistant with a 90-degree heel that offers excellent stability for flat feet.
---
Index Table: Top Rated Flat Feet Steel Toe Work Boots
---
---