Hammertoes are a condition that can affect one or more of your toes, which causes joint changes that cause your toes to point upward instead of down. Hammertoes are a progressive condition that can affect your feet severely which may cause shoes especially work boots to have a very uncomfortable fit, that in the end could affect your work performance.
Most work boots are not designed with the most comfortable fit, so we want to help you find the best available work boots for Hammertoes that have an accommodating fit, more comfort features, and the safety features that you need for your work environment.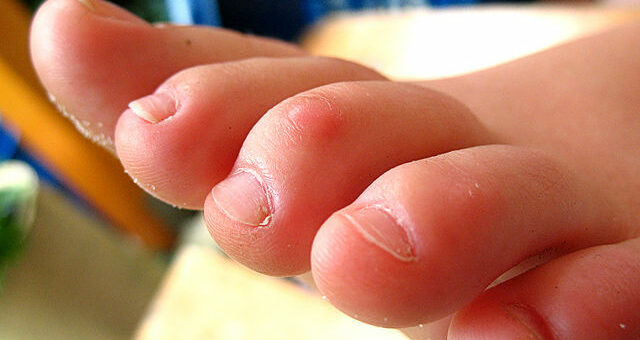 ---
Hammertoes Explained
Before we get into the best workbooks for Hammertoes, let's first look at exactly what are Hammertoes.
Hammertoes is the term for a progressive symptom and joint change that can involve one or many, or all of your toes. When you have Hammertoes, the joints in your toes point upward instead of lying down flat. This can happen because the muscles in your feet or legs get weak, and the toes start to pull abnormally because the tendons become weakened. Many individuals also have corns and calluses on the top of these deformed toes, which can become painful, especially when wearing shoes that cause friction.
Did you know that each one of your feet has 28 bones in them? Of the five toes, your fist or your big toe has two joints. The other toes all have three joints. You have a joint at the base of your toe in the middle of your toe, and then at the tip of your toe, close to where your toenail starts.
Hammertoes may times get mixed up with Claw Toes, or mallet toes. The differences are; Claw toes cause a bend in the first toe and second joints, whereas Hammertoes cause a turn in the middle toe joints, and mallet toes cause a bend in the third top joints.
Causes – So what basically causes Hammertoes. Firstly, they could be an abnormal muscle balance in your toes, which can lead to increased pressure on the tendons and the joints that can cause this deformity in the toe joints. You may be born with a muscle imbalance or it can be caused by other issues. For the most part, wearing narrow and ill-fitting shears, especially high-heeled shoes that offer little to no arch support or cushioning places severe pressure on your toes and the joints. And that is why most cases of Hammertoes are found in women rather than men. Setting near masculine disease and individuals with diabetes or are more at risk of developing Hammertoes.
Symptoms – They are a few symptoms that you may notice when you start to develop Hammertoes. You may feel that a joint in one or more of your toes is becoming rigid, and there may be pain, especially at the top of this bent toe, you may feel pain in the ball of your foot. There may also be redness inflammation or a burning sensation and restricted or painful motion in the joints of your toe or toes. Furthermore, because of the abnormal formation of your toes, they can rub against your shoes or press against your shoes, which can in turn cause corns and calluses.
Types of Hammertoes – You basically get three types of Hammertoes . You get flexible Hammertoes where the condition is still developing, so your affected toes can still move at the joints. Then you get semi-rigid Hammertoes, where your toe joints start to stiffen. Lastly, you have rigid Hammertoes where you can no longer move your toes or the joints in your toes because the tendons and the soft tissues have become completely tightened.
Risk Factors – One of the main causes of Hammertoes is wearing high heels and narrow-fitting shoes. Your age can place you at a larger risk of developing Hammertoes, women are also more likely to develop the condition. Individuals, where the second toe is longer than the big toe, are at high risk of developing Hammertoes and Mallet Toe. Furthermore, certain conditions sought such as arthritis and diabetes can make you more prone to developing certain foot deformities such as Hammertoes.
Treatment and Prevention – First of all, when Hammertoes first starts and you start feeling the first symptoms, I would advise that you start to wear more comfortable and looser fitting footwear with a wider toe box. You can use shoes with orthotic inserts and insoles. Your doctor may also prescribe exercises such as picking up marbles or crumpling a towel with your toes to help stretch and strengthen the muscles and attendance in your toes. In more severe cases, you may need to get surgery to release the tendon which prevents your toes from lying flat.
---
Work Boots for Hammertoes
In choosing work boots for Hammertoes, we are going to be looking specifically at work. Safety work boots or industrial work boots that offer durability and safety features, but that also have a better fit and more comfort features for Hammertoes.
In terms of comfort, one of the most essential features to look for is a work boot that has a wide and roomy forefoot area and tow box. You can also opt for work boots that are available in wider widths.
We want to avoid any heeled work boots. So Western-style work boots are not acceptable, andwe also want to avoid work boots that have a narrower fit. We are, going to be looking at work boots that have a supportive and cushioned footbed to help reduce pain.
---
Features of a Good Work Boot for Hammertoes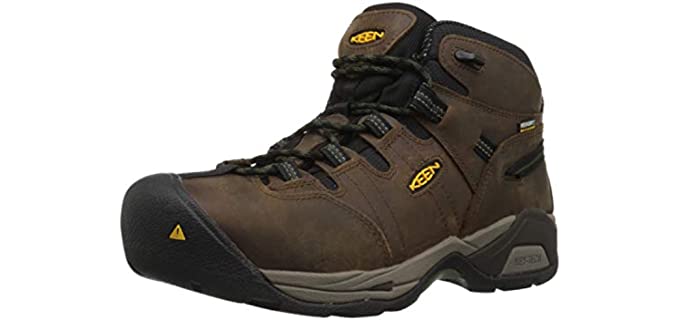 Uppers – Most work boots will have leather uppers, and they may be lined and have a comfortable padded collar. The work boots we will be looking at will have a much wider and roomier round-toe box.
Comfort and Support – For full comfort, you can look at work boots that have a cushioned soul and a smooth lining to Wick away moisture. A more supportive footbed or midsole that provides good shock absorbency, and also supports the arch of your foot is ideal.
Outsole – As a safety standard, the outsole of your word boots should be a durable rubber that is slip resistant.
Safety Features – Work boots' safety features can include either a steel composite or alloy toe for protection. The work boots may be electrical hazard safe. They should also have a slip-resistant outside, which can be slip-resistant or slip and well-resistant. Some work boots are also fully waterproof.
---
Reviews: The Best Work Boots for Hammertoes
In our review section, you will find some of the most comfortable workbooks for the condition Hammertoes;
---
1
The Carhartt Energy is comfortable and ideal if you have Hammertoes.
The toe box is wide and roomy with a moisture-wicking lining.
It is leather with a toe bumper and is electrical hazard safe.
The work boot is waterproof and durable.
It has a chemical, abrasion-resistant, and slip-resistant rubber outsole.
---
2
The Keen Utility Pittsburg is a steel-toe work boot for Hammertoes.
It has a roomy toe box and availability in wider widths.
The work boot is leather with a lug slip-resistant rubber outsole.
It is comfortable and cushioned with a moisture-wicking lining.
---
3
The Skechers Delleker has soft uppers and a roomy toe box.
It is available in wide widths and extended sizes for Hammertoes.
There is a rubber outsole and air-cooled memory foam insole for comfort.
The work boots are waterproof and have a steel protective toe.
---
4
The Wide square toe on the Groundbreaker is perfect for hammertoes.
It is a leather work boot that has a 90-degree supportive heel.
The rubber outsole is durable and slip-resistant.
There are four layers of supportive and comfortable cushioning in the footbed.
---
5
The Overpass is available in wide and extra wide widths for hammertoes.
It has a protective toe bumper and breathable leather and textile uppers.
It has a flexible construction and removable OrthoLite cushioned insole.
The toe is a lightweight composite.
The outsole is water, oil, slip, abrasion, and chemical resistant.
---
6
The Skechers Worskhire Peril has a comfortable fit for hammertoes.
It is a durable leather work boot for ladies with a relaxed fit.
The work boot has an oil and slip-resistant outsole, and lug traction.
Inside is a gel-infused memory foam cushioned footbed.
It also has a steel toe and is electrical hazard safe.
---
Index Table: Top Rated Work Boots for Hammertoes
---
---