If you are looking for a work boot that provides a more stable and secure fit, and in turn, better ankle protection, then the eight-inch work boot is just what you need.
The 8-inch work boot is likewise more suitable for certain occupations than others, which we will discuss in further detail.
The 8-inch work boot will have a longer length than regular 6-inch work boots with better ankle protection, mostly found in tactical, pull On, and Logger boot styles. The eight-inch work boot may be waterproof, with a steel or composite safety toe, and a slpi-resistant rubber outsole. For comfort, the 8-inch work boot can have a cushioned and supportive footbed.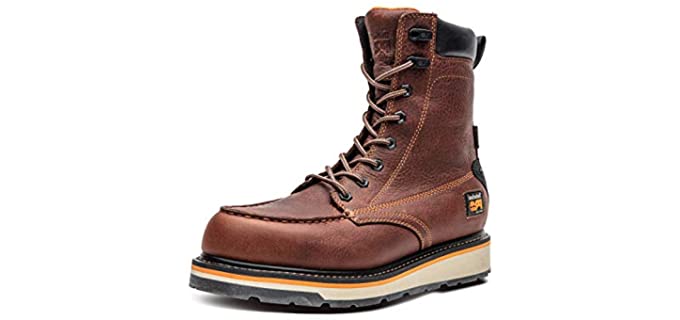 ---
The Difference Between and 8-Inch and 6-Inch Work Boot
The 8-inch work boot has a longer shaft length than the short and regular design 6-inch work boot.
T is a much more stable and secure work boot suitable for specific work purposes.
The work boot provides more ankle coverage but can also be quite restricting.
Designed to last forever. We also offer waterproof work shoes and slip-resistant safety footwear.
Eight Inch Work Boots – the 8-inch work boot has an 8-inch long shaft that covers your ankle completely and a small part of your calf, as you will feel it does not allow much flexibility or freedom of movement. However, very much stability and security. This is a good option in occupations such as the military, police, or security as you need the added stability and protection. However, the extra length may be very restricting for construction jobs where you need to bend, crouch, and climb.
Six-Inch Work Boots – The six-inch work boot has a shorter 6-inch shaft that allows much more freedom and flexibility.It is ideal for occupations such as construction and outdoor work. It allows enough stability on uneven terrain, and the work boot bends well where needed.
---
Choosing the Right 8-Inch Work Boot
Choosing a good 8-inch work boot also requires more than just selecting a shaft length;

Toe Protection – You may need a safety work boot with a protective toe, such as steel, allow, or a more lightweight, non-metal composite toe.
Comfort Features – Any good work boot should have comfort features such as a cushioned and supportive footbed and moisture-wicking lining, as you will spend many hours in them.
Slip resistance – Most worksites and occupations require a work boot that has a slip-resistant outsole.
Construction – Durable construction is key if you want a long-lasting and reliable work boot. Materials such as genuine leather, rubber, and construction methods, increase the quality of the workboat. Always opt for Goodyear Welt or cement construction methods.
Safety Standards – Check that your work boot follows safety standards such as the ASTM American Society for Testing and Materials, ANSI American National Standards Institute, and OSHA standards.
---
Features of a Good 8-inch Work Boot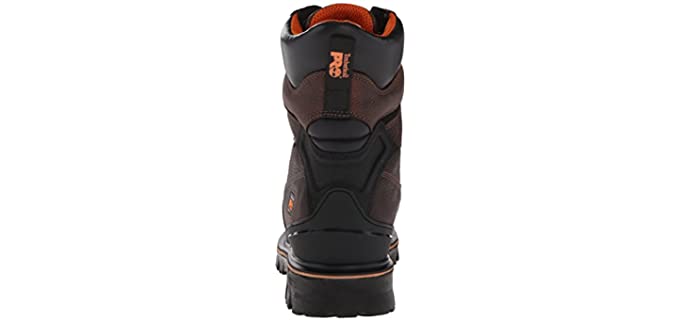 Uppers – The uppers should consist of a genuine leather or synthetic textiles with a breathable lining. Look for and 8-inch long shaft with a pull on or lace up design.
Safety Toe – If need you may need to select a work boot with a steel, alloy or composite safety toe for protection.
Waterproofing – Leather is generally water resistant, however most work boots come with a full waterproof membrane.
Footbed – Find a work boot that has a well cushioned and supportive footbed to provide comfort and support for all day wear.
Outsole – The outsole should be rubber with a lug tread for slip resistance in a variety of surfaces.
---
Reviews: The Best 8-inch Work Boots
These are all the best available 8-inch shaft length work boots that we have listed;
---
1
The Timberland Pro Ringmaster is a comfortable and durable 8-inch work boot.
The work boot is a steel toe and fully waterproof design for highly hazardous work environments.
It has leather uppers and a longer 8-inch shaft, it is a regular design industrial work boot that is 8 inches long, rather than the regular 6 inches.
The work boot also features and lug rubber outsole for slip resistance.
For comfort and support, there is a cushioned insole and Fiberglass shank.
The Goodyear elt construction ensures that you have the best quality design work boot.
---
2
The Carhartt Energy is an 8-inch work boot designed for your comfort.
The cushioned and supportive footbed and comfort technology helps to prevent foot fatigue and keeps you energized.
The work boot has a composite safety toe and is fully waterproof for your ultimate protection.
It has a very durable and slip-resistant rubber outsole.
Furthermore, the composite toe and work boot materials ensure that t are ASTM-rated electrical hazard safe.
---
3
The Thorogood 1957 work boot model has a longer 8-inch shaft.
The work boot is a durable pitstop full-grain leather boot that s waterproof and has Goodyear Welt construction for quality and durability.
There is a steel safety toe for your protection, and the work boo is electrical hazard safe.
The outsole is a MaxWear wedge slip-resistant high traction outsole that is much more flexible.
There is a removable shock-absorbing dual-density Pu footbed for comfort, additional heel, and ball of foot strike zines for impact protection.
---
4
The keen Coburg 8-inch work boots are ideal for industrial work environments.
The work boot has a steel toe and is fully waterproof for your full protection.
The work boot has a TPU shank for support, and a removable metatomical dual-density EVA cushioned footbed with torsional stability.
The work boot is American-built and very durable.
There is a high traction, non-marking, oil, and slip-resistant rubber outsole.
---
5
The Skechers Cascades ins and 8-inch Logger work boot.,
The work boot is designed with a slight heel and lug patterned rubber outsole designed for logging work.
The uppers are genuine leather with a soft toe.
The rubber outsole is oil and slip-resistant.
The work boot has a comfortable and cushioned footbed and 8-inch long shat.
---
6
The Keen Utility Cincinnati is a soft-to-comfortable 8-inch work boot.
The work boot has an ideal wedge sole that is cushioning and highly slip-resistant in oily and slippery floor surfaces.
It is electrical hazard safe and is built especially for ladies.
The uppers are waterproof leather for full protection.
The work boot has a comfortable and cushioned footbed.
---
Index Table: Top Rated 8-inch Work Boot
---
---