If you are looking for a work boot that provides a more stable and secure fit and better ankle protection, then the eight-inch work boot is just what you need.
The 8-inch work boot is likewise more suitable for certain occupations than others, which we will discuss in further detail.
The 8-inch work boot will have a longer length than regular 6-inch work boots with better ankle protection, mostly found in tactical, pull On, and Logger boot styles. The eight-inch work boot may be waterproof, with a steel or composite safety toe and a slip-resistant rubber outsole. The 8-inch work boot can have a cushioned and supportive footbed for comfort.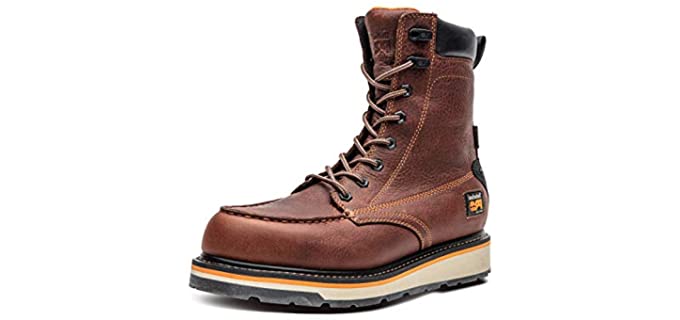 ---
The Difference Between and 8-Inch and 6-Inch Work Boot
The 8-inch work boot has a longer shaft length than the short and regular design 6-inch work boot.
T is a more stable and secure work boot suitable for specific purposes.
The work boot provides more ankle coverage but can also be quite restricting.
Designed to last forever. We also offer waterproof work shoes and slip-resistant safety footwear.
Eight-Inch Work Boots – the 8-inch work boot has an 8-inch long shaft that covers your ankle completely and a small part of your calf, as you will feel it does not allow much flexibility or freedom of movement. However, very much stability and security. This is a good option in occupations such as the military, police, or security, as you need added stability and protection. However, the extra length may be very restricting for construction jobs where you must bend, crouch, and climb.
Six-Inch Work Boots – The six-inch work boot has a shorter 6-inch shaft that allows much more freedom and flexibility. It is ideal for occupations such as construction and outdoor work. It allows enough stability on uneven terrain, and the work boot bends well where needed.
---
Choosing the Right 8-Inch Work Boot
Choosing a good 8-inch work boot also requires more than just selecting a shaft length;

Toe Protection – You may need a safety work boot with a protective toe, such as steel, allow, or a more lightweight, non-metal composite toe.
Comfort Features – Any good work boot should have comfort features such as a cushioned and supportive footbed and moisture-wicking lining, as you will spend many hours in them.
Slip resistance – Most worksites and occupations require a work boot that has a slip-resistant outsole.
Construction – Durable construction is key if you want a long-lasting and reliable work boot. Materials such as genuine leather, rubber, and construction methods, increase the quality of the workboat. Always opt for Goodyear Welt or cement construction methods.
Safety Standards – Check that your work boot follows safety standards such as the ASTM American Society for Testing and Materials, ANSI American National Standards Institute, and OSHA standards.
---
Features of a Good 8-inch Work Boot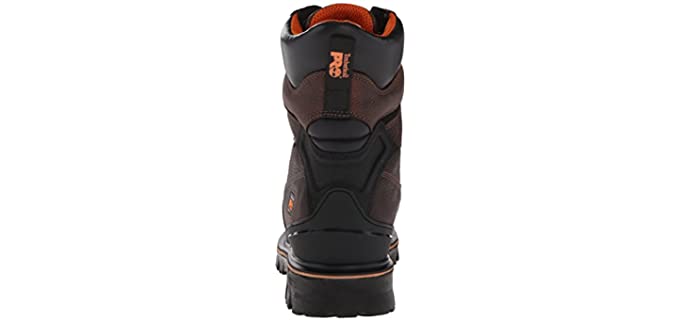 Uppers – The uppers should consist of genuine leather or synthetic textiles with a breathable lining. Look for an 8-inch long shaft with a pull-on or lace-up design.
Safety Toe – You may need to select a work boot with steel, alloy, or composite safety toe for protection.
Waterproofing – Leather is generally water-resistant. However, most work boots come with a fully waterproof membrane.
Footbed – Find a work boot with a well-cushioned and supportive footbed to provide comfort and support for all-day wear.
Outsole – The outsole should be rubber with a lug tread for slip resistance on various surfaces.
---
Reviews: The Best 8-inch Work Boots
These are all the best available 8-inch shaft-length work boots that we have listed;
We hope you love the products we recommend!
So that you know, We may collect a share of sales or other compensation from the links on this page.
---
1
The Timberland Pro Ringmaster is a comfortable and durable 8-inch work boot.
I recently had the opportunity to try out the Timberland Pro Ringmaster work boot, which left a lasting impression. Here's what I found during my experience with this 8-inch work boot:
Durable and Comfortable: The Ringmaster is designed with both durability and comfort in mind. The steel toe and fully waterproof design are ideal for highly hazardous work environments. It's reassuring to know that my feet are well-protected.
Extended Shaft Length: Unlike the regular 6-inch work boots, the Ringmaster boasts an 8-inch shaft. This longer shaft provides added protection and support for my ankles, making it perfect for demanding industrial work.
Exceptional Traction: The lug rubber outsole offers impressive slip resistance, ensuring I can confidently move on various surfaces without the fear of slipping. It's an essential feature for staying safe in my workplace.
Comfort and Support: The cushioned insole and Fiberglass shank provide exceptional comfort and support, even during long hours on my feet. My feet feel less fatigued, thanks to the anti-fatigue technology.
Goodyear Welt Construction: The Goodyear welt construction is a testament to the boot's quality and design. It's reassuring to know that the Ringmaster is built to last.
In Summary: the Timberland Pro Ringmaster is a top-notch work boot designed to meet the rigorous demands of hazardous work environments. Its blend of durability, comfort, and safety features, including the steel toe, waterproof design, and slip resistance, make it an excellent choice for those prioritizing safety and quality. My experience with this work boot has been nothing short of impressive, and I feel confident and protected in the oil and gas industries, thanks to the Ringmaster.
---
2
The Carhartt Energy is an 8-inch work boot designed for your comfort.
I recently had the pleasure of wearing the Carhartt Energy work boot, which truly lives up to its name. Here's what I found when I put these boots to the test:
Ultimate Comfort: The first thing that struck me was the incredible comfort these boots offer. The cushioned and supportive footbed with Insite technology is a game-changer. It provides maximum arch support, reducing foot fatigue even during the longest workdays.
Protection and Safety: The Carhartt Energy doesn't compromise on safety. With a composite safety toe, these boots meet ASTM F2413-18 standards for protection against impact and compression hazards. They are also ASTM-rated electrical hazard safe, providing secondary protection against electrical circuits.
Storm Defender Waterproofing: Keeping your feet dry is essential, and the Storm Defender waterproof and breathable protection technology does just that. These boots are designed to be completely waterproof, ensuring your feet stay dry in various wet conditions while promoting air circulation.
Quality and Durability: Carhartt's commitment to quality shines through in these boots. The materials used are top-notch, from the brown oil-tanned leather upper to the lightweight proprietary EVA midsole. The midsole absorbs foot strike impact and provides energy recovery, making each step comfortable.
Slip Resistance and Grip: The energy rubber outsole offers excellent grip, traction, and flexibility with every step. It's also oil, chemical, and slip-resistant, ensuring you stay on your feet even on challenging surfaces.
In Summary: The Carhartt Energy work boot is more than just a work boot; it's a complete package of comfort, safety, and quality. It's evident that these boots were designed with the hardworking individual in mind. Whether you're in construction, manufacturing, or any rugged outdoor activity, these boots have you covered. The combination of advanced technology and a commitment to quality craftsmanship ensures that Carhartt's legacy of durable and comfortable workwear continues to thrive.
---
3
When I first laced up the Thorogood 1957 work boots, I knew I was in for something special. These boots had a reputation for being rugged and dependable, and I was excited to put them to the test in my demanding work environment.
Impressive Ankle Support: One of the first things that struck me was the extended 8-inch shaft. It provided excellent ankle support and protection, which was crucial for my job. Whether I was navigating rough terrain or dealing with heavy equipment, these boots had me covered.
Rugged Durability: The pitstop full-grain leather construction not only looked great but also felt incredibly durable. These boots were built to withstand the elements, and the waterproof feature was a game-changer. No more worrying about wet feet during rainy days – these boots kept my feet dry and comfortable.
Steel Toe Assurance: The steel safety toe was another standout feature. I often found myself in situations where I needed that extra layer of protection, and these boots delivered. Knowing that they met ASTM safety standards gave me peace of mind.
Exceptional Traction: The MaxWear wedge outsole truly lived up to its reputation. It flexed better than any other work boot outsole I'd tried before, providing excellent grip on a variety of surfaces. Whether I was on loose gravel or slippery, oily terrain, I always felt confident in my footing.
All-Day Comfort: The comfort aspect was something I appreciated after long days on the job. The removable shock-absorbing dual-density PU footbed offered excellent cushioning. The additional support in the heel and ball of the foot strike zones made a noticeable difference. My feet felt less fatigued, even after hours of hard work.
American Craftsmanship: The fact that these boots were American-made added to their appeal. Knowing that they were crafted with care by skilled craftsmen and women gave me confidence in their quality.
Safety and Comfort: To top it off, the electrical hazard protection and moisture-wicking lining showed that these boots were designed with my safety and comfort in mind.
Final Verdict: In conclusion, my experience with the Thorogood 1957 work boots was nothing short of exceptional. These boots are the real deal – tough, reliable, and built to handle the challenges of demanding jobs. From protection to comfort, they excelled in every feature I put to the test. If you're looking for work boots that won't let you down, I highly recommend giving the Thorogood 1957 series a try.
---
4
My job often requires me to work in challenging industrial environments, and having reliable footwear is essential. That's where the Keen Coburg 8-inch work boots come in. These boots have proven to be ideal for my needs, and here's why.
Steel-Toed Protection: Safety is a top priority for me, and the steel toe in these work boots provides that extra layer of security I need. They are ASTM F2413-18 M/I/C EH compliant, and knowing that my feet are well-protected from impacts and potential hazards gives me peace of mind.
Weatherproof and Waterproof: Working outdoors in various conditions means I need boots that can handle it all. The Keen Coburg work boots are not only waterproof but also feature the KEEN.Dry waterproof, breathable membrane. This technology ensures that my feet stay dry and comfortable, no matter the weather.
Support and Comfort: Long hours on the job can be tough on the feet, so having proper support is crucial. The TPU shank in these boots provides the necessary support, and the removable metatomical dual-density EVA cushioned footbed offers excellent comfort. I also appreciate the torsional stability, which keeps my feet feeling great even during extended workdays.
Built to Last: These boots are American-built and known for their durability. I've put them through their paces, and they've held up exceptionally well. The quality and craftsmanship are evident in every step I take.
Superb Traction: The high traction, non-marking, oil, and slip-resistant rubber outsole is a game-changer. It provides a secure grip on a variety of surfaces, reducing the risk of accidents. The 90-degree heel adds even more stability, making every step confident and secure.
American Craftsmanship: The fact that these boots are American-built is a testament to the craftsmanship and quality that goes into making them. Knowing that they are constructed with care and precision reassures me that I've made the right choice.
Round-the-Clock Comfort: Thanks to the waterproof, breathable membrane, these work boots provide all-season comfort. The left and right asymmetrical safety toes offer a customized fit and impact protection. Whether it's hot or cold, these boots have my feet covered.
My Final Verdict: After testing the Keen Coburg 8-inch work boots in real-world industrial conditions, I can confidently say that they live up to their reputation. They offer a combination of safety, comfort, and durability that's hard to beat. If you're in the market for work boots that won't let you down, I highly recommend them.
---
5
My daughter spends long hours on job sites, she understand the importance of reliable footwear that offers both protection and comfort. The Cat Footwear Women's Echo Work Boot is a game-changer, and here's why she believe it's a top choice for hardworking women like me.
Built for Durability: These boots are constructed using Cat Footwear's patented iTechnology, which combines Goodyear welted forefoot and cemented heel for enhanced durability. The result is a work boot that can withstand the toughest construction conditions and the wear and tear of the job.
Steel Toe Protection: Safety is paramount, and these boots feature a steel toe that meets ASTM F2413-18 standards. This means they protect against impact or compression hazards, providing me with the peace of mind I need on the job.
Electrical Hazard Protection: With an ASTM F2413-18 rating for electrical hazard protection, these boots are designed to keep me safe around open circuits up to 600 volts in dry conditions. Knowing she have this level of protection is reassuring.
Waterproof and Comfortable: Premium nubuck leather ensures that her feet stay dry and protected, even in wet conditions. The Nylex sock liner wicks away moisture, keeping her feet dry and comfortable throughout the day.
Cushioned Comfort: The PU foam footbed and PVC midsole offer exceptional cushioning comfort and shock absorbance. Long days on the job are much more manageable when her feet are well-supported and comfortable.
Support and Stability: The steel shank in these boots provides the support and stability she need. It helps her maintain balance and reduces fatigue, even on uneven surfaces.
Slip-Resistant Outsole: The slip-resistant rubber outsole is abrasion-resistant and performs well against oil and water. It provides excellent grip on low traction surfaces, reducing the risk of accidents on slippery terrain.
Proudly Made at Gold Rated Tanneries: The Echo boots are not just functional; they are also environmentally responsible. They are made at Gold Rated Tanneries, demonstrating a commitment to sustainable practices.
A Boot Designed for Women: These boots are tailored to fit a women's foot, ensuring a comfortable and secure fit. The tall silhouette and modern color options make them the preferred choice for women in physically demanding jobs.
Summary: The Cat Footwear Women's Echo Waterproof Steel Toe Work Boot has become a go-to choice for demanding work environments. Its blend of durability, protection, and comfort is unmatched. I highly recommend these boots to any hardworking woman who needs reliable footwear that can keep up with the challenges of the job.
---
Index Table: Top Rated 8-inch Work Boot
---
---