Knee-high work boots are a work boot type that may be needed in many professions for their protection.
On the other hand, knee-high work boots may also be worn as fashionable work boots in a professional work environment.
Generally, Knee High work boots will be classified as either your rubber outdoor and chemical plant work boots, hunting boots, or long pull-on style leather work boots. Good work boots need a fair amount of safety features, such as a protective toe, waterproofing, and a slip-resistant sole, along with a comfortable and cushioned footbed.
However, this article will concentrate mostly on Knee High work boots for men and Men in a more industrial and outdoor environment.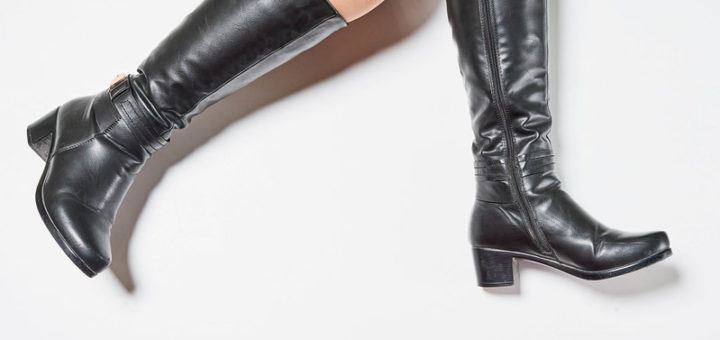 ---
Benefits of a Knee-High Work Boot
One of the biggest benefits of a knee-high work boot s the fact that it protects your feet, as well as your legs and ankles, against many hazards, including extremely cold weather conditions and wet conditions.
Here are a few instances where knee-high work boots are ideal;
Protection In Wet and Muddy Conditions – For ranching, farming, construction, and other outdoor occupations where you are constantly in wet, muddy, or even conditions such as cement, knee-high work boots offer fuller protection. They can keep your feet and legs fully dry and comfortable.
Cold Weather Conditions – Knee High Work Boots also help to provide better insulation and keep your legs and feet warm in very cold weather conditions and snow. Besides the insulation, most cold-weather work boots will be completely waterproof to prevent your feet from getting wet as well as cold and to help protect your feet from infections and even frostbite in some cases.
Abrasion Resistance – With work outdoors or in an industry where elements can cause scratches and abrasions to your feet and legs, a knee-high work boot will provide fuller protection. Other than that, abrasion-resistant work boots will also not show wear and tear as easily and are generally more durable and long-lasting work boots.
Chemical Resistance – Some knee-length work boots are designed for their chemical resistance, heat, or molten metal resistance in work environments requiring these protection levels. The Length of these boots works well for working in a laboratory with chemicals, in a cleaning business where you come into contact with abrasive cleaning agents, or even on a farm and ranch where you come into contact with manure or other chemicals.
Bite Protection – In outdoor work occupations, you are at risk against snake and insets bites, in which case a knee-length work boot is your ideal protection. The shaft materials are usually very thick or slippery, so a snake or insect such as a scorpion cannot sink its teeth or tail into the boot to puncture your skin. You will see, however, that these boots are rated to be snakebite-proof.
---
Types of Knee-High Work Boots
Knee-high work boots for work purposes despite just as fashionable work boots come in a few types;
Ranch Boots – Ranch work boots are used for ranching and farming where you need extra protection, and they come in knee-length options.
Logger Boots – Logger boots are mostly used in the timber industry; however, they are also available in knee-length options for better protection.
Wellingtons – Wellington work boots are more suited to work where wetness, mud, cement, and chemicals are involved as they are usually resistant rubber to these elements and fully waterproof.
Hiking Boots – Some knee-high hiking boots have superb qualities to be used as work boots for outdoor work.
Hunting Boots – Some individuals hunt as a profession and may need knee-high hunting work boots. They are lightweight, durable, and breathable with a tall fit.
Cowboy Work Boots – These are similar to ranch work boots and come in knee-high lengths. They have a cowboy style for reliable durability, protection, and style.
---
Features of a Good Knee-High Work Boot for Men and Men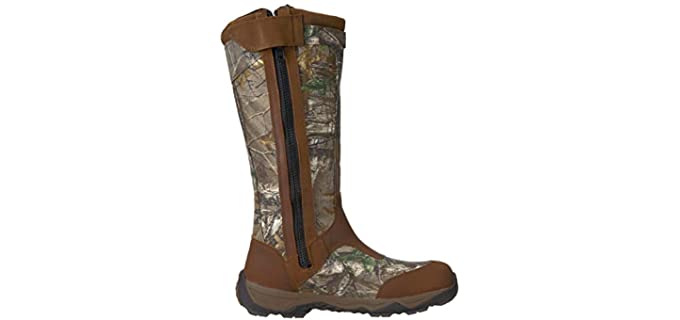 Waterproofing – Most knee-length work boots will have a waterproof lining or fully waterproof membrane, such as Gore-Tex, that is also breathable.
Slip Resistant Outsole – Work Boots generally have a rubber outsole with a lug and slip-resistant tread that may also be oil resistant.
Insulation – Some Knee Length work boots, especially those designed for cold weather conditions, may be insulated for warmth.
Safety Features – Safety Features may include steel or composite safety toe, eccentrical hazard safe materials. Other safety features may be heat and chemical resistance.
Comfort Features – Comfort features such as a cushioned insole or footbed are ideal, along with a shock-absorbing midsole and arch support.
---
Reviews: The Best Knee-High Work Boots for Men and Men
These are some of our top favorite knee-high work boots for men and Men;
We hope you love the products we recommend!
So that you know, We may collect a share of sales or other compensation from the links on this page.
---
1
The Rocky Knee-High Workboot is a camouflage lace-up work boot that is unisex.
It is leather and nylon with a full lace-up design.
There is a ProLight BioMech outsole for traction on uneven surfaces.
The workboot also provides good snake bite protection and comes in more colors.
The work boot is ideal for hunting and most outdoor work where there are dangers such as wetness, snakes and insects, weeds, and branches that may cause scratches and injuries.
---
2
The Carhartt Rubber work boot has a knee-length fit.
It is a rubber pull-on work boot that is completely waterproof.
The workboat has Vulcanized construction and a compound 5mm neoprene shaft,
The toe is soft, and it has Storm defender waterproofing.
---
3
From Harley Davidson, we have the Beechwood work boot for ladies.
The boot has knee-length and full-grain leather uppers,
It also has a full-length cushioned sock liner and supportive midsole.
Durable cement construction and a very lightweight design for ladies.
---
4
The Hunter is a tall wellington work boot for women.
The workboat is a durable and waterproof material with a slip-resistant rubber outsole.
It is comfortable and knee-length for full waterproof protection.
The outsole is slip-resistant.
There are also quite a few more color options available.
---
5
The Rocky Pull-on work boot is also knee-length.
It has synthetic uppers with full-grain leather and 900 denier nylon.
The work boot is waterproof and durable, with a moisture-wicking lining,
It has an Energy footbed for comfort with memory foam.
It is also snake bote proof.
---
6
The Ariat heritage is an extra-long cowboy-style work boot; however not completely knee length.
It comes in a few neutral colors.
The boot is leather with a cowboy style and narrow toe.
It has a slip-resistant Duratread outsole.
---
Index Table: Top-Rated Knee-High Work Boots for Men and Men
---
---