After a long day in your work boots, you may feel like your feet are killing you, hot and aching, very painful, and sometimes even chafed with blisters.
Work boots are generally designed for safety and durability, with little room for comfort, often leading to painful, exhausting, and unhealthy feet with regular use.
However, many work boot brands offer comfortable and supportive features in their work boots for sore feet.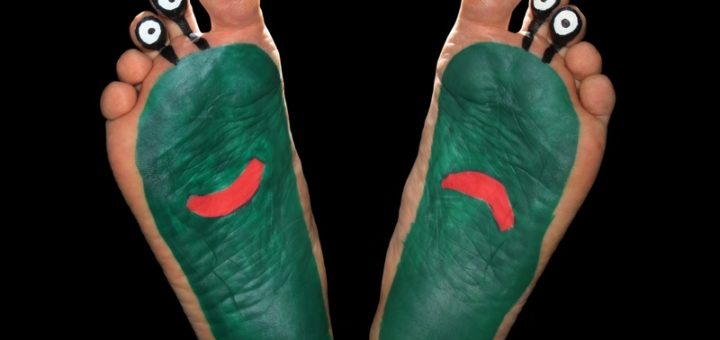 ---
Why Your Work Boots are Hurting Your Feet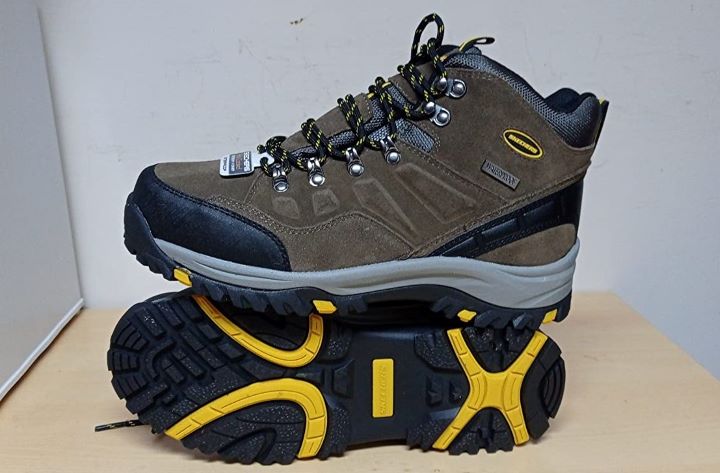 So why are your work boot hurting your feet so terribly?
Work boots are essential to protect your feet in a hazardous work environment and occupation. Most work boots are heavy with protective steel toes and thick and rigid soles to protect your feet from punctures.
Most work boots are inadequate for long-term wear regarding the health and comfort of your feet.
Work boots often fit uncomfortably, causing pain and pressure that can lead to issues such as bunions, hammertoes, and other foot deformities. Sometimes work boots do not fit well and then slip on your feet, causing chafing and blisters.
On the other hand, many work boots do not offer much support and cushioning, which causes strain and impact o your feet, leading to painful feet and foot fatigue.
---
Symptoms and Causes of Foot Pain from Wearing Safety Work Boots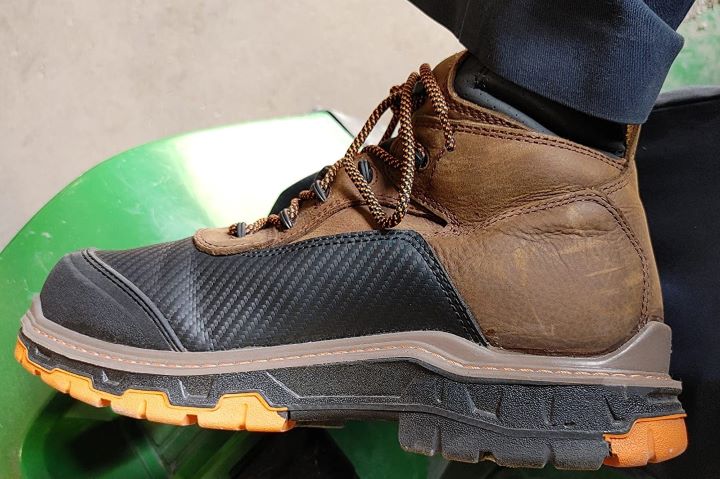 Here are a few main symptoms and causes of sore feet when wearing work boots;
Symptoms – You may feel pain and ache in your feet that can become chronic or maybe periodical. You will usually feel pain towards the end of the day. There may be a pain, tingling, burning sensation, or numbness in the feet. The skin on your feet may become red or blue, and you may notice hardened skin in some areas of your feet. Then there is also chafing that will lead to blisters, sores, and abrasions on the skin of your feet.
Causes – Foot pain is a common side effect of basic safety or work boots; thus, I am saying cheaper brands with fewer features. The sole of the work boot is too rigid with no impact protection, and the materials can be hard and uncomfortable, causing chafing and irritation. The more intense your work and the longer hours you spend working, the more painful your feet will get. However, there are more feature-rich work boot brands that offer much more comfort, along with all the safety features you will require for sore feet.
---
Features of a Good Work Boot for Sore Feet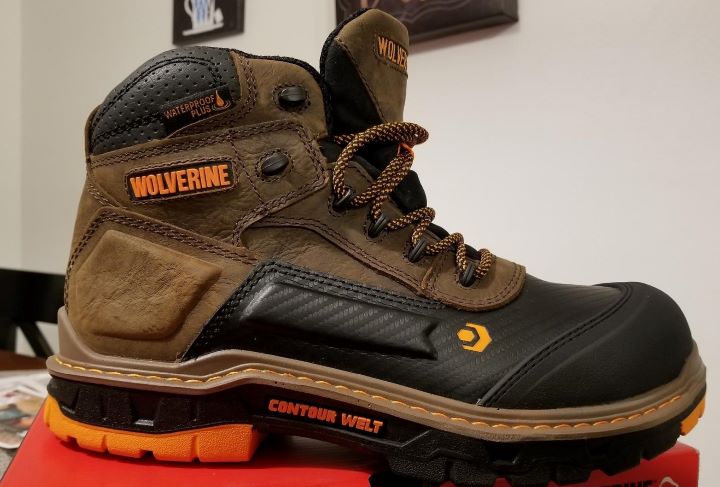 Uppers – Look for a work boot with leather uppers that are more pliable and adapt to your feet. A textile or mesh moisture-wicking lining will also help to keep your feet dry and comfortable.
Comfort and Support Features – A cushioned footbed or insole and shock-absorbing foam or EVA midsole provide essential impact absorption and comfort to prevent foot pain. Other features, such as arch support or a contoured ergonomic footbed, also support your feet for even weight distribution.
Safety Features – Depending on your work environment, you need safety features. These range from steel or composite safety toe, electrical hazard safety, waterproofing, chemicals resistance, and puncture resistance.
Outsole – The outsole should be a rubber that is a bit softer, with a slip-resistant or oil slip-resistant design.
Options – Some work boot brands offer wider width and extended size options; however, there are usually few colors to choose from.
---
Reviews: The Best Work Boots for Sore Feet
Below I have some excellent options for you in work boots that are ideal for sore feet;
We hope you love the work boots we recommend!
So that you know, We may collect a share of sales or other compensation from the links on this page.
---
1
The Keen Utility Milwaukee is a six-inch steel toe boot with many comfort features for sore feet.
It has full leather uppers, and more color options are available.
The Keen Milwaukee work boot has a removable metatomical dual-density EVA footbed for comfort and support.
There is a protective steel toe and a durable and slip-resistant rubber outsole.
---
2
The Wolverine is leather and textile-lined work boot for sore feet.
The work boot is flexible with contour welt construction that will bend and flex easily as you move.
It has a removable cushioned Ortholite footbed, and the uppers are fully waterproof.
The work boot has a composite safety toe and a rubber outsole that is oil, slip, water, chemical, and abrasion-resistant.
---
3
The Timberland Pro Titan Work Boot is Extremely comfortable in general.
It has genuine leather uppers and a durable rubber outsole that is heat, slip, oil, and abrasion-resistant.
Inside there is a comfort and support system called the PowerFit comfort system.
There are also more colors available in this work boot.
---
4
The Wolverine Loader is an 8-inch steel toe boot that is ideal for sore feet.
The work boots protect a steel toe and unlined leather uppers with Goodyear welt construction.
It has a padded collar and a removable full, cushioned footbed.
The Pu wedge sole is ideal for cushioning, along with a slip-resistant and durable rubber outsole.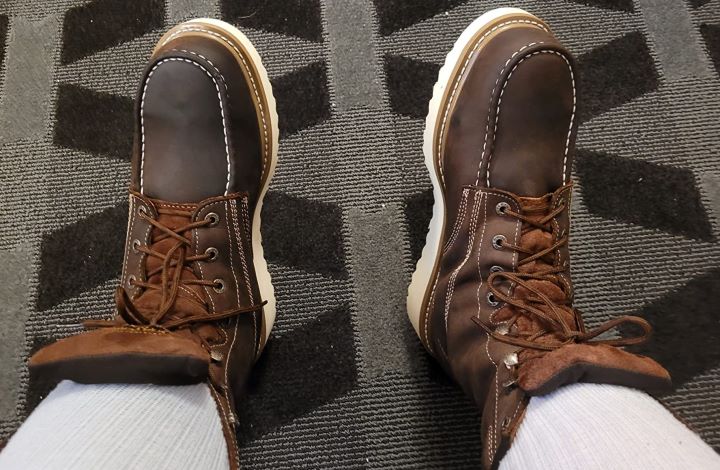 ---
5
From Skechers, the Relment Pelmo is more of a hiking boot, ideal for certain work environments, particularly outdoors.
It is perfect for sore feet because of the memory foam insole and the comfortable, relaxed fit.
Likewise, the work boot is durable and waterproof, with a slip-resistant lug rubber outsole.
You can also select from more colors available.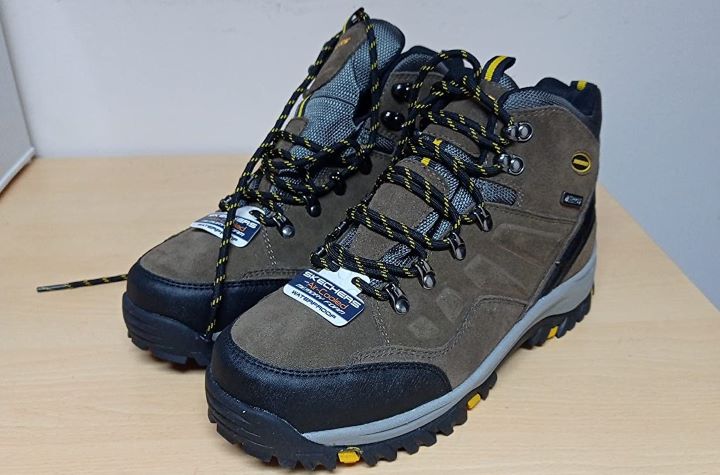 ---
6
The Workshire Peril from Skechers is an excellent work boot for ladies with sore feet.
The Work Boot offers a comfortable and removable gel-infused memory foam footbed for cushioning and a more relaxed fit.
The uppers are genuine leather with a roomy toe box that you can stretch your feet out in.
The Boot has a steel safety toe and is electrical hazard safe.
It is available in more colors and comes with a durable, slip-resistant rubber outsole.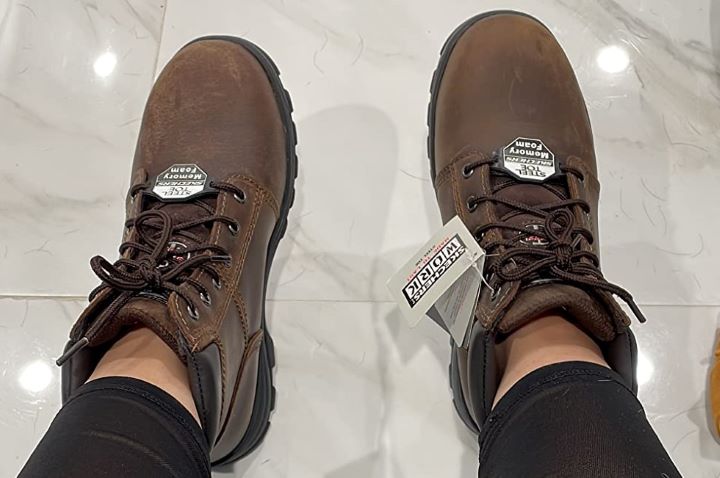 ---
Index Table: Top Rated Work Boots for Sore Feet
---
---