For feet that work hard all day, you need proper work boots that have comfort and protection features for your work environment and demands.
Women's feet are unique in shape and size to that of men, they need extra care and a specific type of work boot.
In this article, we will look at some of the best work boots for women, with a fit and features to accommodate especially for woman's feet.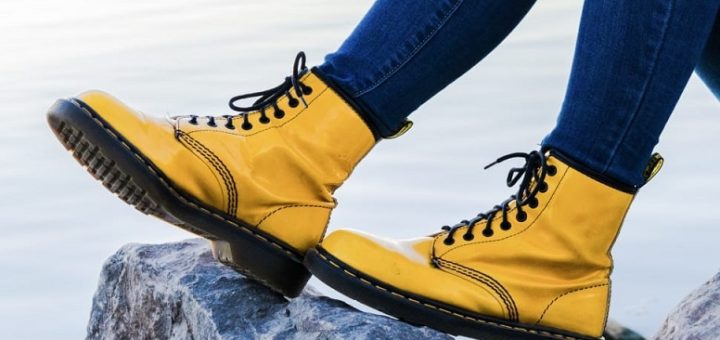 ---
Why Women Need Specific Work Boots
According to studies conducted by the American Podiatric Medical Association, females' feet differ in size and shape from that of a male, and they are not algebraically scaled, smaller versions of a man's feet as we often tend to assume.
Along with being much narrower and shorter than men's feet, women's feet also have a different arch shape ate the lateral side of the foot, as well as a different shape in the first toe and ball of the foot area.
Therefore, when looking for work boots for women you need to consider a design that is specifically for women.
Choosing work boots for women is never a one size fits all approach, unlike other pairs of shoes work boots need to be comfortable, functional, and protective in the workplace. So, considering work boots for a woman you still need o take safety, comfort, support, and durability into contemplation.
This for women can be quite tricky as not many work boot brands offer many choices when it comes to working boots for women.
The real difference in work boots for women basically comes down to the design of the work boot. Because women generally have narrower feet and higher arches in comparison to men, they need support features and a work boot fit that accommodates this.
On the other hand, everyone's feet and comfort level needs are different, regardless if they are fashionable or female, thus you also need to look for a work boot to suit your specific needs, as well as the safety requirements of your specific work environment.
---
Choosing the Best Work Boots for Women
You need to look at these characteristics when choosing work boots as a woman;
Fit – Women's feet generally have a higher arch and shorter ankle length than men, so you need to keep this in mind when looking at fit. Work boots for women are designed using a different last for creating the work boots than that for men. Thus you have a specific ladies fit in women's work boots.
Foot Ergonomics – Good foot ergonomics generally goes hand in hand with a proper shoe fit. Fit is one of the main ergonomic issues in work boots for women. Where men's work boots have a wider fit, women need a much more narrow fit, as well as higher arch support.
Special Technology – Because women have less soft tissue in their feet and less volume in their feet, specialized softer leather and materials are used in their work boots. Women's work boots likewise have different insoles and cushioning systems that are denser to offer better shock absorption.
Work Boot Style – As ladies, we generally like to look good, so you may not want a clumpy pair of work boots that look clumsy on your feet. Work boots that are designed well with a more feminine and elegant style are ideal.
---
Features of a Good Work Boot for Women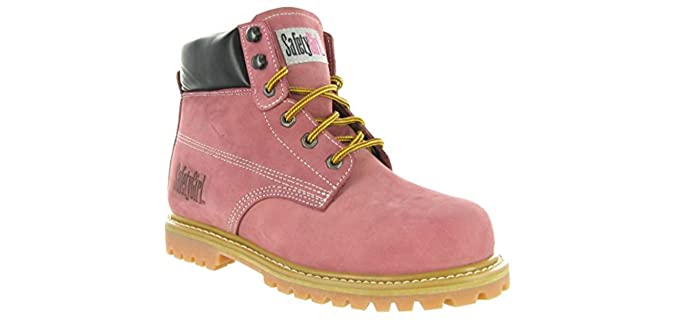 Uppers – Look for soft genuine leather uppers with a moisture-wicking textile lining for comfort and to keep your feet dry.
Comfort and Support Features – These include denser cushioning in the footbed or insole, and a shock-absorbing midsole. Along with an anatomical footbed and arch support.
Safety Features – Safety features will depend on your work environment. The main safety features are a steel or composite toe, electrical hazard safe materials, and abrasion resistance.
Outsole – The outsole needs to be slip-resistant, or oil and slip-resistant, which is also a safety feature. The outsole is mostly rubber or Vibram rubber.
---
Reviews: The Best Work Boots for Women
These are some of our top work boot brands and models that are ideal for women;
---
1
The Skechers Workshire peril is one of my personal favorite work boot models for ladies.
It has leather uppers, is electrical hazard safe, and has an oil and slip-resistant rubber outsole.
The work boot comes with comfort features such as a removable gel-infused memory foam footbed and cushioned midsole.
It also has a more relaxed and comfortable fit, with more colors available.
Furthermore, it has a steel protective toe for industrial work environments.
---
2
The Timberland Pro Titan is a safety toe work boot for ladies.
It has leather uppers and a PowerFit comfort system specifically for women.
The work boot has a dual-density shock-absorbing rubber outsole and a soft safety toe.
Inside is a moisture-wicking mesh lining and a cushioned insole.
---
3
From Safety Girl, we have this lovely Pink work boot for ladies.
It has genuine leather uppers and a durable, slip-resistant rubber outsole.
There is a steel protective toe and the outsole is oil resistant.
The work boot is also fully ASTM complaint.
---
4
The Cat Echo is a waterproof work boot for ladies.
This work boot us nubuck leather with a cushioned collar and comfortable Nylex sock liner to keep your feet cool and dry,
It has a cushioned PU foam footbed and PVC shock absorbing midsole.
Furthermore, the work boot offers waterproofing, a steel toe, and a slip-resistant rubber outsole.
Keep in mind Cat work boots for women do tend to run a tad narrow in general.
---
5
The Keen Utility work boot is a waterproof steel toe hiking style work boot for women.
It offers waterproof protection and the protection of a steel toe, with an oil and slip-resistant rubber outsole.
The work boots are ASTM rated slip-resistant, and electrical hazard safe.
They are also available in more colors and are quite comfortable.
---
6
The Timberland Nellie is a waterproof ankle boot for ladies.
The workboat has leather uppers and a very basic design.
It has a slip-resistant rubber outsole and leather uppers.
There is a cushioned insole and shock absorbing midsole for comfort and support.
There are also many colors available in this work boot.
---
Index Table: Top Rated Work Boots for Women
---
---