More and more women are working in industrial and hazardous environments, which also requires good safety work boots.
However, women's feet are so much different from men's, and there is not always much choice in women's industrial work boots.
That is why we want to help you find the best work boots for women.
Work boots that fit a feminine foot, ample comfort features, and all the necessary safety and durability characteristics.
This article will specifically look at Skechers Work Boots for women for their more comfortable fit and good cushioning features.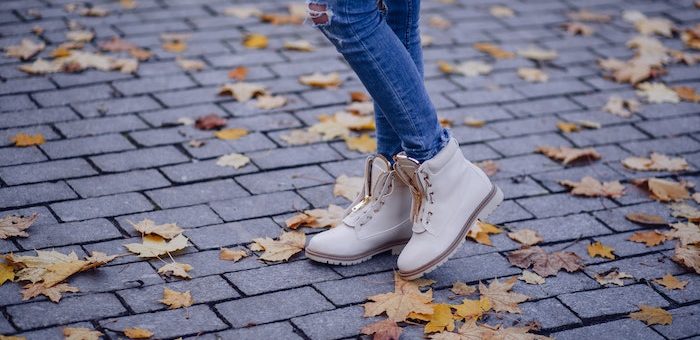 ---
Issues in Finding Work Boots for Women
Women struggle to find durable, quality work boots, especially for more hazardous and tough environments.
Women's work boots are usually low quality and consist of heavy and bulky materials, with ugly designs and a lack of protective features.
Even though this may be the case in many instances, some work boot brands offer specialized work boots for women that are better quality, with a more comfortable and lightweight design, and have the needed safety features.
---
Differences Between Men's and Women's Feet
In the argument of whether women could wear a smaller sized men's work boot, here are a few differences between men's and women's feet that may change your mind;

Men's Feet – Men generally have a larger foot size than women. Men's feet are also anatomically different from women's feet. Men have a wider forefoot, heel, and lower arch than most women. Men's feet are longer and wider than women's feet tend to be. Men's work boots are generally two sizes smaller than women's; thus, if you wear a size nine as a woman, you would have to opt for a size 7 in a men's work boot.
Women's Feet – Women tend to have more narrow and fragile feet, much smaller heel size, and higher arches than men. Women's feet are more petite and generally more sensitive than men's. Women's shoe sizes are designed much smaller and specifically designed for women. A Last is a mold that shoemakers use to manufacture shoes for men and women, whereas a different one needs to be sued for women, which is more specific to their foot shape and size.
---
Features of a Good Skechers Women's Work Boot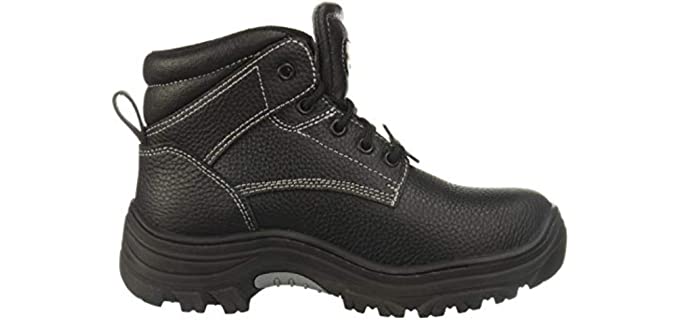 Fit – As we have discussed, women's feet are much different in size and shape than men's. Thus, you need to look for work boots with a fit and design specially made for women. Women's work boots will also come in smaller sizes and narrow, normal, and wide-width options.
Uppers – Women's work boots can have leather uppers that can be genuine or synthetic. Genuine leather is the most durable and comfortable option in a work boot. More athletic and hiking style work boots may have textile and mesh uppers with leather overlays. Work boots usually come with a moisture-wicking lining and may have a padded collar or tongue.
Comfort and Support Features – It is important to opt for work boots with underfoot cushioning, such as EVA, foam, or memory foam, to absorb shock and provide comfort. A more contoured or arch support footbed will also help with alignment and proper support for your feet.
Safety Features – Most work boots will have at least one or more features. They include steel, alloy, or composite safety toe cap, waterproofing, electrical hazard safe materials, and a slip-resistant outsole.
Outsole – Most work boots will have a durable rubber outsole that is slip-resistant. Depending on the design, some work boot models may have an oil and slip-resistant outsole or heat or chemical-resistant outsole.
Options – Work boots for women generally come with a few more color options, sizes, and sometimes width options from which you can choose as needed.
---
Reviews: The Best Skechers Work Boots for Women
In our list, we have the best available Skechers work boots that are designed specifically for women;
---
1
We start with the very popular Skechers Workshire Peril Steel toe work boot for women.
The work boot has a basic design with leather and comfortable padded uppers.
It is a lace-up work boot for a secure fit, available in neutral brown and black colors.
The work boot is well-cushioned with a supportive footbed.
It has a steel safety toe and slip-resistant rubber outsole.
---
2
The Work Boots from Skechers have a more rugged look and come in feminine colors with softer details.
They are industrial safety work boots with a lightweight composite safety toe and a durable slip=resistant rubber outsole.
The work boots have smooth suede leather and textile uppers, with perforations for breathability.
They have a lug rubber outsole for traction and slip resistance.
The fit is roomy and comfortable, with a moisture-wicking interior lining.
The work boost has plush memory foam cushioning and a supportive footbed.
---
3
The Skechers Ravlas have a more dainty appeal for women with a slight heel and smooth genuine leather uppers.
They are fully waterproof work boots with a slip-resistant, durable rubber outsole.
The work boots have an Air-Cooled Memory foam cushioned insole for sublime comfort.
They are electrical hazard safe and do not have a steel safety toe.
---
4
The Skechers Krabok work boots for women are durable industrial safety boots with a feminine touch.
They have a comfortable fit with a roomy toe box, padded collar, and tongue.
The work boots feature an Air-Cooled memory foam insole, and a shock-absorbing midsole, for comfort and support.
They are electrical hazard safe and come with a protective steel toe cap.
The outsole is a high traction design rubber that is slip, and oil-resistant.
---
5
These are ideally hiking boots, but they make for some comfortable work boots for outdoor work.
They have a full-length Air-Cooled memory foam insole and a highly shock-absorbing midsole for your comfort.
They are breathable with mesh panels and comfortable textile and synthetic uppers.
The work boots have a more relaxed and roomy fit that gives your feet a break.
The outsole is rugged and durable, with a slip-resistant tread for indoor and outdoor surfaces and trails.
Furthermore, you will be pleasantly surprised by the many colors available in this work boot.
---
6
I highly recommend the Rotund work boots for less hazardous work environments where wetness and falling objects are not a threat, especially in very hot climates and work environments.
They come in a lovely olive color with canvas uppers and a reinforced heel and toe bumper for light impact protection.
The work boots are extremely lightweight and comfortable, with a padded tongue and collar.
They have an air-cooled memory foam insole for soft and cooling comfort.
The work boots are electrical hazard safe and come with a slip-resistant rubber outsole.
---
Index Table: Top Rated Skechers Women's Work Boots
---
---