Justin Work Boots were initially designed as riding and ranching work boots. However, they have evolved to be one of the best available work boots for many other purposes today.
Justin's work boots feature leather uppers and may have a steel safety toe. \they also have the J-Flex system with a more flexible fit and sole for easier movement. The Justin work boot comes with cushioned, and a stable underfoot shank, along with other safety features depending on the specific work boot model.
The best Justin work boots models will provide you with unmatched comfort, protection, and reliable durability all throughout your workday.
---
Justin Work Boots
The first pair of boots crafted by H.J Justin have retained boots which is a heavier type of boot designed for riding out on the range.
He wore the boots from 1879 up to 1905 when he finally quit riding his herds on cattle.
After gaining popularity his boots became quite creative in design as H.J Justin began to create boots that have mire decorative stitching, and also that we're one of the first styles with rews of stitching across the boot tops to stiffen the leather.
He laters tarted to decorate his boots with more intricate details and stitching, as well as hand tooling more colorful leathers and threads, silver Conchos and even unique illustrations into the boots.
Since then Justin as a brand has paved the way for creative boot designs that are durable and highly functional such as their Roper boots that have become a true icon.
Eventually, H.J Justin married and had a couple of sons to whom the business was passed, and now more than 140 years later Justin boots remain an icon within the Western Community,
Each work boots is skillfully crafted from the finest materials with intricate details and décor.
Till today Justin boots feature an elegant Western Style and holds their iconic name as a brand.
---
Why Choose Justin Work Boots
So why should you choose Justin brand boots as a work boot.
Well, if you are into this type of Western Style boot and would like to use it as a proper work boot, then the Justin work boot brand is just what you need and for good reason;
Quality – Their work boots undergo advanced construction methods to combine some state of the art technologies, along with premium boots features and materials. They have some of the most skilled boot makers in the world that handcraft their boots to ensure the highest quality craftsmanship and comfort. With more than 140 years of experience behind the brand, Justin set the bar quite high for Western Style work boots.
Technology – Justin work boots construction methods are one of the oldest and most trusted construction methods that you will find, This construction method ensures some of the most durable attributes and comfortable features in any work boot or western style boot. Along with quality materials, the technology used and skilled boot makes Justin still holds the record for the best construction methods in making work boots.
---
Features of a Good Justin Work Boot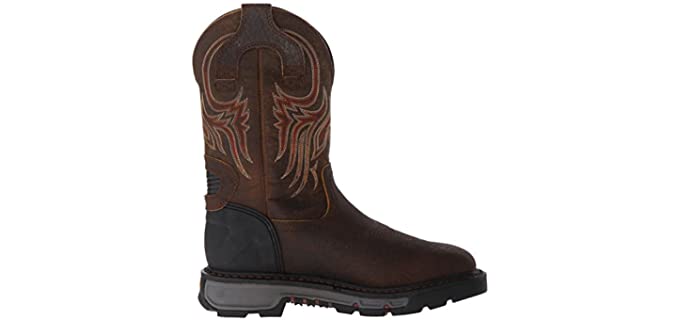 Grip – Justin Workboots are quite popular for their Grip on-demand technology. The grooves on the outsole allow you to grip well when the boot is flexed. This is ideally suited to horse riding boots for ranchers.
Stability Technology – Justin work boots feature stability technology with dual density memory foam to help stabilize your feet and to move freely.
J-Bar – The J-bar technology equips you with workboots for farming and working with chemicals. The Acid resistant leather will stand up urine, oleic acid, and saturated lime.
Safety Toe – Justin work boots offer a variety of safety toe designs such as a steel, composite, or Nano Composite safety toe. Nano Composite toes are the thinnest, while their alloy toe range is extremely lightweight and offers light toe protection.
Other safety Features – Besides the safety toe Justin work boots also offer other safety features. Most of their work boots are waterproof and chemical resistant, as they are mostly framing and ranching work boots. Their work boots also have snake-proof designs that protect you from snake bites. Then there are also the electrical resistant work boot models. Some work boots are likewise insulated for cold weather conditions.
Comfort Systems – Justin truly does make work of their comfort systems. The Flex Comfort system employs a flexible cushioned insole with a triple density covered insole board. The Calibre Comfort System also gives you multiple layers of cushioning, Then you get features such as the TPU injection molded outsole for durability and shock absorbency, along with the Ortholite cushioned and moisture-wicking sock liner.
Outsole – Justin Original partnered with Vibram one of the world's leaders in rubber soles. Vibram rubber outsoles are extremely durable and high performance, designed for optimal grip on wet and slippery surfaces.
Insulation – Some work boot models from Justin have a thermal insulation system to seal in body heat and keep your feet warm and comfortable.
---
Reviews: The Best Justin Work Boots
Below are some of our best available Justin Original work boot models;
---
1
This is the steel toe work boot from Justin Original.
The work boot has 100% leather uppers with a steel protective toe.
The work boot features a J-Flex comfort system and comfort removable insole.
The rubber outsole is highly slip-resistant and durable.
---
2
The Wyoming from Justin Original is a waterproof steel toe work boot.
It is 100% leather with a lace-up closure and a fully waterproof membrane.
The work boot is quite breathable and has a moisture-wicking synthetic lining.
It is 8 inches tall for added protection and has a composite safety toe.
The rubber outsole is fully slip resistant, and the work boot is likewise electrical hazard safe.
---
3
This is a Premium work boots from Justin Original.
The work boots consist of premium leather with a durable and slip-resistant outsole.
It has a Cushioned insole and a protective steel shank for stability.
It is a very durable non-safety toe work boot.
---
4
The Justin Commander 5X work boot is durable and comfortable.
It has leather uppers with 100% genuine leather.
The outsole is rubber with a lug and slip-resistant tread.
Inside the boot is a comfortable cushioned insole.
This is a lightweight non-safety, durable work boot for everyday wear.
---
5
The Justin Cargo is a Pull-on work boot with a soft toe,
It has genuine leather uppers with 10 Inch aged bark design shaft.
There are double comfort-cushioned inserts inside and a shock-absorbing midsole.
The outsole is a durable and slip-resistant rubber.
The work boots are fully electrical hazard safe and feature a soft toe design.
The perfect work boot for electricians.
---
6
For the ladies, we have the Jalena waterproof work boot.
The work boot has full genuine leather uppers with a waterproof, and breathable membrane.
It has an 8-inch longer shaft for stability and protection and a square design composite toe.
The work boot is very durable and comfortable with cushioning and a thick rubber outsole.
The tread on the rubber outsole is designed to offer exemplary slip resistance.
---
Index Table: Top Rated Justin Work Boots
---
---