Skechers is a brand that makes some exceptional footwear, including great work boots for industrial work environments and other occupations.
When it comes to Plantar Fasciitis, the pain can be very disruptive during your work day, and not treating the condition properly may lead to more severe medical treatments being required.
However, Luckily, Skechers' Work Boots for Plantar Fasciitis is one of the most comfortable and supportive work boots brands you will find.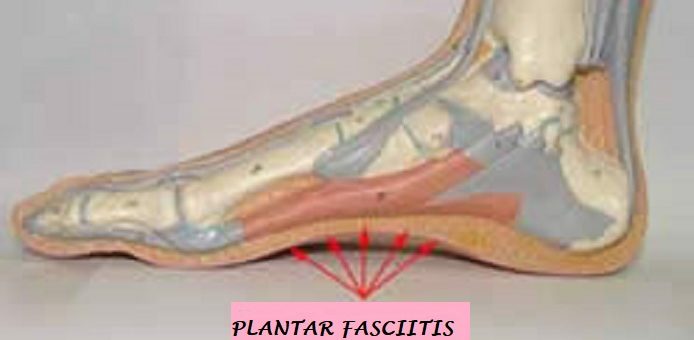 ---
---
Why Should You Choose Work Boots for Plantar Fasciitis
Working on hard floor surfaces on your feet all day will take a great toll on your feet and lower limbs and, in turn, will wreak havoc when you have Plantar fasciitis and, in many cases, even cause it.
Pain-Free – Skechers shoes and work boots for Plantar Fasciitis offer comfortable and supportive footbeds with shock-absorbing features and a more flexible sole, allowing natural movement and support to take pressure off your feet. Thus, you will have no pain, and you will be able to enjoy a full day's work without symptoms of Plantar Fasciitis or making the condition worse.
Better Productivity – Because your feet are more comfortable and there is no pain, you can be more productive. Plantar Fasciitis can cause pain and discomfort that may affect the way you walk and, in turn, disrupt your work tasks and daily activities.
Safer on Hard Floor – With proper supportive and cushioned work boots, your feet will feel much less impact and strain on hard floor surfaces. Thus, you can stay on your feet longer without suffering pain or fatigue.
Avoid Time Off Work – By taking proper care of your feet and treating Plantar Fasciitis, you will not have to lose precious work time by having to go for medical procedures or even surgeries because of the condition.
---
Plantar Fasciitis and How it Affects Your Feet
Plantar Fasciitis is caused by inflammation or damage to the Plantar Fascia, which is the band of tissue connecting your toes to your heel bone.
You may feel a stabbing or burning pain in your heel or the arch area at the bottom of your feet, especially when you get up in the morning or after being off your feet for a while.
Usually, the pain will go away as you move around more, but in some cases, it will not.
Plantar Fasciitis is a condition that is more likely to affect individuals between the ages of 40 and 60. People with issues with their arches, such as a very low or very high arch, also tend to suffer from this condition, as their arches do not support their feet naturally as they should, and there is more strain on the heels.
Standing or working on hard floor surfaces daily also causes excessive pressure on your feet, possibly leading to Plantar fasciitis and many other issues.
If you do not wear comfortable and supportive work boots, it can be just as dire for your feet.
However, with the right footwear and orthotics and some over-the-counter pain you may have had, you should easily be able to treat and curb the symptoms of Plantar Fasciitis.
---
Features of a Good Skechers Work Boot for Plantar Fasciitis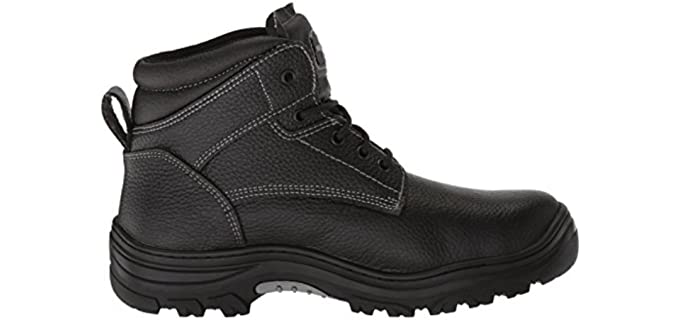 These are some features that Skechers off in their work Boots for safety and Plantar Fasciitis;

Uppers – Skechers' boots mostly have leather uppers and some textile models. They may have a waterproof layer or waterproof treated leather uppers. Skechers' work boots are lined for comfort and to wick away moisture. They generally have a roomy toe box and a comfortable, relaxed fit that will not strain your feet.
Safety Features – Like any regular safety work boots, Skechers work boot models likewise have safety features such as steel or composite protective toes, electrical hazard-safe materials, and many other features.
Comfort and Support – Skechers work boots are well cushioned with plush insoles and footbeds of memory foam or Goga Mat that is air-cooled in most models. They have a supportive footbed shape and a shock-absorbing cushioned midsole.
Outsole – Skecher's work boots have rubber outsoles with excellent slip resistance and durability.
---
Reviews: The Best Skechers Work Boots for Plantar Fasciitis
Here are some of our favorite Skechers work boot models that are all ideal for Plantar Fasciitis;
---
1
The Skechers Delleker Lakehead is the perfect work boot for Plantar Fasciitis.
There is an Air-Cooled memory foam insole for comfort and a supportive midsole.
The work boot is leather with a seam-sealed waterproof design.
The outsole is a slip-resistant, durable rubber.
The work boots also have a steel safety toe for your protection.
---
2
The Burlin Tarlac from Skechers is a leather work boot with a comfortable memory foam insole for Plantar Fasciitis Pain Relief.
It is a leather work boot that is durable and electrical hazard safe.
The work boot does come with a steel toe cap.
The outsole is a high-traction, durable rubber.
---
3
The Ruffneck from Skechers is a Pull-On work boot design for Plantar fasciitis.
The work boots have leather uppers and a soft toe.
There is a durable and slip-resistant rubber outsole.
Inside is a removable cushioned insole and smooth lining for your comfort.
---
4
The Skechers Workshire is a more relaxed fit work boot for Plantar fasciitis.
It has leather uppers and lace-up closure.
There is a comfortable cushioned insole and a supportive midsole.
The work boots are a wide and roomy fit.
The rubber outsole is fully slip-resistant.
---
5
Almost similar to a hiking-style work boot. However, this is a full safety work boot from Skechers.
It features a soft memory foam footbed for Plantar fasciitis pain and a supportive midsole.
There is a slip-resistant rubber outsole and protective steel toes.
The work Boot has leather and textile uppers that are breathable and waterproof.
---
6
The Alkova from Skechers is a durable and basic work boot for Plantar fasciitis.
It features a memory foam cushioned insole, a slight heel, and a flexible outsole.
The uppers are oil-finished leather, and there is a steel protective toe.
The work boots are waterproof and slip-resistant.
---
Index Table: Top Rated Work Boots for Plantar Fasciitis
---
---