Tactical work boots generally come with features that offer excellent shock absorbency, ideal for Plantar Fasciitis.
Plantar Fasciitis causes heel pain that is mostly felt when you get up in the morning, which can be caused by excessive impact or stress on the feet.
Most individuals who work in occupations requiring tactical boots tend to be on their feet quite actively, to run, jump, and even climb, which may lead to Plantar Fasciitis.
Luckily some great Tactical work boots for Plantar Fasciitis are ideal for the symptoms and treatment.
Tactical work boots generally have excellent stability features; here, if you have Plantar Fasciitis due to flat feet, or overpronation, they will help.
The Tactica; work boots we have included also provide excellent cushioning that is full length to prevent heel pain associated with Plantar fasciitis.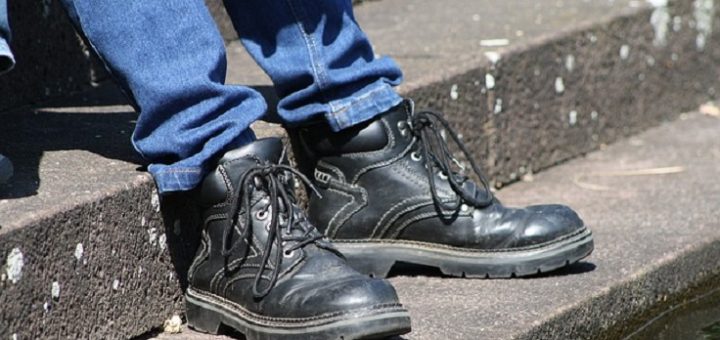 ---
---
Why Should You Choose Good Tactical Work Boots for Plantar Fasciitis
When you have Plantar Fasciitis, there are quite a few benefits in getting the right tactical work boots for Plantar Fasciitis;
No Pain – One of the best reasons to have comfortable and supportive tactical work boots for Plantar Fasciitis is to relieve pain. The work boots will absorb hard impacts, cushion your feet, and support them in such a way as to reduce pain and symptoms and aid in the healing process.
Better Productivity – When you have comfortable and supportive work boots and less pain and fatigue caused by strain on your feet, you can work harder and longer. You will have one less concern throughout your work day.
Work Long Hours on Tough Surfaces – Working long hours on hard surfaces on your feet places tremendous pressure on your feet, and the Plantar Fascia is the tendons at the bottom of your feet connecting the heel to the toes. Besides Plantar Fasciitis, the most common condition caused by hard impact on your feet, many other foot ailments, even back pain, knee pain, and hip pain, stem from working on hard floors. However, when your tactical work boots provide the right support features, you can easily work long hours on tough surfaces.
Avoid Surgeries – The last thing you want is to spend time away from work, having surgery for a condition such as Plantar Fasciitis. However, if you take care of your feet and invest in good shoes for Plantar Fasciitis, you can easily prevent the need for surgery or other medical treatments.
---
Why Do Some Tactical Work Boots hurt Your Feet?
When it comes to any shoe or work boot, it all boils down to support. Shoes and work boots that lack proper support for your feet will hurt them, causing them to ache and become tired, and in turn, cause pain in your joints, knees, hips, and even your back.
So what is support?
Support is divided into arch support to support the midsection of your feet to be aligned properly and disperse weight and impact evenly.
A contoured footbed design is ideal for supporting your arches.
Then, of course, you need cushioning, which also forms part of the support that absorbs impact and gives your feet a softer and more comfortable platform to rest on.
Many work boosts have hard and rigid soles that allow for little natural movement and offer no support or underfoot cushioning. Thus they can cause pain and issues such as Plantar Fasciitis.
---
Features of a Good Tactical Work Boot for Plantar Fasciitis
Here are a few ideal features in a tactical work boot for Plantar Fasciitis;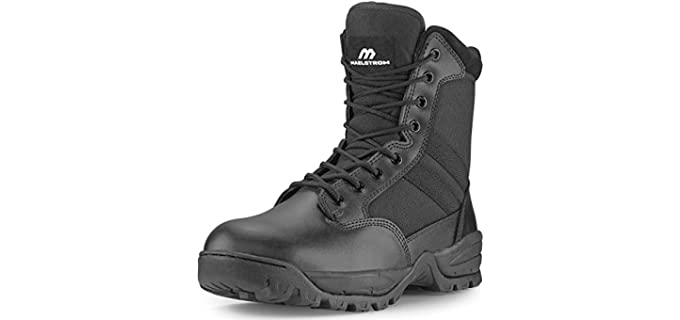 Uppers – Most tactical work boots will have textile and leather uppers that are polyester, nylon, or neoprene. They are breathable designs that may also be fully waterproof. Tactical work boots generally have a longer length to protect your ankles and prevent sprains. The inside may be a comfortable lining and cushioned insole.
Comfort and Support Features – As I have mentioned, having a more contoured footbed with a medium-deep heel cup and soft cushioning for Plantar Fasciitis support is good. The midsole should offer firmer cushioning for hard impact absorption.
Outsole – Tactical work boots generally have a lug rubber outsole for slip resistance, with a slight heel-to-toe drop sole.
Safet Features – You get tactical work boots with steel or composite safety toes, which are mostly electrical hazard safe and waterproof.
---
Reviews: The Best Tactical Work Boots for Plantar Fasciitis
In our list below, you will find some of our top choices in Tactical work Boots that are ideal for wearing if you have Plantar Fasciitis;
---
1
From Nortiv, we have Military Tactical work boots for Plantar Fasciitis.
They have a longer shaft with breathable uppers.
There is a removable shock-absorbing insole and a durable midsole.
The Midsole and insole provide ample cushioning to reduce heel pain associated with plantar fasciitis; the stabilizer in the heel provides stability and support that may prevent Plantar Fasciitis.
The rubber outsole is flexible, with a slip and oil-resistant tread.
The work boots do come in more color options.
---
2
The Rocky Alphaforce are waterproof work boots for Plantar Fasciitis.
They have full leather uppers, Oil and Slip-resistant RigiTrac molded EVA, and a rubber outsole.
The outsole has an EVA rubber blended design and a cushioned insole for support and comfort.
The work boots have a stabilizer and slight heel.
---
3
The Atac work boots are an excellent Tactical model for Plantar Fasciitis.
They have an eight-inch shaft and full-grain leather, and nylon uppers.
A full-length Ortholite imperial footbed for comfort and an Achilles heel flex zone.
The work boots are breathable and ideal for all weather.
---
4
From Maelstrom, we also have the perfect tactical work boots for Plantar Fasciitis.
They are leather and available in a few more colors.
Inside is a moisture-wicking lining and a comfortable cushioned insole.
The outsole is a durable and slip-resistant rubber.
The collar is padded for your comfort.
---
5
Another more lightweight option from Rocky is their composite toe work boot.
It is leather and textile with a composite safety toe.
Airport support, cushioning footbed, and a non-marking rubber outsole.
The outsole is oil and slip-resistant.
---
6
The Danner Arcadia is a supportive and comfortable Tactical work boot for Plantar Fasciitis.
It is full leather with an 8-inch shaft and Vibram rubber outsole.
There is a fiberglass shank and supportive midsole.
For comfort, you have a fully cushioned insole.
---
Index Table: Top Rated Tactical Work Boots for Plantar Fasciitis
---
---