Generally, there are so many issues with finding the best work boots for Plantar Fasciitis.
Most work boots offer little to no shock absorbency, cushioning, or support features that can help to treat or prevent Plantar Fasciitis.
Work boots already tend to be heavy and bulky. Thus, additional insoles or orthotics may make them even bulkier.
The ideal will be to get good work boots with built-in support and cushioning.
Timberland work boots for Plantar Fasciitis feature comfort and support characteristics that are ideal for Plantar Fasciitis.
Most Timberland work boots feature a cushioned and anatomical-shaped footbed that supports the arch with a firmer cushioned midsole for light stability, these features work together to prevent Plantar Fasciitis pain and take pressure off your PLantar Fascia for them to heal. Timberland work boots similarly come with safety features that are more suitable for an industrial environment.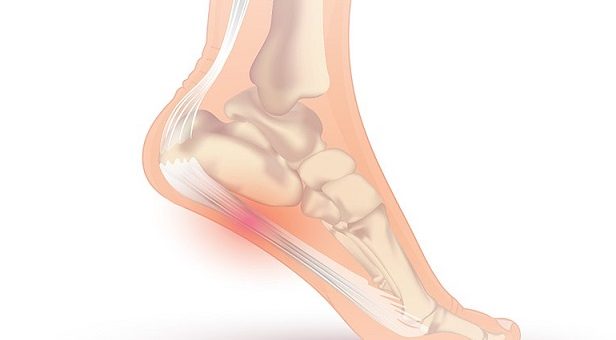 ---
Plantar Fasciitis Causes and Symptoms
Plantar Fasciitis is known as the most common cause of heel pain.
You have Plantar Fasciitis when the thick band of tissues running across the bottom of your feet, connecting the heel bone to the toes, the Plantar Fascia, becomes damaged or inflamed.
The pain is felt most when you have been off your feet a while and then get up. However, as you move around, the pain may diminish.
Symptoms – Plantar Fasciitis causes a stabbing pain in the heel or the bottom of the foot area between the heel and the toes. It is at its worst when you get up in the morning or from being seated after a while and usually goes away as you get more active.
Risk Factors – Plantar Fasciitis us most common n individuals between 40 and 60 years of age. Certain activities that place stress on the heels and tissues in that may lead to Plantar Fasciitis. Flat Feet and High arched feet that do not have the right arch support naturally are also more prone to Plantar Fasciitis. Furthermore, occupations keeping you on your feet all day and obesity are likewise risk factors.
Complications – If you ignore Plantar Fasciitis, the heel pain may become worse and start to hinder your daily activities. In turn, trying to walk with heel pain may disrupt the way you walk, which can lead to knee or back pain.
Treatment – You can go for physical therapy or use prescription or over-the-counter pain medication to ease Plantar Fasciitis Pain. Insoles or orthotics that provide good support and cushioning will also help. On the other hand, proper supportive and cushioned work boots will be ideal for protecting your heels and arches during the day.
---
Can Work Boots Cause Plantar Fasciitis
Generally, any type of foot pain, including Plantar Fasciitis, could result from overloading your feet with excessive stress and strain and from Uncomfortable work boots.
Most Safety work boots are designed to be functional, providing protection against work hazards and consisting of very rigid and solid materials.
They do not always allow for the proper natural movement of your feet and offer very little cushioning or support features with hard soles.
However, when you do look at some quality brands like Timberland, you have the assurance of a work boot that will provide safety features, as well as support and comfort features;
---
Features of a Good Timberland Work Boot for Plantar Fasciitis
Here are a few tips on what to look for in good work boots for Plantar Fasciitis;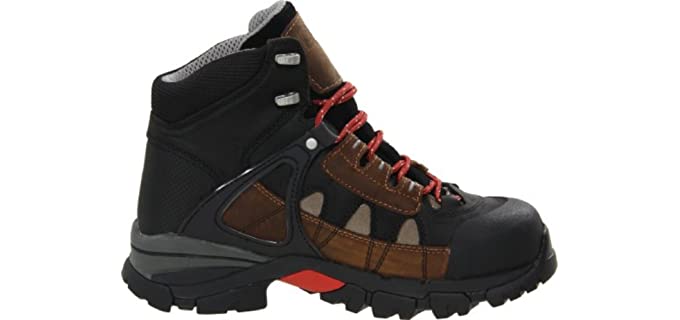 Quality Upper Construction – Look for work boots with good quality uppers that are durable leather that may be waterproof or not. A smooth interior lining wicks away moisture and keeps your feet dry. Make sure there is a roomy and comfortable toe box so that you can easily splay out your toes.
Safety Features – The safety features need to accommodate the work risks and requirements you have. Most safety wok boots will have a steel or composite toe and electrical hazard safe materials.
Contoured and Cushioned Footbed – Look for a work boot that has a more contoured style footbed that is cushioned and supports the arches of your feet.
Shock Absorbing Midsole – The Midsole between the insole and outsole needs to be a slightly firmer foam or EVA to absorb shock.
Slip-resistant Outsole – Most work boots will have either a slip-resistant outsole or slip and oil-resistant outsole that consist of rubber.
Fit – Make sure that your work boots fit well and do not squeeze your feet or slip off.
Heel – When you have Plantar Fasciitis, choosing a work boot with a slight heel is always better than an entirely flat sole.
---
Reviews: The Best Timberland Work Boots for Plantar Fasciitis
In our list, we have chosen a few Timberland work boots according to their features that will be ideal for Plantar Fasciitis;
---
1
The Timberland Pit boss is an industrial leather work boot for Plantar Fasciitis.
The work boot has a steel safety toe and a slip-resistant rubber outsole.
There is a comfortable cushioned insole and supportive footbed, which work together to reduce impact and pressure on your heels and Plantar Fascia to reduce pain.
The work boot features nubuck leather uppers and a rugged design.
---
2
The Powertrain for Timberland Pro has a dual-density outsole for shock absorbency and a comfortable insole.
It is an alloy toe work boot that is heat resistant and durable.
There is a Fiberglass shank for structural support.
The work boot has an oil and slip-resistant outsole.
---
3
For Plantar Fasciitis, the Timberland Boondock work boots have the ideal fit.
They are waterproof leather work boots with a slip and oil-resistant outsole.
There are anti-fatigue cushioned soles and stability features.
The work boots also have a steel safety toe.
---
4
The Timberland Powerwelt is a durable pull-on work boot for Plantar Fasciitis.
It has full leather uppers and a longer shaft.
There is an aggressive tread rubber outsole for slip resistance.
The work boot has a comfortable cushioned insole and a slight heel for support.
---
5
The Hyperion from Timberland is an industrial work boot for Plantar Fasciitis.
It has leather uppers and a slip-resistant Vibram outsole.
The anti-fatigue was cushioning, and support technology provides support and pain relief.
The EVA midsole absorbs shock.
There is an Alloy safety toe and waterproof membrane.
---
6
The Mudsill is a steel toe work boot from Timberland.
It has a 24/7 comfort system with cushioning and proper arch support.
The outsole is a durable rubber that is slip-resistant.
The work boot is leather and durable.
---
Index Table: Top Rated Work Boots for Plantar Fasciitis
---
---