From the earliest times, the American settlers were real pioneers, that had to build everything from scratch.
Thus, they are more aware of the proper value of good tools, apparel, and shoes.
A pair of well American made work boots can make a huge difference in your comfort and safety at work.
The Best USA Made Work boots are constructed using the finest materials and construction methods, along with safety features to protect you from work hazards.
---
So How Exactly Do American Made Work Boots Compare
Here are a few things that make the USA made work boots so special;
Better Craftmanship – Many experts in their industry agree that most USA-made work boots are of better quality because the working conditions, technology, and product knowledge in the USA are so far advanced superior. Professionals as well as boot enthusiast appreciate their craft and perform it with perfection.
Supporting the Local Economic – The USA appreciates their homegrown craftsmanship and supports the small manufacturer just as much as larger manufacturers. Manufacturers are regaining their operations more and more in their own country to control the brands better rather than concentrating too much on importing and exporting.
Heritage Brands – Some USA work boot brands are already more than a century old. Amon these are Thorogood, Chippewa, Justin Originals, Carolina, Frye, Danner, Red Wing, and Hawthorn Traveller. These brands help to preserve the rich heritage, culture, and traditions of the USA.
Preserving the Brands – The American work boot brand is a part of the ecosystem that builds its economy. Maintaining a good brand is the same as maintaining an identity, which helps the local population and economy flourish and preserve cultures and traditions.
---
So Why Choose American Made Work Boots
The footwear industry in the USA is currently peaking worldwide, and their brands are some of the most popular in the world at this stage.
American work boots are well manufactured using intricate and modernized processes and craftmanship to created durable and excellent quality work boots for both men and women.
Materials used are of the finest quality, and many the sustainable and ethically sourced, thus impacting the environment.
---
Features of a Good Made in USA Work Boot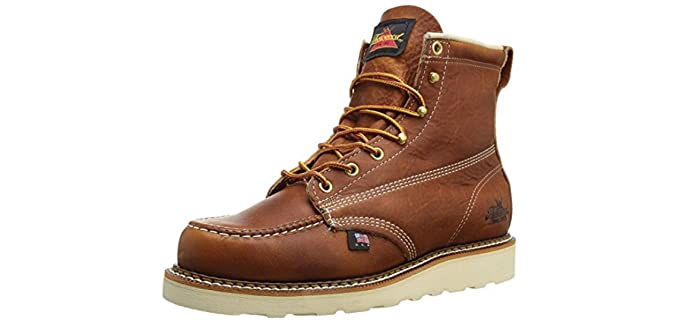 Materials – Durable materials such as genuine full-grain and nubuck leathers are used in the uppers and rubber and Vibram rubber for the outsole. Construction methods, including Goodyear welt and cement construction, which improves durability and flexibility, are also used.
Safety Features – Safety features include waterproofing, oil, abrasion, and slip resistance, as well as protective steel, composite, or alloy toe cap. Many work boots likewise consist of electrical hazard safe materails.
Comfort Features – You can look forward to many comfort features such as a cushioned insole, an EVA or foam midsole for shock absorbency, and a comfortable moisture-wicking lining in most USA-made work boots.
ASTM Rated – Most USA made work boots are also ASTM and rated according to safety industry standards for their safety features.
---
Reviews: The Best Made in USA Work Boots
Here we have some of the best quality work boots that are all made in the USA;
We hope you love the products we recommend!
So that you know, We may collect a share of sales or other compensation from the links on this page.
---
1
The Timberland PRO Pitboss is a quality American-made tough and durable work boot.
The uppers are 100% leather, and they meet ANSI safety standards.
There are a rubber slip and oil-resistant outsole that is also abrasion-resistant.
The top collar is padded for comfort, and the uppers are similarly abrasion-resistant.
You can also choose from more color options available.
---
2
Chippewa offers some excellent quality USA Made work boots, such as their Handcrafted 6-inch work boot.
Ter is genuine leather uppers with D-Ring lace-up ware that is more durable.
The leather is burnished in design with the American Flag lace pin.
Ter is a very durable and popular Vibram Rubber Outsole.
Inside, a removable cushioned insert for comfort also allows you to use your own orthotics.
The Outsole provides exceptional slip resistance on a variety of surfaces.
---
3
The Caterpillar Second Shift is a favorite American Made durable leather work boot.
The boots are genuine leather with a Nylon mesh lining for added comfort and breathability.
The synthetic sole is durable and slips resistant.
There are a few color options available to you.
Inside the boot is a comfortable padded insole for your comfort and a temperature regulating Climasphere sock liner.
---
4
The Red Wing Heritage is a comfortable and durable USA-made leather work boot.
A lug sole boot that is tough and ideal for roofing and iron mining.
The uppers are genuine leather, and there is more color available.
The Vibram rubber outsole is durable and slip-resistant,
Inside is a soft leather lining to wick moisture away as well as a cushioned footbed for comfort,
Constructed using Goodyear Welt construction methods with triple stitched quality.
---
5
A more stylish and professional-looking work boot from Frye that is made in America.
The uppers are 100% pure leather, and there is durable contrast stitching.
The thick rubber outsole with a lug tread provides excellent grip and traction.
The laces are rawhide leather for durability and there ate durable eyelets.
The boot also has a low heel for sophistication and support.
---
6
The Justin Original Stampede work boot is one of our top favorite American Made Western Style Work Boots.
A comfortable pull-on design with a square toe and a western style.
The uppers are genuine leather with embroidered and stitching details.
There are a removable comfort insole and a J-Flex flexible comfort system.
The rubber outsole is durable and slips resistant.
There is a steel underfoot shank for puncture protection.
---
7
The Irish Setter is a steel toe and electrical hazard safe work boot that is an American brand.
The Irish Setter is a Steel Toe protective work boot that meets safety standards.
The uppers are genuine leather, and all materials are electrical hazard safe.
The King Toe technology is roomier at the toe box for more comfort,
The boot is comfortable and has a padded footbed as well as a durable rubber outsole.
---
8
The Danner Bull Run Cristy is one of the top favorites from this USA-made brand.
These are very comfortable boots with an Ortholite cushioned footbed and a cushioning wedge sole.
The outsole is durable, non-marking, slip, and oil resistant.
They are electrical hazard-safe work boots with an ASTM rating.
The uppers are genuine leather, and there is a protective steel shank in the sole.
---
9
The Carhartt Workboot is also a well-known USA-made work boot brand.
A comfortable and flexible work boot made in the USA>
The uppers are waterproof lined leather and feature Flex technology that is durable and moves with you.
The outsole is a durable and slip, oil, and abrasion-resistant rubber.
The sole also features flex technology as well as an Ortholite insole for comfort,
The boots are electrical hazard safe and rated exceeding standards.
---
10
Thorogood is one of the top USA Made work boot brands, and their new GEN-Flex is a favorite among many.
The Gen-Flex2 is a callous and protective work boot available in a black or brown color.
The Uppers are genuine leather with protected and reinforced toes and heel areas.
It is constructed using Goodyear Storm Welt construction for weatherproofing.
The boots have a durable and protective Composite toe,
Inside is a single density polyurethane footbed for comfort and a moisture-wicking lining,
There is also an EVA Flexible insole for comfort.
The rubber outsole is flexible and slips-resistant.
---
Index Table: Top Rated Made in USA Work Boots
---
---