There has always been such a long debate around the Pull-On and Lace-Up Workboot design.
However, each of these work boots holds its own unique benefits and styles, and the lace-up work boot is usually the one of choice.
In this article, we will look a bit further into how to pull on and lace up work boots compare, and also some good choices in a lace up work boots.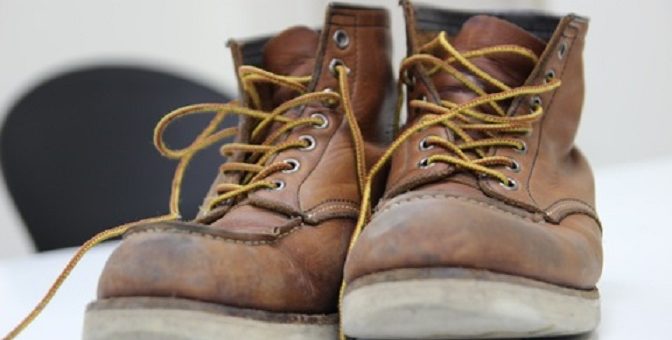 ---
What Are Pull-On and Lace-Up Work Boots?
In comparison to lace-up work boots, pull-on work boots have a much different application.
Both work boots make for outstanding industrial or outdoor work and safety work boots. However, there are some differences between the two and different instances where one will be a better choice than the other.
Lace Up Work Boots – Lace-up work boots come with a lace-up closure and lace material that allow you to get a more secure fitting of the work boot. Lace-up work boots generally offer better ankle support because you can get a much tighter and more secure fit. Lace-Up work boots are very durable and offer a more snug fit that you can adjust, which is the main difference. They are ideal for both outdoor and construction work, as well as other forms of Industrial work and environments. However, lace-up work boots will not be the best choice if you need something that is completely seam-sealed waterproof, and weatherproof.
Pull On Work Boots – The pull-on work boots have no laces and may sometimes have a zip closure, or you can just pull them on and off. Pull-on work boots are easy to wear, offer a more generous fit, and make for the ideal work boots. Pull-on work boots are a great design if you need full protection against liquids, and most chemically resistant and full waterproof work boots are generally pull-on. For ranch work, laboratory work, farming, and similar occupations, they are ideal. Pull-on work boots will not be adjustable in fit, though, and maybe less snug. They are also ideal if you need to change shoes frequently because they easily pull on and off, and there is no need for laces.
So, as you see, each style of work boot is unique in its own way and is useful for its own specific functions and occupations.
---
Comparing Pull-On and Lace-Up Work Boots
If you are still not sure, here are a few benefits of wearing lace-up work boots in comparison to pull-on work boots;
Fit – One of the top benefits of a lace-up work boot is, of course, the fit. Lace-up work boots can be adjusted to give you the fit that suits you, which is also much more secure and stable for your feet. Lace-up work boots are also more ideal for feet that tend to swell, as you can easily loosen or tighten the fit.
Safety – Lace-up work boots can provide safety features and protection much similar to a pull-on work boot. However, their only downfall is that because of the laces, and you will never be able to fully submerge the workboat in a liquid, even if it is waterproof.
Good Ankle Support – A Lace-Up work boot because of the ankle collar and fit will offer much more stable and comfortable ankle support. Because the fit is adjustable, you will have no worry about a loser fit boot in the ankle as the leather stretches and because worn in. Thus, a lace-up work boot is a much better choice for your ankles.
Safer – Because lace-up work boots offer a more secure fit, they are generally much safer than pull-on work boots. There may be an incident where your feet may get stuck, and your pull-on work boots can slip off or pull off your feet. However, this is less likely with a lace-up work boot. Pull-on work boots may generally also have a loose fit that can cause chafing and blisters or heel slippage.
---
Features of a Good Lace Up Work Boot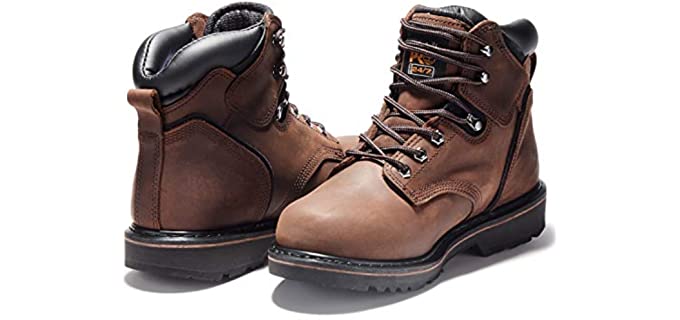 Uppers – The Uppers of most lace-up work boots will be genuine or synthetic leather, some may have mesh insets for breathability and a textile lining to wick away moisture. Most lace-up work boots are short or ankle-length work boots that range between 6 and 8 inches.
Comfort and Support – For comfort, a lace-up work boot may have a cushioned insole of a footbed and a shock-absorbing foam or EVA midsole. There may be a stability support shank, arch support, or an ergonomically shaped footbed for more support.
Outsole – The Outsole of most work boots are rubber or Vibram rubber. They usually have a patterned or lug tread that offers slip resistance or oil and slips resistance.
Safety – The basic safety features include a steel or composite safety toe, electrical hazard safe materials, waterproofing, and slip resistance. Additional safety features include heat resistance, chemical resistance, a puncture-proof sole, metatarsal guards, and abrasion resistance.
Options – Most work boots come in many sizes, and sometimes width options, color ranges are usually limited and neutral.
Closure – The Closure system for the work boots today will be a lace-up closure that can be normal laces or speed laces.
---
Reviews: The Best Lace Up Work Boots
These are some of our best available lace-up closure work boots;
---
1
The Timberland Pro Pitboss is a steel toe lace-up work boot.
It has genuine leather uppers and sturdy lace-up closure.
The work boot features a slip-resistant rubber sole and very durable construction.
It also has a steel safety toe.
---
2
The Keen Durand is a waterproof hiking-style lace-up work boot.
It has an all-terrain, dual-compound rubber outsole for better grip.
There are comfortable leather and synthetic uppers with a secure lace-up system.
The work boots are designed for support and stability on uneven surfaces.
They are also fully waterproof.
---
3
The Chippewa is a lace-up work boot for men.
The work boot has leather uppers, a waterproof lining, and lace-up closure.
They have a durable and slip-resistant outsole in rubber.
The lace-up hardware is also non-tarnishable.
---
4
The Columbia Newton Ridge is a comfortable lace-up work boot.
It has leather, suede, and breathable mesh uppers and a lace-up closure.
The work boots feature advanced waterproofing technology and responsive cushioning.
They are durable and come in many color selections.
---
5
The Keen Utility work boot also has a non-tarnishable hardware lace-up system.
It has textile uppers and a steel protective toe.
The work boots are fully waterproof and have a slip-resistant rubber outsole.
They are comfortable and cushioned, with a moisture-wicking interior lining.
---
6
The Timberland Pro Direct-attach is a steel toe, lace-up work boot.
The work boots have leather uppers, with a steel safety toe and lace-up closure.
They have a durable heat, slip, and oil-resistant rubber outsole.
There is anti-fatigue technology comfort and cushioning features inside.
---
Index Table: Top Rated Lace Up Work Boots
---
---