Whether you are a professional logger Perennial adventurer or just need to climb trees for any other reasons, you do need the best work boots for tree climbing.
Most likely you will need a Logger boot or a very lug hiking boot for climbing trees. The boots need to have a flexible fit, and sole, as well as a slight heel and very grippy outsole, with water proof uppers.
Mostly Logger work boots work very well for tree climbing, so that we will be focusing on similar work boot types.

---
What Shoes Should Your wear for Tree Climbing
For tree climbers, as a special type of work, a boot is needed that can be worn both when climbing trees and also when they are on the ground.
Good tree climbing work boots have a tread that is very lug and a slight heel for proper support and balance.
The shaft needs to be longer to provide good ankle support to prevent injuries.
---
Some Frequent Questions and Answers On Tree Climbing Work Boots
Why do Tree Climbing Boots have a Heel – As you will see, most tree climbing work boots or logger boots will have a heel. The heel helps you climb and helps with stability and more even pressure distribution.
The Best Footwear for Tree Climbing – Loggers, Arborists, and those climbing trees usually wear Logger work boots or work boots that are both suitable for climbing trees and for walking on land. The work boots have a lug outsole and usually have a higher length shaft for protecting your ankles.
Should You Use Spikes or Not – many tree Climbers and loggers use spikes on their work boots for better grip. However, you may be worried about damage to the trees. Yes, these spikes do cause unnecessary holes in the trees, and they can encourage the growth of unwanted waterspouts that may harm some of the vital tissues of the tree.
---
Features of a Good Work Boot for Tree Climbing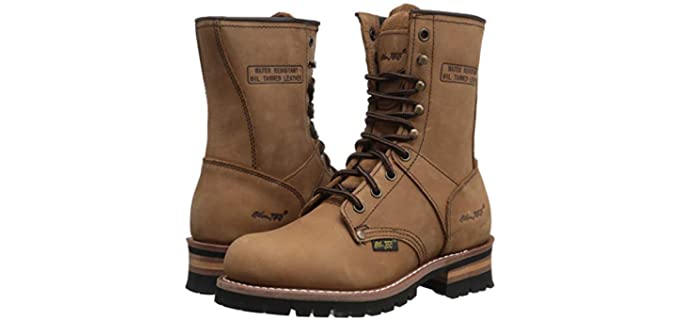 Outsole – Lug soles and treads on your work boots for climbing trees are a must to improve grip and provide better slip resistance. The work boost should also have a sturdy rubber outsole.
Higher Heel – You will see most logger and tree climbing work boots will have a higher heel, this is to help with grip and support.
Protective Toe – Regular soft toes and composite toes are much more lightweight for climbing trees, while a steel toe offers better protection, so it all comes down to what you need personally.
Ankle Support – Look for work boots that have a higher shaft that supports your ankles when climbing trees.
Insulation – Depending on the weather conditions, you may need work boots that are insulated against the cold for climbing trees.
Water Resistant – Logger boots are usually water-resistant, and this is an ideal feature to have in a work boot for tree climbing, as you never know what the weather may hold.
---
Reviews: The Best Work Boots for Tree Climbing
In our list, we have some of the best available work boots that are ideal for climbing trees and logger work;
---
1
The Georgia Muddog is a waterproof and steel toe work boot that is perfect for tree climbing.
The work boots have leather uppers with a lightweight, protective steel toe.
They have an ankle-high design for stability and a TPU shell.
The outsole is an oil and slip-resistant rubber with a lug tread and slight heel for tree climbing.
The work boots are also electrical hazard safe and ASTM standard rated.
the Lug tread and slight heel allow you to get an easy grip on the trees, while the waterproof uppers are ideal, and the fit protects your ankles from sprains.
---
2
The Chippewa Logger work boots are perfect for tree climbing and logger work.
They have a unique design sole that is a Vibram One Piece Yellow Plugger, with a heel and lug design.
There is a 4 Iron Rubber midsole for shock absorbency and a Texon comfortable cushioned insole.
The work boots have Apache waterproof leather uppers, and a linger 8-inch shaft to protect your ankles.
---
3
The Georgia Logger boot is likewise the perfect work boot for tree climbing.
It has leather uppers and an eight-inch shaft for ankle stability.
The work boots are full grain DPR leather and have grip panels for easy pull-on.
They have a heel stabilizing counter lock and a durable lug rubber outsole with a heel.
Furthermore, the work boots have a padded collar and a comfortable insole.
---
4
The Rugged Blue Logger boot for climbing trees is ideal and has a steel protective toe.
The work boot features a lug rubber sole with a heel for additional grip.
They have leather uppers and easy lace-up hooks.
The work boot offers excellent protection with a longer shaft to keep your ankles stable.
There is also a steel toe to protect your toes from heavy falling tools and objects.
---
5
The Skechers Cascades is the ideal work boot for tree climbing, as well as a logger work boot,
There are neutral colors available in the work boot, and it has an eight-inch shaft.
The work boot has leather uppers that are water-resistant and a comfortable, smooth lining.
They have a 1/2inch midsole for shock absorbency and flexibility.
The outsole is a lug rubber with a heel for grip.
---
6
The Ad-tec, Nine-inch loggers, and work boots offer excellent protection and stability for tree climbing.
They have Crazy Horse waterproof leather uppers and a plain soft toe.
There is a shock-absorbing midsole and a comfortable insole.
The rubber outsole is a lug, as well as oil and slip-resistant.
The work boots also have a slight heel for stability.
They are available in more colors.
---
7
The Carhartt work boot for tree climbing is the perfect design and shaft length.
It is an eight-inch shaft leather work boot that is fully waterproof, with a composite toe.
The work boot has a comfortable PU Strobel pad and PU cushioned insole, as well as Molded TPU heel stabilizers and Achilles flex joint.
The work boot has a slight heel and a durable slip-resistant rubber outsole.
---
8
The Georgia Boot is a comfortable and durable work boot for tree climbing.
They have full-grain leather uppers that are fully waterproof.
The work boots have a very durable Goodyear Welt construction.
They have a steel shank for stability and a lug Vibram rubber outsole with a heel.
---
Index Table: Top Rated Work Boots for Tree Climbing
---
---