You may have noticed that there are some work boots that actually have a more raised heel than others.
The heel height can be a certain style of a work boot or a work boot for specific jobs such as ranching and logging work.
The best High heeled Work Boots are ideal in certain occupations and work environments, and also have a more sophisticated and professional appeal.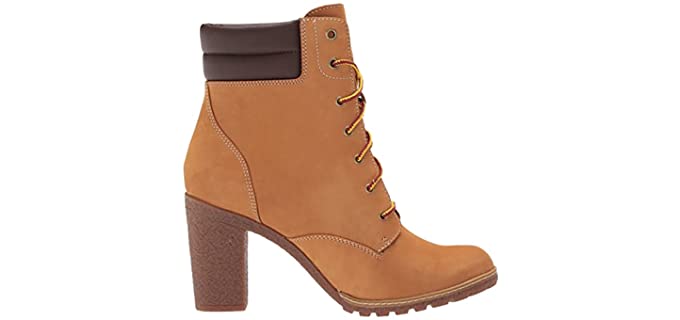 ---
Work Boots with a High Heel
The high-heeled design in work boots has actually evolved over hundreds of years and comes more than 500 years ago.
Persians used to wear shoes with a raised heel when riding on horseback as it provided them with much more stability while their feet are in the stirrups.
This was in fact the beginning of the high heel work boot trend and became a fashion statement for men and women in the 18th century.
However, the raised heel style did stick around as it was the best option for riding a horse, and you can still see it today in the Western Style and Ranching work boots.
On the other hand, many fashionable work boots will also have a raised or high heel today.
Then there are logger work boots as you have noticed that have an especially high heel, which is a very old design feature, especially for logging work.
On the other hand, a raised heel improves balance on rocks and uneven terrains and also provides much better arch support than a completely flat sole.
---
Where are High heel Work Boots Ideal
High heel work boots are ideal in certain setting mostly;
Logging Workers – In the Logging work industry you will see most of the work boots have a raised heel and a very lug outsole. The raised heels help to elevate their feet in wet and marshy environments and provide traction on uneven terrains.
Lineman – Lineman regularly need to climb high poles and they rely on the higher heel of a high heeled or logger work boot to help with climbing. The gap created by the higher heels provides a spot for climbing the spurs, to wrap underneath the bottom of your feet. It is also ideal on wet and uneven terrains for better elevation and stability.
Farmers and Ranchers – Farmers and ranchers many times rely on a high-heeled work boot, such as western-style work boots, and logger boots. The raised heel as mentioned is ideal for horse riding, and for farmers, the style of the work boots is also important. Farmers and Ranchers
Motorcycle Riders – Motorcycle riders are generally more prone to high-heeled work boots, for men and women. The raised heel also provides a better buffer for motorcycling similar to that when riding a horse.
---
Features of a Good High Heel Work Boot
Safety Features – Most work boots will have a steel safety toe for protection or a more lightweight composite toe. Some work boots are electrical hazard safe. All work boots will offer some slip resistance.
Comfort – For comfort most work boots will have a cushioned footbed as well as support technology to prevent foot fatigue and to absorb shock on impact. Most work boots also have steel or nylon shanks for stability on uneven floor surfaces and for underfoot protection.
Waterproofing and Insulation – Depending on your work environment you may need work boots that have a waterproof upper lining, as well as some insulation, such as Thinsulate to keep your feet warm and comfortable.
Traction – Traction in a work boot is essential especially if you work in wet and slippery environments where you need extra slip resistance. Most work boots have a rubber slip-resistant outsole, or a slip and oil-resistant outsole. The work boots will also have an elevated heel that can be low, medium, or a high height.
---
Reviews: The Best High Heel Work Boots
Here are some of our top favorite work boots that have a higher heel;
---
1
The Ariat Hybrid Rancher is an easy western-style pull-on work boot for men.
The Western-style includes a higher heel and a more narrow toe design.
The work boot has leather uppers and is waterproof,
There is a full cushioning system inside for all-day comfort.
You can also choose from a few neutral color options in this work boot.
---
2
The Georgia Mid-Calf work boot is a unisex size and comes with a higher heel.
It has leather uppers and a durable, slip-resistant rubber outsole.
There is a protective steel shank and durable Goodyear Welt construction.
The work boot is also insulated with 400 grams of 3M Thinsulate insulation.
---
3
From Timberland Pro we have the Direct Attach ankle work boot with high heels for men.
The work boot has leather and textile lined uppers with Thermolite insulation for cold weather.
It is waterproof and features comfort suspension technology in the footbed and sole.
The work boot is seam-sealed to keep liquids and cold out and has a comfortable padded collar.
The slip-resistant rubber outsole features an elevated heel.
---
4
The Timberland Pro Tilston has a very high heel and durable design.
It has a rubber outsole that offers good slip resistance, with an extra high heel.
The uppers are leather and there is a comfortable cushioned EVA footbed.
The work boot has a padded collar and ankle design.
It is also available in many more colors options for ladies.
---
5
The Adtec Logger work boot for men has a higher heel design.
It features a durable and lug, slip-resistant rubber outsole, and high heel.
the uppers are genuine crazy horse leather.
There is a comfortable padded insole and supportive footbed.
The work boots also have a protective steel toe cap and the outsole is oil and slip-resistant.
---
6
From Adtec we have a Steel protective toe Logger work boot for ladies.
The Logger work boot has a very grippy rubber sole with a higher heel.
The uppers are Crazy horse genuine leather with a lace-up closure.
There is a steel protective toe and durable Goodyear Welt construction.
---
Index Table: Top Rated High Heel Work Boots
---
---