If you are looking for a pair of Ankle Support Work Boots that will keep your ankles safe and stable from moving up and down at work, you have come to the right place.
For Good ankle support, you need to look for a work boot with a more stable and wider platform style sole; it will need to have a deeper heel cup inside the sole or footbed or a footbed with a more anatomical shape that supports the arch. A Longer shaft such as 8 Inches will also help to stabilize your ankles, and good cushioning, especially in the heel, is advised.
This article will look at the best work boots for ankle support to reduce ankle pain and the risk of ankle injuries.

---
---
Ankle Pain from Work Boots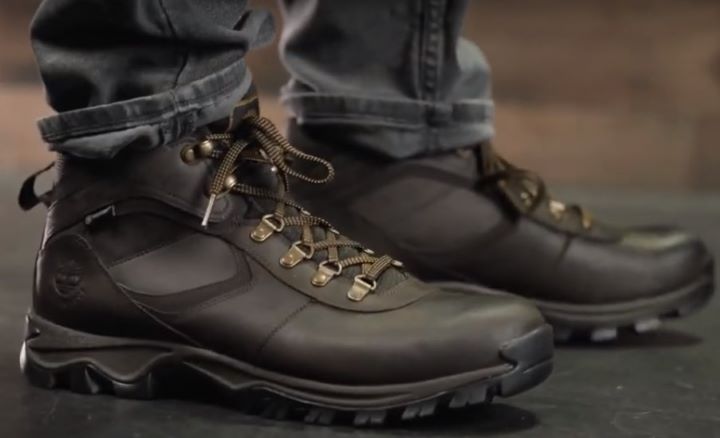 Work boots that do not support your ankles and other factors can cause ankle pain and issue;
Achilles Tendonitis – When your feet are involved in heavy work for long hours while wearing your work boots, you can suffer an overuse injury to the Achilles tendonitis.
Injuries – Working in fast-paced environments on slippery floors and surfaces increase your risk of falls and twisted ankles, which can result in pain and injuries to your ankles. Wear a safety work boot with a slip-resistant outsole that protects you from slips and falls.
Uncomfortable Work Boots – Work Boots that are not the right size, shape, or design can reduce comfort levels and cause pain and discomfort in your feet and ankles. Pressure on your feet and an improper fit can also affect your ankles.
---
How to Stop Work Boots from Causing Ankle Pain?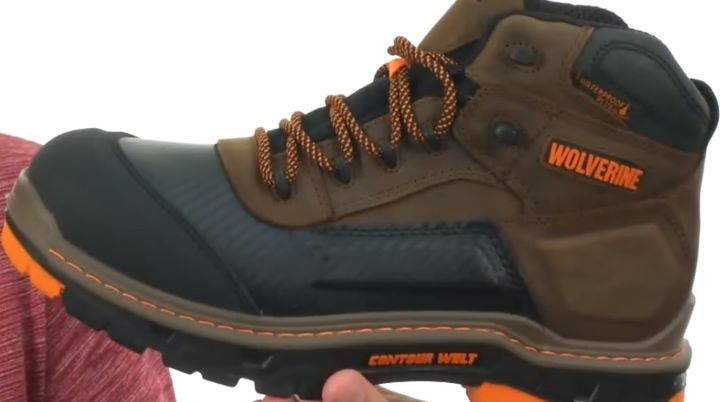 There are a few ways in which you can prevent your work boots from hurting your ankles or from causing ankle injuries;
1. Choose your work boots in a proper size that will not slip but fit snugly around the ankle.
2. Choose a work boot with a padded collar or longer-length ankle for better support.
3. Insoles or orthotics can provide good arch support and cushion, protecting your ankles against hard impacts.
4. Use double-layered socks or ankle inserts to protect your ankles from friction that may cause blisters and chafing.
5. Apply heat to stiff and uncomfortable boots to get them worn in faster and before use.
---
Features of a Good Ankle Support Work Boots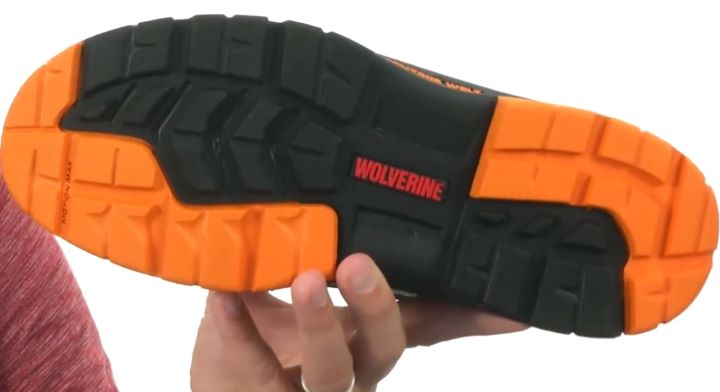 Comfort Features – Comfort is a priority in a work boot for ankle support, Look for a work boot with cushioning in the insole and the midsole for shock absorbency. A moisture-wicking lining will keep your feet dry and eliminate sweat. A padded collar is ideal for ankle support. Support features such as arch support and light stability also help stabilize your ankles and reduce excessive pressure on your feet and ankles.
Weight – Keep in mind the more features your work boot has, the heavier it can become. A steel toe and shank can make for a very heavy work boot, along with other features. A heavy work boot will place quite a bit of strain on your ankles.
Design – A work boot that covers the ankle or has padded ankle support is ideal. Do not opt for low-cut work boots that do not support your ankles. A six-inch shaft or longer works but will offer sufficient stability and protection for your ankles in general.
Safety Features – Your work boot will still have to have safety features for your work environment and occupation. A composite or alloy safety toe is much more lightweight than a fiberglass shank. Look for a slip-resistant rubber outsole. Some work boots are also hazarding safe and offer heat and chemical resistance.
---
Reviews: The Best Ankle Support Work Boots
Our top choices in work boots are ideal for ankle support and comfort. Please note that this page includes affiliate links.
We hope you love the products we recommend!
So that you know, We may collect a share of sales or other compensation from the links on this page.
---
1
---
2
The Titan from Timberland PRO has a size-inch height for optimal ankle protection.
The work boot features an ergonomic PowerFit design and good cushioning.
It is durable with cement construction, leather uppers, heat, oil, and slip-resistant rubber outsole.
It also features a protective safety toe.
---
3
The Skechers Workshire is a relaxed fit workboot ideal for ankle support.
The work boot has a shock-absorbing midsole, memory foam cushioning, and a comfortable padded collar.
A Nitrile lug rubber oil, slip-resistant outsole, and genuine leather uppers.
The boot is electrical hazard safe and has a steel safety toe.
---
4
The DR. Martens work boot is also a favorite for construction and ankle support.
It has leather uppers, a comfortable padded collar, and an internal steel toe cap for protection.
The leather uppers have a waterproof waxy layer, and the rubber outsole is ASTM-rated slip-resistant.
Inside, the cushioning and foam midsole offers shock absorbency to reduce strain and impact on your ankles.
You can likewise choose from two available colors.
---
5
The Timberland PRO Endurance has some excellent ankle support features.
It has leather uppers, a slip and abrasion-resistant rubber outsole, and a toe cap.
There is a flexible and puncture-resistant steel underfoot plate and steel toe for safety.
The work boot is waterproof and very durable, so ideal to use in work environments where you need waterproof protection and a work boot that can withstand some wear and tear.
---
6
From Wolverine, we have an ankle support work boot for the ladies.
The work boot has a nylon shank for stability and a cement-attached sole.
The nylon shank provides stability that will help parent ankle injuries and twist on uneven surfaces, and it also protects your feet from punctures when there are sharp objects.
The length is ideal for ankle support, and there is an EVA midsole for shock absorbency.
There is a mesh interior lining and a cushioned removable footbed for comfort.
It is electrical hazard safe and has a slip-resistant rubber outsole.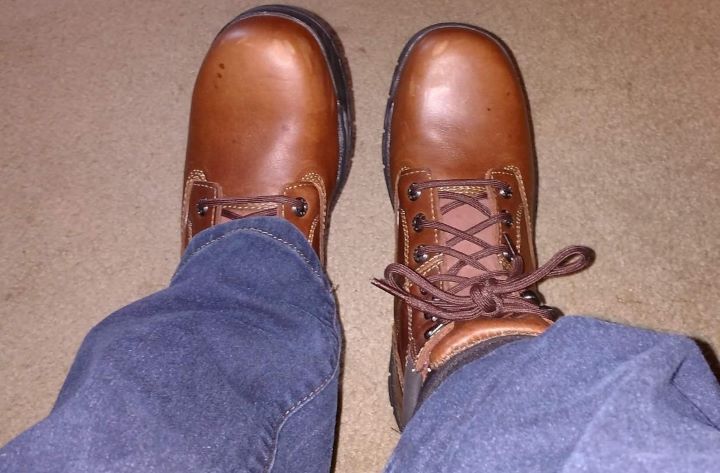 ---
7
The Keen Utility Coburg has a longer shaft for ankle protection.
Use a steel toe and waterproof work boot for your safety.
The uppers are leather, and there is a breathable lining.
The outsole is a slip and oil-resistant rubber.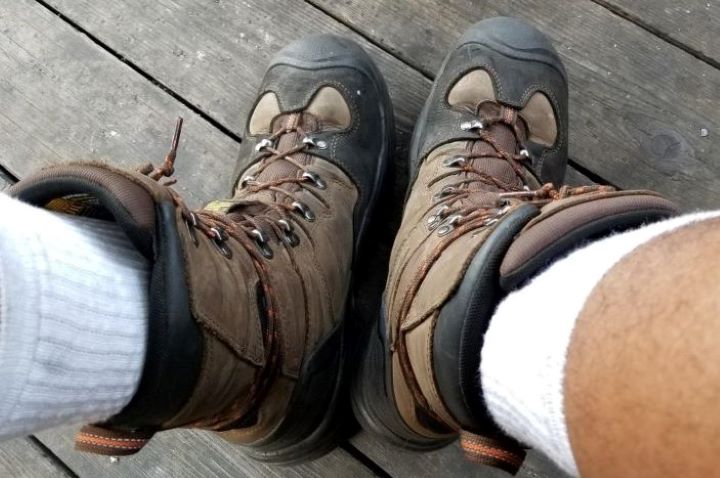 ---
8
---
9
The Skechers Argum is a durable work boot for ankle support.
It has a padded collar and a snug ankle fit.
The uppers are waterproof leather.
Inside there is a memory foam footbed for comfort.
---
10
The Timberland Pro Titan is a waterproof work boot for ladies.
The design fully supports your ankles with a padded collar.
It is a durable work boot with a slip-a-resistant rubber outsole.
There is a contoured Ortholite insole for comfort.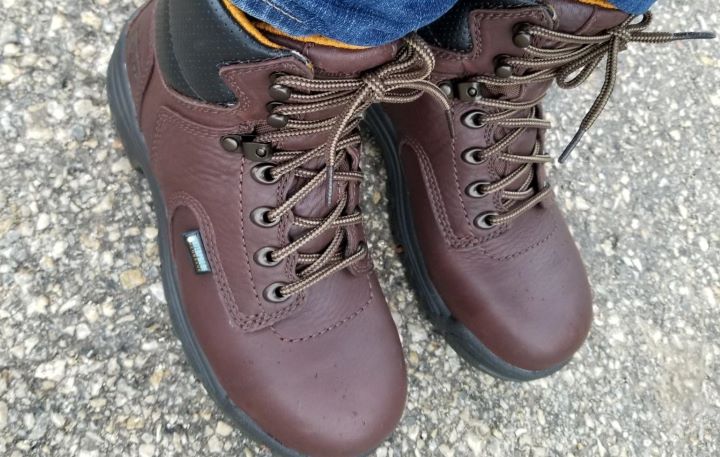 ---
Index Table: Top Rated Ankle Support Work Boots
---
---