You may have grown tired of the same old Neuropathy and diabetic work boots, which are more Orthopedic in design, with fewer safety and durability features.
Neuropathy may cause Numbness, tingling feeling, or pain in your feet. It would help to have a work boot with almost a seamless lining and no hard edges that can cause friction on your feet. You will also need good underfoot protection, such as a shank, and good shock absorbency from the insole and midsole, as you may not feel protruding objects or hard impacts on your feet.
So, we have opted to look at general work boots that offer excellent durability, safety, and a proper fit and comfort for feet affected by Neuropathy.

---
---
Neuropathy Causes and Risk Factors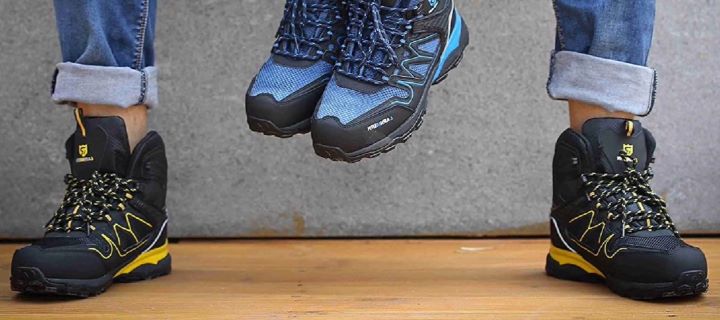 Neuropathy, or Peripheral Neuropathy, in this case, is caused by damaged nerves outside the brain and spinal cord, called the peripheral nerves, which often cause weakness, Numbness, and pain, affecting mostly your hands and feet.
The peripheral nervous system sends information from your brain and your spinal cord, or central nervous system, and then to the rest of your body for your body to function properly. However, these nerves also send sensory information to the central nervous system.
Thus, peripheral Neuropathy can result from various issues and instances, such as traumatic injuries, infections, inherited causes, metabolic problems, and even exposure to toxins. However, the most common cause of peripheral Neuropathy is, of course, Diabetes.
This is why you will mostly use diabetic work boots when you suffer from Neuropathy.

Symptoms – The symptoms you will experience with peripheral Neuropathy will differ according to the affected nerves. These include the sensory nerves that receive sensation, the motor nerves that affect muscle movements, and the autonomic nerves that control body functions. Some signs and symptoms of Peripheral Neuropathy include Numbness, pain, prickling in your feet and hands, sharp or burning pain, extreme sensitivity to touch, lack of coordination, muscle weakness, and pain during certain activities.
Causes and Risk Factors – As we have mentioned, one of the greatest causes of Neuropathy is the condition of Diabetes. Other Infections, Inherited disorders, Tumors, Bone Marrow disorders, and autoimmune conditions will likewise lead to peripheral Neuropathy. Injuries to these nerves may also lead to the condition.
---
Choosing Work Boots for Neuropathy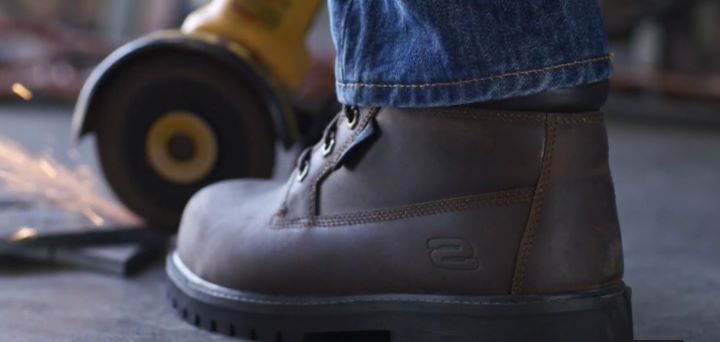 As we are looking at regular work boots and some diabetic work boots for Peripheral Neuropathy, we will need to choose carefully and consider the following characteristics;
Get the Right Size – The right size is very important as the work boot must not slip around, causing chafing or friction, and it must also not be too tight, causing pressure anywhere. So you will generally have to get a proper, comfortable, relaxed fit, with a roomy toe box and more snug heels for stability.
Avoid Work Boots with Synthetic Linings. Materials including PVC and artificial leather or plastics in the lining or unlined boot's uppers will restrict air circulation and trap sweat and heat inside the boots. Thus, always look for genuine leather work boots with a moisture-wicking textile or mesh lining to prevent sweating and overheating.
Get Cushioned Work Boots – You will need a comfortable and well-cushioned platform for your feet, so look for a work boot with a cushioned insole and a shock-absorbing midsole. EVA and other foams are ideal.
Wear Socks with Your Work Boots – Wear comfortable moisture-wicking socks with your work boots that have a relaxed fit and will minimize pressure and friction on your feet.
Avoid Heeled Work Boots – Avoid a work boot with a heel and opt for a work boot with a more uniform outsole and a thicker outsole for underfoot protection against sharp objects.
---
Features of a Good Work Boot for Neuropathy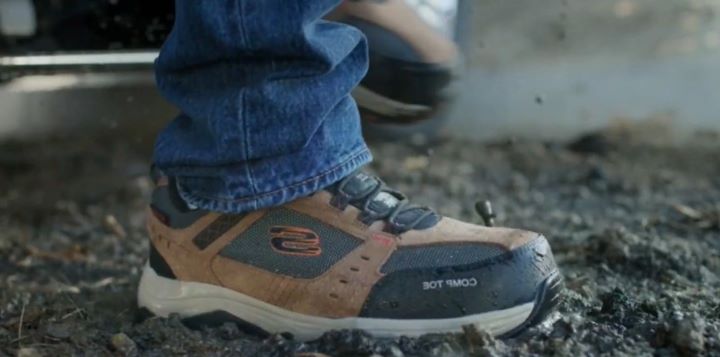 Uppers – Opt for Leather uppers with mesh or textile linings and insets for breathability. The uppers need to offer a more relaxed fit with a roomy toe box. A padded collar is ideal; however, I would not opt for a padded tongue.
Comfort and Support Features – look for a well-cushioned footbed or insole and a shock-absorbing foam or EVA midsole for underfoot impact protection.
Safety Features – Safety features include a steel or composite toe for toe protection, electrical hazard-safe or chemical-resistant materials, water resistance, and abrasion resistance. A shank or underfoot plate protects against punctures, especially when you have no feeling in your feet and work in dangerous environments.
Outsole – Look for a uniform, thick rubber or wedge design outsole with no heel. The outsole should be lug as well as slip-resistant for work purposes.
Options – Options usually include size and extended widths; however, most work boots come in limited color selections.
---
Reviews: The Best Work Boots for Neuropathy
These are great choices in work boots for Neuropathy;
We hope you love the boots we recommend!
We may collect a share of sales or other compensation from the links on this page.
---
1
---
2
The Timberland Pro Titan work boot is also an excellent choice for Neuropathy.
The work boot has full leather uppers, and three colors are available.
It has a steel safety toe, a roomy toe box, and availability in wider width options.
There is a PowerFit comfort system and cushioning for all-day support.
The outsole is oil, slip, and abrasion-resistant, non-skid rubber.
---
3
The Wolverine Loader is another favorite from this brand for Neuropathy.
The Loader features an eight-inch shaft and steel protective toe.
There is a padded collar and a removable full-cushioned footbed for comfort.
The Sole has a PU wedge design with a durable rubber slip-resistant outsole.
The uppers are full-grain genuine leather with a roomy toe box.
---
4
The Ariat Groundbreaker is a great boot for easy on and off when you have Neuropathy.
The work boot is a genuine leather pull-on style that looks great and comes in many colors and designs.
It has a durable slip-resistant rubber outsole and a soft round toe.
There is a four-layer comfort cushioning system under your feet, and the work boots come in wider options.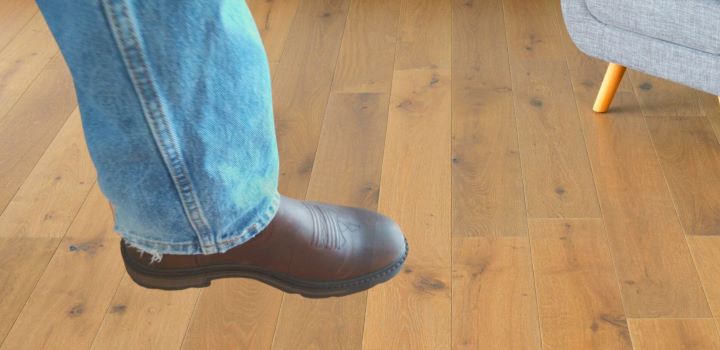 ---
5
The Timberland Pro Boondock is an extremely durable, highly protective, heavy-duty work boot.
The wider toe box and comfortable insole make it perfect for Neuropathy.
It is genuine leather with a supportive heel cup for stability and a rubber toe cap for added protection.
The outsole is a very thick and durable, slip-resistant rubber.
There is a padded collar, cushioned insole, and shock-absorbing PU midsole.
The work boot is fully waterproof with a composite safety toe that is more lightweight than steel.
---
6
The Timberland Flume is a waterproof work boot for Neuropathy.
The work boot is more of a hiking boot ideal for outdoor and construction work.
It is fully waterproof ad lightweight.
There is a molded EVA footbed and midsole for comfort.
The outsole is a slip-resistant rubber.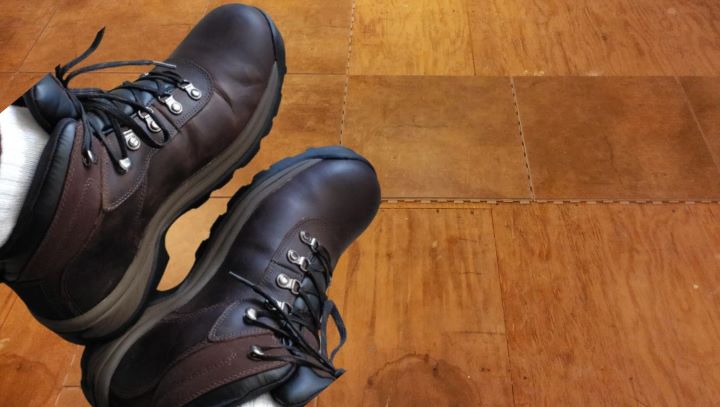 ---
7
The Orthofeet Hunter work boots are excellent work boots for Neuropathy.
I do not recommend them in highly hazardous work environments, however.
They offer layers of cushioning and good arch support.
The toe box is roomy and wide.
There are also wider-width options available.
---
8
The Rockrooster Woodland is an excellent work boot design for Neuropathy.
They are leather work boots ideal for outdoor work such as landscaping.
They are waterproof and very slip-resistant.
The work boots offer to cushion and are an ideal fit for Neuropathy.
---
9
The Newton Ridge from Columbia is a hiking boot that is also ideal as a work boot for ladies with Neuropathy.
The work boot has a padded collar to prevent slipping and comfortable leather and mesh uppers for proper ventilation.
The cushioning and midsole absorb shock and have a high rebound to return energy to the feet.
The work boots are fully waterproof and have an Omni-grip rubber outsole that performs on all terrains.
You can also choose from quite a few color options in this model.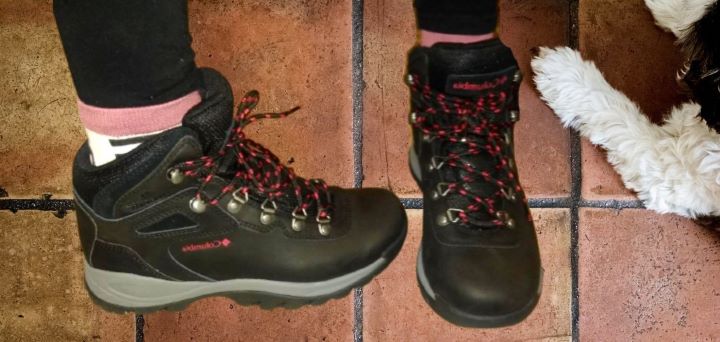 ---
10
The Workshire Work boots are excellent for Neuropathy.
They have a roomy and comfortable fit.
The uppers are leather, and there is a slip-resistant rubber outsole.
The work boots are cushioned with memory foam and have a relaxed fit.
---
Index Table: Top Rated Work Boots for Neuropathy
---
---