Having flat and wide feet can make finding the best work boots quite complicated as you need a work boot with a wider and more accommodating fit and cushioning and support features for flat feet specifically.
For a flat, and wide foot you need two basic things in good work boots, one is good arch support, and the second is a wider width fit. On the other hand, good cushioning is also welcomed and a roomy toe box fit. Many work boots are available in wide and extra wide width options from which you can choose for wide, and flat feet, and they come with stability shanks.
This article looks at work boots for wide flat feet that provide a roomy fit and support and comfort for flat feet.

---
Why You Need Proper Work Boots for Wide and Flat Feet
Having Flat and Wide feet both come with their complications if you do not have proper footwear;

Flat Feet – With flat feet, you have little to no arch support, meaning shock and impact on your feet and joints of your body is more prominent. Usually, your feet and heels' balls will feel the impact, leading to conditions such as Plantar fasciitis and even Achilles tendonitis. You can suffer injuries, putting extra pressure on your knee joints and lower back.
Wide Feet – Wide feet in shoes that are too tight can lead to issues such as bunions, hammertoes, and other foot deformities. Your feet may also form corns and calluses from the pressure of a tight-fitting shoe. Having shoes that are too tight will cause pain and can affect your work performance.
---
How to Choose Work Boots for Wide Flat Feet
Firstly, it is important to find a work boot available in wider widths to get the right fit.
Look for a work boot with a relaxed fit and a rounded or wide toe box that is roomier.
Work boots need a contoured or arch-supportive footbed for flat feet and light stability features.
A full-length cushioned footbed or insole or cushioning, especially in the heels and the balls of the foot area, is ideal for flat feet.
---
Features of a Good Work Boot for Wide Flat Feet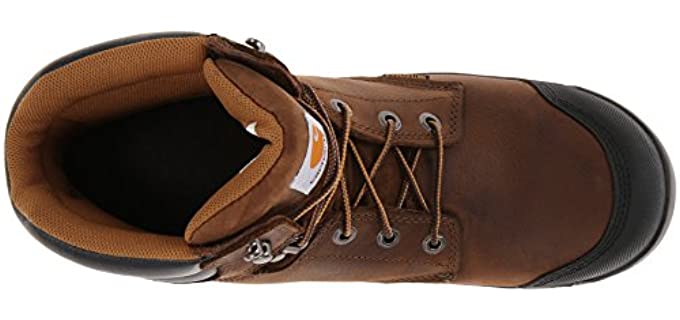 Uppers – look for work boots with wide and roomy uppers available in wider widths. Genuine or synthetic leather work boots are ideal. Mos work boots do come with a waterproof lining.
Comfort and Support Features – Most work boots will come with a cushioned insole such as PU or EVA, some may have more advanced layered cushioning and support features and a moisture-wicking lining.
Safety Features – Workboot safety features include a steel or composite toe, electrical hazard safe materials, and a slip-resistant outsole.
Outsole – The outsole will be a durable and slip-resistant rubber that offers good traction and grip.
Options – The options available in the boot we have chosen are mainly width options, and a few models may offer some more neutral color options.
---
Reviews: The Best Work Boots for Wide Flat Feet
In our list are some of the best available work boot that offers good support for flat feet, and that is available in wider width options;
---
1
The Carhartt Rugged Flex work boot has a roomy fit and comfort technology for wide and flat feet.
It is available in wide, and extra-wide widths for wide and flat feet, and comes with a supportive and cushioned footbed to support your arches.
The work boot is oil-tanned leather, with more colors and wider widths.
They are electrical hazard safe and come with Strom Defender waterproofing.
The work boots have a comfortable cushioned insole and PU cushioning for support.
---
2
The Keen Lansing is a Steel toe and Waterproof work boot for wide and flat feet.
The work boot has leather uppers with mesh insets for breathability.
It is fully waterproof and has a steel safety toe for protection,
The outsole is a very durable rubber, offering oil and slip-resistance on various surfaces.
Inside there is a comfortably cushioned footbed and moisture-wicking lining,
A TPU shank provides stability and underfoot protection.
The Work Boots are also electrical hazard safe.
---
3
The Timberland Pro Pitboss is available in wider widths for wide and flat feet.
The work boot offers a comfortable and roomy fit with a padded collar.
The uppers are genuine leather, and more colors and wider widths are available.
They are soft-toe work boots with a durable and slip-resistant outsole.
Inside is 24/7 comfort suspension technology, a unique comfort system ideal for flat feet.
---
4
The Wolverine Overpass is a wide-width work boot for wide and flat feet.
The Overpass has a lightweight composite safety toe and is electrical hazard safe.
The work boots are leather with a smooth textile lining and a roomy fit.
They are available in wider fits and more sizes.
There is a Flexible and athletic contour welt stitching design for easy motion that flexes with you.
Inside is a removable Ortholite cushioned and moisture-wicking footbed.
The Outsole is oil, water, chemical, abrasion, and slip-resistant.
---
5
The Carhartt Logger work boot likewise offers comfort features and a fit for wider feet.
The logger boot has an aggressive lug rubber outsole for slip resistance and a heel specifically for logger work.
They have a longer-length shaft and genuine leather uppers with a composite safety toe.
The Logger work boots have a PU Strobel pad with PU cushioned insole and a molded TPU heel stabilizer.
They are available in wider widths and have a roomy toe box.
---
6
The Wolverine Loader is a Wedge sole work boot for wide and flat feet.
The work boots have genuine leather uppers and a soft toe.
The wedge sole offers excellent stability and shock absorbency and will not track dirt and debris.
The work boot gas a removable full cushioned insole and a PU outsole that is slip-resistant,
They have durable Goodyear Welt construction and are available in wider widths.
---
7
The Skechers Delleker work boots offer a wide fit and cushioned comfort for wide and flat feet.
They have genuine leather uppers and a steel protective toe.
The work boots feature an Air Cooled Memory foam insole that offers comfortable cushioning.
They are seam-sealed waterproof for full protection.
There is a durable and highly slip-resistant rubber outsole.
---
8
The Timberland Pro Titan is a durable waterproof work boot for wide and flat feet.
The work boot has genuine leather and waterproof uppers with lightweight premium leather.
They offer excellent eccentrical hazard protection and have a Titan safety toe.
The outsole is rugged and slip-resistant, consisting of durable rubber.
There is a comfortable cushioned boot bed fi energy return.
---
Index Table: Top Rated Work Boots for Wide Flat Feet
---
---