Supination or Underpronation for those of us that knowledge is rare and has to do with your foot mechanics as you walk. For Supination, however, depending on your arch type, you need specialized features in your shoes, in general, to align your feet and posture properly.
Besides safety features such as a protective toe, waterproofing, electrical hazard-safe materials, and a slip-resistant outsole, you will need good comfort features for supination.
A slightly more flexible sole and fit, more plush underfoot cushioning, and neutral arch support features will be ideal.
This gets quite tricky when it comes to work boots. So we have decided to help you find the best work boots for Supination by looking at the specific that each work boot holds, which aids in this condition.

---
---
Work Boots for Supination
Supination is a condition that can result in many other issues, such as flat feet, inadequate support for your body weight, problems with walking, high arches, posture problems, muscle pain, joint strain, and so on.
Supination is much less common than Overpronation. Thus, finding good shoes for Supination, in general, is a challenge. If you do not know already, Supination happens when your feet roll outward excessively, whereas Overpronation is when they roll inward excessively.
When you Supinate, your feet excessively impact, so you always look for more cushioning. You also want the least impact and ground contact for the midfoot area, so you want a smaller midsole, more flexibility, and the sole.
This contradicts the features you will need for a shoe for Overpronation, where you need more rigidity and stability support.
A Good work boot for Supination will prevent excessive impact on your feet and allow the grip flexibility for more natural movement, correct the issue, and help prevent other problems that may arise from Supination.
---
Orthopedic Work Boots for Supination
I'd like to draw your attention to a specific work boot type: Orthopedic work boots for Supination or work boots with Orthopedic features.
This is usually your best choice for Supination, so let us quickly consider the benefit.
Underpronation or Supination – Because of the cushioning and supportive nature of an Orthopedic support work boot, it provides proper alignment and good cushioning to reduce pressure for persons who tend to supinate. The sole will also allow for proper flexibility, and the fit will be more accommodating should you wish to use your orthotic devices.
Foot and Heel Pain – Foot pain may be prevalent in persons who supinate and become more chronic. Shock absorbency and cushioning in any work boots can help reduce this by alleviating the pressure on your feet. On the other hand, support features such as arch supper evenly spread weight and impact, so there is less tension on the muscles in your feet and legs.
---
Features of a Good Work Boot for Supination
We have researched some Orthopedic as well as regular work boot brands and models and found some with great features for Supination, and you should look for these features in your work boots;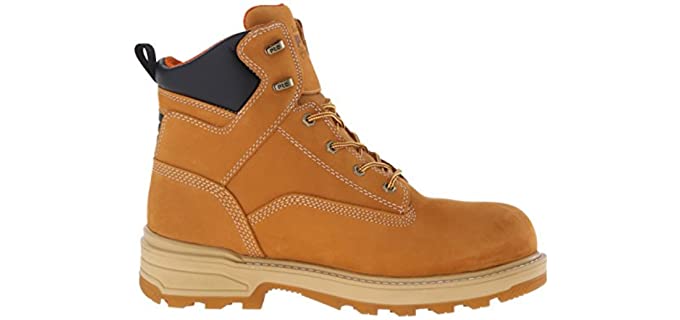 Removable insoles – A cushioned insole is ideal, but a removable insole is even better. If you can remove the insole, use our orthotic device specific to your feet' needs in arch support for your arch type and supination control.
Comfort – You want your feet to be as comfortable as possible in your work boots, so firstly, make sure they fit properly and have enough toe room. It also finds good underfoot cushioning in the insole and midsole to absorb shock on impact; it is very similar to the work boots for high arches.
Traction – Good work boots must offer traction and slip resistance. Please be sure to look for a lug tread rubber outsole.
Safety Features – These include your protective toe, which can be steel, alloy, or composite, and other features such as electrical hazard-safe materials, a waterproof lining, heat and chemical resistance, and slip-resistant outsoles.
Durability – If anything, you want your work boots to last, so look for durable materials and construction. Leather and rubber are durable materials found in most work boots. Cement and Welt's construction are the two most durable constriction methods.
---
Reviews: The Best Work Boots for Supination
Here are our top choices in work boots that are ideal for Supination.
We hope you love the boots we recommend!
We may collect a share of sales or other compensation from the links on this page.
---
1
I recently tried out the Wolverine Anthem work boots, and here's what I found:
The Multishox cushioning sole in these boots is a standout feature. It offers excellent support and absorbs shocks effectively, making long workdays more comfortable, especially for those with supination.
What sets these boots apart is their adaptability. They come with a removable, fully cushioned insole that allows you to use your own orthotics. This customizable feature greatly enhances comfort and support, catering to specific supination needs.
The full-grain leather uppers not only ensure durability but also give the boots a classic and stylish appearance. They looked and felt great on my feet.
The non-marking rubber outsole provided dependable traction without leaving marks behind, which was a practical benefit for various work environments.
For individuals dealing with supination, the underfoot nylon shank in these boots offered notable support and flexibility. It helped maintain stability during long hours of wear.
In summary, the Wolverine Anthem work boots proved an excellent choice for those experiencing supination. Their cushioning sole, orthotic-friendly design, durability, and tailored support make them a practical and comfortable option for various work situations. I would recommend these boots to anyone looking for functionality and comfort, particularly if supination is a concern.
---
2
The Keen Utility Milwaukee has a removable metatomical cushioned EVA footbed to help with Supination.
It is a waterproof leather work boot with a steel toe.
The work boot has a slip-resistant rubber outsole and an abrasion-resistant toe cap.
Here are also two color options available to you.
---
3
The Timberland PRO Titan is a waterproof work boot for Supination.
It has a PowerFit comfort system that is more ergonomic and a cushioned supportive footbed.
The Work Boot is waterproof and has a slip-resistant outsole.
You will also be happy to find the antimicrobial interior lining and full-grain leather uppers.
---
4
The Timberland Pro Valor is a more comfortable and soft-toe work boot that is flexible for Supination.
It has leather and textile uppers with durable cement construction for flexibility,
The footbed has anti-fatigue technology cushioning and support, ideal for Supination.
The rubber outsole is fully slip-resistant, and the work boot is waterproof.
---
5
The Wolverine Loader has a removable full cushioned insole and wedge cushioning midsole, perfect for Supination.
The uppers are premium waterproof leather.
There is a protective steel toe and a durable slip-resistant rubber outsole.
Furthermore, the work boot is electrical hazard-safe and well-constructed using the Goodyear Welt method.
---
6
The Caterpillar Diagnostic features a removable EVA, gel cushioning insert, and a more flexible sole for Supination.
This cold-weather work boot is waterrproof and has 200 grams of Thinsulate insulation.
It is durable and has a slip-resistant rubber outsole.
The work boot also has a protective steel toe.
---
7
The Keen Cincinnati is a comfortable work boot for Supination.
It has a cushioning wedge sole with a slip-resistant rubber tread.
There is plenty of cushioning and support with an air-infused midsole.
The work boots us textile and waterproof with a composite toe.
---
8
The Skechers Argum is a comfortable work boot that supports your feet.
The memory foam supportive footbed is ideal for supination.
The work boot is leather and waterproof.
It has a durable and slip-resistant rubber outsole.
---
9
The Carhartt Traditional work boot has many support features for supination.
It is a leather steel-toe work. boot.
The work boot is electrical, hazard-safe, and slip-resistant.
The footbed is cushioned and supportive.
---
10
The Ad tec work boot is a safety work boot for supination.
It has steel and leather uppers.
The rubber outsole offers excellent traction.
Inside is a supportive and pillowy cushioned footbed.
---
Index Table: Top Rated Work Boots for Supination
---
---