Gout is a condition that can affect your feet, especially the big toe. The pain and symptoms of gout can sideline you and impact your performance when trying to work.
Work Boots are generally built to keep your feet safe from hazards at work, and to be durable, most of them do not have many comfort features or an accommodating fit for conditions such as Gout.
The best work boots for gout will offer a roomier toe box fit, with softer underfoot cushioning to reduce pain and symptoms. We will be looking at some of the best brands of work boots for gout with both good safety features and comfort features.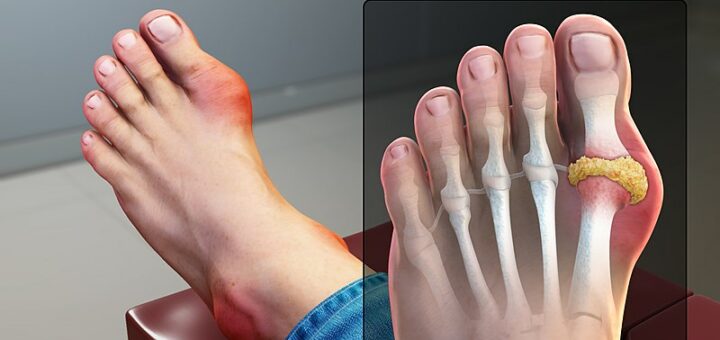 ---
Gout Symptoms and Causes
Gout is ideally a complex form of arthritis that can affect anyone. You can have severe attacks of pain, swelling, redness, and tenderness in one or more of your joints. Gout especially attacks the big toe. Gout can come in sudden attacks and these attacks can last from a couple of hours to two days, and sometimes longer, where you may feel the symptoms.
They are a few ways in which you can manage guard flare-ups, and you can also manage the symptoms. may come and go, but there are ways to manage symptoms and prevent flares
Symptoms – Mostly, the symptoms of gout will occur suddenly and at night. You will feel intense pain in your joints, which mostly will affect the big toe, although it can occur in any joint of your body. These joints include your ankles, your knees, your elbows, your wrists, and even your fingers. The pain that you will feel is usually at worst, the first 4 to 12 hours right after it began. There may be lingering discomfort for a couple of days ahead, and then it can go away in time, with lingering discomfort. There will be inflammation and redness in the affected joint. It may also feel warm and tender, and you may have a limited range of motion in the joints that are affected.
Causes – When you have high levels of uric acid in your blood, the. Eric acid starts to build up in your joints. The uric acid forms hard crystals, which then, cause pain in your joints. Your body produces uric acid to break down purines, which are found naturally in your body, and which are also found in certain types of food. Food such as red meat and organ meats, seafood, including anchovies, sardines, mussels, scallops, trout, and tuna, and alcoholic beverages, especially beer. Drink sweetened with fried sugar, and fructose, which are all foods that can cause higher levels of uric acid in your bloodstream. Uric Acid usually dissolves in your blood and pauses through your kidneys into your urine. However, sometimes your body produces too much uric acid, or your kidneys extract too little uric acid. This causes a build-up, forming sharp, needle luck, urite crystals in your, and the surrounding tissues, which causes much pain, inflammation, and swelling.
Risk Factors – You are likely to develop gout if you have higher uric acid levels in your body. There are a few things that can increase uric acid levels in your body. Firstly, your diet, if you have a diet rich in red meats, and shellfish and drink beverages that are sweetened with fruit sugars, or drink alcoholic beverages such as beer, you can increase your risk of developing gout. Individuals who are overweight are also more likely to produce more uric acid, and their kidneys have a very difficult time eliminating uric acid. Conditions such as high blood pressure and chronic conditions such as diabetes, obesity, and metabolic syndrome, as well as heart and kidney disease, can all cause gout. Some medications can lead to the onset of gout, such as aspirin and medications used to control hypertension. On the other hand, you may just have a family history of gout, in which case it can be hereditary. In some cases, trauma to a certain joint may also lead to a build-up of uric acid, which can lead to gout.
How it Affects Your Feet – So the question now is how does Gout affect your feet? Well, the main area where guards usually attack is in the joints of your big toe. Gout can cause permanent and long-term damage to your feet. It can cause infections and ingrown tunnels, as well as swelling that can damage the skin in your feet and your big toe.
Treatments – When you have a sudden attack of Gout, it will help to elevate the affected joints. You can use ice packs and non-steroidal anti-inflammatory medication to handle the pain and the inflammation. To prevent gout, you need to watch your diet, try to reduce your alcohol intake, drink more sugar-free fluids, especially water, reduce your fat and red meat intake, and monitor the amount of seafood, particularly shellfish that you eat, regular exercise is also a good way to help prevent gout.
[/superlist]
Work Boots for Gout
When choosing work boots for Gout, first of all, you need to consider the type of work boots you need for your specific occupation. Many companies require you to wear a specific safety work boot, which has a steel toe, and sometimes it may be required by law.
Secondly, you will need to look at the fit and comfort features of the work boots. Most work boots handed out by companies themselves do not have a very comfortable fit. They can be hard and have little to no comfort or support features. This is why I recommend that you rather look for a work boot that offers the right comfort features for your condition, and that also has the safety features that you need for your specific work environment.
You must look for a work boot that has a wider forefoot area and a higher forefoot area with a very roomy toe box that will not place pressure on your big toe, which may be affected by gout. Look for a leather work boot that is soft and supple and a work boot that has good underfoot cushioning, such as a more contoured supportive footbed or insole, and a cushioned sole and midsole. You can also opt for work boots that are available in wider widths.
Features of a Good Work Boot for Gout
[super_list]
Uppers – Look for a work booth that has durable leather uppers with a wide and roomy toe box.
Midsole – A Midsole such as a firm or EVA Midsole, provides cushioning and also absorbs hard impact that can cause pain to the toe affected by gout.
Insole – A comfortable cushioned and lined sole will help to Wick away moisture, and will also provide a soft platform for your feet to rest on.
Outsole – For forest safety work boots will require an outsole that is slip resistant. Most work boots have a rubber outsole that can be slip-resistant, slip and oil-resistant, or also chemical anti-resistant.
Safety Features – Depending on your occupation and needs for your specific work tasks, safety features can include steel, alloy, or composite safety toe your work boots may be electrical hazard safe, chemical resistant, abrasion resistant, and also, and also waterproof.
---
Reviews: The Best Work Boots for Gout
In our review section, we've got some excellent choices and comfortable work boots for gout;
---
1
The Wolverine Overpass has a round and roomy toe box that is ideal if you have gout.
It is a leather work boot with flexible contour welt construction.
There is an OrthoLite cushioned footbed for comfort.
The work boot has a composite toe, it is electrical hazard safe and fully slip-resistant.
---
2
The Timberland Pro Pitboss is a leather work boot with a comfortable fit for gout.
It has a roomy toe box and is available in wider widths.
The work boot has a comfortable ant-fatigue footbed and arch support.
It is a durable leather with a slip-resistant rubber outsole and steel safety toe
---
3
The Carhartt Energy is a comfortable leather work boot available in wider widths.
It is waterproof and breathable with electrical hazard protection.
The work boot has advanced comfort and a supportive footbed.
The outsole is durable and slip-resistant rubber.
---
4
The Georgia boot is a pull-on work boot for Gout.
It is leather with a slip-resistant rubber outsole.
The boot has a stable steel shank: full-grain leather and 900 Cordura uppers.
It is available in wider widths and has a rounded toe box.
---
5
The Skechers Delleker Lakehead is a comfortable Hiking Style work boot for Gout.
It has a roomy toe box and is available in wider widths.
The boot is breathable and waterproof.
It has a comfortable memory foam footbed and a durable rubber outsole.
---
6
The Cat work boots for ladies have a comfortable fit for gout.
They are leather, and available in more colors.
The work boots have ERGO comfort, flexibility, and stability technology.
They are genuine leather and are lined for comfort.
---
Index Table: Top Rated Work Boots for Gout
---
---