Logging is mainly an outdoor occupation that entails many hours on your feet on uneven and slippery outdoor terrains.
One of your best defenses against the risks involved with Logging work is having the best available Logger Work Boots to protect your feet and keep your balance.
The Logger Work Boot has a very specific design. Usually, it has a longer 8-inch shaft for ankle protection and stability; for logger work, with a heel and a very lug rubber outsole to provide better grip.
Most logger work boots are fully waterproof, have a lace-up system with metal eyelets, and may also come with a steel or composite safety toe.
Today's article looks at some of the best work boots for Loggers and their unique traits.

---
Why Do You Need Proper Logger Work Boots
It would help if you had proper Logger boots as they differ from general work boots in a few ways.
Though they have similar construction and material characteristics, almost all logger boots are completely waterproof and will keep wetness out because it is outdoor work boot.
Logger boots have the main purpose of keeping wetness, debris, dirt, and creepy crawlies out of your boots so that they will be taller in design and more closed off.
Another significant aspect of a Logger work boot is its elevated heel design and a lug rubber outsole for grip on uneven terrain and outdoor surfaces.
---
What to Look for in a Good Logger Work Boot
A proper Logger work boot should provide the following key elements;
Water and Liquid Resistance – The Logger work boot is usually completely water-resistant and, in many cases, also oil-resistant. As you are constantly in wet conditions and may contact oils and other liquids when Logging, you will need complete protection.
Better Grip – Logger work boots usually have a very lug outsole and stability features that are ideal for slippery and uneven outdoor terrains to help you properly keep your balance.
Arch Support – Good arch support is not always considered, but any good logger boot should provide some arch support because you are mostly on your feet.
Long Lasting – A durable design and construction is necessary because outdoor logging work will take its toll on your work boots.
---
Features of a Good Logger Work Boot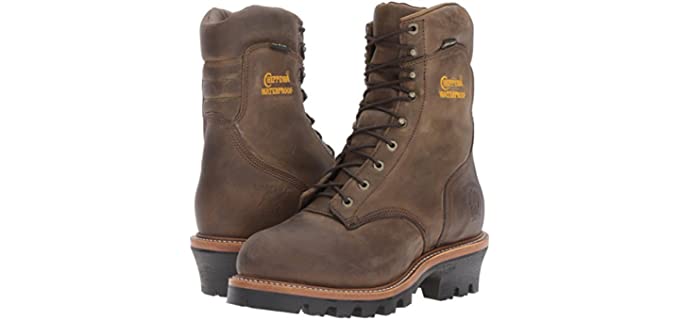 Uppers – The uppers usually consist of durable leather with tough welt, Goodyear Welt, or cement construction methods.
Safety Features – Safety features include waterproof uppers; some may be insulated for working in cold weather conditions. A steel toe offers good toe protection, and electrical hazard-safe materials are also ideal.
Comfort Features – Comfort features such as a Cushioned or PU insole, and shock-absorbing midsole are ideal. Many Logger Boot models also have Stabilizing shank or stability features for better balance and stability on uneven outdoor surfaces.
Outsole – The Outsole is usually rubber with a very lug tread for optimal slip-resistance on outdoor and wet surfaces. Most Logger work boots will also have a raised heel design
---
Reviews: The Best Logger Work Boots
Listed below, we have some of the best brands and models of work boots that are ideal for Logging work;
We hope you love the products we recommend!
So that you know, We may collect a share of sales or other compensation from the links on this page.
---
1
---
2
A very durable and well-constructed logger work boot with all the trimmings from Chippewa.
The Uppers are 100% leather with Goodyear Welt construction.
There is a Ruby Dr-Lex interior lining to keep your feet dry and a Chip-A-Tex waterproof membrane.
The boots are ASTM electrical hazard safe.
The sole is synthetic with a lug tread and an elevated heel.
The boots also have a steel protective toe.
---
3
A lightweight, comfortable, cushioned logger work boot with a durable Vibram outsole from Timberland PRO.
The uppers are premium waterproof leather with a puncture-resistant flexible underfoot plate and Mid-Cut design.
It has a durable Vibram Rubber outsole in the Fire and Ice design for cold and hot weather conditions.
The boots have a composite lightweight, protective toe.
Furthermore, they meet CAN/CSA-Z195-02 safety standards.
---
4
The Carolina eight Inch logger work boot offers full safety with a steel toe and waterproof lining.
An Imported leather work boot for loggers with a steel protective toe.
There is a durable lug tread one-piece rubber outsole.
The heel of the boot is elevated for stability.
A steel shank provides underfoot puncture protection.
Inside is a moisture-wicking lining and lightly padded insole.
---
5
The Georgia Muddog is designed specifically for very wet and muddy conditions when it comes to logging work.
The Boots consist of 50% rubber and 50% leather in construction.
The toe and heel are reinforced with durable rubber.
The boot has a low-cut design and oil and slip-resistant outsole.
There is a steel protective toe, and they are fully waterproof.
The steel toe is also an electrical hazard safe standard.
---
6
Something more comfortable and lightweight with full waterproofing is the Georgia Logger boot.
The boot is 100% leather with abrasion and a slip-resistant rubber outsole.
They are eight inches in height for full protection and comfort,
There is a rear pull loop for easy on and off.
The uppers are likewise fully waterproof, and there is a steel protective toe.
---
7
The Wolverine Buckeye features the popular Gore-Tex insulation and waterproofing, with a lightweight aluminum safety toe.
The uppers are genuine leather with a GORE-TEX waterproof membrane and Thinsulate insulation for cold weather.
Gore-Tex is highly breathable and still offers full waterproofing.
The rubber outsole is a Vibram rubber with a lug tread for slip resistance.
There is also a steel shank for underfoot protection and an EAA safety toe.
---
8
The Irish Setter Logger Work Boot is a steel-toe design that is waterproof and durable.
The Uppers are full leather and have a steel protective toe cap.
Inside is 600 grams of insulation for cold weather conditions,
The boots are fully waterproof, as well as electrical hazard safe rated.
The outsole is a durable lug rubber design for slip resistance.
---
9
The Carhartt Logger work boot has many comfort and stability features and is completely waterproof.
The uppers consist of 100% leather with a waterproof membrane.
There is a composite protective toe that is more lightweight.
These shoes are Goodyear Welt constructed, making them high quality and durable.
A Pu Strobel pad and PU insole offer excellent support and cushioning.
The Molded TPU heel and stabilizer with Achilles flex joint offers excellent stability and support,
A durable rubber outsole ensures good slip resistance and grip.
---
10
The Carolina Logger Work Boot is a top brand with a durable and completely waterproof design.
These are eight-inch-tall logger work boots with an elevated heel and one-piece lug rubber outsole.
The uppers are full leather and completely waterproof.
The sole has a protective steel shank for puncture resistance, and all materials are electrical hazard safe.
Furthermore, the work boots have a protective steel toe.
---
Index Table: Top Rated Logger Work Boots
---
---