Are you looking for something a bit more different in style and appeal in your work boots?
Then why not opt for a Moc Toe design work boot.
The Moc-toe work boot will offer you all the safety and comfort features of a regular work boot, with a stylish appeal and roomier toe design. It will have the signature Moc toe design, which is a U-Shaped Stiched Seam on the top of the toe of the work boot.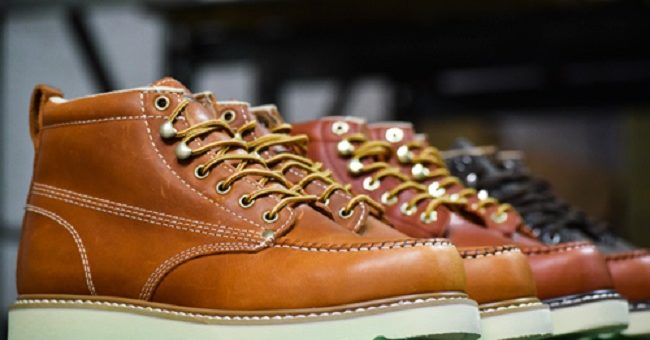 ---
the Moc Toe Work Boot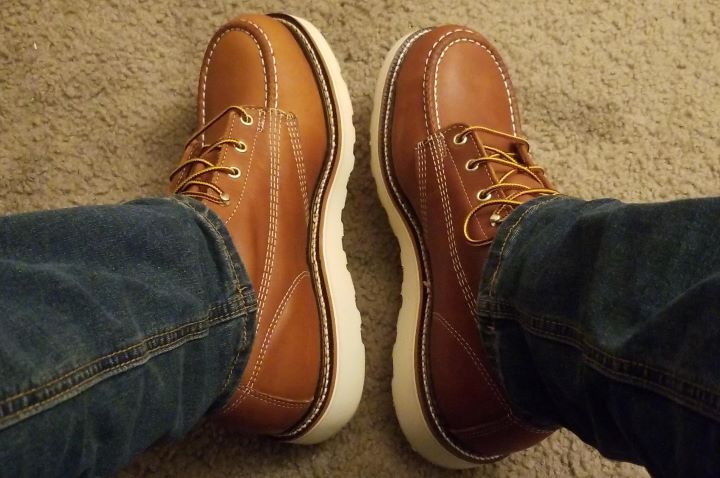 The easiest way to know what a moc toe work boot is is to look at its visual appearance. This main fact sets them apart from other work boots in general.
A Moc-toe work boot can work well as casual or formal work shoes because of its unique appearance.
The Moc-toe work boot is mainly defined by its stitched toe design. The entire outline of the toe box of the moc toe work boots has stitching on top that is very definite and visible, creating what we know as a Moccasin style toe.
The stitching on the moc tone is often done in a contrasting color to draw attention and as a decorative aspect. However, this may not always be the case in a Moc-toe work boot, but rather casual moc toe boots.
I love a Moc-toe work boot because it is casual enough to wear for work, yet formal, and stylish enough to wear into the evening for an evening out or even for an office meeting.
I want to add, though, Moc-toe work boots have a unique and sophisticated style and a very comfortable toe design. On the other hand, Moc-toe work boots with safety features such as a steel toe and waterproofing, among other safety features, are not very common.
---
Benefits of a Moc Toe Work Boot
So in the end why choose a Moc-toe work boot.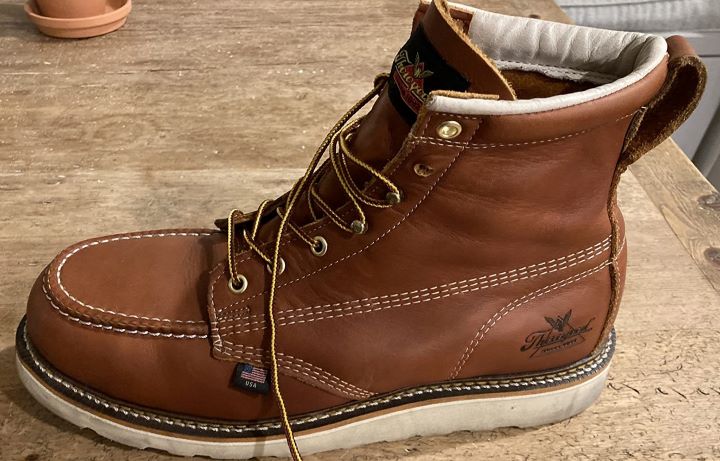 Here are a few benefits that Moc-toe work boots have compared to other work boots. If you were thinking about making this your work boot of choice;
Excellent Style – Moc-toe work boots have an exceptional style that is both casual and formal, and they are more elegant and decorated than most industrial work boots.
Safety Features – Not to worry, with some research, and from our list, you will see that there are steel toe, waterproof and electrical hazard safe moc toe work boots that may also offer other safety features.
Softer Solid Sole – Most moc toe work boots will have a smooth wedge sole that offers excellent cushioning and support for your feet because of the design. However, this sole type is not always the best in slip resistance and durability. Some occupations find the sole useful as it does not collect debris.
Extra Toe Roe -The Moc-toe work boot generally has a more roomy toe box with more vertical space because of the design, so it is generally more comfortable.
Easy Transitioning Work Boots – Because of the style of a Moc-toe work boot, you can easily go from work to an evening out or work function in your work boots. You can work on-site and in an office with them. Similarly, they are ideal in work situations where you need protection, durability, and look good, such as in a restaurant or hospitality industry.
Lightweight – Moc Toe work boots are generally quite lightweight and comfortable. They might be a bit heavier if they are a steel toe option.
---
Features of a Good Moc Toe Work Boot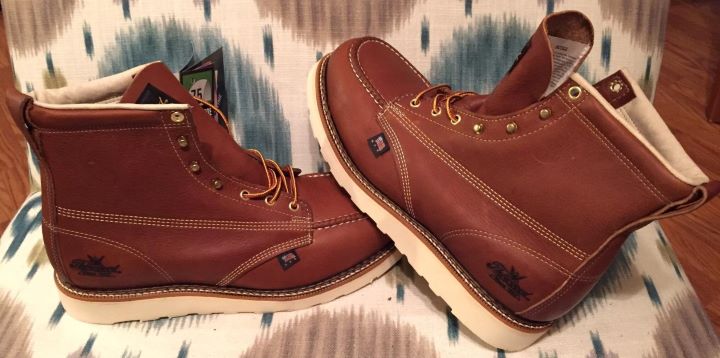 Uppers – A Moc Toe work boot has leather uppers with a lace-up closure. The toe is a Moccasin style, almost square with stitching on top of the sole. There is also much more vertical space in the toe area.
Comfort and Support Features – besides the wedge sole that offer more comfort, a Moc-toe work boot may have arch support and cushioning to support and protect your feet against impact.
Safety features – Most Moc-toe work boots have a soft toe. However, there are a few with protective steel or composite toe. Furthermore, they are electrical hazard safe and offer waterproof protection.
Waterproofing and Insulation – Some moc toe work boots may have waterproof uppers or a waterproof lining to keep liquids out. There are also insulated models that are more suited to cold conditions.
Outsole – As you may have noticed, most Moc Toe work boots have a flat wedge style outsole which is ideal for evenly distributing pressure across the entire bottom of your feet. Although not as rugged as a regular sole on a work boot, the wedge sole is extremely comfortable.
---
Reviews: The Best Moc Toe Work Boots
We hope you love the products we recommend!
So that you know, We may collect a share of sales or other compensation from the links on this page.
---
1
The Irish Setter Wingshooter is a favorite Moc-toe work boot, with the U-Shaped stitched seam design of and original moc toe work boot.
The work boot has 100% leather uppers and an UltraDry lining for waterproofing.
The work boot has a soft toe and is electrical hazard safe.
The outsole is both slip-resistant and heat-resistant.
---
2
From Thorogood, we have the American Heritage Moc toe workboat.
The work boot has a MAXWear slip-resistant rubber traction outsole.
There is a shock-absorbing footbed and cushioned insole.
The boot also features a fiberglass underfoot shank and a steel protective toe.
---
3
From Carhartt, we have a waterproof Moc-toe work boot.
The work boot has a soft toe and is genuine leather.
It is fully waterproof and electrical hazard safe.
There is a cushioned comfort insole and PU foam.
The outsole is a durable and slip-resistant rubber.
---
4
The Wolverine Moc-toe work boot is likewise a top favorite.
The work boot is 100% leather with a soft Moc toe.
It has a Crepe wedge outsole and padded collar.
This is more of a light work boot than an industrial work boot.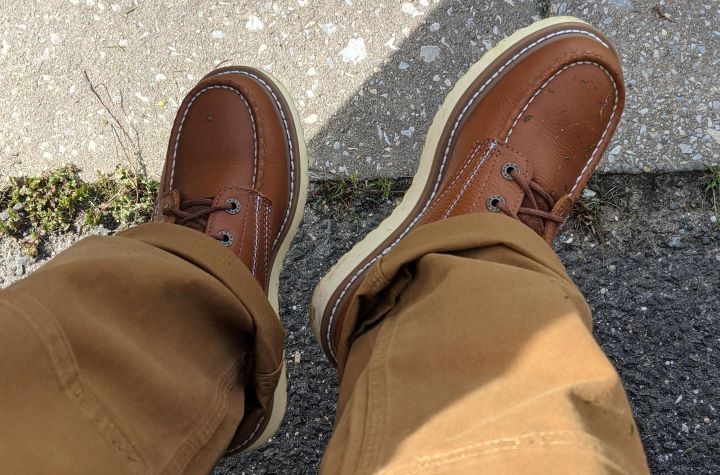 ---
5
The Ever Boots moc toe work boot is ideal for construction work.
They are leather work boots with an EVA and rubber outsole.
Durable with Goodyear Welt construction and quality materials.
The work boots have a comfortable insole and steel shank for protection.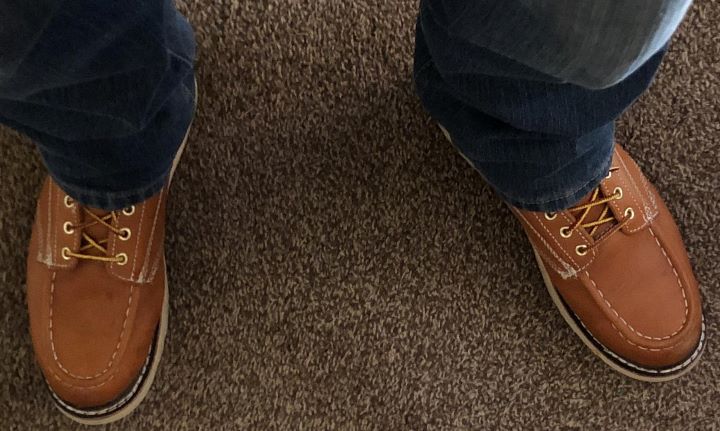 ---
6
The Danner Bullrun is the [perfect Moc-toe work boot for women.
The boot has oiled, full-grain leather uppers with a sift moc toe.
They are durable and electrical hazard safe.
The outsole is oil and slip-resistant.
---
Index Table: Top Rated Moc Toe Work Boots
---
---