Round-toe work boots have been a much sought-after safety boot by many for a few years since they came into existence.
Round Toe work boots are generally sought after because they are more comfortable and accommodating in fit. The | Toe will have a rounded design higher than most square or pointed-toe work boots. Safety features should be included as a good work boot, including waterproofing, a slip-resistant outsole, and a steel or composite safety toe. Good cushioning and a supportive footbed is ideal for your comfort.
The best Round Toe work boots come in pull-on and lace-up styles from which you can choose.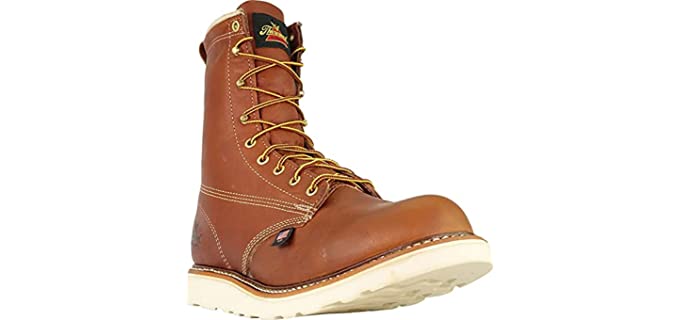 ---
What makes Round Toe Work Boots so Great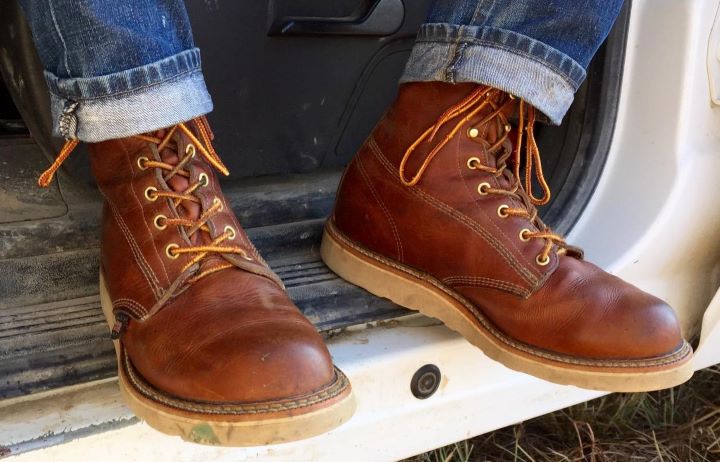 Round-toe work boots are the most traditional style for safety work boots.
They are by far the most used and sought-after work boots on the market today, and rightfully so.
They may not be the most fashionable or good-looking style of work boots; however, they have some excellent benefits;
Round-toe work boots provide the wearer with much more toe room and a more accommodating and ergonomic fit.
They fit well and much more comfortably than squire or pointed-toe work boots.
The Rounded Toe does not lean or press on your toes and provides less pressure on the feet and Toe.
A Rounded toe work boot is generally much more durable than a square or pointed Toe and will last much longer.
Round-toe Work Boots also provide better stability for your feet and are less likely to slip around because the shape allows for natural movement.
You can wear round-toe work boots as work boots or casual boots, which are highly functional.
---
Other Work Boot Toe Shapes for Your Interest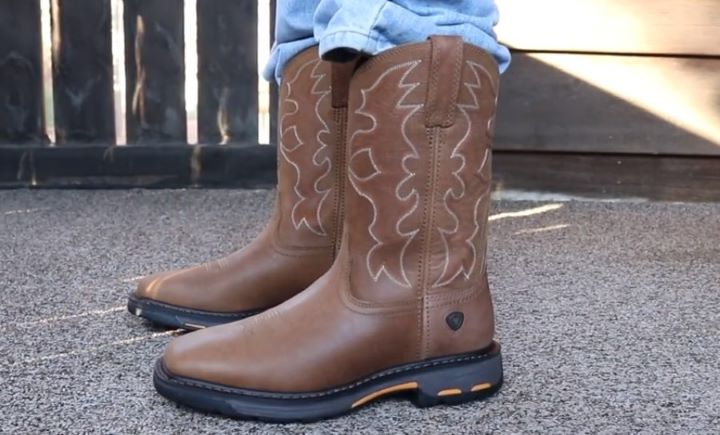 Although we are concentrating on round-toe work boots in this specific article, I do want to bring to your attention the other toe shape types that you can find in work boots and how they compare to the round-toe work boot;

Square Toe – The square toe work boot can sometimes be more comfortable for people who have issues with their feet or irregularly shaped feet. They are great choices for wide feet, especially the extra-wide-shaped models. The square-toe shape is mostly found in pull-on and western-style work boots.
Pointed Toe – The Traditional cowboy boot has a round pointy toe shape which we all know. Many work boots that follow the cowboy boot style have a pointed-toe shape. The Pointed Toe style work boot is more of a fashionable boot type than an actual safety work boot. I would not be recommended this type of work boot sit can feel clumsy and uncomfortable on your feet for work
Broad Square Toe. Similar to the square Toe, this is a much broader version that is a bit more roomy and comfortable than the general square toe work boot.
Round Toe – As discussed in this article, the round-toe work boot is a very comfortable and ergonomic shape that is round and higher for less pressure on your toes. Overall it is one of the most comfortable toe shapes you will find.
---
Features of a Good Round Toe Work Boot
Besides having a rounded toe shape, the round-toe work boot can have quite a few safety and comfort features like a work boot;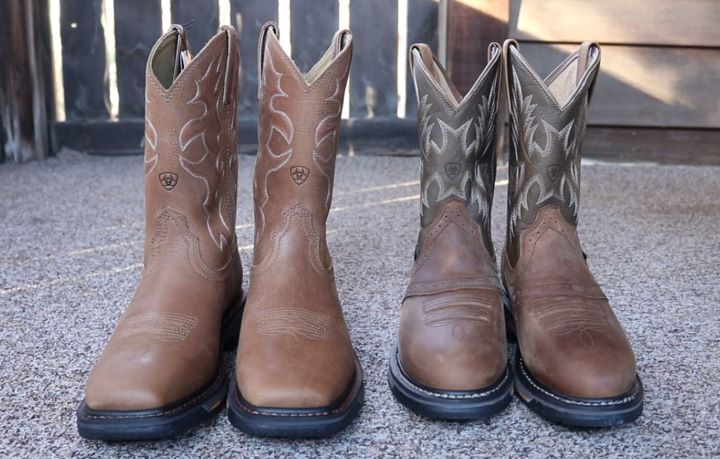 Uppers and Design – The uppers are a durable leather in most work boots with a smooth interior lining. Goodyear Welt or Cement construction methods are the most durable and best quality in a work boot.
Safety Features – Safety features include steel, composite, or alloy safety toe, a steel or woven shank, electrical hazard-safe materials, and other safety features such as chemical and heat resistance.
Snug Fitting Heel – Most round toes work boots will likewise have a more snug-fitting heel and a padded collar for a comfortable fit.
Abrasion Resistant Materials – The round Toe of a work boot has a 180-degree motion in the front that may suffer quite a bit of abrasion. Therefore good abrasion resistance, such as a rubberized toe cap or more durable leather materials, can be ideal for abrasion resistance.
Shank – As mentioned, the underfoot shank provides good underfoot puncture resistance and stability.
Comfort and Support – For comfort and support, most work boots have a cushioned or padded footbed and a shock-absorbing EVA or foam midsole.
---
Reviews: The Best Round Toe Work Boots
Here are our top choices in round toe shape work boots;
We hope you love the products we recommend!
So that you know, We may collect a share of sales or other compensation from the links on this page.
---
1
The Ariat Groundbreaker is a pull-on work boot with a round, roomy toe design.
The Uppers are genuine leather with a wider calf fit.
There is a protective safety toe, and the work boot is electrical hazard safety rated.
The Duratread outsole is oil and slip-resistant with a 90-degree heel for support and stability.
Inside is a comfortable lining and padded footbed.
---
2
The Caterpillar revolver is a soft round-toe work boot.
It has genuine leather uppers and a slip-resistant rubber outsole that offers oil resistance.
The work boot is easy to pull on and off and has full-grain leather construction.
Furthermore, it has a comfortable lining and insole.
---
3
The Thorogood American Heritage has a round toe and wedge sole.
The uppers are Tobacco Oil-tanned leather, and there is a removable Ultimate Shock Absorption footbed on Poron for comfortable cushioning and a cushioned insole.
The MAXWear slip-resistant wedge outsole is very durable.
The boot is constructed using Goodyear Welt construction methods.
It also has a protective safety toe.
---
4
The Caterpillar Second Shift is a steel round-toe work boot.
The round Toe with a steel cap protects a roomy fit.
The uppers are genuine leather, and there are more colors available.
The collar is padded for comfort, and there is a cushioned insole.
The outsole is durable and slip-resistant rubber.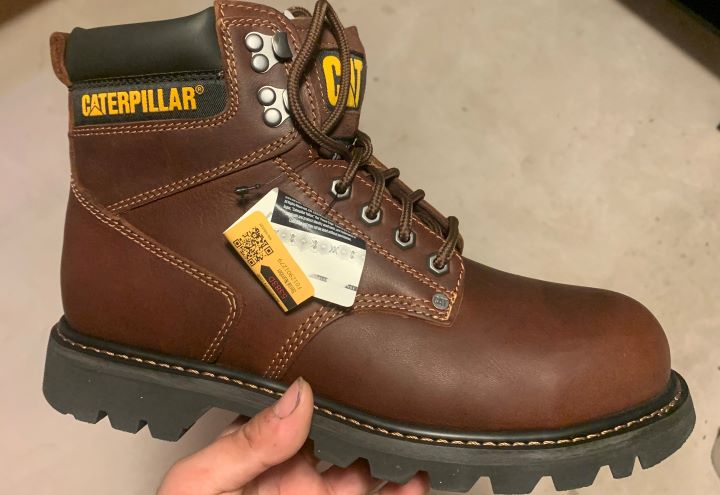 ---
5
The Ariat WorkHog is another favorite in round-toe work boots.
It has Leather uppers and is electrical hazard safe materials and ratings.
The work boots are fully waterproof and lined for your comfort.
Inside is a comfortable padded footbed.
The Duratread rubber outsole has a self-cleaning and slip-resistant design.
---
6
The Ariat Tracey is a round composite toe work boot for ladies.
Lightweight and comfortable with 4LR cushioning technology and full-grain leather uppers.
The work boot is waterproof and has a composite safety toe,
The outsole has a unique traction system and is ideal for indoor and outdoor use.
---
Index Table: Top Rated Round Toe Work Boots
---
---