No one wants wet feet and shoes at work. Wet feet can be uncomfortable and cause chafing and blisters, as well as very unhygienic.
The best waterproof work boots will help protect your feet from wetness when you work in wet and outdoor environments and still breathe well to keep them comfortable and dry inside.
Gore-Tex is one of the best breathable waterproof membranes that you will find. However, other methods work just as well. More solid, pull-on work boots offer better waterproofing as there are no eyelets and a higher shaft that keeps liquids out.
This article will examine some of the best available work boots that are completely waterproof.

---
---
Why Should You Invest In Best Waterproof Work Boots?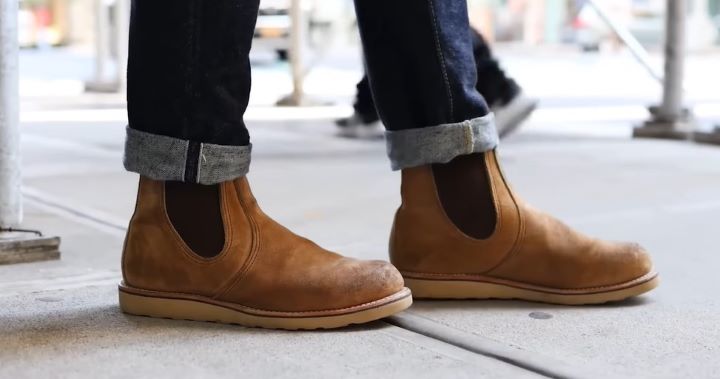 If you work in a wet or even cold environment where your feet are exposed to wetness and other liquids, it will be necessary to get proper Waterproof work boots;
Wetness may Cause Infection and Odors – Wet feet and shoes may lead to much discomfort, infections in your feet, and bad odors. Wetness can lead to chafing and blisters that can be painful and may also become infected.
Dangerous Liquids – Chemicals and hazardous liquids in wet environments and water that seeps into your work boots can cuase poisoning and may burn or damage your feet and work boots. Most waterproof work boots can provide protection n against this.
Cold Feet – Wet feet in cold conditions may suffer frostbite and become very cold and uncomfortable. Many waterproof work boots are also insulated for protection against cold.
---
Which Work Conditions Require a Waterproof Work Boot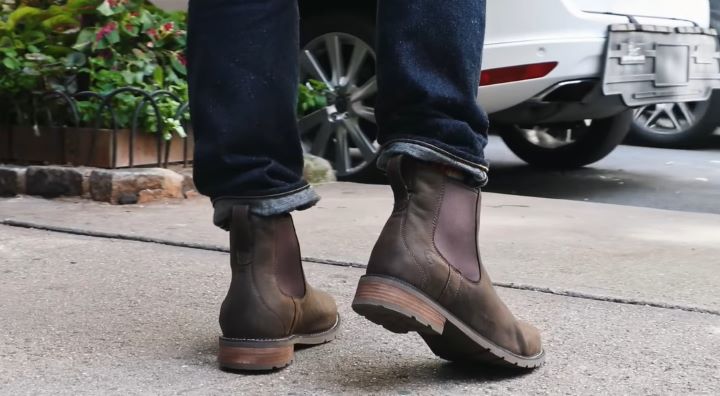 Some industries may require you to wear a waterproof safety work boot as part of their uniform.
Besides that, you will need a waterproof work boot and the work environment or conditions where you work in wet and messy conditions such as mud, sludge, or wet chemicals, and outdoor work conditions.
Agriculturalists, farmers, fishers, Construction Workers, Mine Workers, and Landscapers all require a Waterproof work boot.
---
Features of a Good Waterproof Work Boots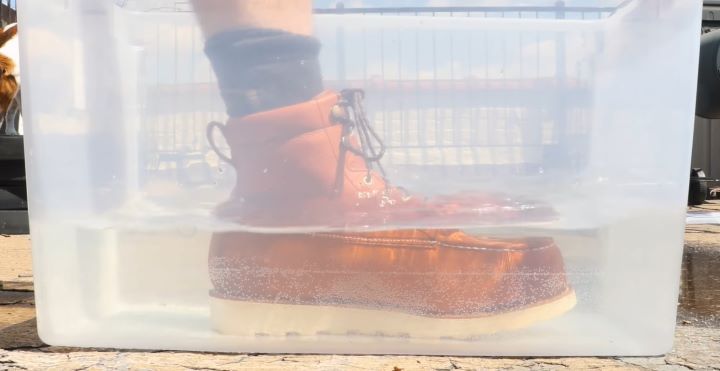 Uppers – The uppers of a waterproof work boot are usually genuine leather or rubber. The uppers will be lined with a waterproof membrane such as GORE-TEX, which is the best around or has a waterproof treated leather. Rubber is naturally waterproof.
Outsole – Similarly, the outsole and stitching should be waterproof and slip and oil-resistant to prevent yours from slipping. Rubber is a good outsole material.
Other Safety Features – Other safety features may include steel, composite, or alloy protective toe, electrical hazards safe materials, as well as, in some cases, chemical resistance.
Comfort Features – Comfortable cushioning and s supportive midsole will help fight foot fatigue and provide good support and comfort.
---
Reviews: The Best Waterproof Work Boots
These are the best available work boots that are completely waterproof.
We hope you love the products we recommend!
We may collect a share of sales or other compensation from the links on this page.
---
1
---
2
---
3
The Columbia Newton Ridge is a waterproof hiking boot that is tough and durable enough for use as a work boot in industrial and outdoor environments.
The uppers are leather, suede, and mesh that are breathable and have a mesh moisture-wicking lining.
The hiking boot design is completely waterproof and ideal as a work boot.
It has advanced technology cushioning and comfort features to prevent foot fatigue.
There is a durable high-grip rubber outsole.
---
4
The Propet Cliff Walker is designed as a diabetic shoe for feet affected by this condition and has waterproof leather uppers.
This is more of an Orthopedic design work boot and hiking boot that is waterproof.
It has waterproof leather uppers with a nylon interior lining.
The boot is Medicare/HCPCS code A5500 rated as a Diabetic shoe.
These best waterproof work boots for men have a durable and slips resistant outsole with a self-cleaning design,
Sealtex waterproofing technology is used.
---
5
From Keen Utility, we have the lightweight and comfortable, waterproof Coburg eight-inch work boot.
A comfortable steel-toe waterproof work boot for industrial work purposes.
The uppers are leather with a Keen Dry waterproof lining.
Inside is a direct attach PU midsole for comfort, cushioning, and a comfortable insole.
The toe is Steel capped for added protection as a safety work boot.
The durable rubber outsole is slip-resistant against oil and water.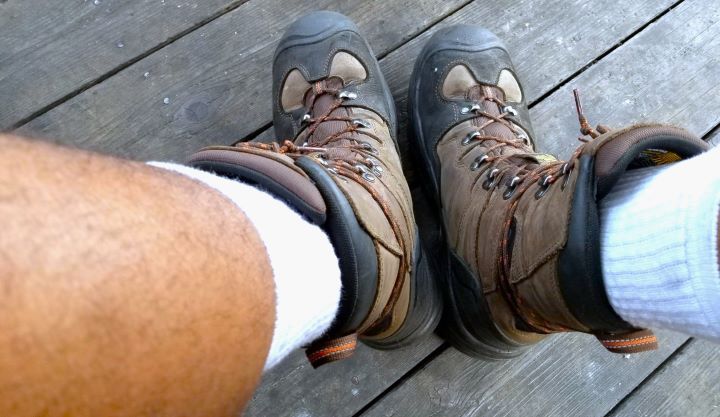 ---
6
The Caterpillar Navigator is a work boot that is waterproof and electrical hazard-safe.
The Uppers are genuine leather and fully waterproof.
Inside is a removable cushioned insole for your comfort.
The boots are available in more color variations and are very durable
The rubber outsole is water and oil-slip-resistant.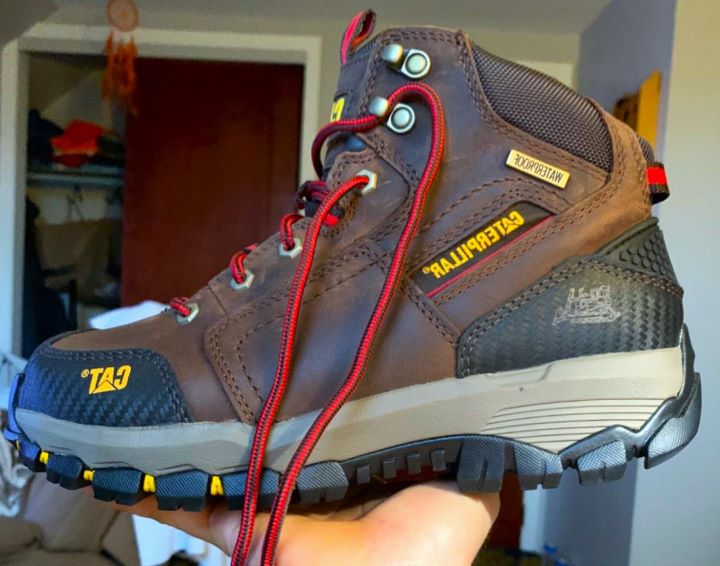 ---
7
The Skechers Verdict is a rugged, waterproof work boot with comfortable cushioning and support features.
Leather uppers make for a durable and comfortable work boot that also has a waterproof lining.
The tongue and collar are padded for your comfort with a cushioned insole as well also padded for your comfort with a cushioned insole.
There are a speed lacing system and a fabric smooth interior lining,
The rubber outsole is durable and highly slip-resistant.
You can choose from many available colors in this model.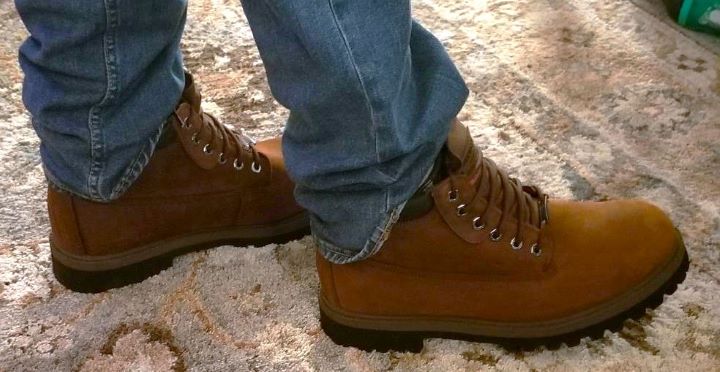 ---
8
The Cat Footwear waterproof work boots are a great option for protection against accident.al slips and foot injuries.
The uppers are 100% leather with a waterproof membrane and steel toe protection.
This imported piece is also fitted with a rubber sole and a slip-resistant outsole.
However, your feet will never get sweaty as it features a breathable leather upper.
The boot comes in a neutral brown color option.
---
9
The Carhartt Workboot offers the protection of a composite toe as well as a fully waterproof lining.
The Uppers are oil-tanned leather with Rugged Flex technology and waterproofing membrane,
The work boot has a protective lightweight composite toe and rubber heel and toe for added protection.
Inside is an Ortholite cushioned insole for comfort.
The Workflex design rubber outsole is durable and flexible, with a high traction tread for slip-resistant.
They are electrical hazard safe rated work boots that meet needed standards.
---
Index Table: Top Rated Waterproof Work Boots
---
---