Getting work boos for a painter can be quite tricky, as you do not want to spend too much on a work boot that will soon be covered in paint, yet you also need something comfortable and protective that will last in its original painted state.
Painters are on their feet for long hours and thus need good support and cushioning from their work boots to get through a long workday, all besides protection against liquids and falling objects which are some of their work environment risks.
Thus we are here to help you find the best work boots for painters that are comfortable, durable, protective, and quite affordable.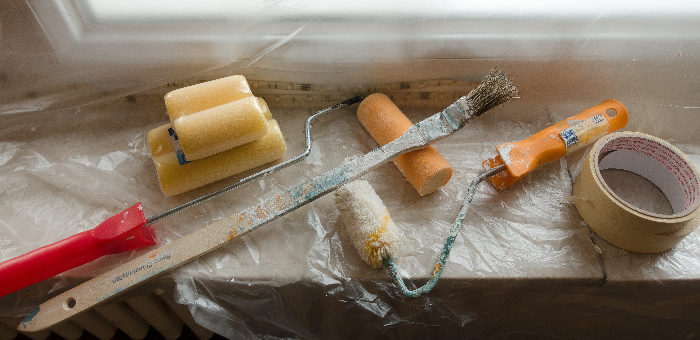 ---
Why Painters Need Specific Work Boots
Painters generally need work boots that are quite easy to clean, that are lightweight and comfortable to wear, that offer good grip for when the painter needs to stand on a ladder, and that also support the feet all day long.
Painters or n their feet most of the time may have to work on slippery surfaces and also are at risk of heavy falling paint cans and tools that can crush their toes.
As a painter, you will also know that your shoes will be covered in the paint most of the time, so something durable and resistant will be needed, also something that is easy to clean.
For these reasons, as a painter, you need to consider the features of your work boot carefully when making a choice in work boots so that you have all these bases covered.
---
Choosing Painter Work Boots
There are some criteria for when you need to choose the right painter work boots;

Durable and Long Lasting – First of all, you need work boots that will last longer and provide good comfort. Thus cheap work boots are not really your best option, so I would opt for better quality work boots that you can clean and that will last longer.
Allows for Easy Movement – The way painters move, crouch, bend, stand and use a step ladder at the time. They need freedom of movement. Thus you will need a work boot with a more flexible sole and fit that can move with you.
All in all, there are two favored choices in work boots for painters, and they are basic construction work boots or hiking boots.
Depending on your company requirements or if you are self-employed, these are two good options for work boot s as a painter.
---
Features of a Good Painter's Work Boot
For a good pair of painter work boots, you need some vital features, which include waterproofing, slip resistance, and durability. Other than that, the safety features will depend on your company and safety requirements, and the work environments that you mostly work in.
Additional features such as Chemical resistance can be good, especially when working with paint.
Furthermore, you also need to consider comfort features as a painter because of the long and tedious hours on your feet, sometimes in very uncomfortable and demanding positions.
Here are some features that you can consider in a work boot that is more suited for paintwork;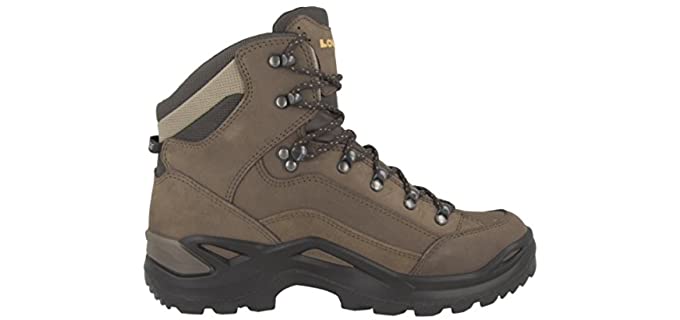 Durable Construction – Make sure that the work boot is durable and of good quality materials. Leather and materials such as rubber for the soles are ideal. Goodyear Welt and Cement construction methods are also the best you will find.
Safety Features – Painters can be exposed to heavy falling object hazards, electrical hazards, slipping hazards, punctures, and chemical burn hazards. Mostly I would recommend a lightweight work boot with a steel or composite safety toe, and shank, and good chemical or liquid resistance. If you do work with electricity, electrical hazard safe work boots are advised.
Comfort – Comfort in the form of a cushioned footbed, shock-absorbing midsole, and moisture-wicking lining are your basic features. You can look at EVA Foam and a padded insole for cushioning, as well as insulation if you tend to work in cold weather conditions.
Flexibility – The sole of a work boot for painters needs to be more flexible in general to allow for more free movement. So I would also recommend work boots with a woven rather than steel shank if you want these options.
Outsole – For the outsole, I would recommend a lug rubber slip and oil resistant outsole, or chemical resistant outsole if possible.
Waterproofing – Generally, paint is a liquid, a waterproof barrier such as Gore-Tex membrane is advised in work boots for painters. You can also opt for work boots that offer full liquid and oil protection for painting.
---
Reviews: The Best Painter's Work Boots
As you will see, I have reviewed work and hiking boots that are ideal for painters with the necessary comfort and safety features, durability, as well as some additional features that you may need.
So, all in all, are our top choices in work boots that are ideal for painters in all environments and situations involving painting;
---
1
The Thorogood American Heritage is a top favorite work boot for painters.
The leather uppers are durable with Goodyear Welt construction and natural water resistance.
The MAWWEAR wedge sole offers good support and slip resistance.
There is a comfortably cushioned footbed that is removable.
The work boot has a non-safety soft toe.
---
2
The Danner Steel Yard is a durable waterproof work boot that is ideal for painting.
The durable leather uppers are easy to clean and will last very long.
There is a steel safety toe for protection and a fully waterproof lining for protection against liquids.
The stability design outsole is ideal for slippery surfaces and has a durable rubber design.
The work boot is cushioned with a comfortable platform for standing all day.
---
3
The Lowa Renegade GTX is a hiking boot that is favored as a work boot by many painters.
It has leather, and synthetic uppers with a climate control cushioned footbed.
There is a full-length nylon shank and a Vibram EVO slip-resistant outsole.
The boot also has a comfortable padded collar.
---
4
The Tank from Everboots has leather uppers and a durable rubber outsole.
It is very durable with Goodyear Welt construction for painters.
There is a cushioned PU insole for your comfort and a padded collar.
The outsole is oil and slip-resistant.
---
5
The Timberland PRO Pitboss is a steel toe work boot for painters.
It has leather uppers and a protective steel toe for safety in all work environments.
The work boot is high quality and extremely durable.
The outsole is a lug slip-resistant rubber, which is ideal when working with wet paint and on slippery surfaces.
There is an anti-fatigue cushioning footbed design.
---
6
For the ladies, we have the Timberland PRO White Ledge work boot for painters.
It has fully waterproof leather uppers that are perfect for accidental paint and chemical spills, as well as quite easy to clean.
There is shock-absorbing cushioning along with a wedge sole design.
The outsole is a slip and oil-resistant rubber.
This is actually a hiking boot that Is also ideal for painting work.
---
Index Table: Top Rated Painter's Work Boots
---
---