Mechanics spend many hours on their feet, working in hazardous environments with dangerous objects, electricity, and sharp tools.
Every mechanic should have the best work boots to keep them safe and protected against all these hazards.
So, we will further look into the characteristics of a proper Mechanic work boot and how it will help you.
Mechanic work boots, first of all, need a slip, and oil-resistant rubber outsole, with liquid-proof uppers that are easy to clean; they need a flexible fit and sole for easier movements and a comfortable cushioned and supportive footbed. Electrical hazard safety is likewise a requirement in work boots for mechanics.
---
---
How Specific Work Boots Help Mechanics

Mechanics need reasonably specific work boots with a few features essential in this line of work.
Mechanics work on slippery floor surfaces that may be wet and oily; therefore, they need a work boot with a slip and oil-resistant outsole.
Similarly, they are at risk of heavy falling objects and punctures, so a steel or composite protective toe and underfoot puncture-resistant shank may also be necessary.
Besides this durability, abrasion resistance can improve the work boot's life and last longer in this heavy-duty work environment.
---
Factors Affecting Your Choices in Mechanic work Boots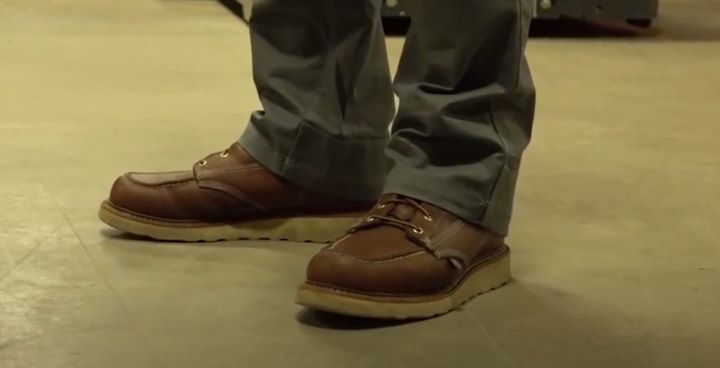 There are a few things to consider when looking for the best available mechanic work boots;
Toe Protection – As you work with heavy equipment and tools that may fall on your toes, opting for a work boot with a protective toe, such as a steel or composite toe, may be necessary.
Electrical Hazard Safety – Working with electrical equipment may lead to electrocution. So, it is always well advised to have electrical hazard-safe work boots.
Slip Resistance – Grease, Oil wetness, Dust, debris, and uneven floor surfaces may all cause slip hazards; thus, a slip and oil-resistant outsole is necessary.
Comfort and Support – Because you are on your feet all day, getting work boots that offer some form of cushioning in the insole and midsole to absorb shock and provide comfort is advised. In addition, stability and flexibility allow you to move easily and maintain a proper balance.
---
Features of a Good Mechanic Work Boot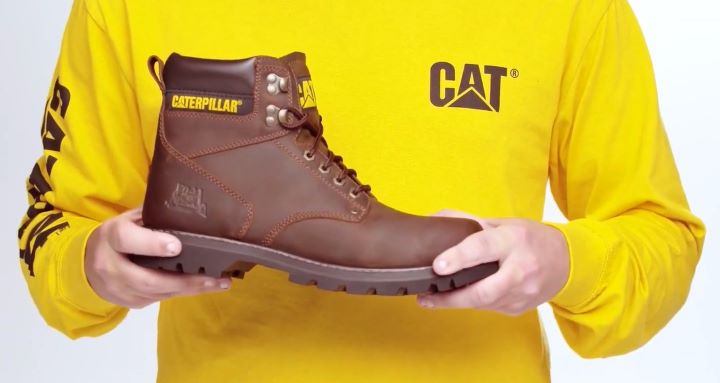 Uppers – Look for genuine leather uppers and construction methods such as welt, Goodyear Welt, and Cement which are more flexible and of better quality.
Safety Features – Most mechanic work boots are electrical hazard safe and rated, which are important factors. In addition, they may have protective steel, composite, or aluminum toe. Other safety features include waterproofing, chemical and abrasion resistance, and an oil and slip-resistant lug outsole.
Comfort features Comfort features are important because mechanics are mostly on their feet. Therefore, good cushioning, insole, such as EVA or PU, and a cushioned midsole for shock absorbency are favored. In addition, stability features and a moisture-wicking lining will also come in handy.
Oustole – The outsole must offer good slip resistance on wet, slippery, and even oily or greasy surfaces. Rubber is the best outsole material, with a patterned lug tread.
---
Reviews: The Best Work Boots for Mechanics
In our comprehensive list, we have some of the best available work boots that have the ideal features for mechanical work and occupations;
We hope you love the products we recommend!
We may collect a share of sales or other compensation from the links on this page.
---
1
---
2
From Wolverine, we have this very comfortable and durable mechanic work boot.
As a professional mechanic, I've had my fair share of work boots. So, when I got my hands on the Wolverine Hudson Steel Toe Mid, I was eager to see how they'd hold up in the demanding conditions of my job.
Built for Comfort and Durability: The first thing I noticed was the comfort. These boots are well-padded, and the cushioned insole provides the kind of support my feet need during long days in the garage. Plus, the nubuck leather uppers are not only durable but also breathable thanks to the mesh inserts.
Electrical Hazard Safety: Safety is my top priority, and I'm glad to report that these boots meet electrical hazard safety standards. This is crucial when working around heavy machinery and electrical equipment.
Breathable Lining: I appreciate the moisture-managing mesh lining, especially on hot days. It keeps my feet dry and comfortable, preventing excessive sweating.
Underfoot Protection: The nylon shank in these boots provides much-needed underfoot protection. It's a relief when I'm working on uneven surfaces or handling heavy equipment.
Durable Outsole: The rubber outsole is directly attached to the boot, which adds to the overall durability. It has a good grip, and I never worry about slipping on wet garage floors.
No Steel Toe, No Problem: While these boots have a soft toe, I found them to be lightweight and flexible. They're ideal for mechanics who don't require a steel toe and prefer a more comfortable and agile boot.
In Conclusion: The Wolverine Hudson Steel Toe Mid has quickly become my go-to work boot. They offer the perfect combination of comfort, durability, and safety. Whether I'm under the hood or on my feet all day, these boots keep me comfortable and protected. If you're a mechanic looking for reliable footwear, these boots are worth considering.
---
3
The Steel toe protection Caterpillar work boot for mechanics is available in four colors.
As a mechanic, I rely on my work boots for protection, comfort, and durability. The Caterpillar Second Shift work boot has been my trusted companion, and I'm here to share my experience with it.
Steel Toe Protection: Safety is a top priority for me, and the protective steel toe in these boots provides the peace of mind I need when working around heavy machinery. They meet electrical hazard safety standards, which is a crucial feature in my line of work.
Comfort All Day Long: The Climasphere cushioned breathable insole is a game-changer. It keeps my feet comfortable throughout the workday, and I no longer have to deal with discomfort or fatigue.
Built to Last: These boots are built to withstand the demanding conditions of a mechanic's job. The Goodyear Welt Construction provides maximum durability and flexibility, making them a long-term investment. The oiled full-grain leather uppers offer protection and durability that stands the test of time.
Excellent Traction: The durable rubber outsole of the Second Shift provides fantastic slip resistance and traction. I can confidently navigate the shop floor, even on low-traction surfaces.
A Style for Everyone: It's not just about performance; these boots are available in four different colors, allowing you to choose the one that suits your style.
In Conclusion: The Caterpillar Second Shift work boot is a must-have for mechanics. It offers a winning combination of safety, comfort, durability, and style. Whether I'm dealing with heavy equipment or spending long hours on my feet, these boots rise to the occasion. If you're in the mechanic business, I highly recommend giving them a try. They are truly "Built For It."
---
5
The Danner Vicious offers a roomy, comfortable fit with a seamless interior and waterproof protection.
The Danner Vicious work boot is more than just a piece of footwear; it's my reliable partner for tough jobs. Here's why I believe it's worth every penny.
Spacious and Comfortable Fit: The first thing that impressed me about the Vicious is its roomy fit and seamless interior. I can work all day in them without any discomfort. The Trail guard technology provides a snug heel fit while offering a wider toe box, giving my feet the space they need.
Robust and Durable: These boots are built to last. The genuine leather uppers are waterproof and come with an abrasion-resistant heel cap. No matter how rough the conditions get, I know my boots can handle it.
Uncompromised Waterproofing: The Vicious boasts a GORE-TEX waterproof, breathable lining. It ensures that my feet stay dry, no matter the weather or terrain. Even in wet and muddy conditions, I can rely on the waterproofing.
Shock Absorption: The dual-density EVA midsole provides excellent shock absorption, making long workdays a lot more comfortable. It's a feature I truly appreciate, as it keeps my feet feeling fresh.
Exceptional Traction: The Vibram Vicious oil-and-slip-resistant outsole is a game-changer. It offers superior traction both indoors and outdoors. The low-profile 90-degree heel adds to its versatility.
Non-Metallic Safety Toe: These boots meet or exceed ASTM standard F2413-11 I/75 C/75 EH, providing the safety and protection I need on the job.
In Conclusion: The Danner Vicious work boot is the perfect blend of comfort, durability, and protection. Whether I'm working indoors or outdoors, in dry or wet conditions, these boots have never let me down. If you're looking for a reliable and tough work boot, I highly recommend giving the Danner Vicious a try. Made in the USA and built to last, it's truly a valuable investment.
---
6
The Thorogood American Heritage is one of the most comfortable mechanics' work boots for long hours on your feet.
I've put the Thorogood American Heritage work boot through its paces, and it has exceeded my expectations in many ways. Here's why I believe it's the ideal choice for mechanics and anyone who spends long hours on their feet.
Unmatched Comfort: The American Heritage work boot is designed with your comfort in mind. It features a lightweight moc toe and a soft wedge sole, ensuring that I'm comfortable even during extended periods of standing or walking on flat surfaces.
Durable Traction: The rubber sole of these boots provides reliable traction. It has a robust tread pattern that offers excellent oil and slip resistance, keeping me steady and safe on the shop floor.
Rugged and Reliable: These boots are built to last. The genuine leather uppers are tough and feature rugged metal eyelets and lace-up closures. They can withstand the demands of the job without showing signs of wear.
Puncture Protection: The composite underfoot shank is a welcome feature. It provides protection against punctures from sharp objects, offering an extra layer of safety.
Superior Shock Absorption: The cushioned insole combined with the shock-absorbing Poron 4000 midsole is a game-changer. I no longer feel fatigued after a long day on my feet. These boots truly provide ultimate shock absorption and comfort.
Quality Construction: The Goodyear Storm Welt construction used in these boots ensures superior wear resistance and a moisture seal between the upper and midsole. This makes them extremely dependable and long-lasting.
Flex and Support: The fiberglass shank construction provides the necessary flex and strength to maintain their shape under heavy duress. The 6-inch flexible ankle support keeps me secure and comfortable all day.
Ideal for Various Jobs: The "job-fitted" design of these boots means they are versatile and suitable for a range of outdoor and industrial applications. Whether you're working in construction, maintenance, carpentry, electrical work, or any other demanding job, these boots are up to the task.
In Summary: The Thorogood American Heritage work boot is your ideal companion for demanding workdays. It combines unmatched comfort, durability, and safety features, making it one of the best work boots for mechanics and workers who require long-lasting and reliable footwear. Whether on the job or off, these boots have proven to be iconic and dependable.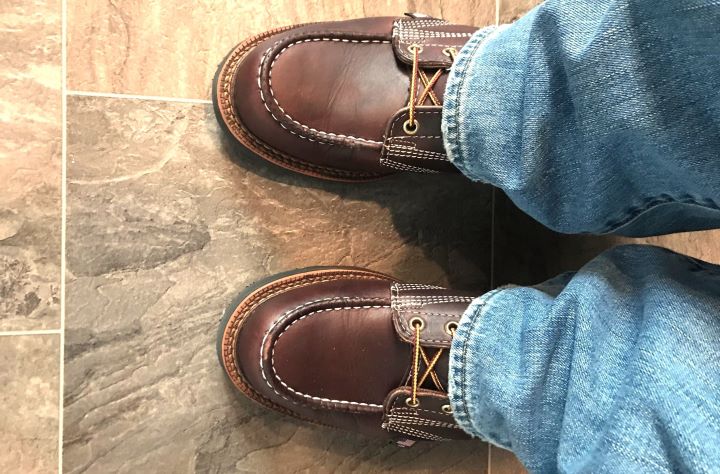 ---
7
The Wolverine Overpass is electrical Hazard safe and has a slip and oil-resistant rubber outsole ideal for Mechanic work.
The Wolverine Overpass: Engineered for Ultimate Performance: I've had the pleasure of testing the Wolverine Overpass work boot, and it's proven to be a top choice for mechanics and those in need of reliable and safe footwear. Here's why it's a standout option for demanding jobs.
Electrical Hazard Safe: Safety is a priority, and these boots deliver. They are electrical hazard safe, providing protection against open circuits, making them suitable for electrical and high-voltage environments.
Rugged Leather Uppers: The genuine leather uppers are not only rugged but also waterproof. They provide excellent protection against moisture, ensuring that my feet stay dry even in wet conditions.
Moisture Management: Thanks to the smooth textile lining, these boots effectively wick away moisture, keeping my feet comfortable and dry throughout the workday.
Cushioned Comfort: The removable Ortholite cushioned insole is a game-changer for all-day comfort. It provides the right amount of cushioning, reducing foot fatigue during extended hours on the job.
Durable Toe Cap: The abrasion-resistant toe cap adds extra durability, ensuring these boots can withstand the toughest conditions and protect your feet.
Contour Welt Construction: These boots are built to move with you. The Contour Welt construction is not only durable but also flexible. It allows the boot to bend and flex at essential points, ensuring maximum performance and comfort.
Superior Traction: The slip, oil, water, abrasion, and chemical-resistant outsole is a standout feature. It provides reliable traction on various surfaces, and its chemical resistance adds an extra layer of protection.
Composite Toe: The boots feature a composite toe that meets ASTM safety standards. This means your feet are well-protected from impact and compression hazards, ensuring your safety on the job.
In conclusion: The Wolverine Overpass is a work boot engineered for ultimate performance. It combines safety features, comfort, and durability, making it an excellent choice for mechanics and professionals in demanding industries. With innovative technologies like the carbon max toe-cap, contoured and motion max technologies, and a waterproof plus breathable membrane, these boots are ready to tackle any work conditions while keeping your feet dry and comfortable.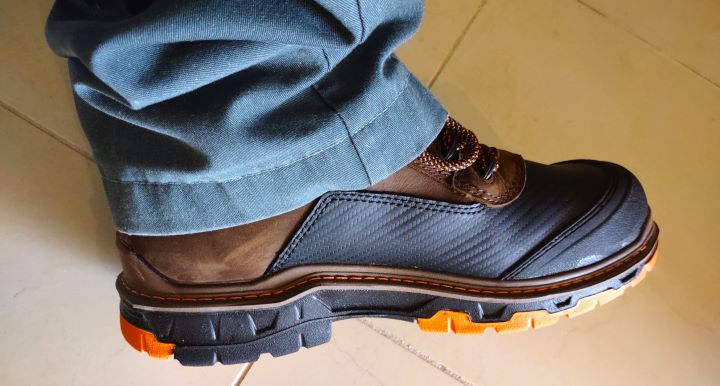 ---
8
The Skechers Pilot is a Utility work boot with a high traction lug outsole for excellent slip resistance.
Skechers Pilot: A Durable and Comfortable Utility Work Boot: Having thoroughly tested the Skechers Pilot utility work boot, I'm excited to share my experience with you. This work boot strikes a perfect balance between durability and comfort, making it a great choice for various demanding jobs.
Rugged Durability: The genuine leather uppers provide the rugged durability you need in a work boot. They are built to withstand tough conditions, ensuring these boots can be your reliable companion for an extended period.
High Traction Outsole: One of the standout features is the high traction lug outsole. It offers excellent slip resistance, providing a secure grip on various surfaces. This is particularly important for jobs where slip accidents are a concern.
Lightweight Design: The Pilot boot is designed with a focus on being lightweight without compromising durability. It's a versatile option that can easily transition from a day on the job to casual wear.
Padded Comfort: The lightly padded footbed is a game-changer when it comes to comfort. It ensures that your feet remain comfortable, even during long hours on your feet.
Additional Support: The padded collar and tongue offer extra ankle support, adding to the overall comfort and stability of these boots.
In Conclusion: The Skechers Pilot utility work boot is a fantastic choice for those who need a blend of rugged durability and comfort. The genuine leather uppers, high traction lug outsole, and lightweight design make it a versatile option for various activities. Whether you're on the job or simply going about your day, these boots offer the durability and support you need.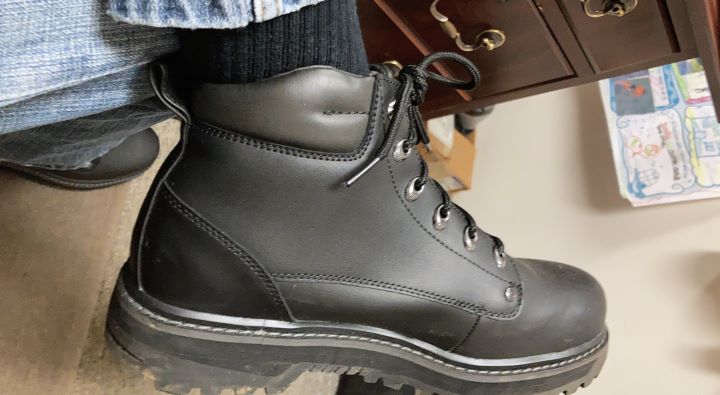 ---
9
If you are looking for a no-fuss, affordable mechanic work boot, then the Everboot tank is just what you need.
Testing Comfort: I recently purchased the Everboot Tank mechanic work boots, and I must say, they have exceeded my expectations in many ways. As a professional mechanic, I need reliable and durable work boots that can withstand the rigors of my job. I decided to put these boots to the test and tried them out on every feature they claim to offer.
Premium Comfort: First and foremost, comfort is essential for me as I spend long hours on my feet. These boots provided excellent comfort right from the start. The cushioned Pu insole gave my feet the support they needed, and I was able to wear these boots all day without any discomfort.
Stability and Support: The wide rubber sole and arch support also played a significant role in keeping me stable, especially when working on uneven surfaces. I didn't experience any slipping or tripping, which is crucial for safety in my line of work.
Flexible Design: The supple nubuck uppers were both supportive and flexible, allowing me to move freely without feeling restricted. I appreciated the reinforced stitches and the padded collar, which added to the overall comfort.
Durable Construction: In terms of durability, the Goodyear welt construction proved its worth. These boots have held up well to the demands of my job, showing minimal signs of wear and tear even after several weeks of use. The steel shank underfoot provided additional protection, which is essential when dealing with heavy machinery and equipment.
Orthotic-Friendly: Moreover, I loved the fact that I could customize these boots with my own orthotics by easily removing the insoles. This feature made a significant difference for me, as I have specific orthotic requirements for my feet.
Conclusion: In conclusion, the Everboot Tank work boots are a fantastic choice for mechanics like me. They offer the comfort, stability, and durability I need for my job. Whether I'm working on construction sites, landscaping, or any other manual labor, these boots have proven themselves to be reliable and affordable. I'm genuinely satisfied with my purchase and would highly recommend them to fellow mechanics.
---
10
The Timberland PRO Pitboos is a tough and highly protective work boot for mechanics.
Tough and Protective: The Timberland PRO Pit Boss work boots are precisely what a mechanic needs in terms of toughness and protection. As someone who works in a demanding field, I require work boots that can handle a variety of challenges.
Steel Toe Protection: One of the standout features of these boots is the steel protective toe cap. It provides the safety I need in a mechanic's environment where heavy tools and equipment are constantly in use. Knowing that my feet are well-protected brings peace of mind.
Durable Outsole: The abrasion-resistant, oil, and slip-resistant lug rubber outsole is a game-changer. I often find myself working on slippery or oily surfaces, and the excellent traction these boots offer is a significant advantage. They provide a secure grip, reducing the risk of accidents.
All-Day Comfort: Comfort is another vital aspect of a work boot, especially when you spend long hours on your feet. The Timberland PRO Pit Boss doesn't disappoint. The comfortable footbed offers light underfoot cushioning, making a day filled with various tasks much more manageable.
Ultimate Durability: What truly stands out about these boots is their durability. They are built to last and can withstand the rigors of daily use in a mechanic's shop. Whether it's the rugged nubuck leather or the moisture-wicking lining, every component is designed for longevity.
24/7 Comfort Suspension: The PRO 24/7 Comfort Suspension technology is a unique comfort system that has made a noticeable difference in my daily work routine. It helps reduce foot fatigue, provides crucial arch support, and cushions every step I take. The boots feel as comfortable at the end of the day as they do in the morning.
For the Proud Worker: Timberland PRO understands the pride that workers take in their jobs. These soft-toed shoes and boots are designed to enhance job performance, whether you're at work or at home. They combine comfort with style, and I appreciate that they help me perform my best every day.
Uncompromising Quality: Timberland PRO is known for its uncompromising quality and innovative solutions for demanding work environments. Their focus on ultimate comfort, durability, and protection resonates with me, and I can vouch for the quality of the Pit Boss work boots.
In conclusion: The Timberland PRO Pit Boss work boots are an excellent choice for mechanics and anyone in need of durable, comfortable, and protective footwear. These boots offer the safety, comfort, and longevity that professionals require, making them an essential part of my daily work attire.
---
Index Table: Top Rated Mechanic Work Boots
---
---