Whereas ranchers and ropers used most cowboy work boots in the old days, they have evolved so much today to be used for various occupations.
Whether it is the style or pull-on comfort that attracts you, Cowboy work boots have become quite popular, and so many choices are available as a work boot option.
As you know, most Cowboy-style work boots offer minimal comfort and safety features, so we have tried to find brands that are a little more challenging. The brands we chose will have a more comfortable and supportive cushioned footbed and safety features such as a safety toe, waterproofing, and a slip-resistant outsole.

---
---
Cowboy Work Boots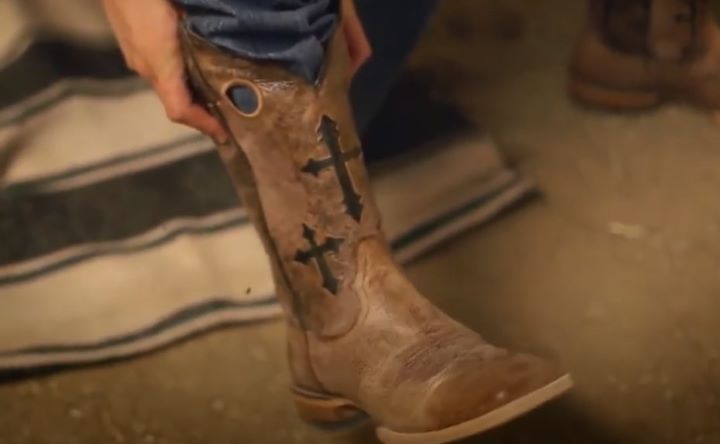 The Cowboy boot style has since evolved from when the Western boots first became popular with American Cowboys around 200 years ago.
Despite all the changing fads, two popular Western boots remain: Cowboy style boots and Roper Boots.
The Classic Cowboy work boot features a high shaft to at least the middle of your calf with decorative cut-outs or stitching, and The toe can be square, pointed, or round with the traditional toes being pointed.
Most Cowboy style boots, including work boots, will come with comfort features and technology to cushion your feet and help with stability in support.
---
Cowboy Work Boots Designs and Toe Styles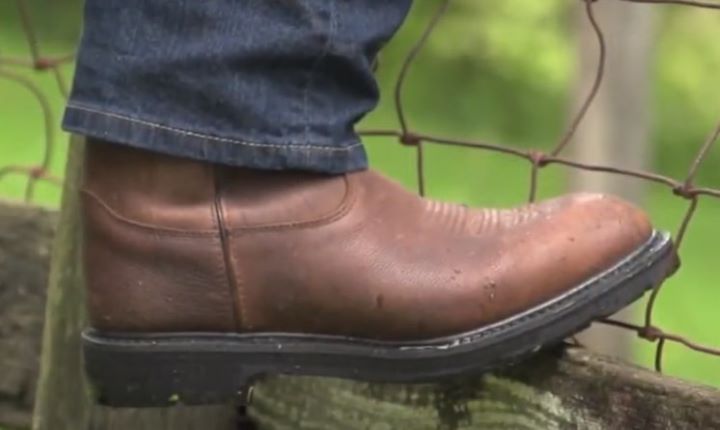 Cowboy work boots come in various styles, fits, and toe shapes. Most safety Cowboy work boots with a steel toe generally have a wide or wide and round toe shape to accommodate the safety toe features.
However, Cowboy work boots generally do not always come with safety steel or composite toe.
Cowboy work boots are ideal for ranching and farming, and I would not regularly suggest them for industrial and construction work. However, with technology today, cowboy-style work boots work perfectly in these occupations and work environments.

Pointy Toe – The Pointed toe cowboy work boots are a work boot I recommend only for professional wear around the office or a meeting. It looks great but is uncomfortable or safe in a hazardous work environment. The longer pointed toe is the original style, and you will need to size up to around half size to accommodate the narrow toe.
Square Toe – The square toe design has a square straight line at the tip of the toe. You can get the square toe cowboy work boots with a wide, medium, or narrow square-toe design. The wide and medium designs are better for work purposes.
Round Toe – The rounded toe on cowboy work boots is the most acceptable in work boots for all purposes. This is usually a broader rounded toe that allows enough toe room in the width and height of the work boots, whereas square and pointed toes tend to be more flat on top.
Calf Length – Most cowboys-style work boots will come in a mid-calf length. However, you get shorter ankle-length models.
---
Features of a Good Cowboy Work Boot
Uppers – The uppers will be an ankle-length or longer-length shaft, usually genuine leather decorated with most cowboy boot styles. You will also see different toe shapes in cowboy work boots, such as round, square, and pointed-toe shapes.
Comfort and Support Features – Cowboy Work boots may have a cushioned footbed or insole and a foam or EVA midsole to absorb shock and cushion. A moisture-wicking lining aids in absorbing moisture and keeping your feet dry and comfortable. Furthermore, an ergonomically shaped footbed or arch support will help to support your feet.
Safety Features – The basic safety features for a cowboy work boot include a steel or composite safety toe, electrical hazard safety materials, and oil and slip-resistant outsole. Some work boots may also have a waterproof lining.
Outsole – The outsole will be rubber or Vibram rubber with a lug tread for slip resistance. Depending on the type of work boot, that traction may vary.
Colors and Options – You will notice a few more color options with cowboy work boots. However, they are usually very neutral colors. Wider widths may also be available in some work boot models.
---
Reviews: The Best Cowboy Work Boots
These are some of our top favorite Cowboy Style work boots.
We hope you love the products we recommend!
So that you know: We may collect a share of sales or other compensation from the links on this page.
---
1
---
2
I've had the opportunity to experience boots with these outstanding features firsthand. These boots are constructed with 100% leather, giving them a robust and durable quality that's essential for enduring long workdays. The Goodyear Welt construction is a standout feature, providing a level of durability and strength that allows these boots to withstand the most demanding job requirements. I can attest to their long-lasting performance.
Safety is a top priority, and these boots feature a strong steel toe that meets the ASTM standard F2413-11 M I/75 C75 EH, ensuring protection in potentially hazardous work environments. The slip-resistant rubber lug outsole proved its effectiveness, delivering secure footing even in slippery conditions. This feature is a valuable addition for enhanced safety.
Comfort matters, especially during extended workdays. These boots come equipped with a removable orthoLite cushioned footbed, offering the kind of support and comfort that makes a substantial difference. The ultra-light EVA midsole contributes to the overall comfort and support of these boots, reducing foot fatigue throughout the day. The moisture-wicking mesh lining ensures that feet stay cool and dry, adding to the overall comfort and preventing discomfort caused by moisture.
Not only do these boots look premium with their full-grain leather upper, but they also feel durable and resilient.
In summary, these boots provide a winning combination of durability, safety, and comfort, making them an excellent choice for those facing demanding job requirements. Based on my firsthand experience, I believe they are a reliable and trusted option for those who need boots that can meet the toughest challenges.
---
3
These boots are designed for the job, with a wide square toe that provides ample room and comfort. The leather construction is both durable and stylish, featuring a wide soft square toe and an aged bark design that adds a touch of character to the boots.
One standout feature is the advanced torque technology, which offers stability and support for those long days on your feet. The composite fork adds an extra layer of durability and strength, ensuring these boots can handle the demands of the job.
The lining in these work boots contributes to overall comfort, and I found it to be quite pleasant to wear. The heavy-duty oil and slip-resistant rubber outsole is an essential safety feature, providing reliable traction in various work environments.
In summary, the Ariat Sierra work boots offer a combination of comfort, durability, and safety. Whether you're working on the job or spending a day in the field, these boots are up to the task. My firsthand experience has been positive, and I believe they are a solid choice for those in need of reliable cowboy work boots.
---
4
These boots seamlessly blend the rugged style of cowboy boots with the safety features required for demanding work environments. The inclusion of a steel safety toe ensures your feet remain protected, and the leather uppers add to the boots' durability.
One feature I found particularly impressive is the J-Flex comfort system. It allows the boots to move with your feet, providing a comfortable and flexible fit throughout the day. This feature contributes significantly to overall comfort.
For added safety and support, these boots feature a protective steel shank and a durable rubber outsole. The steel shank provides stability and protection against potential hazards, making these boots well-suited for a range of work settings.
The full leather uppers not only add to the boots' durability but also enhance their classic cowboy boot style. These boots are designed to be both functional and visually appealing.
In summary, the Justin Original Stampede cowboy-style work boots offer a well-rounded combination of safety, comfort, and style. My firsthand experience with these boots has been positive, and I believe they are a reliable choice for those who need both protection and a touch of cowboy flair in their work boots.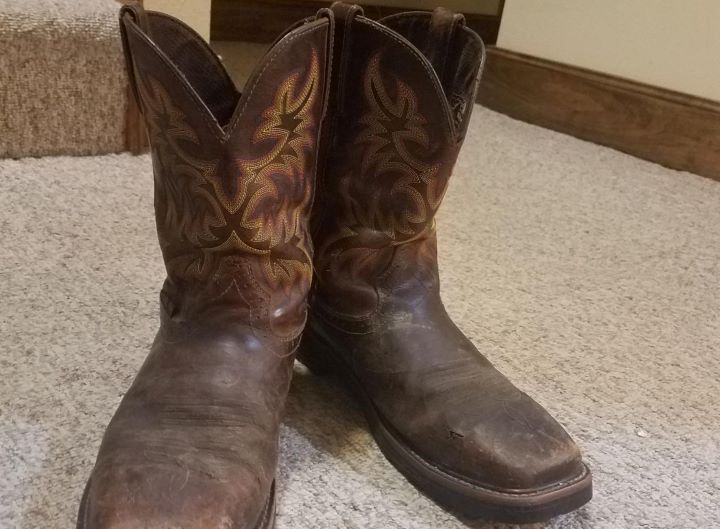 ---
5
These boots offer a classic cowboy style with the convenience of a pull-on design. One notable advantage is the variety in sizes and colors, making it easier to find the perfect fit and style to suit your needs.
These leather work boots come equipped with a steel safety toe, providing crucial protection for your feet. The slip-resistant rubber outsole adds an extra layer of safety, ensuring secure footing in various work conditions.
A standout feature in these boots is the RPM composite technology, which reduces weight without compromising on durability. I found these boots to be surprisingly lightweight, making them comfortable to wear for extended periods.
Additionally, the outsole is heat-resistant, which is a valuable feature for those working in environments with high temperatures.
In summary, the Irish Setter cowboy-style work boots offer a blend of classic style, safety, and comfort. My firsthand experience with these boots has been positive, and I believe they are a reliable choice for those who appreciate the cowboy boot aesthetic while ensuring their feet are protected and comfortable throughout the workday.
---
6
These boots are designed with the ladies in mind, offering a combination of style, comfort, and functionality. The leather uppers give them a durable and classic look that appeals to many.
One standout feature is their waterproof design, ensuring that your feet remain dry even in wet or rainy conditions. This feature is especially valuable for those who spend long hours on their feet outdoors.
The EVA soles provide a lightweight and comfortable feel, reducing foot fatigue during extended wear. Additionally, the work boot boasts four layers of cushioning technology, adding an extra level of comfort that I found truly appreciable.
In summary, the Ariat Anthem waterproof cowboy work boot is a great choice for women looking for a blend of style and functionality. Whether you're working outdoors or simply appreciate the cowboy boot aesthetic, these boots have you covered. My firsthand experience has been positive, and I believe they offer the comfort and protection that many individuals seek in their work boots.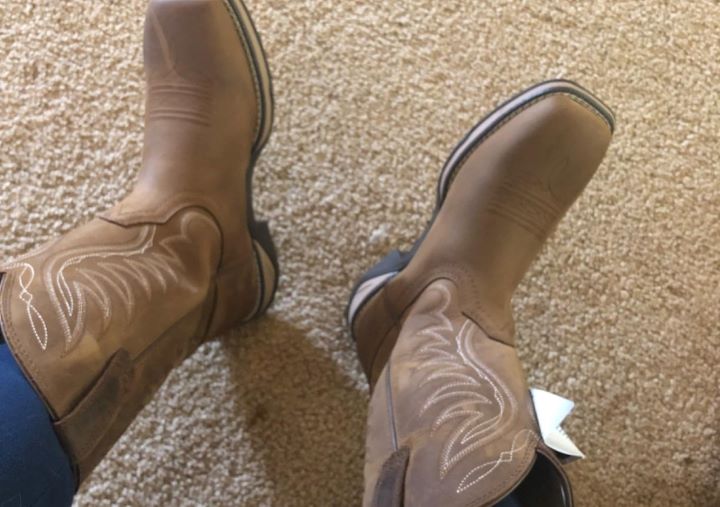 ---
7
These boots offer a classic square-toe design with the durability of genuine leather. The leather construction not only adds to the boots' overall durability but also provides that distinctive cowboy boot appearance.
The boots come with a robust rubber sole, which I found to be reliable in various work conditions. The 11-inch decorated shaft adds a touch of style to these boots while providing additional support and protection.
The square toe design is a practical choice, offering ample room for your toes. If you're looking for wider width options, you're in luck, as these boots come in various sizes to accommodate different foot shapes.
In summary, the Ariat Groundbreaker square-toe cowboy work boot is a solid choice for those who need a balance of style and durability. My firsthand experience with these boots has been positive, and I believe they are a reliable option for work or any situation where cowboy boots are preferred.
---
8
Old West Boots recommends ordering one-half size larger than your normal boot size for a better fit. For example, if you typically wear a size 10.5 in most boots, it's advisable to order a size 11 in Old West Boots. You can refer to the Old West Boots Size and Fit Guide for more detailed information on finding the right fit.
Now, let me share my firsthand experience with the TBM3013 from Old West Boots:
These boots are designed for the gentleman cowboy, featuring rich leather construction with a polished finish that adds a touch of elegance. The classic Western stitching pattern on the shaft showcases three rows of intricate details, giving the boots a distinctive Western look.
One unique feature is the hand-corded medallion, which adds a special touch to the design. The man-made lining and cushioned insole ensure all-day comfort, making these boots suitable for long hours on your feet.
The reinforced shank provides added stability, which is particularly useful for those who require support while working or riding. The cowboy heel and narrow round toe complete the traditional cowboy boot design.
What caught my attention is the heavy-duty rubber work outsole, which offers reliable traction and durability. These boots are built to withstand the demands of various tasks.
In my experience, I found these boots to be comfortable, stylish, and well-crafted. The measurements I used were based on size 12, width D – Medium. Please note that actual measurements may vary by size. It's worth considering Old West Boots if you're looking for a blend of style, comfort, and practicality in a cowboy boot.
---
9
The Rocky Original Ride Roper Western Boot is a timeless choice for those seeking a classic round-toe boot with reliable performance. Here's my experience with these boots:
These boots are designed with a classic and versatile style that suits various occasions. The full-grain leather upper and double-row welt stitch not only look great but also provide a tangible sense of quality. The all-around welt construction enhances durability, making these boots suitable for rugged, tough tasks.
One standout feature is the eight-layer Rocky Ride Comfort System, which offers excellent cushioning and support. Your feet will appreciate the comfort provided by these boots, even during long days on your feet.
The removable dual-density polyurethane Ride footbed, along with the heel stabilizer, ensures that every step you take is secure and well-supported.
What impressed me is the double-ribbed, tempered steel shank, which adds an extra layer of protection against stepping on sharp objects. These boots are not only stylish but also practical for various work environments.
Measuring at eight inches in height, these boots exude a timeless and classic appeal. They are the kind of boots you can rely on for years to come, making them a valuable addition to your footwear collection.
In summary, the Rocky Original Ride Roper Western Boot combines classic style with reliable performance. My firsthand experience with these boots has been positive, and I believe they are a dependable choice for those looking for enduring comfort and durability in a timeless design.
---
10
These men's western work boots, known for their hardwearing nature and classic style, have become my go-to choice for days spent both in the field and with friends. They offer not only wear resistance but also a level of flexibility that allows me to comfortably wear them all day long.
What initially caught my eye is the superior construction of these boots. Crafted from high-quality full-grain leather for both the foot and upper parts, along with a leather lining, these western-style boots are built to last. I've put them through some tough conditions, and they've certainly proven their durability.
The ATS (Advanced Torque Stability) technology incorporated into these boots is a game-changer. It provides stability and all-day comfort, which is crucial for someone like me with a job that demands a lot from my feet. No matter how challenging the day gets, these boots have my back, or rather, my feet.
The wide western boots with a square toe ensure a comfortable fit, and I appreciate how easily they adjust to my foot size. But what truly stands out is the heavy-duty, non-marking Duratread outsole. It not only provides maximum wear-resistance but also offers flexibility, making these boots versatile for various situations.
Ariat's commitment to innovation is evident in these boots. They excel in advanced technologies and collaborate with world-class biomechanical research groups and testing labs to deliver products that outperform in demanding conditions. It's clear that Ariat's dedication to enhancing performance, comfort, and durability shines through in these boots.
In conclusion, these western boots have become an integral part of my daily routine. They offer not only style and durability but also the comfort and support I need for a demanding day of work and play. I can confidently say that these boots have exceeded my expectations and are a testament to Ariat's commitment to innovation and quality.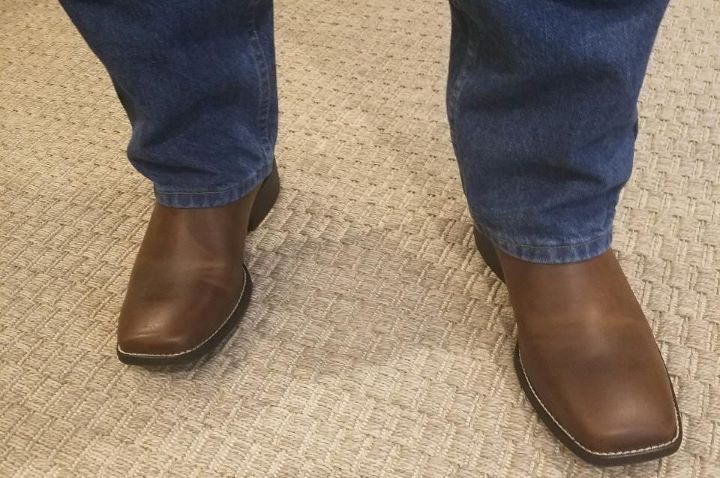 ---
Index Table: Top Rated Cowboy Work Boots
---
---