Whereas most cowboy work boots were used by ranchers and ropers in the old days, they have evolved so much today to be used for a variety of occupations.
Whether it is the style or pull-on comfort that attracts you, Cowboy work boots have become quite popular, and there are so many choices available as a work boot option.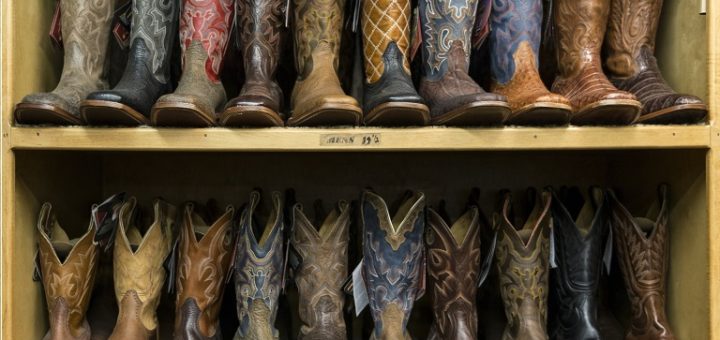 ---
Cowboy Work Boots
The Cowboy boot style had since evolved from when the Western boots first became popular with American Cowboys around 200 years ago.
Despite all the changing fads, two of the most popular style Western boots remain the common Cowboy style boots and Roper Boots.
The Classic Cowboy work boot features a high shaft to at least the middle of your calf with decorative cut-outs or stitching, and The toe can be square, pointed, or round with the traditional toes being pointed.
Most Cowboy style boots, including work boots, will come with some form of comfort features and technology to cushion your feet and to help with stability in support.
---
Cowboy Work Boots Designs and Toe Styles
Cowboy work boots come in a variety of styles, fits, and toe shapes. Most safety Cowboy work boots that have a steel toe will generally have wide or wide and round toe shape to accommodate for the safety toe features.
However, generally, Cowboy work boots do not always come with a safety steel or composite toe.
Cowboy work boots are ideal for ranching and farming work, and I would not regularly suggest them for industrial and construction work purposes. However, with technology today, there are cowboy-style work boots that work just perfectly in these occupations and work environments.

Pointy Toe – The Pointed toe cowboy work boots are a work boot that I will only recommend for professional wear around the office or to a meeting. It looks great but is not that comfortable or safe in a hazardous work environment. The longer pointed toe is the original style, and you will need to size up to around half size to accommodate for the narrow toe.
Square Toe – The square toe design has a square straight line at the tip of the toe. You can get the square toe cowboy work boots with a wide, medium, or narrow square toe design. The wide and medium designs are better for work purposes.
Round Toe – The rounded toe on cowboy work boots is the most acceptable in work boots for all purposes. This is usually a broader rounded toe that allows enough toe room in width and height of the work boots, whereas square and pointed toes tend to be more flat on top.
Calf Length – Most cowboys style work boots will come in a mid-calf length, however, you do get shorter ankle length models.
---
Features of a Good Cowboy Work Boot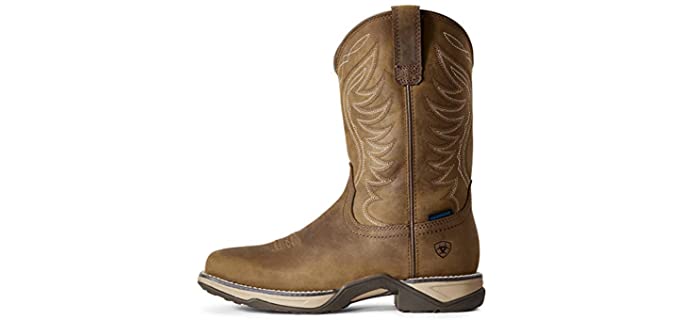 Uppers – The uppers will be an ankle-length or longer-length shaft that is usually genuine leather and decorated as with most cowboy boot styles. You will also see different toe shapes, such as round, square and pointed toe shapes in cowboy work boots.
Comfort and Support Features – Cowboy Work boots may have a cushioned footbed or insole and a foam or EVA midsole to absorb shock and provide cushioning. A moisture-wicking lining aids in absorbing moisture and keeping your feet dry and comfortable. Furthermore, an ergonomically shaped footbed or arch support will help to support your feet.
Safety Features – The basic safety features for a cowboy work boot include a steel or composite safety toe, electrical hazard safety materials, and oil and slip-resistant outsole. Some work boots may also have a waterproof lining.
Outsole – The outsole will be rubber or Vibram rubber with a lug tread for slip resistance. Depending on the type of work boot that traction may vary.
Colors and Options – With cowboy work boots, you will notice that there are a few more options when it comes to colors. However, they are usually very neutral colors. Wider widths may also be available in some work boot models.
---
Reviews: The Best Cowboy Work Boots
These are some of our top favorite Cowboy Style work boots;
---
1
The Ariat WorkHog is a round-toe cowboy work boot.
The work boots have genuine leather uppers that are decorated and calf length.
They have a soft round toe and durable, slip-resistant rubber outsole.
Easy to wear and waterproof for all weather conditions.
---
2
The Wolverine Rancher is a square steel toe cowboy work boot.
They are leather rancher work boots with s steel safety toes.
The work boots have a square toe design and decorated uppers,
They are durable ad has a slip-resistant rubber outsole.
---
3
The Ariat Sierra is a wide square toe cowboy work boot.
They are leather work boots with a wide soft square toe and aged bark design.
There is advanced torque technology for the stability and a composite fork.
The work boots are lined and have a heavy-duty oil and slip-resistant rubber outsole.
---
4
The Justin Original Stampede are also cowboy style work boots,
They have a steel safety toe and leather uppers.
The J-Flex comfort system moves with you.
There is a protective steel shank and durable rubber outsole.
The work boots have full leather uppers.
---
5
The Irish setter work boot is a pull-on cowboy style.
They are available in more sizes and colors.
The leather work boots have a steel safety toe and slip-resistant rubber outsole.
They also have RPM composite technology to reduce weight,
The outsole is also heat resistant.
---
6
The Ariat Anthem is a waterproof cowboy work boot.
This is the perfect model for the ladies.
It has leather uppers and EVA soles.
The work boot is waterproof and has four layers of cushioning technology for comfort.
---
Index Table: Top Rated Cowboy Work Boots
---
---