Work boots for overpronation are designed with all the right features to help you deal with flat-foot issues. When you tend to overpronate, it is good to wear proper footwear to help control overpronation and prevent injuries and other issues related to overpronation.
Generally, a Motion Control or stability shoe would be recommended in athletic shoes for overpronation. However, this is more complicated in work boots. You will need a work boost with a cushioned and more contoured style footbed and stability features such as a shank or TPU stability shank.
This also counts for your work boots, as you spend much time in them. So, you will need the best work boots for overpronation.

---
---
Overpronation Explained
How you step, and pronate influences your overall health and walking mechanics.
Overpronation means that your feet roll inward excessively when you walk or run as part of the motion.
Thus, the outer part of your heel hits the ground when you walk or run, and your foot will roll inward towards your arches.
When you overpronate, your feet flatten completely when they hit the ground, and your arch is flattened and stretched. In turn, the strain on your muscles, tendons, and ligaments in your feet, legs, and lower back.
You may, in turn, be at risk for injuries such as ankle sprains, shin splints, Achilles tendinitis, heel spurs, and plantar fasciitis when you overpronate.
---
The Right Work Boots for Overpronation
As you can see, Overpronation can cause a range of issues that may cause you pain and discomfort and increase your risk of injury if you do not invest in the proper work boots.
Work boots for Overpronation are designed with superior support and comfort features ideal for this condition, similar to running and sports footwear that caters to overpronation.
Two basic shoe categories are ideal for Overpronation;
Stability Shoes – Stability shoes are ideal for moderate to light Overpronation where you need stability, such as a firmer sole and good support; these types are also excellent work boots for flat feet.
Motion Control Shoes – Motion Control shoes are designed for people who Overpronate excessively and need full control. In this case, features such as a rollbar and other motion control or more aggressive stability features are required.
You will see that you will not get those options in work boots, as they are mostly found in running and sports shoes.
However, you can look at features in a work boot that provide similar stability and motion control. These features include good arch support, a firmer shock absorbency cushion, an underplate or shank for stability, and a more locked-in fit.
In our review list, I have included work boots containing features that help prevent overpronation and provide better stability.
---
Features of the Best Work Boots for Overpronation
A good work boot for Overpronation will include Motion Control or Stability Features ideally;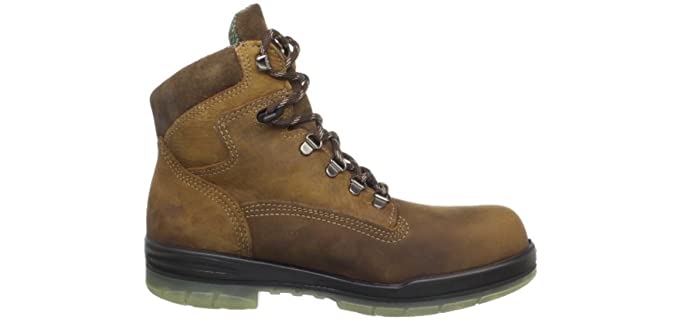 Overpronation Control – Let us start with Overpronation control and correction features which will include either motion control features, such as a rollbar for excessive overpronation, or stability features, such as a firmer sole, shank, or torsional stability system for general overpronation.
Comfort Features – Good underfoot cushioning is also required for overpronation, as your feet may absorb impact unevenly. And EVA or foam midsole and cushioned insole should suffice.
Arch Support – Good arch support I always advised for overpronation. If you can find a work boot that offers arch support for your arch type, you should opt for that. Arch support or a contoured footbed with an anatomical design aligns your foot properly, which in turn ensures proper motion and helps to control overpronation. Arch support also helps distribute weight and impact evenly to strain your feet and joints less.
Safety Features – You must consider the safety features required in your work environment and for your specific occupation type. Safety toes, waterproofing, electrical hazard-safe materials, and a slip or slip and oil-resistant rubber outsole are the main safety features. Most work boots are durable and abrasion resistant, which counts for their soles, usually consisting of very durable or Vibram rubber.
---
Reviews: The Best Work Boots for Overpronation
In our list, you will find some of the best available work boots that all have some stability and motion control features, along with other features to help with Overpronation;
We hope you love the boots we recommend!
We may collect a share of sales or other compensation from the links on this page.
---
1
---
2
The Danner Quarry is also an excellent work boot for Overpronation that features a wider hand-stitched platform for better underfoot stability.
The work boot is electrical hazard safe, has a slip and oil-resistant Vibram Quarry outsole, and has a waterproof Gore-Tex lining.
The Wedge sole provides good underfoot cushioning and shock absorbency.
The work boot is ideal for all work environments.
---
4
The Wolverine DuraShock work boot offers good stability and shock resistance for Overpronation.
The work boot is genuine leather and waterproof with 200 grams of Thinsulate Insulation.
It has a Fiberglass stability shank and a removable double-density footbed and stays dry for comfort and support.
The outsole is a durable and slip-resistant rubber.
---
4
Another great option is the Timberland PRO Titan.
The Titan has a PowerFit Comfort System for stability and critical support,
It has heat, oil, slip, and abrasion-resistant rubber outsole, likewise un-marking.
The uppers are genuine leather, and there is a protective safety toe.
---
5
The Skechers for Work Workshire work boot is ideal for Overpronation and has great safety features.
It is electrical hazard safe and has a steel safety toe.
Likewise, the outsole is durable and flexible, slip and oil-resistant Nitrile rubber.
There is a lightweight Midsole and memory foam insole for support and comfort.
A padded collar and snug fit provide good stability.
---
6
The Wolverine Harrison is an Overpronation work boot with a steel toe.
The work boot has leather uppers and is electrical hazard safe.
Inside is a moisture-wicking mesh lining to keep your dirt and a removable insole for comfort.
The EVA midsole ensures good stability and shock absorbency.
There is also a nylon shank for puncture resistance and stability.
---
7
The Keen Utility Lansing is the ideal work boot for overpronation.
It has a TPU stability shank and good cushioning.
The work boot is waterproof with a steel protective toe.
There is a slip and oil-resistant rubber outsole.
The uppers are leather and breathable textile materials.
---
8
The Skechers Delleker offers good comfort for Overpronation.
It has leather uppers and a secure heel fit.
There is an Air Cooled Memory foam footbed for comfort.
The work boot is waterproof, with a steel toe.
It also has a durable slip-resistant rubber outsole.
---
9
The Everboots Ultra Dry are waterproof work boots for overpronation.
They have fully waterproof leather uppers.
There is a PU removable insole and stability sole.
The outsole is slip and oil resistant.
---
10
The Wolverine Floorhand is the perfect work boot for overpronation.
It offers a secure and stable fit.
There is a cushioned footbed and durable rubber outsole.
The uppers are waterproof leather.
---
Index Table: Top Rated Work Boots for Overpronation
---
---