So, you have realized that you have flat feet or very low arches and that this may be the cause of many of your foot and muscle pains and issues.
Flat feet can cause many issues and will interfere with your daily performance if you do not have the best work boots for flat feet.
Your work boots need to be chosen to provide the right support and to cushion to accommodate for flat feet.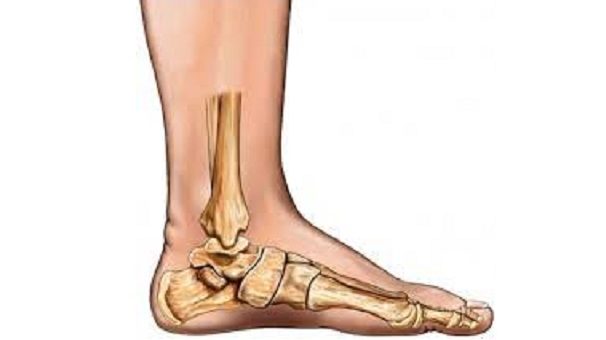 ---
Work Boots Getting the Right Fit
Firstly, work boots have the main function of protecting your feet against hazards at work such as heavy falling objects, wetness, hot materials, chemicals, and electrical hazards, among others. They are also designed to offer very good slip resistance on a variety of floor surfaces mostly.
But, you also spend most of your day in your work boots, and if they do not provide the comfort and support you need throughout the day, you will end up with very sore feet and many other issues, such as back pain, knee pain, and even ankle pain.
One of the first steps to improve your work boots for flat feet is to get boots that actually fit properly. If you get the right fit, your feet are already better supported.
The work boots must not slip when you walk, and neither should they place pressure on your toes or dig into your feet. There needs to be very little space between your longest to and the front part of the work boot. Your toes must not be against the front part.
Other than that, if you choose a wider fit and extra depth design work boot, you can also invest in an orthotic insole that may help with flat feet.
Finding proper support for flat feet is pretty easy as many shoes and insoles cater for a lower arch type.
---
Work Boot Designs for Flat Feet
Now let us look at some characteristics pertaining to good work boots for flat feet in general;
Stability or Motion Control – I generally advise shoes for stability for persons who overpronate, meaning their feet roll inward excessively when they walk, a common issue among persons who have flat feet. If you overpronate, severely you will need a motion control shoe. However, this is quite difficult in a work shoe and more useful for running shoes. So, for a bit more stability, look for a work shoe that supports your ankle, and that has a slightly less flexible sole and only bends at the ball of the foot. Also, a more locked-in fi in the medial side should be ideal.
Arch Support – Also something that you do not always find in work boots, but if you can, arch support for a low arch is ideal. Other than that, a more contoured or anatomically shaped insole or footbed will do the trick, as you need that extra support in the arch area.
Cushioning – Cushioning for flat feet is a must, especially in the heel area. Even a work boot with a slightly raised heel will provide a bit more cushioning in the heel area. Although opt for full-length cushioning in the insole or the midsole for shock absorbency.
Thicker Sole – A thicker outsole generally protects your feet against hard impacts and provides ore cushioning, as well as durability in a work shoe.
---
Features of a Good Work Boot for Flat Feet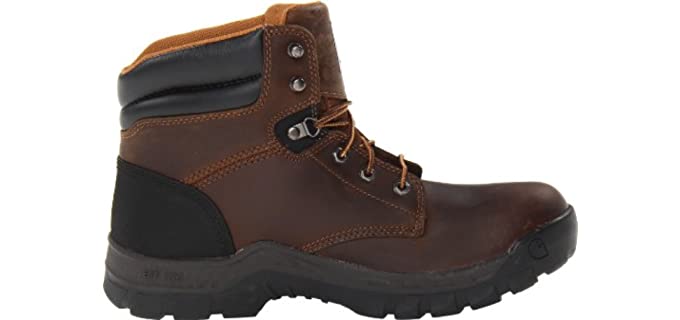 Safety Features – depending on your specific work environment, you will need to consider the necessary safety features of your work boot. A steel, composite, or alloy toe protects heavy falling objects. A slip-resistant lug rubber outsole will provide good traction as well as Alsip and oil resistance. Waterproof materials may be used to protect you from wetness. Then there are also electrical hazard safe and heat resistant materials.
Materials – Materials used in most work boots include leather, or synthetic leather, a waterproof lining such as Gore-Tex, or a synthetic textile lining, foam or EVA midsole, and cushioned insole, along with a thick ca and durable rubber outsole. Really good construction methods include Goodyear Welt and Cement construction.
Comfort and Support Features – For comfort, good cushioning and a moisture-wicking lining are ideal. Support features such as stability features and a more rigid sole, along with a shock-absorbing midsole, will be ideal for flat feet.
---
Reviews: The Best Work Boots for Flat Feet
Here are our top choices in work boot models that are ideal for flat feet;
---
1
The Ariat leather work boot is an easy pull-on design with a wide square toe for flat feet.
The fit is perfect for flat feet, and there is good support and underfoot cushioning with the ATS Max platform for support and anti-fatigue.
They are durable and slip-resistant leather work boots for on- and off-site use.
---
2
The Danner Vicious work boots are ideal for flat feet.
Firstly, they are a durable leather with slip-resistant rubber soles, and protective waterproofing as well as a soft safety toe.
Then they have a TPU shank and EVA midsole for support and shock absorbency, as well as a cushioned insole.
The fit is roomy and relaxed, ideal for flat feet.
---
3
The Carhartt Energy are waterproof, and Composite safety toe work boots.
They are genuine leather with a protective and abrasion-resistant toe cap, as well as an oil and slip-resistant rubber outsole.
For comfort, there is an Insite technology arch support and cushioned footbed.
The boots are also electrical hazard safe, meeting ASTM standards.
---
4
The Caterpillar Second Shift work boots are likewise ideal for flat feet.
They are genuine leather with a mesh liner and water-resistant design.
Inside is arch support and cushioning for flat feet.
They are durable Cement construction and available in wider sizes.
---
5
The Carhartt Soft-toe work boots offer a comfortable fit for flat feet.
The work boots are a durable leather with a slip-resistant rubber outsole.
They have a more flexible and cushioned sole and are electrical hazard safe.
There is an EVA, a midsole for shock absorbency, and a PU Strobel pad for stability.
---
6
The Ariat work boot has a western-style and comfortable fit for flat feet.
They are genuine leather and available in more styles.
The outsole is oil and slip-resistant.
The toe is a wide square design for plenty of toe room.
The footbed is cushioned and supportive.
---
Index Table: Top Rated Work Boots for Flat Feet
---
---