Tired of your Achilles tendonitis stopping you from doing the things you love? The best work boots for Achilles Tendonitis can help. You don't have to give up on life and let this condition stop you. All it takes is a few adjustments and getting the proper footwear.
This blog post will cover finding the best work boots for Achilles Tendonitis and what features to look for when shopping around. It's time we take control of our health and start making small changes to make a big difference in our lives!
---
---
Achilles Tendonitis Overview
Achilles Tendinitis is an overuse injury to the Achilles Tendon, the tissue that connects your calf muscles at the back of your leg to the heel bone.
Achilles Tendinitis is more prevalent in runners and persons who participate in repetitive sports and activities, who may have suddenly changed their training or intensity.
Treatment of most cases of Achilles tendinitis is quite simple, and you can treat it at home with the help of your doctor.
Achilles Tendinitis usually begins with a mild ache in the back of your leg or above your heels after running or a particular activity. There may also be some stiffness or tenderness.
Achilles Tendinitis can be disruptive during a workday when you are on your feet all day. The proper work boots can provide cushioning and support, which will help with the symptoms and the overall healing process of Achilles tendinitis.
---
Why the Need for the Best Work Boots for Achilles Tendonitis?
Your Work Boots do have an impact on your Achilles tendon, and even more so when you have Achilles tendinitis;

Uncomfortable Work Boots – When you wear safety footwear that is not the right shape and size and is uncomfortable, lacking any support or comfort features, you will cause damage to your feet and lower limbs, along with the Achilles Tendon. The wrong boots can cause unnatural movement, leading to other issues, including pain in your feet, lower limbs, and back. Improper safety work boots will exert excessive pressure on your feet, which can be dire if you have Achilles Tendinitis.
Achilles Tendinitis when Wearing Work Boots – If you already have Achilles tendonitis, wear a properly fitting, comfortable boot. Always opt for an ankle-length or longer-length work boot to stabilize your ankle, and look for work boots with cushioning to reduce the impact on your feet.
Some Precautions for Achilles Tendinitis – With Achilles tendinitis, a few small lifestyle changes can help treat and prevent these conditions. Keeping an average body weight places less stress on your feet and Achilles Tendons to prevent and treat the disease. Maintaining good motion and performing adequate stretching exercises will also help to keep your muscles strong and your tendons in good shape. Proper footwear supports your feet and overall posture to prevent incorrect walking motion and pressure.
---
Features of a Good Work Boot for Achilles Tendonitis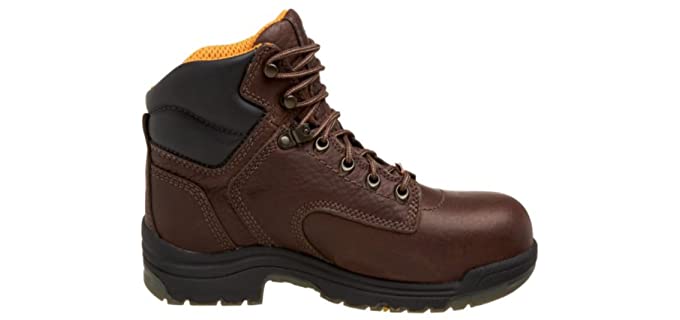 Uppers – Most work boots have synthetic or genuine leather uppers; some may have mesh or textile insets for breathability. The uppers can be lined inside with a moisture-wicking lining. Some ankle boot models will have a padded collar and tongue, ideal for Achilles tendinitis.
Construction – Durable construction in a work boot is ideal if you want it to last longer. Cement construction and Welted construction, such as Goodyear Welt, are your best construction methods that are the most durable.
Support and Comfort Features – Support and Comfort features can come in many designs, such as cushioning insoles. This cushioning midsole absorbs shock, arch support, and a contoured footbed. Underfoot Nylon or Steel shanks are also used for stability and underfoot puncture prevention.
Safety Features – The Safety features protect you against the risks and hazards you face in your work environment. These can include a safety toe that is steel, alloy, or composite, waterproofing, heat and chemical resistance, abrasion resistance, a metatarsal pad, and most importantly, a slip-resistant outsole.
Outsole and Slip Resistance – The outsole is important for protection and shock absorbency. A thicker outsole also provides some cushioning. Always opt for a lug rubber outsole for better traction. You can choose slip-resistant, oil-resistant, heat-resistant, and chemical-resistant outsole.
---
Reviews: The Best Work Boots for Achilles Tendonitis
Here are our top choices in work boots ideal for Achilles tendinitis. But before you look at them, I want to let you know that this page includes affiliate links.
---
1
---
2
The Wolverine Anthem offers Multishox cushioning, which is ideal for Achilles Tendinitis.
The boot has full-grain leather uppers and Contour welt construction.
A removable full-cushioned footbed and a Multishox cushioning system for comfort.
It also has a Nylon shank for underfoot protection.
---
3
The Keen Utility Milwaukee is a six-inch work boot that protects your ankles.
It has leather and synthetic uppers, abrasion-resistant heels, and a toe overlay for breathability.
There is a removable meta-atomical dual-density EVA footbed and ample midsole cushioning.
The outsole is a high-traction slip-resistant rubber.
The workbook is also fully waterproof and has a steel safety toe.
---
4
The Timberland Pro Boondock is another favorite for Achilles Tendinitis pain relief.
The Uppers are genuine leather, and there is a fully waterproof membrane.
The boot has a composite protective toe and rubber toe protection cap.
The sole is durable and slip-resistant rubber.
For comfort, there is an anti-fatigue system and cushioning.
There are also more colors available in this work boot model.
---
5
The Wolverine Loader is a fully waterproof work boot that fits Achilles tendinitis well.
It has a slip-resistant rubber sole and protective steel shank.
Extremely durable with full-grain leather uppers and Goodyear Welt construction.
The work boots also offer a steel protective toe.
There is a fully cushioned footbed and PU Wedge design midsole for comfort.
Furthermore, it is likewise electrical hazard safe.
---
6
The Gravity Defyer G-Defy for ladies is ideal for Achilles tendinitis.
It is more of a Hiking shoe that is comfortable and durable for work.
The work boot has VeroShock Technology that absorbs shock and a removable cushioned insole.
The uppers ate waterproof and breathable, and the midfoot offer excellent support.
The sole is a high-traction lug rubber design.
---
7
The Keen Utility Coburg has a longer shaft for Achilles Tendinitis.
It is a steel-toe leather work boot.
The outsole is oil and slip-resistant.
There is a TPU shank and a PU comfort midsole.
---
8
---
9.
---
10
The Keen Utility Cincinnati is a cushioned work boot for Achilles Tendinitis.
The longer shaft will protect your heels and ankles.
The work boots us a waterproof leather and electrical hazard safe.
The rubber outsole offers good grip and traction.
---
Index Table: Top Rated Work Boots for Achilles Tendonitis
---
---