Being a Lineman today is quite a hazardous job and requires the absolute best Lineman Work Boots.
Climbing up sky-high telephone poles and over 1000′ steel towers for communication can be dangerous, along with all the equipment you will need to carry.
Thus it would be best if you took heed to find a work boot that can assist in keeping you safe.
A workboot for linemen needs to have a lug grippy rubber outsole,
a slight heel, and a solid upper, usually 8 inches for ankle stability. They need good cushioning and support features and waterproof and electrical hazard-safe materails.

---
Why Lineman Need Good Work Boots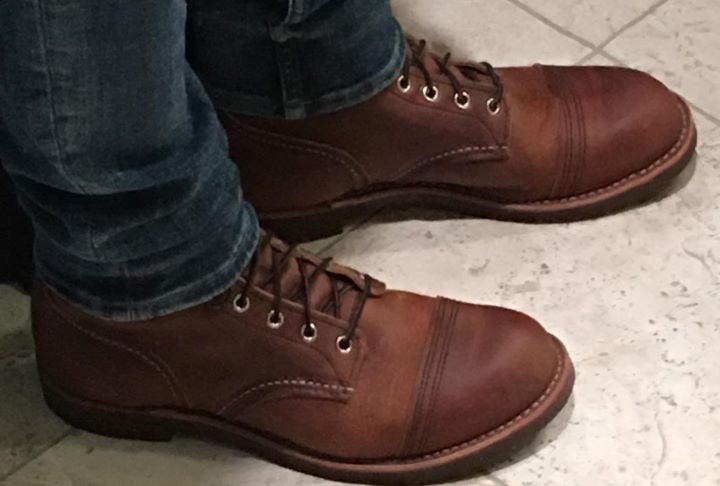 For a Lineman, sure footing is crucial for safety on the job!
Linemen climb utility poles and work with very high voltage lines finding themselves at risk of slipping and falling, which would most likely be fatal, or suffering a severe or fatal electrical shock.
Climbing Tall poles and steel structures requires work boots with excellent shank support, a solid heel, and an aggressively Lug Outsole for slip resistance.
A Lineman's boots need to securely latch into steel rings and pegs to prevent the risk of slipping, and The heels are ideal for keeping you secure while climbing.
Other elements that Lineman faces when working are extreme weather conditions such as rain, snow, and extreme heat, so depending on the general weather conditions, the work boots will likewise need to provide good protection and comfort in these weather elements.
Then there are the electrical risks and dangers. Because Lineman work with high voltage lines, their work boots must offer electrical hazard protection and have electrical hazard safe materials to protect them against electrical shock.
Then again, working for long hours in these uncomfortable positions can lead to fatigue which is the last thing you would want as a Lineman. Therefore, having work Boots with comfortable cushioning, a breathable design, and a comfortable fit can take your mind off your feet and greatly reduce fatigue.
---
What Do Proper Linemen Work Boots Offer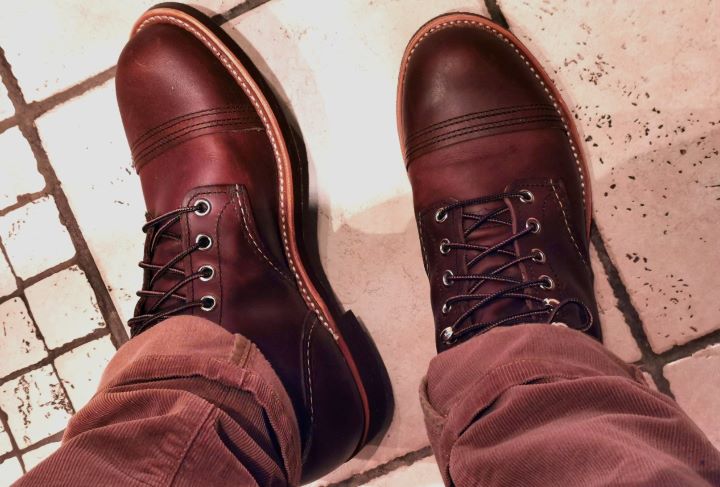 The right Linemen work boots must offer these specific Characteristics;
Weather Protection – During their day, Linemen may experience a snowstorm, icy sleet, rain, or even extreme heat and need work boots that accommodate these conditions. Wet feet are the last thing that Lineman need, so a waterproof or resistant work boot is essential. Insulation and a warm lining in the boots can protect the feet from cold and even frostbite in very cold weather conditions. On the other hand, breathable and ventilating materials such as mesh insets or perforations will help prevent excessive sweating and overheating in very hot weather conditions.
Safety Features – Work Boots for a Linemen will need certain safety features. A protective steel toe will protect against heavy falling objects and tools or bumps against your toes. However, remember that a steel-toe work boot is very heavy, and you do not want heavy work boots as a Lineman. Therefore I would rather opt for a composite toe work boot if you require a safety toe. Then there are Electrical Hazard safe work boots that protect you against electrical shock and vital safety features for every Lineman.
Protective Outsole – Other than that, Linemen will need the best in the protective Outsole to prevent slips and falls and provide good stability. The Outsole needs a very durable and aggressive rubber tread for optimal grip and a shank in the sole for better stability and support. Then a slight heel is also advised for grip and stability when climbing on the poles.
Shank Protection – The shank in the sole is crucial, and Lineman needs a strong shank in their work boots to prevent pain and discomfort in these uncomfortable work positions. Linemen spend long hours climbing stirrups and utility poles and have to stand on metal or hard metal tower rings that are extremely uncomfortable underneath their feet. Thus a strong shank will provide comfort and protection under the foot's arch.
---
Features of a Good Lineman Work Boot

Construction and Materials – The Durability of your work boots as a Linemen is imperative. Look for work boots with durable materials such as leather and rubber for the sole. EVA foam for the footbed and cushioning is ideal. Then again, good construction methods, including Goodyear Welt and Cement construction, are desirable.
Support and Cushioning – A Cushioned footbed and a shock-absorbing foam midsole are ideal for providing comfort and underfoot support; however, these cushioning systems need to be lightweight
Underfoot Protection -A Steel or Nylon shank will provide excellent underfoot protection and stability, and this is a requirement in a work boot for a lineman.
Heel – Look for a work boot with a raised heel that will provide better traction when climbing poles and minimize slipping risks.
Safety Features – You need to ensure that the work boots have an electrical hazard safe rating to provide good electrical hazard resistance. A safety toe cap will prevent your toes from getting crushed by heavy falling tools. A Composite toe cap is more lightweight; however, a steel toe provides much better protection, even if heavier.
Waterproofing and Insulation – Insulation and Waterproofing are ideal for wet and cold weather conditions and need to be considered if you tend to work in these conditions. Gore-Tex is one of the best breathable waterproof membranes that you will find in a workboat. Insulation such as Thinsulate is advised.
Outsole – The Outsole is most likely the most important part of your work boot for safety and protection in this line of work. It would be best to have a very lug treaded and aggressive outsole in durable or Vibram rubber for durability and optimal grip. The Outsole can be flexible but must provide solid traction.
---
Reviews: The Best Lineman Work Boots
Here are our top choices in work boots for Lineman;
We hope you love the Lineman boots we recommend!
So that you know, We may collect a share of sales or other compensation from the links on this page.
---
1
---
2
The La Sportiva is a Mountaineering work boot that is also a great choice for Linemen.
It has a durable and lugs sole for optimal grip consisting of Vibram rubber with 3mm lugs.
Inside is a dry lining and a comfortable footbed.
The uppers are genuine Idro-Perwanger waterproof roughout leather that is 3mm thick.
---
3
The red Wing Iron ranger is also a favorite for Linemen.
The work boot has leather uppers and a Nitrile Cork Sole.
There is a protective Bump toe and a toe cap. The uppers are also scuff-proof.
The Outsole is highly slip-resistant and durable rubber.
---
4
The Wesco Highliner is designed specifically for Linemen's work.
It has full-grain leather uppers with leather side flaps and a removable false tongue.
A non-corrosive ribbed and arched steel shank for underfoot support and comfort.
There is a recessed metal heel breastplate for protection against climbing spurs and a steel side plate.
The Outsole is a durable and lug Vibram rubber sole.
---
5
The Iowa Renegade GTX is a Mid Hiking bot that Lineman also prefers.
It has breathable leather and water-resistant synthetic uppers.
The midsole has a Climate Controlled, comfortable footbed, and d Polyurethane Monowrap frame.
The shoe has a full-length flexible Nylon shank and a Vibram EVO outsole for optimal grip.
---
6
For the Ladies, e have the Timberland Pro Direct Attach work boot.
The work boot has a very lug outsole that is oil, heat, and slip-resistant and has a slight heel for stability when climbing poles.
The uppers are genuine leather, padded collar, and protective steel toe.
Inside is a cushioning system and anti-fatigue technology for your comfort.
The work boot is also available in more color options.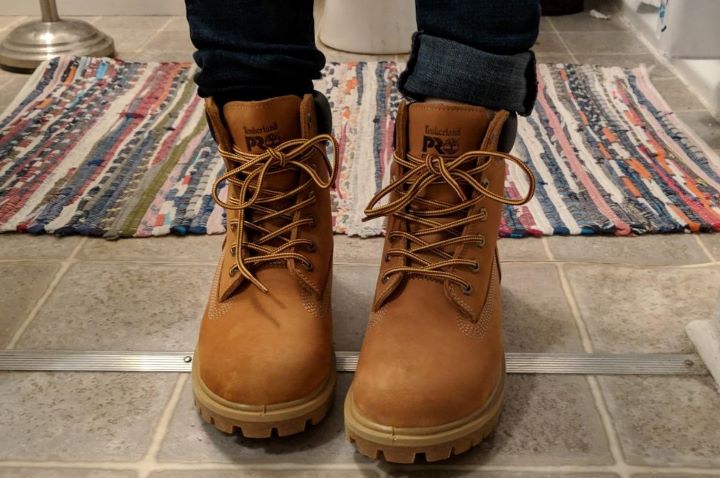 ---
7
The Cincinnati is a very comfortable work boot for Lineman.
It is leather with a composite toe.
The outsole is a high traction, oil, and slip-resistant.
The composite toe provides protection.
---
8
The La Sportiva Work Boot is the perfect design for Linemen.
It has leather uppers and a flexible design.
The rubber outsole provides excellent traction.
Ideal for rugged terrains.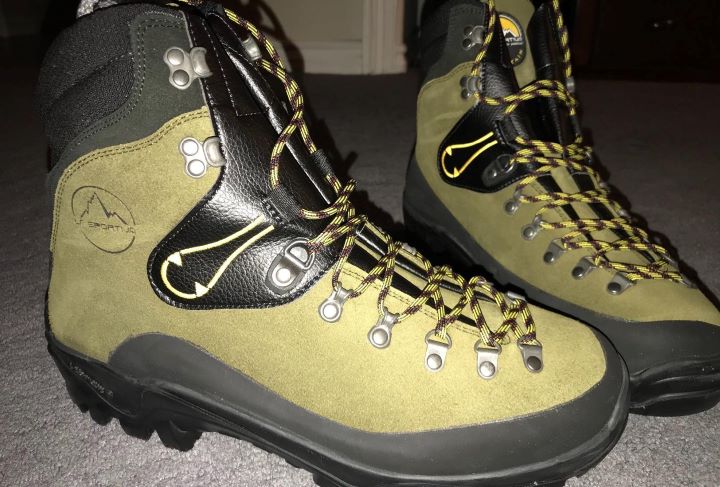 ---
9
The Carhartt work boot is waterproof and rugged for Linemen.
It has a waterproof upper and composite toe.
The Carhartt workboat has a PU Strobel pad and PU cushioned insole.
There is also a Molded TPU Heel Stabilizer.
---
10
The Ad tec work boot is a Logger boot for line women.
It has a longer shaft and leather uppers.
The outsole is lug and slips resistant.
It has a plain safety toe.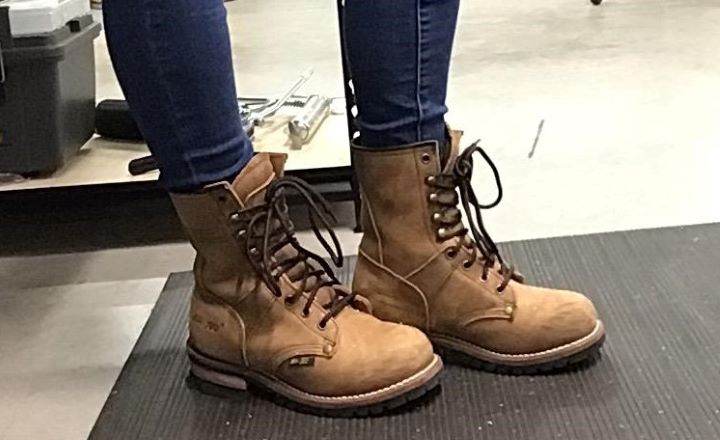 ---
Index Table: Top Rated Linemen Work Boots
---
---