Asphalt paving is a sticky, messy, and hot occupation that can be quite dangerous, although it is also part of a very vital and high-paying job.
For Asphalt paving, I highly recommend work boots with a tough and durable outsole that can withstand heat and chemicals and a tread that will not hold debris and asphalt particles. The work boot will need good underfoot cushioning because you may be standing all day, moisture-wicking and breathable materials.
You will need to guard your feet thoroughly with Asphalt work. Therefore you need to consider the best available work Boots for Asphalt Paving.

---
---
Choosing Work Boots for Asphalt Paving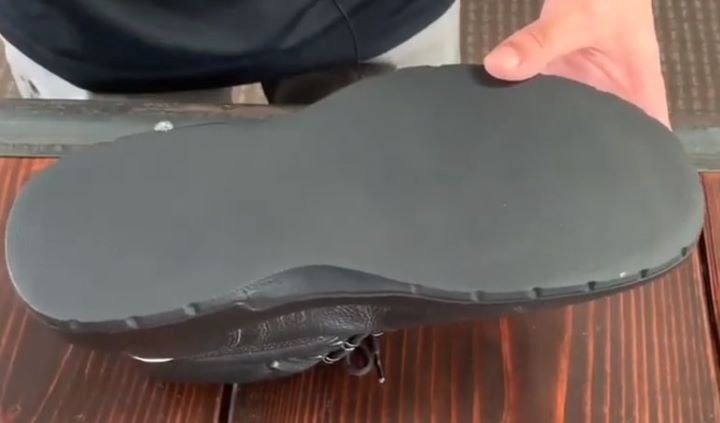 Because you will be standing all day, working with blazing hot Asphalt, you will need good work boots that protect your feet and provide good comfort and support features.
Here are a few things to look for in a good Asphalt work Boot;
Flat Sole – A flat and smoother sole on your Asphalt work boot will ensure that no rocks and materials get trapped in the treads of your work boots; a Clogged sole is inconvenient and can also cause a tripping hazard. Then again, a flat sole will not leave tread traces on the paved Asphalt.
Good Heat Resistance – Asphalt heats up to very high temperatures; therefore, you want an Asphalt work boot with heat-resistant materials, especially in the outsole. You do not want heat transferred from the bottom of your feet to the inside. Therefore a heat-resisting and breathable insole are also ideal.
Fit – The fit is critical as the boot may expand a bit because of the heat; you do not want boots that are too big, where your feet will slide around in.
Waterproofing – Asphalt paving may occur in the rain, as it is an outdoor occupation. However, this is not the only way your feet may get wet. Therefore, it is always a good choice to select a waterproof work boot for Asphalt Paving.
Steel Toe Or Not? – A Steel toe cap can be a good choice for a work boot, there will be dangers of heavy falling objects and machines that can crush your feet, so s steel safety toe is a good option. Remember that a composite or nylon toe cap is less likely to transfer heat.
Safety – I will recommend a steel or composite safety toe for safety features. Heat resistance in the sole and rest of the boot is important, as well as a slip-resistant outsole that will not hold dirt or debris. Waterproofing is also a good option, especially a breathable Gore-Tex waterproof membrane.
---
What is an Asphalt Paving Work Boot?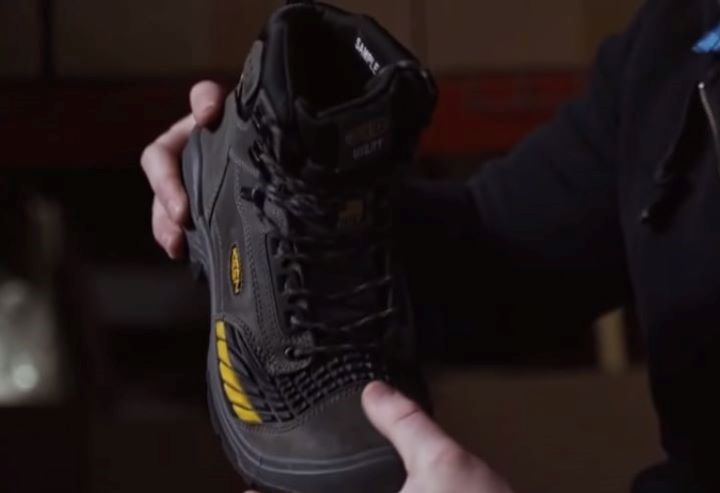 All in all, an Asphalt work boot is a work boot with unique features that are designed specifically for this occupation.
The Outsoles are usually non-treaded and smoother for grip on paved roads, without leaving tracks or holding rocks and debris in the treads.
Asphalt work boots resist high heat and have a more abrasive and heat-resistant outsole.
Asphalt work boots generally have a composite or steel protective toe and high abrasion-resistant construction leather uppers for this occupation.
---
Features of a Good Asphalt Work Boot
Here are the features you will need to consider in a good Asphalt work boot;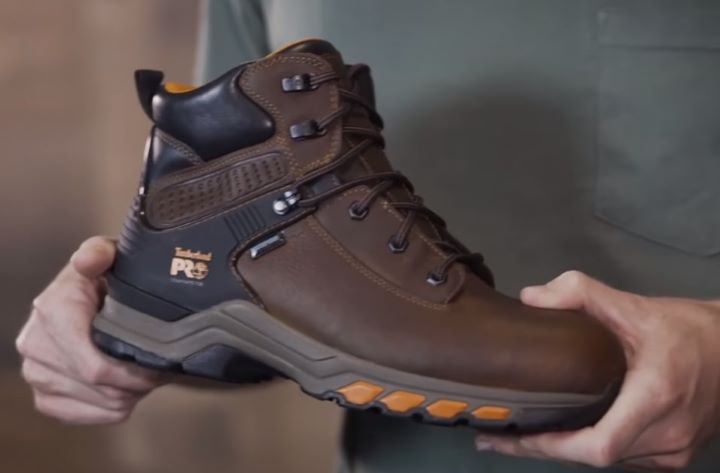 Comfort – Asphalt workers stand on hard pavement for long periods, which is why they need good comfort features in their work boots. Look for work boots that offerwithpport and cushioning and have a thick-absorbing sole.
Protection – Asphalt workers come into contact with hot and abrasive pavements, and need good underfoot protection. They may also need waterproofing and good chemical resistance from their work boots.
Durability – Because this is a work boot that will come into contact with hot and unforgiving surfaces, it needs to be durable, especially the sole. Look for a durable rubber sole and a work boot with quality materials and durable construction.
---
Reviews: The Best Asphalt Work Boots
These are our top choices of the Best Asphalt Work Boots;
We hope you love the products we recommend!
So that you know, We may collect a share of sales or other compensation from the links on this page.
---
1
---
2
The Thorogood American Heritage work boot is a steel-toe protective work boot.
It has genuine leather uppers, a removable shock-absorbing insole, and a footbed on Poron for comfort.
The uppers are constructed using quality Goodyear Welt methods.
The work boot has a Maxwell slip-resistant high traction wedge sole that is more flexible and impacts absorbing.
There are also more colors available in this work boot.
---
3
The Timberland Pro Gridworks is a very durable Asphalt work boot.
It has 100% genuine leather uppers and a waterproof lining,
The tongue is contoured for comfort, and the collar is padded.
Inside is an Ortholite insole with a Dryz Intellitemp X Static moisture managing lining.
The rubber outsole is abrasion, oil, and slip-resistant.
The work boot also features a steel safety toe for your protection.
---
4
The Timberland Pro Endurance is a Steel toe safety work boot with a puncture-resistant sole.
It has leather uppers, a rubber sole, and a protective steel toe cap.
There is a fiberglass shank for puncture resistance and structural support.
It has an anti-fatigue technology and polyurethane footbed to cushion and absorb shock.
The uppers are also waterproof.
---
5
The Danner Bull Run is a leather Asphalt work boot.
It has 100% oiled full-grain leather uppers with handcrafted stitch-down construction.
The outsole is a wedge design with oil and slips resistance.
It is electrical hazard safe and has a soft toe and a steel shank for underfoot protection.
---
6
The Carhartt Energy is ideal for asphalt paving to keep you energized on your feet.
It has leather uppers and an advanced footbed that provides a form-fitting design, cushioning, and a suede moisture-wicking cover.
The uppers have Storm Defender waterproofing and breathability.
The work boots are electrical hazard safe and have an abrasion-resistant toe bumper.
The outsole is a Force Technology durable rubber.
There is a more lightweight composite safety toe.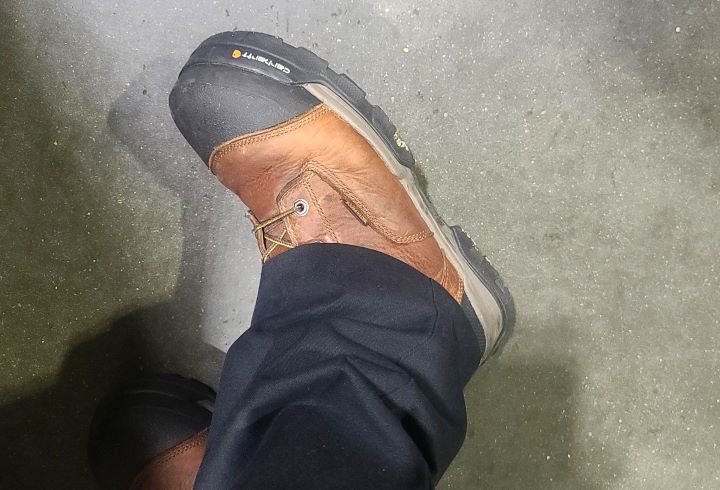 ---
6
Here we have a composite toe design boot from keen ideal for Asphalt work.
The work boots have a protective lightweight composite toe for your safety.
They are waterproof work boots that are breathable and very durable.
The outsole is a durable slip and oil-resistant design.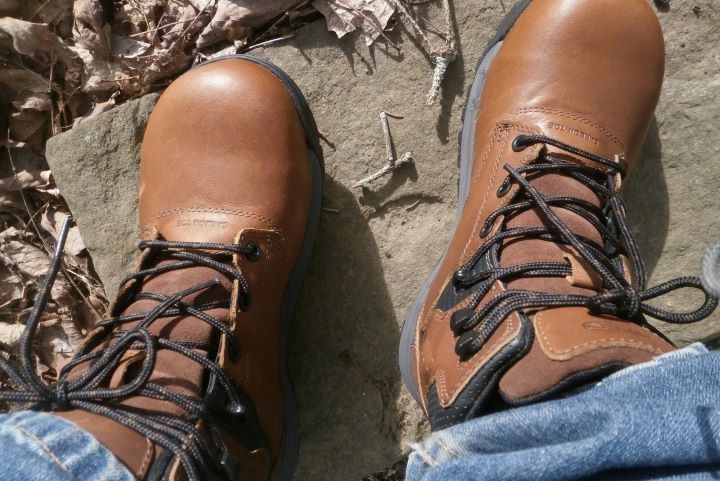 ---
Index Table: Top Rated Asphalt Work Boots
---
---