Wet weather can create many hazards, and it can even slow down production, especially on construction sites and work sites that are based on wool.
Some work environments come with the unfortunate hazard of being muddy and wet. If you are going to be working in wet muddy conditions, you are going to be needing specialized work boots for mud.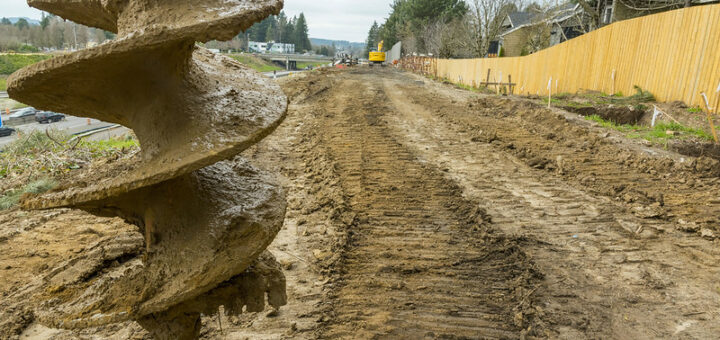 ---
Muddy Work Area Hazards
Whether you or a landscaper a former Uranus that generally works in muddy conditions most of the time, or whether you are just looking for a work boot for wet weather conditions when there is mud around. Working in a muddy environment has its hazards that come with the job;
Traction for Vehicles – It can be extremely difficult to handle vehicles and equipment and muddy conditions. They can easily slip and slide full over or sink into the mud. Control is very much reduced, especially when you need to operate machinery and vehicles in mud. This is why you need to protect yourself in case of a crash or an accident caused by a vehicle or equipment in a muddy work environment.
Slipping – Let's face it, mud is extremely slippery. It can cause slips and falls; you could even trip over things in the mud and fall. A fall can lead to some severe injuries that may require you to take much-needed time off work, but which can also affect your performance and your work schedule. Traction and slip resistance from your work boots are extremely important when working in wet or muddy conditions.
Ankle Sprains – You can easily spray or strain an ankle, or pull a muscle due to getting stuck in the mud. When your feet or your legs get stuck in the mud and you try to yank them out, you can hurt your leg or your ankles. Working and mud also place you on uneven surfaces and in awkward positions that can easily cause an ankle sprain or strain.
Wet Feet – Witnesses from the muddy environment could enter your shoes if they are not properly waterproofed. Your feet and legs can get wet if your work boots are not the right length. Wetness can cause discomfort, chafing, and blisters, and can even lead to infections. It can be very uncomfortable to work with wet feet and legs in cold weather conditions and even more so in hot weather.
Damage to Clothing – Mud can cause damage to your clothing and your work boots if they are not suitable for working in muddy conditions.
---
Choosing Work Boots for Mud
Here are a few tips to help you find the best work boots for working in mud;

Rubber Work Boots – If you are working in thick mud conditions, then I would suggest that you opt for a full rubber work boot that has a longer length. These. These are usually pull-on rubber work boots that are completely waterproof. They mostly consist of either latex-based rubber or synthetic petroleum-based rubber. However, you may need to consider that rubber is less breathable and does not necessarily release vapor, or wick away any perspiration as other types of work boots do. So for working in extremely thick mud, I would suggest a rubber work boot and also in cold conditions, a rubber work boot will be ideal.
Traction – When considering the outsole of your work boots, which is extremely important there are two issues, you need proper traction which usually comes with a more lug tread, however the more lug the tread the easier mud and debris can get caked up into the larger spaces, especially when working in thick mud. On the other hand, when working in wet muddy terrains that are not too thick in mud you can easily opt for a regular slip-resistant outsole in a work boot.
Fit – Most work boots for working in mud will be tall pull-on work boots. You will need to find a work boot that gives you a comfortable and secure fit, especially when working and thick mud, as you do not want to work boots to easily slip off your feet.
Waterproofing – If you are not going to need a full rubber work, good and are looking for something other than that, I would advise that you look for a fully waterproof work boot for working in thick mud, or even for working in wet muddy terrains.
---
Features of a Good Work Boot for Mud
Waterproof – For working in thick mud muddy conditions or even just on wet construction sites, you will need a waterproof work boot that offers full waterproofing for working and thick, muddy conditions. Rubber is your best option in work boots. You do get leather work boots that offer good resistance and that have a fully waterproof lining. These boots, however, are more suitable for regular wet and muddy conditions rather than working in thicker mud.
Comfort – Keep in mind that your work boots are not just about safety and keeping you dry. You also need them to be comfortable. Look for a work boot that offers good cushioning and a supportive footbed, and look for work goods that are also more breathable in design with a breathable waterproof lining, or that have a moisture-wicking interior lining.
Safety Features – The safety features of your work boot will depend daily on your type of occupation and the environment that you're working in, as well as your company policy. Some companies require that you wear work boots with a safety tier cap, which can be steel, alloy, or composite. Ideally, for working in many environments, you do want a full slip-resistant work boot with a very lug tread.
Style – As you will see, most of the work boots that we have featured are taller. They will either be knee-high, or calf high, and there are a few that are ankle-high boots. Most are also pull-on boots, which offer fuller waterproof protection.
---
Reviews: The Best Work Boots for Mud
In our review section, I have added a couple of the best work routes for working and thicker mud that have a taller length. And I've also added some shorter-length ankle work boots for working in wet and muddy conditions, such as construction sites;
---
1
The Muck Arctic work boots are ideal for working in deep mud in cold conditions.
It is warm and very comfortable with good breathability.
The work boots are 5 mm neoprene and flexible with molded rubber.
They have a supportive contoured midsole, a warm fleece lining, and cushioned insole.
The lug outsole is fully slip-resistant.
---
2
From LaCrosse we have a knee-length rubber work boot for thick mud.
It is fully waterproof and very durable.
The rubber sole offers good grip and slip resistance.
There is also a steel protective toe.
---
3
The Bogs work boots are lighter ankle-length work boots for mud.
They are rubber and fully waterproof.
The work boots have comfortable seamless construction and are very lightweight.
They are cushioned for comfort and have a durable rubber outsole.
---
4
From Sperry, we have work boots for light mud and wet conditions.
They are lace-up ankle work boots with a protective mud cover and leather uppers.
They are seam-sealed waterproof and have a wave-siping rubber outsole for wet and dry traction.
Inside is a comfortable memory foam insole with a thermal lining.
---
5
These are the tall steel-toe Muck Boots for working in thick mud.
They are 5mm neoprene and rubber, and fully waterproof.
There is a breathable mesh lining inside and a comfortably cushioned footbed.
They are suitable for cold weather conditions.
The work boots have a steel shank and are electrical hazard safe.
---
6
From the ladies, we also have the Chore Muck boot for thick mud work.
They are tall boots with 5 mm of neoprene and rubber that is fully waterproof.
The work boots are electrical hazard safe and have a durable high traction cup sole.
They are breathable and have a cushioned insole.
---
Index Table: Top Rated Work Boots for Mud
---
---