Socks designed for work boots are constructed of special materials that are more durable and breathable, with additional features and heavy-duty construction methods for durability.
The best work socks for boots will provide you with all-day comfort, worn with work boots specifically, and will also be durable and long-lasting in the long run.
Socks for work boots come in brands that may be the same as work boot brands. It would help if you opted for work boot-specific socks, as they tend to be more durable with a cushioned or reinforced toe suited for steel toe work boots and much more durable construction and materails.
Likewise, work boot socks will have a longer crew length so that the work boots do not chafe your feet.
This article looks at some of the best available socks that work well with work boots and have all these qualities.

---
How a Good Sock for Work Boots will Benefit You
Work Boot Socks are designed to be breathable and light on your feet, wicking away moisture and keeping them well ventilated.
Socks for work boots usually have reinforced toes and heels for better durability, cushioning in the toe for wearing with a steel toe work boot, and cushioning underfoot and in the heel for comfort.
Many work boot socks come in durable materials with durable construction to last longer and are usually calf-length for better protection.
---
Choosing the Best Work Boot Socks
Here are a few considerations to take when choosing the best work boot socks;
Quality Materials – Always look for good quality materials and construction for a work boot sock that will last you long and provide adequate comfort.
Comfort Features – Additional comfort features you can consider are toe, heel, and underfoot cushioning that provide comfort and protection, especially with steel-toe work boots. Moisture-wicking capabilities such as breathable mesh insets and breathable materials will help to keep your feet cool and comfortable.
Design – Most work boot socks will be calf length, which is the perfect length for wearing with an ankle or longer boot design.
Compression and Support – You will see many work boot socks feature light compression or compression in the arch for better support and blood circulation to keep you on your feet for longer.
---
Features of a Good Work Sock for Boots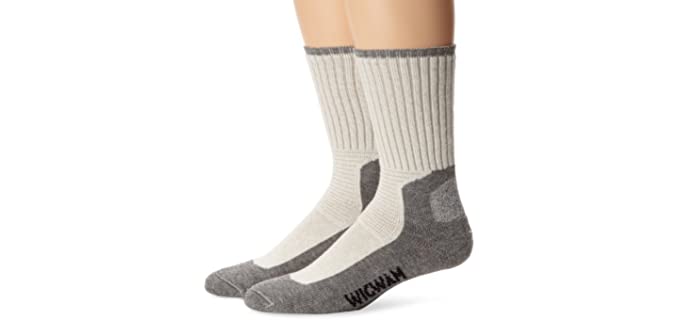 Materials – Most Socks consist of cotton, polyester, acrylic, or wool, wool being a cold-weather sock. Some socks are blended and will all have spandex or elastic materials for elasticity.
Reinforced Toe and Heel – Many socks for work boots will have a reinforced toe and heel for added durability.
Length – Work boot socks are mostly all calf-length or mid-calf length.
Cushioning – Many work boot socks have a cushioned heel and toe r underfoot cushioning for comfort. The cushioned toe also provides protection and insulation for work boots that have a steel toe.
Breathability – Most work boot socks are designed to breathe well and have moisture-wicking materials to keep your feet dry and fight odors.
Color Options – As you will see, most work boot socks come in neutral color varieties and a pack of two or more, some of which are mixed.
---
Reviews: The Best Work Socks for Boots
We hope you love the products we recommend!
So that you know, We may collect a share of sales or other compensation from the links on this page.
---
1
---
2
Carhart Force socks are quick-drying and very comfortable to wear with work boots.
These socks consist of Polyester and spandex that is durable and soft t the touch.
They are very lightweight and similarly fully cushioned for comfort.
Fast Dry technology wicks away sweat and keeps your feet dry and comfortable all day.
There are likewise mesh cooling channels that improve breathability and airflow.
You can, moreover, choose from a few available color options.
---
3
Carhartt socks are designed explicitly to be worn with work boots and are more durable for this reason.
These are Acrylic Polyester and Spandex blended socks that are extremely light and durable.
They wick away moisture and help to fight bad odors.
The sock is abrasion-resistant and fully cushioned.
There is a compression design arch for comfort and arch support.
---
4
The Dickies Dri-Tech Moisture-wicking socks are durable and comfortable to wear with your work boots.
Here we have full cotton, polyester, and spandex sock that is more natural and breathable.
They have an arch compression design for support, stability, and ventilation channels to enhance airflow.
The heel and toe are reinforced for durability, and the socks are machine washable.
Furthermore, you can select from a few available color options.
---
5
These are truly the Worlds Softest and most comfortable work boot socks around.
A soft and comfortable sock to wear with your work boots.
They consist of acrylic wool and are very warm and comfortable to wear,
The heel and toe are reinforced for durability, and there is a cushioned top for comfort and a full cushioned footbed.
The Flat Knit seams and reduced ribbing causes less friction and irritation.
---
6
The John Henry from Darn Tough is a cushioned, comfortable sock for wearing with your work boots.
This is a midweight cushioned sock for wearing with work boots.
The socks are mid-calf length and consist of Merino Wool, Lycra, and Spandex.
They are guaranteed for life to be tough and durable.
You can select from the two available color options.
---
7
The durable USA-made socks for your work boots, with a comfortable padded toe.
This sock design will keep your feet dry and well-ventilated all day.
They are Olefin, polyester, and Nylon, with Elastane for flexibility,
The toe is padded for protection when wearing a steel toe work boot.
There are either black or white color options available.
---
8
The Wolverine socks are designed specially to wear with steel-toe work boots.
The Wolverine sock is made of Cotton Nylon and Spandex.
They are very lightweight and breathable with natural cotton,
The embedded arch support provides a safe and comfortable fit.
The toe seams are smooth for less irritation, and the top is ribbed to stay up.
The footbed is fully cushioned for underfoot comfort.
---
9
A durable cotton blend sock from Wigwam for wearing with work boots.
The socks are cotton, polypropylene, nylon, polyester, and spandex, creating a lightweight, breathable fabric.
They are crew length and midweight in design.
The socks offer light warmth and help to reduce odors.
They are extremely durable for wearing with work boots.
---
10
I highly recommend the Smartwool over the calf-length wool socks for cold weather conditions.
For colder weather conditions, these Merino wool socks are ideal.
They consist of Merino Wool, Nylon, and elastane materials.
There is light underfoot cushioning for comfort and a virtually seamless toe for less irritation.
The socks are also well insulated for warmth and fit comfortably.
---
Index Table: Top Rated Work Socks for Boots
---
---