Metatarsalgia, which refers to pain and inflammation n the balls of your feet, is a very common condition many people suffer from.
Work Boots, in general, are designed for safety and protection against work environment hazards, which means they often do not provide much comfort or support, particularly when it comes to foot conditions such as metatarsalgia.
Generally, with Metatarsalgia, any shoe design with added cushioning in the forefoot or full-length cushioning is advised, along with arch support features and more flexibility in the sole for free movement. Thus, this is what we will be looking for in a work boot for Metatarsalgia.
However, luckily there are plenty of work boot models, and brands have adapted their work boots to be more comfortable and supportive, to be the best work boots for metatarsalgia and other foot conditions and issues.

---
---
Metatarsalgia Symptoms and Causes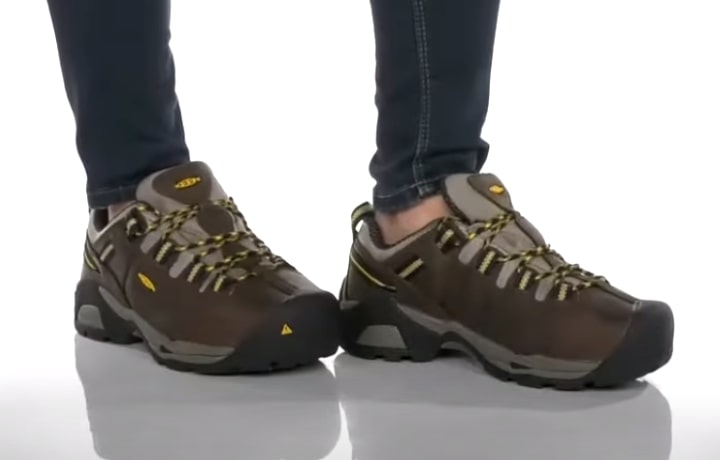 Metatrsalgia is a painful foot condition that affects the ball of your foot situated just behind your toes.
The area becomes inflamed and painful. This condition usually develops because of high-impact activities such as running and jumping, where the balls of the feet absorb impact. It usually occurs because of incorrect foot mechanics, such as in feet with very high arches, flat feet, and certain foot deformities.
Although Metatarsalgia is not generally serious and can be treated at home, you will need to cool off with high-impact activities and make some changes or adaptions to your footwear, especially work boots.
Symptoms – Metatarsalgia will most likely cause a sharp, burning, and shooting pain in the balls of your feet. The pain will be worse when you perform certain high-impact activities. You may also feel like you have a pebble in your shoes or a bunched-up sock; some have reported tingling and even numbness in the toes and ball of the foot area.
Causes – Metatarsalgia is mostly caused by intense straining where running and jumping are involved that cause impact on the balls of the feet. Other than that, a high arched foot or a second toe that is longer than the big toe can interfere with normal walking and running patterns causing more impact on the balls of the feet. Other than that, certain foot deformities and poorly fitting shoes are likely culprits.
Risk Factors – You are at greater risk of developing metatarsalgia with high-impact activities such as jumping and running, as well as when you tend to land or most of your weight is concentrated at the balls of your feet during running and walking. Arthritis and other foot problems and being overweight may also lead to Metatarsalgia. In turn, improper shoes will aggravate and can even lead to metatarsalgia.
---
Why You Need Good Work Boots for Metatarsalgia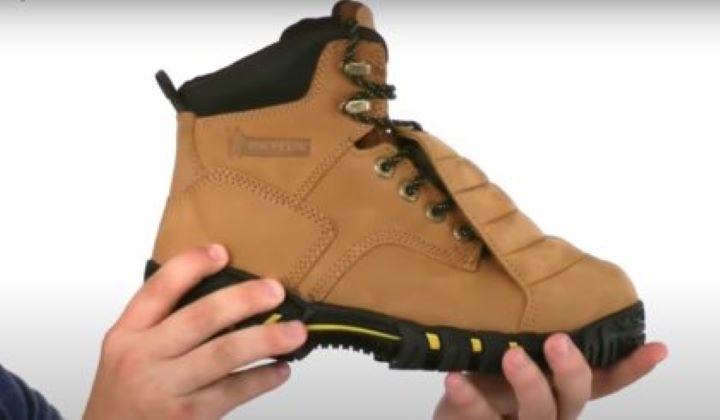 Just as you would need a good running or athletic shoe for Metatarsalgia, the right work shoes are critical to prevent the condition, relieve symptoms, and help with treatment.
The main factor in mind with any shoe for metatarsalgia is avoiding narrow-toed and high-heeled shoes.
Always look for a work boot with a low or uniform sole and heel with a wider and roomier toe box design.
Good arch support and cushioning will help absorb shock and provide proper support to take pressure off the balls of your feet.
---
Features of a Good Work Boot for Metatarsalgia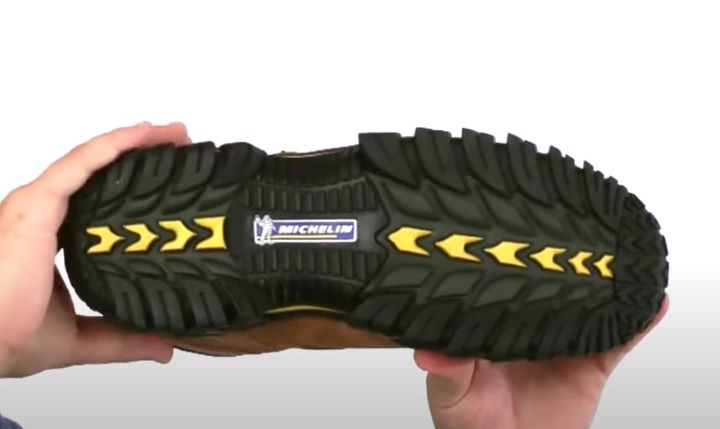 Uppers – Good work boots will have genuine or synthetic leather uppers, a textile lining or mesh lining, and insets. The toe box needs to be roomy and offers a more rounded or wide than narrow fit.
Comfort and Support Features – For comfort and support, look for a shock-absorbing rubber or foam midsole or base and a comfortable cushioned insole for softer underfoot cushioning to reduce pain. A contoured or ergonomically shaped footbed and arch support are ideal for proper support and weight dispersion.
Safety Features – Safety features include steel, composite, alloy safety toe, waterproof materials, electrical hazard safe materials, and good slip resistance.
Outsole – Look for a uniform outsole that is a thick and durable rubber with lug patterns that offer slip resistance or oil and slip resistance.
Options – the work boots in our list mostly have options in extended sizes and widths, as well as few color selections.
---
Reviews: The Best Work Boots for Metatarsalgia
These are some of the best available work boots ideal for Metatarsalgia.
We hope you love the boots we recommend!
So that you know, We may collect a share of sales or other compensation from the links on this page.
---
1
---
2
From Ariat, I have chosen an easy slip-on and off-work Boot model ideal for Metatarsalgia.
The work boots are highly decorated and come in a few color designs you can choose from.
It is a durable full leather that is electrical hazard safe with an ASTM-rated safety toe.
For comfort, there are four layers of rebound cushioning and a 90-degree heel for stability and to reduce forefoot and heel pressure.
The workboots have a very durable and slip-resistant rubber outsole.
---
3
The Wolverine Loader is an 8-inch steel toe work boot for metatarsalgia.
The workboat has genuine full-grain leather uppers and a roomy toe box.
There is a fully cushioned and removable insole, so you can use your orthotics as needed.
The Pu Wedge design outsole increases comfort and provides additional shock absorbency.
The outsole is durable and slip-resistant rubber.
---
4
The Boondock from Timberland Pro is also a favorite for Metatarsalgia.
The work boot features a more lightweight and thinner composite toe with an abrasion-resistant rubber toe bumper for protection.
The toe box is wide and roomy, and the work boot has genuine leather uppers,
The sole is a Thermal Plastic Urethane and offers exceptional slip resistance.
There is a heel cup for stability, a dual-density shock-absorbing PU midsole, and a comfortable padded insole for support and comfort.
The work boot is insulated and waterproof for colder work environments.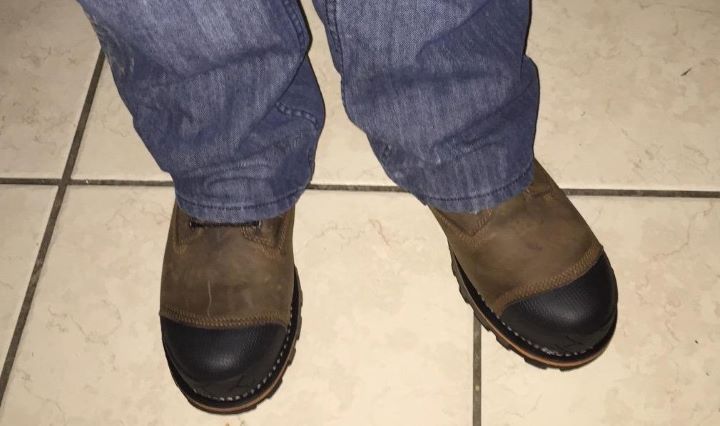 ---
5
The Wolverine DuraShocks range is another favorite for Metatarsalgia.
The DuraShock work boot has a Dual-density PU footbed with shock-absorbing capabilities and a High Abrasion resistant DuraShock TPOU outsole for slip resistance and shock absorbency.
The uppers are genuine leather with a CarbonMax composite safety toe and roomy toe box.
It is excellent with Goodyear Welt construction and a durable rubber outsole.
---
6
For the Ladies, I have chosen the Skechers Workshire Peril for Metatarsalgia.
It is a genuine leather work boot available in three brown shades.
The work boot is electrical hazard safe and has a steel safety toe for protection.
The fit is comfortable and relaxed with a roomy toe box.
Skechers offer their signature Gel-infused memory foam footbed for cushioning and cooling comfort.
The durable rubber outsole is oil and slip-resistant.
---
7
---
8
The Thorogood work boot has ample cushioning for metatarsalgia.
It is a Moc toe wider, width work boot.
The work boot has a MaxWear outsole and a shock-absorbing footbed.
It has a fiberglass underfoot shank.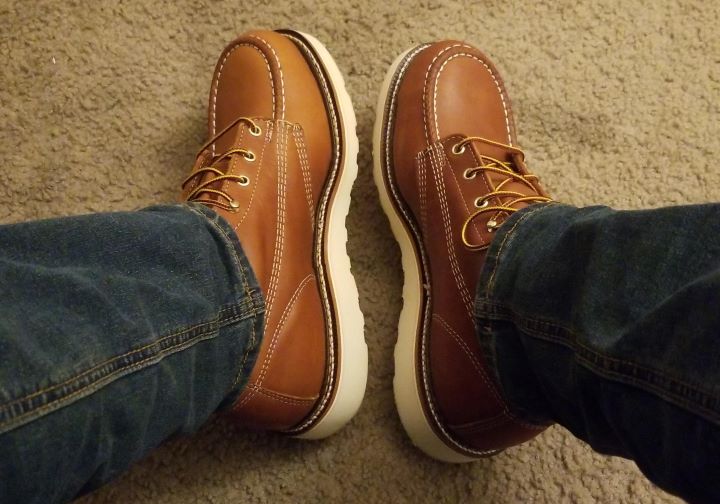 ---
9
The Wolverine Loader is a comfortable work boot for Metatarsalgia.
It has a soft toe and a soft cushioning wedge sole.
The work boot is slip-resistant and has leather uppers.
It is durable and well-constructed.
---
10
The Wolverine Floorhand for the ladies is ideal for metatarsalgia.
It has leather uppers and a steel toe.
There is comfortable underfoot support and cushioning.
The rubber outsole is slip-resistant and durable.
---
Index Table: Top Rated Work Boots for Metatarsalgia
---
---