After a long day in your work boots, your feet will most likely be killing you. Work boots do an excellent job at protecting your feet, although they may not always be the most comfortable option for your feet.
One thing that you can do to make your work boots much more comfortable and supportive is to invest in the best insoles for work boots.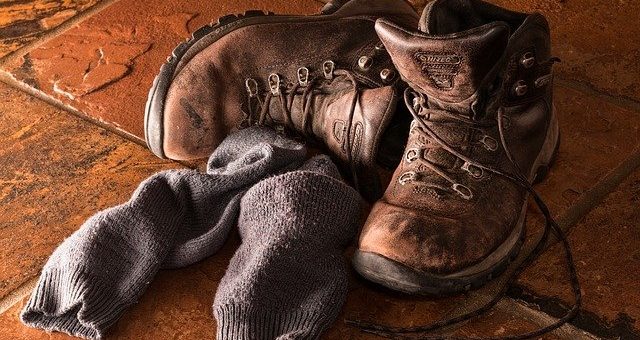 ---
Why Do Work Boots Hurt Your Feet
Everything comes down to cushioning and support. Your work boots hurt your feet because they do not offer proper arch support to distribute weight and impact evenly across your feet, and they do not offer adequate cushioning to absorb impact effectively and provide a more comfortable platform for your feet.
Most work boots do come with some form of cushioning and padding, especially more advanced and expensive brands. However, even these work boots may not offer good enough support or comfort for long days on your feet.
---
How Will Insoles Help
There are a few ways in which a good insole or orthotic insert can actually make your work boots more comfortable and supportive;
Reduce Pressure – An insole generally reduces pressure off your feet particularly the arch area, by offering arc support and cushioning. This in turn prevents conditions such as heel pain and plantar fasciitis.
Spread Impact and Weight – A cushioned and arch support insole will spread weight and impact evenly across the entire foot, rather than concentrating it on a specific area. This in turn reduces pressure on your heels and the balls of your feet.
Correct AlignUnisext – Proper arch support and cushioning along with an anatomical footbed insole will align your feet and in turn, the rest of your body properly to prevent pain and aches in your joints and feet.
Offer Durability – Insoles will reduce the wear and tear of the footbed of your work boots and they are much easier to replace than your actual work boots.
More Comfortable Fit – You do actually get an insole that creates volume inside your work boots to give a work boot that is too big or slips at the heel a more snug and comfortable fit.
Support and Stability – The right types of insole will provide good arch support, stability and help to correct biomechanical issues such as overpronation.
---
Features of a Good Insoles for Work Boot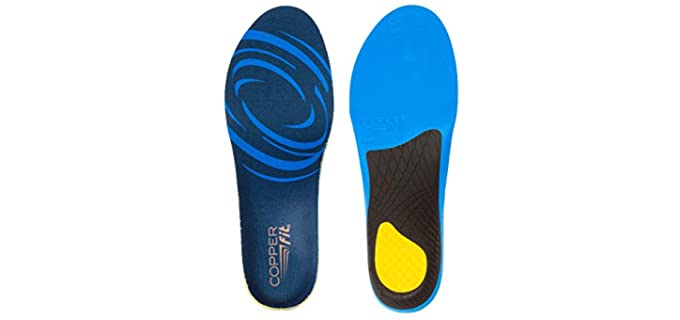 Type of Insole – When it comes to insoles for work Boots you can opt for sport, or work, or support insoles, all of which may be suitable. Support insoles offer comfort and structural alignUnisext to keep your feet and body properly aligned. Stability and Plantar Fasciitis insoles support your heel properly and help to prevent excessive overpronation. While Supination insoles will prevent excessive underpronation. Support Insoles will generally also provide adequate arch support for your specific arch type.
Insole Volume – the Volume of the Insole refers to the amount of space that they take up inside of your footwear. High Volume insoles are ideal for high arches are they suit high volume shoe designs. Medium Volume Insoles work well for most arch types and shoe types, work or athletic shoes. Low Volume insoles are usually ideal for persons who need arch support for a low arch and for shoes where you need less bulk.
Arch Support Insoles – Arch support insoles are designed to provide support for your specific arch type, low, high, or neutral. Mostly low arch types will require stabilizing arch support.
Insoles for Heel Slippage – A Mid to high Volume insole can prevent your work boots from slipping in the heel. When your shoe fits well in the forefoot and midfoot but still slips in the heel area, you may need a heel slippage insole.
Insoles for Elongated Feet – For persons who have feet that elongate excessively when they stand, a support insole can come in handy. This will allow you to get a work boot size that fits, and lessen your need to size up because your feet elongate when standing.
---
Reviews: The Best Insoles for Work Boots
Here are our top choices in insoles ideal for weaving in your work boots;
---
1
Dr. Scholls bring you their heavy-duty Support pain relief insoles.
The insoles are designed for heavy-duty use in work boots.
They have an arch guard as well as shock guard technology to reduce impact and distribute weight evenly.
The insoles will fit casual shoes as well as most work boots easily.
They are designed to be very durable and offer excellent support for a weight of over 200lbs.
---
2
These are the replacement insoles for Timberland Pro work boots.
They are Anti-fatigue insoles with Ortholite moisture-wicking and cushioning technology.
The insoles are comfortable and quite durable for use with work boots.
You can easily replace your Timberland Pro work boot insoles with these insoles.
---
3
The DR. Scholls work insoles are two packs of insoles for your work boots.
The insoles absorb shock and reduce muscle fatigue during long days on your feet.
They have cooling vents to keep your feet cool and dry.
The insoles have responsive wave cushioning and reinforced construction for added durability.
They also contain Gel that reduces stress on your feet when standing or walking on hard surfaces.
---
4
The Copper Fit insoles ate heavy-duty work boots insoles for standing all day.
They consist of 100% dual-layered anti-shock technology foam.
The insoles have a heavy-duty design for durability and high impact absorbency.
There is a supportive cupped heel and arch support.
They are also podiatrists recommended and approved.
---
5
From Easyfeet we have extra-strong low arch support insoles to wear with your work boots.
The insoles are aimed at individuals who need arch support for a lower arch type.
They are durable and orthotic in design.
Ideal for plantar fasciitis and people who have flat feet or very low arches.
The insole is premium quality and offers effective pain relief.
---
6
The Arm and Hammer insoles are anti-fatigue arch support insoles for your work boots.
The insoles have memory foam cushioning and proper arch support to absorb shock.
There is Fresh Guard technology that neutralizes odors inside the insoles.
Overall they are heavy-duty and durable enough for wearing with work boots.
---
Index Table: Top Rated Insoles for Work Boots
---
---