Cowboy boots are a fun and comfortable option for boys and girls.
There are so many great options available, and they are easy to pull on and off.
So we have chosen to review boots that have and original cowboy design, with durable and comfort features, especially in children's sizes, from young to older children and teens.

---
Why Choose Cowboy Boots for Kids
Cowboy boots have many great benefits for kids;
Comfortable and Protective – Generally, cowboy boots offer full foot and ankle protection for your child, and they can keep their feet warm. They are also very comfortable to wear.
No Laces – Cowboy boots have such an easy and comfortable on and off design, with no hassles with laces. Children may struggle to tie laces and even trip over them. Thus, no lace options are so much better.
Ideal for Horse Riding – Cowboy boots are perfect for children that enjoy horse riding, and they help you to maintain a Propet leg position.
The Raised Heel – The Raised heel of a Cowboy boot for kids provides a platform to reduce strain on their Achilles tendon and to provide better stability.
---
Best Materials for Kids Cowboy Boots
As you will see, most of the cowboy boots we have chosen for children have synthetic leather uppers. Very few are genuine leather. The synthetic leather options are easier to clean and less expensive with growing children. So it would be best if you replaced expensive cowboy boots regularly as their feet grow.
They usually have durable rubber soles that provide good traction and slip resistance.
---
Features of a Good Cowboy Boot for Kids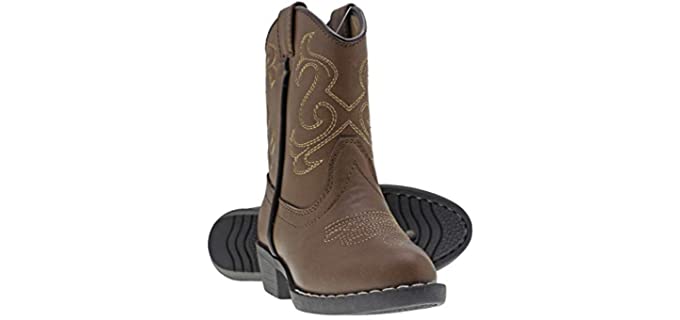 Materials – The Uppers can be genuine leather or synthetic Pu leather. The sole will be a durable rubber. There may be and EVA foam, or soft padded insole for comfort and a moisture wicking lining.
Construction – The cowboy boots are constructed to be durable and long lasting with different designs, and decorative stitching.
Sizes – Sizes are available for toddlers, little kids, and big kids.
Colors – Most options have more colors available, some even have bright and colorful two tone colors, with glitter and other additions.
---
Reviews: The Best Cowboy Boots for Kids
In our list, we have some of the best available Cowboy boots that are specially designed for children;
---
1
From Roper, we have American-style Cowboy boots for children, which is a very popular and relaible brand with an original Western Style, availble in kid's sizes.
The boots are faux leather with a patriot design and square toe.
They are durable and ideal for little feet.
The boots have a long shaft and pull-on construction.
They are available in Little kid, big kid, and toddler size options.
It is a unisex cowboy boot for girls and boys.
---
2
The deer stags cowboy boots also come in little kid and big kid size options for children.
They are a camouflage brown color and have simulated leather uppers with a polyester lining for comfort.
The cowboy boots have a Thermoplastic Elastomer sole that is durable and slip-resistant.
They are fashionable with a unique cowboy design.
The boots have a comfortable inner sole and make durable winter and wet weather boost for kids.
---
3
The Deer Stags Ranch boots come in some very colorful designs and options for boys and girls.
They are available in little kid and big kid sizes, as well as colors for boys and girls.
The cowboy boots are 100% synthetic with pull-on straps and a comfortable foam sock liner for cushioning,
The synthetic uppers are easy to care for and clean.
They are fashionable and very comfortable for kids to wear with a stunning Western style.
---
4
The Canyon Trails Lil Cowboy pointed toe classic Western Boots are ideal for younger children and toddlers.
They are such a lovely design with a pointy toe and western cowboy boot style.
The boots are synthetic leather, with a durable and slip-resistant rubber outsole.
The sole is flexible, allowing for maximum range of motion for our child.
There is a comfortable insole and lining to keep little feet dry.
There are also a few available color options, as well as little kid and toddler size options.
---
5
Generally, the Fatbaby from Ariat is a very popular cowboy boot design for adults. However, it is also available in sizes for children.
The Fatbaby has 100% genuine suede leather uppers in two-tone colors.
It has 4LR four-layered cushioning technology with a lightweight shank for support, stability, and shock absorbency.
The boot has a very durable and slip-resistant rubber outsole.
There are more colors available, as well as little kid, big kid, and toddler sizes.
---
6
The Roper Glitter Cowboy boot for kids is a fun and more colorful design than your regular western-style boots.
The boots have leather uppers with a smooth systemic liner for comfort,
There is a Thermoplastic Elastomer Sole that is durable, and slip-resistant,
The boot is all vegan leather and of excellent quality.
It is available in little kid, big kid, and toddler sizes, as well as more colors for boys and girls.
---
7
From Smoky Mountain, we have proper heeled western Cowboy boots that are stylish and fashionable for kids.
They have synthetic leather uppers in two-tone color, with embroidery details.
There is a slight heel and pointed toe.
The cowboy boots are comfortable with a cushioned insole and a PVC outsole for all-day wear.
They are of excellent quality and available in sizes and colors for boys and girls.
---
8
Here we have some Cowboy boots that feature the Disney Pixar Toy Story motif.
Complete with Woody and friends, this is a fun and colorful style cowboy boot for kids.
The boot is thermoplastic rubber, with a slip-resistant rubber outsole.
It is available in little kid, toddler, and big kid sizes in this single color.
The boots are brown in color and have a zip closure.
---
Index Table: Top Rated Cowboy Boots for Kids
---
---