A proficient slip-resistant work boot is a necessity for many workers today and may also be part of your work uniform or a requirement by law, for your work environment.
Slip-resistant work boots essentially protect you from slipping and falling which can cause some severe injuries and even death in the right setting.
Check that the work boot that you choose clearly states that it has a slip-resistant outsole, usually rubber. Most outsoles will be slip, and oil resistant, or be chemical and abrasion resistant as well.
So, in this article, we will be looking at some of the best available slip-resistant work boots to suit your needs.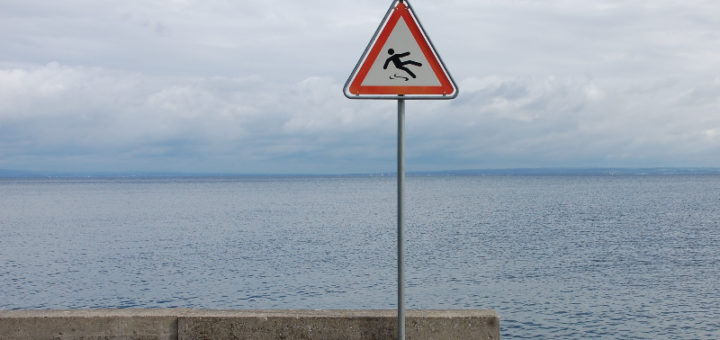 ---
Why You Need Slip Resistant Work Boots
Before I answer, let's first look at the science of slipping and how it affects you.
A shoe or boot will slip because it loses friction and is unable to stop movement, the amount of slip resistance a shoe offer is basically in relation to the friction available.
The composition of the floor surface, the tread of your shoe, and even the internal sole of your shoe or boot affects slip resistance.
When it comes to slip resistance you will need to look at outsole materials, the tread pattern, as well as the manufacturer labels to give you an idea of how slip-resistant a work boot is.
By wearing a slip-resistant work boot you will greatly reduce your chances of slipping and falling on an uneven, slippery, wet, or even oily floor surface in a work area.
Work areas such as restaurants, kitchens, hospitals, and some industrial work environments do have very slippery floor surfaces for which you will need a proper slip-resistant work boot or shoe.
---
Types of Slip Resistance
Slip-resistant work boots actually offer different levels of protection;

Slip Resistance Only – Work boots that offer slip resistance only are ideal for slippery and even wet floors. They usually have a rubber or PVC sole with a more lug tread and are ideal for most indoor and industrial floor surfaces. Slip-resistant work boots may be a requirement from many companies, especially industrial companies.
Oil and Slip Resistant – Then again you get slip-resistant work boots that offer slip resistance for slippery as well as oily or greasy floor surfaces. This type of sole prevents degradation as well as preventing you from slipping on oils. Oil-resistant work boots also have a protective coating that helps to prevent oils from seeping through your work boot's soles.
Chemical Resistant and Slip Resistant – Some Slip-resistant work boots also offer chemical resistance. This means that the sole is designed to withstand the degradation and penetration of liquids and harmful chemicals.
---
Features of a Good Slip Resistant Work Boot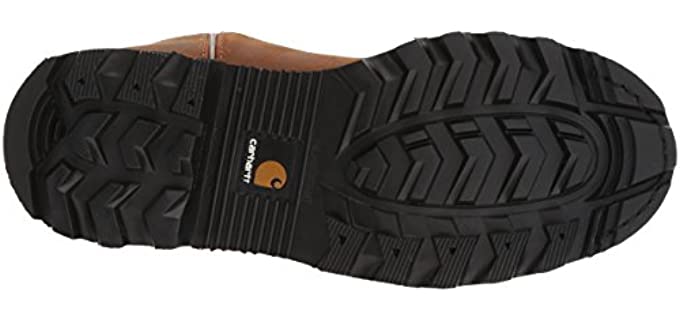 Uppers – The Uppers of the work boot should be durable genuine leather with Goodyear welt, Welt, or Cement construction for quality and durability. An interior moisture-wicking lining can help to wick away moisture inside the work boot.
Comfort Features – Comfort Features include a padded or cushioned insole that may be removable in some models. Shock absorbency in the midsole is ideal in the form of a Wedge sole, EVA, or foam. A padded collar and tongue can also provide much comfort.
Safety Features – A steel alloy or composite safety toe provides good toe protection. Electrical hazard safe materials will protect you against electrical shock. Most work boots are likewise waterproof and have a slip-resistant outsole.
Slip Resistance – Slip resistance can be Oil and Slip resistance or Slip resistance only.
Outsole – The outsole is usually a durable rubber or Vibram rubber with a lug slip-resistant tread.
Options – Options available will most likely be in a few color varieties, and width options, as well as plenty of sizes available. Slip-resistant work boots come in either slip-resistant only, or oil and slip-resistant models as you will see throughout our review range.
---
Reviews: The Best Slip Resistant Work Boots
These ear our top favorite slip resistant work boots;
---
1
The Thorogood Static Dissipative work boots are ideal for working in these work environments that also have slippery floor surfaces.
The work boots have a protective composite toe and are static dissipative.
They have an athletic-designed slip-resistant outsole with VGS-300 technology, which is according to industry standards.
There are full grain leather uppers with clement construction and a rubber outsole.
Furthermore, the work boots have a composite underfoot shank for stability and protection.
---
2
The Ariat Sierra is a comfortable, pull-on wide-toe work boot with a slip-resistant outsole.
The work boots have leather uppers with a wide square toe box and a moisture-wicking mesh lining.
There is ATS Advanced Torque Stability technology and a composite forked shank.
The toe is a non-safety soft toe and the work boots have a slip-resistant durable rubber outsole.
To is likewise electrical hazard safe.
---
3
The Thorogood American Heritage 8 Inch work boots offer full ankle support and protection, with a slip-resistant outsole.
The uppers are 100% durable genuine leather, with Goodyear Welt Construction.
It has MAXWear wedge slip-resistant outsole technology and a Vibram rubber outsole.
There is a steel protective safety toe and a fiberglass shank for stability and your protection.
---
4
The Ariat Treadfast is a waterproof slip-resistant, safety work boot.
It has a protective steel toe and full waterproof leather uppers.
The 4LR cushioning system provides four layers of foam cushioning for comfort and shock absorbency.
The Uppers are pro Construction waterproof full-grain leather.
The outsole is a Duratread Oil and slip-resistant rubber outsole.
---
5
From Carolina Boots, we have a full safety work boot with a slip-resistant outsole.
The work boot has a steel safety toe and is fully waterproof.
This is a logger work boot with a very lug and slip-resistant rubber outsole and a slight heel for this type of work.
The work boots have genuine leather uppers and are fully waterproof.
---
6
For the Ladies, I have chosen the Keen Utility Detroit slip-resistant work boot.
The work boot has leather uppers with mesh insets for breathability, to keep your feet cool and dry.
It has a waterproof membrane that is also breathable.
There is an oil and slip-resistant, non-marking ASTM f1677-96 and F2913 SATRA standards rubber outsole, for optimal safety and slip resistance.
The work boot also features electrical hazard-safe materials and a comfortably cushioned footbed.
---
Index Table: Top Rated Slip Resistant Work Boots
---
---