Puncture-resistant boots are a great advantage for construction workers, factory workers, and military personnel. Puncture-resistant work boots can protect you against various hazards, including slipping and punctures to your feet.
Most Puncture-resistant work boots will come with a steel, nylon, or composite underfoot shank or plate that is puncture resistant. The outsole will usually be a slip-resistant rubber.
This article will look at some of the best available Puncture-resistant Work Boot ideals for you.

---
---
Why You Need Puncture Resistant Work Boots?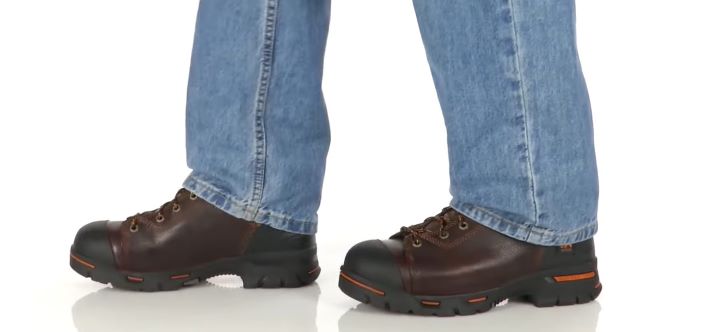 Choosing the right safety work boots will depend largely on your work environment and specific tasks. A work boot can hold many safety features to protect against specific risks and hazards besides punctures.
A Pressure-resistant work boot becomes vital in a work environment with many sharp and protruding objects such as nails, rocks, glass, steel parts, etc.
Although almost all work environments may have a puncture risk of some sort, a puncture-resistant work boot would be a good choice for a work boot.
Most puncture-resistant work boots also offer other safety features, such as electrical hazard protection, a safety toe, and waterproofing, among other features.
Then again, a good pair of work boots will provide comfort and support to your feet, safety features, durable materials, and construction.
---
Steel VS Woven Puncture Resistant Plates?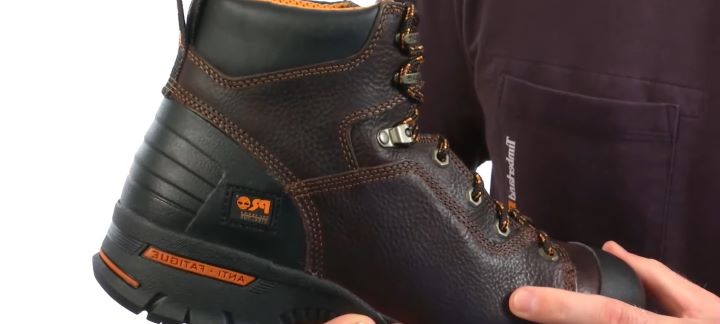 Puncture-resistant work boots have a puncture plate placed between the outsole and insole of the work boot, which is the midsole area. The Puncture-proof plate is generally a protective type f midsole in your work boots.
You cannot remove the puncture-resistant plate as it is integrated into the midsole.
Many Puncture-resistant work boots will also come with a similar protective toe cap.
There are two materials used for Puncture Plate construction: steel and fabric. The fabric used can be Nylon, aramid, or composite materials.
Generally, there are some differences between both, and they both have advantages and disadvantages;
Steel – A steel Plate or midsole for puncture resistance consists of coated steel. Steel Puncture plates are more affordable than woven or fabric such as Aramid. They are thinner and offer much better and harder protection. However, steel becomes quite cold in colder weather conditions. It is heavier and can be subject to corrosion if not properly treaded. Steel will also set off-airport and security alarms and is less flexible. Steel midsoles
Woven – Woven or fabric midsole such as aramid are much more flexible and lightweight than steel, which is their main advantage. However, these materials are also more expensive than steel. Woven materials like steel do not conduct cold or heat and will corrode. However, on the other hand, they will provide less protection than steel.
---
Features of a Good Puncture Resistant Work Boot
Here are a few features that you need to look for in a general work boot with puncture resistance;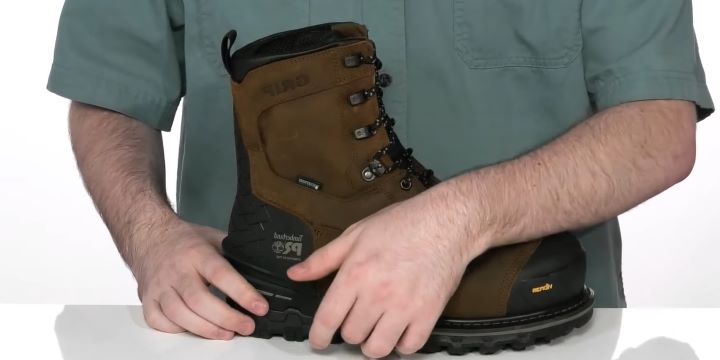 Safety Features – Safety features besides a steel or woven puncture-proof plate can include an alloy, composite, or steel safety toe. Electrical hazard-safe materials and ratings can be included, and waterproofing, insulation, chemical, and oil resistance, along with other safety features.
Support and Comfort Features – Support and comfort features include a comfortably cushioned footbed or insole and a shock-absorbing midsole. Arch support and stability features, a flexible sole, and a comfortable moisture-wicking lining may likewise be found n most work boots.
Insulation and Waterproofing – most work boots have a waterproof membrane such as Gore-Tex, which is also quite breathable. Insulation such as Thinsulate can be used in work boots for colder weather conditions.
Puncture Resistant Plate – The Puncture-resistant plate is placed in the midsole of the work boot and can be either steel or woven materials such as Aramid, Nylon, or composite.
Outsole – The outsole will be rubber or Vibram rubber with a lug tread for slip resistance. Most work boots are slip- and oil- and slip-resistant; their sole may also be heat- or chemical-resistant.
---
Reviews: The Best Puncture Resistant Boots
These are our top favorite Puncture Resistant Work Boot brands and models.
We hope you love the products we recommend!
We may collect a share of sales or other compensation from the links on this page.
---
1
---
2
The Ariat Sierra is a Cowboy Style Puncture-resistant work boot.
It has a square design toe with a steel cap for safety.
The uppers are genuine leather and have a slip-on design.
ATS Advanced Torque stability technology and a composite forked shank for puncture resistance and stability.
Inside is a moisture-wicking mesh lining and cushioned footbed.
The outsole has a SWEN-FLEX insole board and is metal-free puncture resistant.
---
3
The Timberland PRO Endurance work boot is one of my favorites for puncture-resistant work boots.
They have genuine leather uppers and lace-up closures.
The Polyurethane Midsole and rubber outsole are durable and cushioning.
There is a puncture-resistant plate and steel protective toe.
Two-color options are available in this work boot model.
---
4
The Irish Setter Work Boot, the Crosby Nano toe, features superior puncture-resistance technology.
The Uppers are leather and synthetic, with a puncture-resistant rubber outsole.
An Ultra Dry WP interior lining for your comfort and stable flex construction.
The Work Boot has a lightweight and protective Nano Toe.
---
5
From the Oliver Series, we have their highly protective puncture-resistant work boot.
The work boot has a steel toe, metatarsal guard, and puncture-resistant plate for safety.
The uppers are liquid-resistant leather, and the outsole is a durable rubber.
The Flexible XRD metatarsal guard and steel toe absorb impact to protect your toes.
The sole is an all-terrain dual-density soiling technology tread.
The work boot meets ASTM standards for steel toe and electrical hazard safety.
The Outsole is both oil and slip-resistant.
---
6
For the ladies, we have chosen the FSI Avenger for puncture resistance.
The work boot has 100% leather uppers, a waterproof membrane, and a removable cushioned insole.
There is a lightweight carbon safety toe and a flexible PR plate for puncture resistance.
There is also a metatarsal guard and a slip-resistant rubber outsole.
---
7
The Keen Utility Lansing is an ideal work boot for puncture resistance.
The workboat is waterproof and electrical hazard safe.
There is a TPU underfoot shank for stability and puncture resistance.
The outsole is oil and slip-resistant.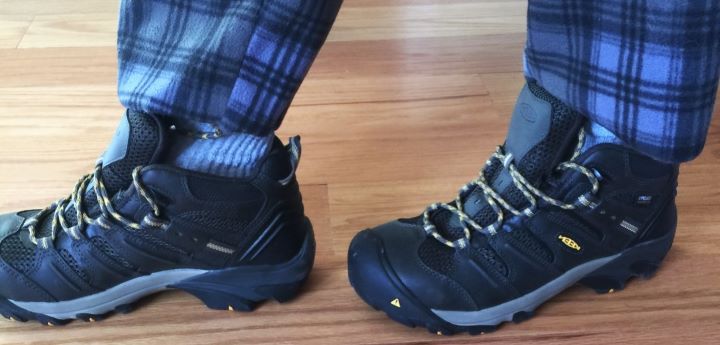 ---
8
The Everboots Ultra Dry work boot has a puncture-resistant steel shank.
They offer waterproofing and insulation.
The work boot is lightweight and easy to wear.
The rubber outsole is oil and slip-resistant.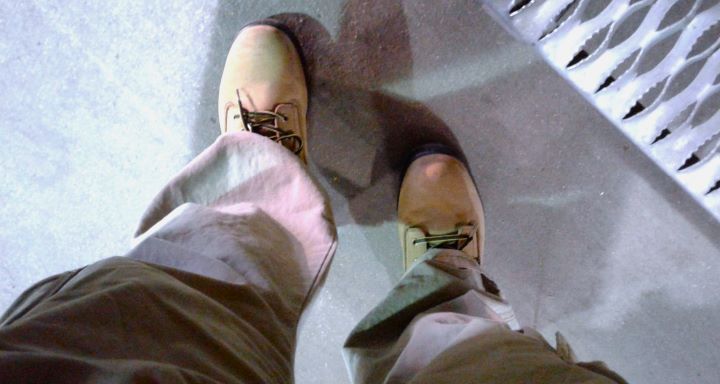 ---
9
The Georgia work boot features a steel shank for puncture resistance.
It is a pull-on work boot that is waterproof.
The work boot has an oil and slip-resistant rubber outsole.
There is a comfortable and supportive footbed.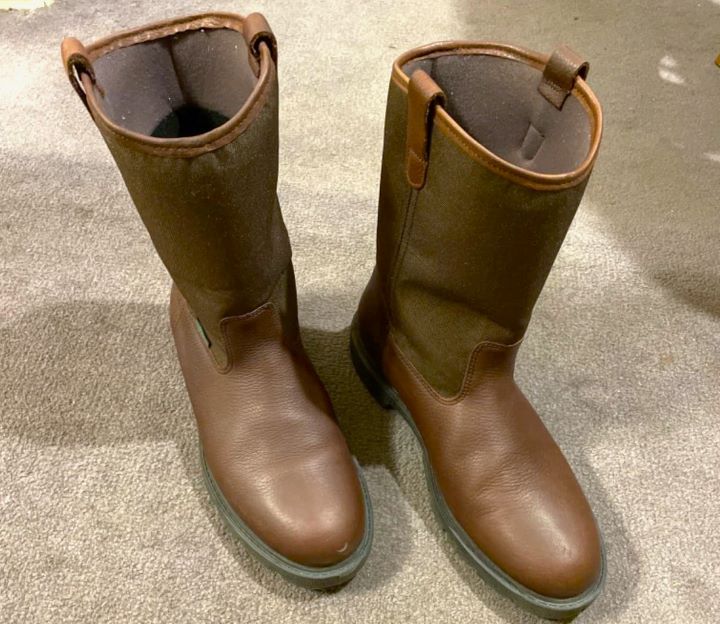 ---
10
The Keen Utility Coburg is a steel toe work boot.
It has a TPU shank for stability and puncture resistance.
There is a cushioned insole for comfort.
The outsole is an oil and slip-resistant rubber.
The work boot also has Keen dry waterproof protection.
---
Index Table: Top Rated Puncture Resistant Work Boots
---
---