What are the best lightweight work boots? The question seems straightforward but there are many factors to consider. You need a durable, comfortable and stylish boot that will keep you safe on the job site.
There are so many options out there with varying prices and features; it can be hard to know which one is right for you. In this blog post, we'll help break down some of those considerations as well as give you our top choices for light weight work boots!
---
Advantages of the Best Lightweight Work Boots
If you have not considered a more lightweight design work boot yet, here are a few reasons that may convince you;
Less Weight on Your Feet – Lightweight work boots place less weight on your feet, so you are lighter and faster on your feet, which generally enables you to perform better at work. Besides this, heavy work boots tend to make your feet tire faster and even become painful and aching.
Comfortable – Lightweight work boots are more comfortable and place less strain on your feet. They still come with comfort features that are less heavy, such as light cushioning and EVA, which are very lightweight, shock-absorbing materials.
More Breathable – Comfortable lightweight work boots tend to be more breathable and better ventilated, with lighter materials. The more open and light design makes them perfect for use in summer, as there are no additional features or insulation causing weight and making your feet overheat.
Still Safe – Lightweight Work Boots still have the necessary safety features, such as a composite or Alloy safety toe that is much more lightweight. Gore-Tex waterproofing still breathes well, and a slip-resistant rubber outsole is just a bit less bulky.
---
Best Lightweight Work Boots – Toe Construction
An essential aspect of any safety work boot that meets safety and industry standards is, of course, the safety toe.
This said, your safety toe may be the one thing weighing down your work boot.
Generally speaking, most steel safety toes are very bulky and heavy and sometimes even come with a heavier cover to make the boot electrical hazard safe. Yet, a steel toe is your best protection against heavy falling objects and compression hazards.
Yet, if you work in an environment with less risk of falling objects and more slack on their regulations, do not opt for a lighter weight Composite or Alloy toe version.
Composite safety toes are an excellent and much more lightweight alternative to a steel toe. Many of them meet ASTM and ANSI safety regulations and are not heat or cold conductive. Similarly, Composite toes are electrical hazard safe.
---
Features of a Good Lightweight Work Boot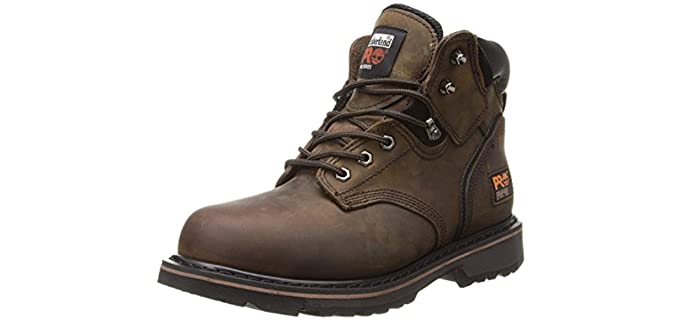 Uppers – Leather, mesh, and nylon uppers are the most lightweight, and durable enough for a work boot. Always look for a breathable moisture wicking mesh, or textile interior lining for your comfort.
Safety Toe – When it comes to safety, toes, composite, or alloy toes are advised if you need something more lightweight. However, steel is the best protection against weighty falling objects.
Comfort Features – Fewer features make the shoes more lightweight, so look for light padding r EVA cushioning in the midsole and Insole.
Safety Features – Waterproofing and electrical hazard safe materials are the basic safety features, along with a safety toe. Then there is likewise slip and oil resistance in the outsole.
Rubber – Rubber for the outsole may be a bit heavier, it is important for its durability and slip resistance.
---
Reviews: The Best Lightweight Work Boots
From our comprehensive list, you will see some of the best available work boots that are very lightweight. Also, please note that this page includes affiliate links.
---
1
The Red Wing Heritage work boot offers a classy style for the office and on-site wear, with a very lightweight design.
The boots have leather uppers and a lug Vibram 430 mini outsole for slip resistance,
you can easily clean the natural leather, and scuffs will rub out.
A bump toe design allows for more toe room and comfort,
The sole has a Nitrile cork steel shank for underfoot protection and stability.
---
2
The Reebok Rapid Response is a comfortable and lightweight tactical work boot that is also very well ventilated for warmer weather conditions.
The Reebok work boot is a durable leather made from cattle hide, and ballistic Nylon is added for breathability.
Inside is a breathable and moisture wick king Nylon mesh liner for your comfort,
The F2A cushioned PU insole provides excellent shock absorbency,
The boot has a soft toe and a dual-density, slip-resistant rubber outsole.
---
3
The Danner Bull Run is a lightweight, soft-toe work boot in genuine leather.
The Danner Bull Run comes in a few other colors from which you can select.
The uppers are genuine leather and electrical hazard safe.
Inside is an open-cell cushioned Ortholite footbed for comfort, a steel shank for stability, and underfoot protection.
The rubber outsole is non-marking, and similarly, oil and slip-resistant.
---
4
The more basic Timberland work boot models are more lightweight because they have only the features you need.
Basic design leather work boots with no added fuss for much lighter weight.
The boots are waterproof and very durable in design with a padded collar and lace-up closure.
You can select from many colors available in this boot model.
A lightweight EVA cushioned midsole for comfort and a durable rubber slip-resistant outsole for traction and grip.
---
5
The Timberland PRO Direct Attach is a very lightweight work boot with a steel safety toe.
As you see, the men's boot model is slightly taller than the ladies, and both have a padded collar and tongue.
They are basic design men'sy work boots that are very lightweight.
The uppers are a smooth nubuck leather with a moisture-wicking lining,
The footbed offers light padding for comfort.
There is a lug rubber outsole that is oil and slip-resistant.
Furthermore, the work boots are fully waterproof and have a steel protective toe.
---
6
The Chippewa engineers boot is tough and durable but still has a fundamental and lightweight construction for a leather work boot.
The Uppers are 100% pure leather with a smooth lining.
There are a more lightweight plain toe and a triple rib shank for stability.
The men's version has a steel toe option and leather welt design.
The ladies' model features 5 Iron Texon footbed technology cushioning and comfort.
---
7
The Timberland PRO Boondock is is a lightweight and comfortable work boot with a composite toe
The leather uppers are very durable and have a waterproof lining.
The Composite toe is much more lightweight.
There is also a lug grip oil and slip-resistant, rubber outsole.
The Anti-fatigue comfort system will fully support your feet and arches, as well as provide cushioning.
---
8
These are very lightweight and comfortable work boots with a composite toe, which is also much more lightweight.
The Uppers consist of full grain genuine leather that also has a waterproof membrane.
A Nano Composite toe is more lightweight and still provides good protection.
The Extreme slip-resistant outsole is ideal for a variety of surfaces, and in turn, very durable.
They are the ideal work boots for an industrial environment and construction work.
---
9
The Columbia Newton Ridge is a very lightweight hiking boot, which you can likewise use for work purposes.
Leather boots with a moisture-wicking textile lining and more color options are available.
They gave advanced comfort technology with a more lightweight midsole and cushioning.
A lower cut design is easier to wear and much more lightweight.
The Omni-Grip rubber outsole is ideal for a variety of floor surfaces and terrains.
---
10
The Carhartt CWP1250 is a comfortable and lightweight work boot model for everyday use.
The uppers are genuine smooth leather and abrasion-resistant Cordura, which is available in three more color selections.
The Pull-on design is easy to put on and take off.
There is an Ortholite cushioned footbed, and Pu Strobel pads and PU cushioned insoles.
Both boots have a rubber outsole that is oil, chemical, and slip-resistant.
---
Index Table: Top Rated Lightweight Work Boots
---
---