The Tactical work boot is a specialized boot designed to provide high performance and protection in more challenging environments.
Tactical work boots are generally suitable for running as they are used in Military and security occupations where running is required.
However, there are some tactical work boots for running that perform better than others because they are more lightweight, flexible, and offer good cushioning for running.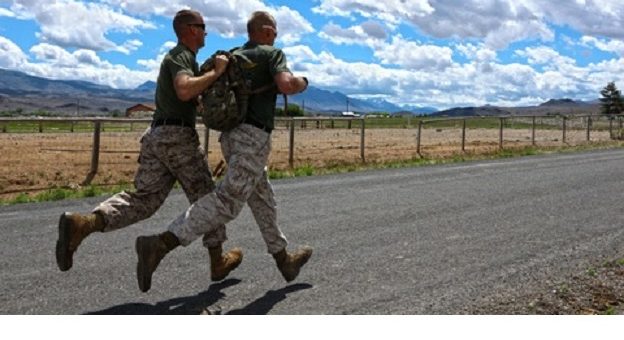 ---
Running in Tactical Boots
Transitioning from Running in sneakers to running in boots may be difficult, so here are a few tips to help you along;
Choose Wisely – Some tactical work boots run better than others, so choose them wisely.
Break In Your Boots – make sure your tactical boots are well broken in before you attempt to run in them. Wear them as much as possible so that they can mold your feet.
Good Shock Absorbency – If your Tactical Boots do not have good cushioning to absorb shock, I recommend getting a shock-absorbing insole.
Get Used to Running in Boots – Take some time gradually getting used to running in your tactical boots rather than jumping into them too quickly.
Train Off-Road – Training on hard surfaces with tactical boots will place much impact on your feet, and you will mostly be performing off-road, so rather train Off-Road on trails.
Shuffle – Do not try to sprint in tactical boots. Rather use a short, flat-footed shuffle motion than trying to do long stride, heel-to-toe actions.
---
The Best Tactical Work Boot Types for Running
Shorter 6 Inch tactical work boots are much more comfortable to run in than the regular 8-inch tactical work bots, though the longer length provides much better ankle stability.
A flexible design and sole are ideal for running in Tactical work boots.
Make sure the sole offers durability and traction for a variety of surfaces.
Very important features of tactical work boots for running are that they are lightweight and well cushioned to absorb impact from running.
---
Features of a Good Tactical Work Boot for Running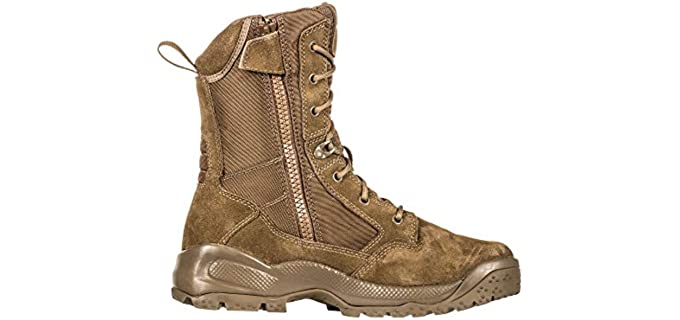 Traction – For running, you need Tactical work boots that offer good traction and grip on various surfaces. The outsole needs to be properly slip-resistant and durable rubber.
Cushioning – Running in tactical work boots places hard impact on your feet. Look for tactical work boots with a cushioned insole or footbed, such as EVA foam or memory foam that cushions and supports your feet.
Support Features – Look for tactical work boots with a supportive fit or reinforced sidewalls and additional panels to support your feet and ankles. A more contoured and arch-supportive footbed is ideal for keeping your feet aligned and preventing them from shifting off the footbed. A fit and longer shaft will secure your ankles to prevent twisting and sprains.
Breathability – Most tactical work boots will have lightweight and breathable uppers that consist of leather with mesh or nylon panels for breathability. They will also have a moisture-wicking interior to keep your feet dry and comfortable. Ventilation and breathable materials are very important in tactical work boots for running, as you will be working up quite a sweat.
Safety Features – Most tactical work boots will be waterproof and breathable, some models may have a steel, alloy, or composite protective toe and electrical hazard safe materials. A composite toe is more lightweight in a tactical work boot for running. The outsole will also provide good slip resistance.
Weight – You will need to consider the weight of your tactical work boots as this will affect how you run and move in them. More flexible and lightweight tactical work boots will have less safety and comfort to reduce the weight. Work boots that are heavier with better stability features and safety features are ideal for ankle stability.
---
Reviews: The Best Tactical Work Boots for Running
In our review list, we have some excellent choices in tactical work boots that are perfect for running in;
---
1
The Rocky S2v Predator is a tactical and military work boot that can be used for running.
It is a lightweight and durable 1000 denier Nylon with triple stitched construction.
The boots have a Fiberglass shank for stability and underfoot protection against punctures.
They have Flash, water-resistant leather for the uppers, and advanced S2V sieve technology to circulate air and wick away moisture.
There is a very durable and flexible rubber outsole for traction.
Overall, they are light in weight for running.
The tactical boots do come in more light or dark color selections.
---
2
The Salomon Forces Quast Tactical boots are ideal for more hostile and colder environments such as outdoor and mountain trails.
They are very rugged with supportive and flexible grip in intense conditions.
The uppers are durable and fully waterproof.
Inside is good cushioning and comfort features that are more lightweight for running.
The Tactical boots offer excellent weather resistance and protection.
---
3
The Danner Acadia is a slightly more stable and heavier Tactical boot that you can still run with.
They are full leather and Cordura for durability, with stitch-down construction.
The boots are waterproof with denier Nylon and leather, and a Gore-Tex Breathable membrane.
They have a lug and high traction durable rubber outsole and a Fiberglass shank for underfoot stability and protection.
The tactical boots are not insulated and have a much cooler and medium-weight design.
---
4
The Maelstrom tactical and Combat boots are lightweight and comfortable for running.
They are textile and leather boots with reinforced toes for protection and durability.
The boots are fully waterproof and have light insulation for colder and wet weather conditions.
The Uppers are nylon and full grain leather with a professional look and zip closure.
There is a removable shock-absorbing cushioning insert for comfort and a padded collar.
The outsole is a durable and flexible, high traction rubber.
---
5
The Rocky Alphaforce is a leather tactical style boot for running.
It has 100% leather uppers that are durable and water resistant, consisting of full-grain leather,
The Outsole is Oil, and a Slip-resistant non-marking, RigiTrac Molded EVA and rubber design.
The tactical boot has a 6-inch ankle length and a lace-up feature for a comfortable fit.
They are very lightweight and durable for running.
---
6
From Nortiv, we have longer-length 8-inch tactical boots for running.
The longer length provides better ankle stability, especially for running on uneven surfaces.
The tactical boots have breathable leather and fabric uppers with secure and fast zip closure.
They have a shock-absorbing and removable cushioned insole for comfort and support.
A flexible and non-marking rubber outsole is oil, slip, and abrasion resistant.
The tactical boots offer a very secure fit with an additional hook and loop strap closure, and they will give you much stability when running.
They are lightweight and breathable in design, and more colors are available.
---
Index Table: Top Rated Tactical Work Boots for Running
---
---