When it comes to working boots, you want something comfortable and durable for your specific occupation, providing the best protection against the hazards in your work environment.
Many individuals prefer to pull on work boots because of their fit, protection levels, and ease of putting on and taking off.
The Pull-on work boot for working on concrete will need a durable rubber outsole that provides a good grip but does not collect debris. It will also need proper arch support and underfoot cushioning to absorb shock.
Pull-on work boots for walking on concrete will be slightly lighter, with good cushioning systems for proper shock absorbency.

---
Benefits of a Pull-On Work Boot
Pull-on work boots are a matter of choice, as opposed to lace-up work boots; however, here are a few benefits that they hold;

Easy on and Off – One of the main benefits of a pull-on work boot is that you can quickly put them on and take them off. They are ideal in scenarios where you need to change shoes frequently.
Better Protection – Pull-on work boots provide good protection because of their closed, solid construction and generally longer length. Most pull-on work boots are fully waterproof, and there is also less chance of dirt, dust, and debris getting into your work boots.
Lighter Weight – As pull-on work boots have less hardware and fuss, they are generally more lightweight than most lace-up work boots with laces, tongues, and padded collars.
More Affordable – As a rule, most pull-on work boots will be cheaper than lace-up work boots. However, this depends much on the brand and quality of the work boot.
---
Pull On Work Boots for Walking on Concrete
Besides the fact that they are pull-on work boots for walking on concrete, you need additional features to prevent foot fatigue and other issues.
For walking on hard concrete, you need work boots with good support and cushioning system that absorbs shock and energizes your feet.
They will need a durable, high-traction sole and a more lightweight design.
---
Features of a Good Pull-On Work Boot for Walking on Concrete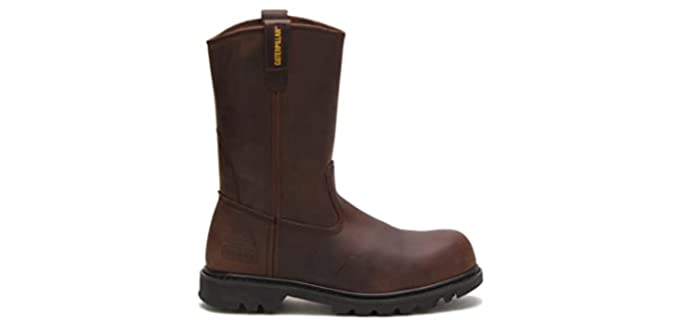 Uppers – The Uppers need to be durable leather or synthetic material that can withstand abrasion and is fully waterproof for working with concrete. A Longer shaft will also be ideal. The Uppers will be a Pull-On design.
Comfort and Support Feature – For standing on hard concrete, I recommend looking for work boots with ample cushioning, proper arch support features, or a concrete footbed. Plenty of flex in the sole for wet concrete work will be ideal.
Outsole – The Outsole needs to offer good abrasion and slip resistance; a chemical-resistant outsole will also be ideal. I would opt for a rubber outsole with a tread that will not track concrete particles and dirt.
Options – Options available will usually be size and width; some work boot models do offer some neutral color options.
---
Reviews: The Best Pull-On Work Boots for Walking on Concrete
These are some of the ideal pull-on styles of work boots for walking on hard concrete floor surfaces;
---
1
---
2
The Cat Revolver Pull-on work boot has a long shaft and Goodyear Welt Construction.
The uppers are full-grain leather with a smooth moisture-wicking lining.
There is a removable EVA sock liner and cushioned insole for comfort.
The Outsole is very durable, abrasion-resistant, slip-resistant rubber for traction on concrete floors.
---
3
The Timberland Pro Wellington work boot is a comfortable leather work boot for working on concrete.
They are pull-on work boots with full-grain leather uppers with Ever-Guard waterproof protection.
The Work Boots have an Outlast Adaptive Comfort Cover and Goodyear Welt Cast-Bond Construction.
There is a polyurethane slip, an oil-resistant outsole, and a Ladder Lock outsole radius.
The work boots also feature a comfortable Ortholite cushioned footbed.
---
4
The Wolverine Overpass pull-on work boot has a comfortable and safe design for walking on concrete.
They have a long shaft and uppers with premium waterproof leather and abrasion-resistant toe and side protection.
There is a composite safety toe for toe protection, and the work boots are electrical hazard safe.
They have a removable Ortholite cushioned, moisture-wicking insole for all-day comfort.
Flexible contour welt construction allows you to bend and flex as you need.
---
5
The Ariat American Heritage Pull-On work boot is ideal for walking on hard concrete floors.
The work boots are stunning Western style with a slight heel and a wide square toe for more toe room.
They are 100% genuine leather and feature ATS cushioning and support technology for walking on hard concrete.
The Outsole is a Flexible Duratread rubber outsole that offers excellent slip resistance.
The Work Boots are available in more colors and wider width fit options.
---
6
Another excellent addition from Keen Utility for working on hard concrete floors.
The pull-on work boots have a longer shaft and genuine leather with a moisture-wicking textile lining.
They have a composite toe that is electrical hazard safe and offers lightweight protection.
The work boot is entirely waterproof and durable with a breathable membrane.
There is an oil and a slip-resistant rubber outsole with a lug tread.
The work boots are well cushioned with a supportive footbed.
The fit is roomy in the toe box and very comfortable.
---
7
The Georgia Pull-On work boot for standing on concrete is a wellington style.
It has a full-grain leather and 900 Cordura uppers with a waterproof membrane.
The work boots have a steel underfoot shank for puncture resistance and stability.
The outsole is an oil and slip-resistant rubber.
There is a comfortably cushioned footbed for support and comfort.
---
8
For the Ladies, we have The Twisted X pull-on work boot for standing on concrete all day.
The work boots have a longer shaft and a more roomy, rounded toe.
They are fully waterproof, with a breathable mesh lining.
The work boot is full grain durable leather.
They have a comfortably cushioned footbed and thick midsole for shock absorbency.
There is a fully slip-resistant rubber outsole.
---
Index Table: Top Rated Pull-On Work Boots for Walking On Concrete
---
---