Rubber work boots are very functional and versatile for various occupations where you need full waterproofing and insulation and something durable and easy to clean.
Today rubber work boots come in many varieties for many work purposes. This article will discuss some of the best rubber work boots and their different purposes and construction designs.
Most rubber boots are designed for farming, working in chemical plants, Fisheries, and similar occupations where you need full liquid protection. The work boot will have a rubber sole with rubber uppers and may have a neoprene closure and textile lining. Some rubber work boots also have a steel safety toe and cushioned footbed for comfort.

---
---
Why Use Rubber Work Boots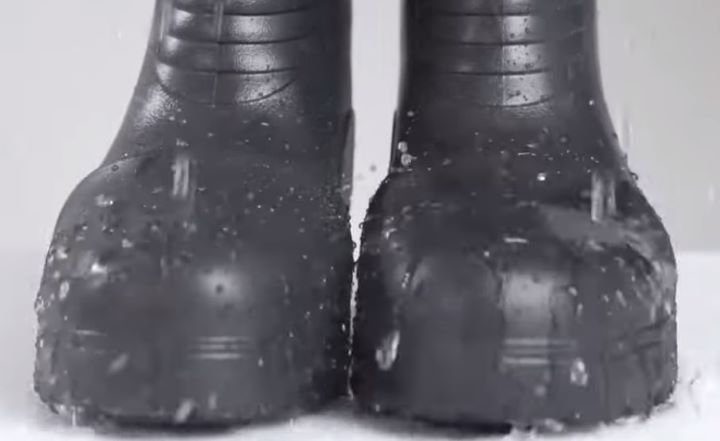 So what exactly does the rubber work boot offer?
Full insulation – Rubber work boots can protect you against wind and cold as they are fully insulated and shielded. Besides this, no critter, debris, dirt, mud, or sludge will enter your rubber work boot.
Waterproofing – The rubber work boot, if anything, is completely waterproof so that no liquid will enter the work boot.
Slip Resistant – Most rubber work boots are designed for working in wet, slippery, and muddy conditions. Thus they have a lug rubber outsole that provides excellent slip resistance.
Easy Cleaning – The rubber work boot is one of the easiest designs to clean, as you can rinse it off or wipe it down. Likewise, it also dries almost instantly.
---
Uses for Rubber Work Boots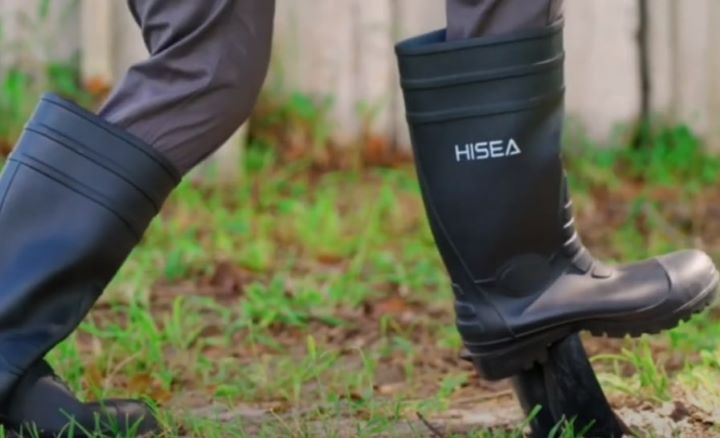 Here are some occupations and situations where you may need a good rubber work boot;

Farm Work – farming or ranching is done in outdoor conditions that may become wet and messy, where a rubber work boot will offer you the protection, slip resistance, and durability needed.
Mining – A rubber work boot can be useful in many mining industries where the environment is wet and muddy. Rubber work boots are also electrical-hazard-safe and ideal for electricians working in mines and similar wet environments.
Wet Conditions – Any wet, muddy, or sludgy condition or work environment is ideal for rubber work boots.
Insulation for Cold Weather – The rubber work boots are similarly good for cold weather conditions and even snow, as they are insulated and completely shielded against wetness.
Chemical Industries – Many laboratories and chemical industries use rubber work boots for full protection, especially those that are chemical resistant.
Fishing – Another industry that uses rubber work boots is the Fishing industry, where wetness is a norm. Rubber work boots offer full protection, waterproofing, and good slip resistance in this industry.
---
Features of a Good Rubber Work Boot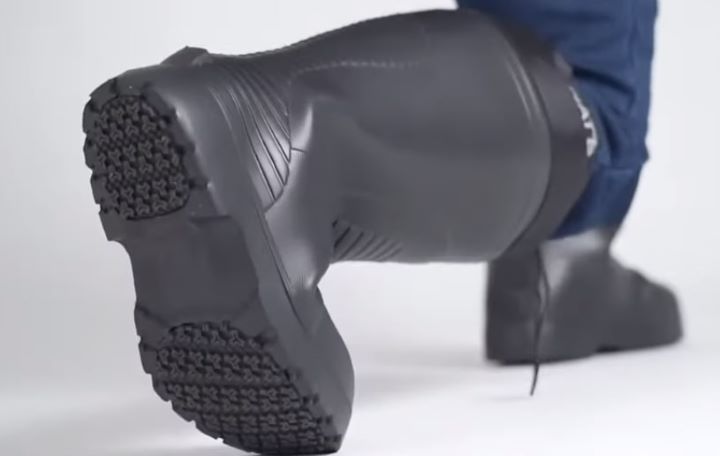 Uppers – The Uppers of a rubber work boot consist of 100% natural rubber with a fabric or nylon interior lining for comfort and sometimes neoprene.
Design – Most rubber work boots are tall for full leg protection. However, you do get ankle and shorter rubber work boot models.
Comfort Features – Some rubber work boot models may have a shock-absorbing midsole, cushioning in the insole and footbed, and other comforts, support, or stability features.
Safety Features – Rubber work boots are waterproof and offer good electrical hazards and safety. Besides this, they may also be chemical and abrasion-resistant, with a protective steel, composite, or aluminum safety toe. The outsole is usually slip and oil-resistant.
Outsole – The outsole is usually rubber with a very lug tread for slip resistance.
---
Reviews: The Best Rubber Work Boots
Below you will see our top choices for the best available rubber work boots;
We hope you love the products we recommend!
We may collect a share of sales or other compensation from the links on this page.
---
1
---
2
The Bog longer-length rubber boot is ideal for hunting and outdoor work.
The boots are full-length in neutral and camouflage colors.
The boot consists of rubber and neoprene materials,
The outsole has a non-slip, non-marking, and self-cleaning design.
The contoured fit offers better support and comfort when moving.
The full length ensures full-leg waterproofing and protection.
They are ideal for high and low temperatures.
---
3
The Original Muck Boot is an ankle design with 100% rubber, fabric-lined uppers, and a rubber sole.
The Uppers are rubber and synthetic with a fabric lining.
The boot has a pull-on design for easy on and off.
There is a reinforced Achilles support for support and comfort.
The outsole is a diamond tread design in rubber for optimal slip resistance.
---
4
The Bogs Forge is a comfortable steel-toe rubber work boot.
The boot consists mostly of rubber and some neoprene in the uppers.
The sole is durable rubber with a lug tread for slip resistance.
They are insulated and waterproof for full protection and comfort.
The fit is likewise roomy and comfortable.
---
5
The Servus rubber work boot is the most comfortable and lightweight in its range, with electrical hazard-safe materials.
The work boot has a soft toe and is electrical hazard safe.
They consist of a polyblend injection molded PVC that is waterproof and very flexible.
The outsole is durable rubber with a lug tread for slip resistance.
The boot has a heel cup and a contoured footbed for comfort and support.
---
6
The Tingley Economy is a tall rubber work boot with a slip-resistant outsole.
A knee-high affordable rubber work boot for everyone.
The boot is 15 inches long with a non-safety toe.
It has injection-molded construction for full waterproofing and flexibility in the uppers,
The tough outsole is ideal for abrasion resistance and slip resistance.
---
7
Here we have a waterproof and insulated work boot for colder weather conditions with rubber and neoprene.
This book is an extreme cold weather rubber work and hunting boot.
It is available in a neutral or camouflage color option and full length for full leg protection.
The boot is waterproof with neoprene and protective rubber overlays,
It is insulated for warmth and protection.
Ter is a removable cushioned insole for your comfort.
The rubber outsole offers solid traction and grip.
---
8
The LaCrosse Alpha is an extra-long hunting snake boot for safety in this environment.
This hunting snake boot protects you against snake bites, so it's full length.
It consists of hand-laid premium rubber and neoprene for core flexibility, with a slip-resistant rubber outsole,
Quad-Core technology offers four layers of cushioning for underfoot support and comfort.
The active fit s adjustable and very comfortable.
---
9
This is an extra-long design rubber work boot from LaCrosse with a protective steel toe.
The work boot is 100% durable rubber, with a slip-resistant rubber outsole.
There is abrasion-resistant rubber on the toe and a double-layer rubber vamp for durability.
The ZXT rubber used in the boot is ozone, abrasion, and tear-resistant,
The heel also has multiple layers of rubber for added protection.
---
10
The Shoes for Crews Waterproof Rubber work boot has a shorter design and a soft toe.
The work boot is completely water-resistant rubber.
There are a slip-resistant and very durable rubber outsole.
It has a soft toe design that is much more lightweight,
The outsole has a superior SFC slip-resistant design and materials.
---
Index Table: Top Rated Rubber Work Boots
---
---