Generally speaking, you do not actually get a Hiking work boot, but many hiking boots make for ideal work boots for certain work environments, especially outdoor work. Then there are also work boots with features that are much similar to that of a hiking boot.
So, in this article, we will look at some of the best Hiking work boots in all of these senses;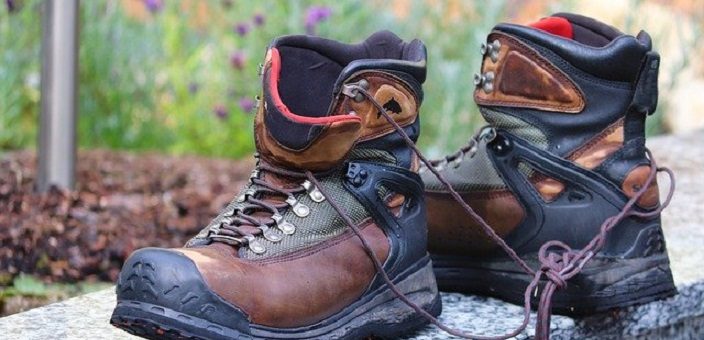 ---
Can You Use Hiking Boots as Work Boots
Hiking boots are extremely versatile and durable, so they can most definitely be used as a working boot in certain applications.
Hiking boots are generally an amalgamation of durability, comfort, and weather resistance that work well in most conditions and especially for outdoor work.
You do, on the other hand, get full safety or industrial work boots that have a hiking boot style and similar features if you would want to go this route.

Hiking Boots – Hiking boots are designed to conquer anything and everything that nature can throw at them. Hiking boots mostly have full waterproof uppers and are sometimes insulated. They generally have an EVA foam midsole that molds to the shape of your feet for cushioning and support on uneven terrains. Hiking boots also have a very durable and lug outsole for decent grip on wet, uneven, and very slippery surfaces. Most Hiking work Boots are Likewise very well ventilated.
Work Boots – Workboots generally have water-resistant rather than waterproof uppers with full leather, rather than a blend of leather, textile, and mesh insets for breathability. Work boots are designed mainly for safety in the workplace against workplace hazards, so they will have a composite or steel toe safety cap and electrical hazard safe construction, which you rarely find in hiking boots. Similarly, work boots have a lug and slip-resistant rubber outsole, but the sole is more rigid, than hiking boots with more flex. Work boots are designed for solid and even floor surfaces, while hiking work boots are ideal on uneven and more slippery surfaces.
---
Pros and Cons of wearing Hiking Boots as Work Boot
So, of course, there are some pros and cons to wearing hiking boots as work boots;
Pros – Hiking boots offer the best waterproofing protection. They are also ideal on wet surfaces. Hiking boots have a very durable sole and lug sole, so as far as slip resistance goes, their soles offer the best slip resistance on a large variety of surfaces. Because the sole of a hiking boot is less rigid than that of a work boot, it is also more ideal to use on uneven surfaces and for occupations that require plenty of movement and awkward positions. Hiking boots are extremely durable and resistant to weather elements. They also offer more rigid support and stability in the midsole, and a more secure heel fit to prevent ankle injuries.
Cons – On the other hand, Hiking boots generally consist of more thick and weather-resistant materials, with insulation for outdoor weather, so they are generally less breathable than work boots. Hiking boots can also take quite some time to break in because of their stiffer materials. Hiking boots may have a tendency to trap heat because they generally lack proper ventilation; however, there are some brands and models with technology that is more breathable. Hiking boots are also not the best choice for working on hard and flat surfaces as they are generally not very plush and abundant in cushioning.
---
Features of a Good Hiking Work Boot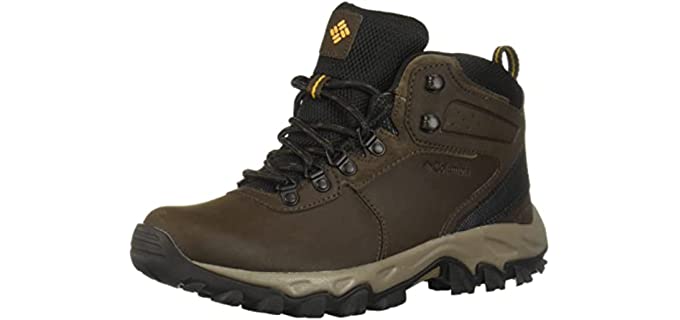 Uppers – Hiking work boots will have either leather or very durable textile uppers or a combination of leather with a textile lining and mesh inserts for breathability. Most hiking work boots are waterproof with a breathable waterproof lining, and they are usually ankle length with a padded collar and breathable tongue. The laces will have a rustproof eyelet system and can be regular or speed laces.
Comfort Features – Hiking work boots generally have better comfort features such as a supportive and cushioned insole and a shock-absorbing EVA or foam midsole. Many of them come with a shank for support and puncture resistance.
Sole – Hiking work boots have a specialized sole to provide stability on uneven outdoor terrains that are usually more flexible. The tread will also be more lug and designed for grip on wet, muddy, and uneven surfaces and not to hold on to dirt and debris. The outsole of a Hiking work boot is usually rubber and designed specifically for outdoor surfaces.
Safety Features – Well, as mentioned, most hiking work boots will be waterproof; however, they may have other features such as an oil and slip-resistant outsole, electrical hazard safe materials, and a protective toe cap which can be steel or composites.
Options – Hiking work boots will be available in more sizes and sometimes widths depending on the model, and they usually also offer more color ranges.
---
Reviews: The Best Hiking Work Boots
In the List below, you will see some of our best Hiking Work Boot models and brands;
---
1
The keen Durand is a Waterproof Hiking Work Boot.
The hiking work boot has an all-terrain durable rubber sole for traction and grip on multiple outdoor surfaces.
It is breathable and designed for comfort.
There is a PU midsole and cushioned insole for shock absorbency.
The work boot is fully waterproof and very durable.
---
2
The Chippewa is a leather hiking-style work boot for men.
It has 100% pure leather uppers and a Chip-A-Tex waterproof lining.
There is also an interior moisture-wicking lining to keep your feet dry.
The work boot is durable and has a slip-resistant rubber outsole.
---
3
The Danner Mountain Light is the perfect Hiking Work Boot,
It is a leather and Cordura work boot that is very durable.
There is a breathable Gore-Tex waterproof lining.
The work boots have a Vibram outsole for slip resistance.
---
4
The Keen Utility Lansing is another exceptional hiking work boot.
It has a steel safety to for additional protection and is completely waterproof.
The work boots feature a slip-resistant rubber outsole and a comfortable cushioned insole.
It also has breathable and durable uppers.
---
5
The Columbia Newton Ridge is a sued leather hiking work boot.
It consists of suede leather, leather, and mesh that is lightweight and breathable.
There is a waterproof lining and adjustable lace-up system.
The work boots have a super grippy outsole and responsive cushioning system.
---
6
The Danner Mountain Light Cascade is a favorite Hiking style work boot for women.
It is a leather work boot that is lightweight and durable.
There is a fiberglass shank for stability and underfoot protection.
The work boot has a cushioned insole for comfort and a Dri-Lex lining.
It also has a durable and slip-resistant Vibram rubber outsole.
---
Index Table: Top Rated Hiking Work Boots
---
---