Leather is a fascinating material used since dawn, especially in shoes and works boots.
Most good quality durable work boots will have genuine leather uppers that may be waterproof with a steel or composite safety toe cap. They will have a slip-resistant rubber outsole and a comfortable footbed that offers support and cushioning.
Leather work boots come in pull-on and lace-up styles.
Leather is extremely durable, easy to clean, and very sturdy. That is why leather work boots are generally so very popular.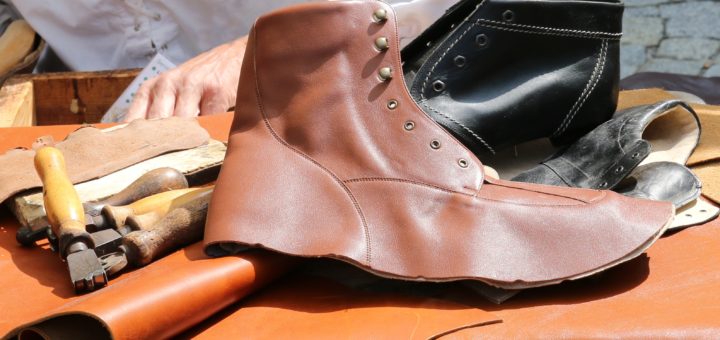 ---
Why Choose Leather Work Boots
Leather work boots are absolutely worth the investment and something you will be glad you purchased for many years.
Here are a few reasons why;
Breathable – Leather essentially breathes, it allows air to pass through the material and can help to ventilate your feet to keep them dry.
Durable – One of the biggest benefits of leather is its extremely durable and long-lasting. A good pair of leather work boots can last you for many years.
Water Resistant – Leather is a naturally water-resistant material that, if treated or waxed, can be even more water-resistant. So your Leather work boots can keep your toes dry from spills or puddles.
Added Protection – Leather in itself can provide good abrasion resistance and light protection for your feet. Nevertheless, you may still need a steel or composite toe cap for full protection.
Comfortable – Leather naturally strong materials are also quite supple and comfortable, providing a more moldable fit with time.
Easy To Clean – Leather work boots are much easier to clean than fabric or textile boots. You can easily wipe down and polish a leather work boot to have it look new in no time.
Stylish – Leather work boots look much better than any textile or rubber work boot. Leather has a stylish elegance to it that looks professional and high quality.
---
Types of Leather Work Boots
When it comes to leather work boots, did you know that you get different types of leather, or well, finishes of leather?
Full Grain Leather – As you have most likely noted, most work boots are full-grain leather; full-grain leather is obtained from the outermost part of the animal's hide and processed to remove marks and damage. It is extremely strong and one of the most durable leather for work boots.
Nubuck Leather – Nubuck leather is derived from cattle leather, but the main difference between suede and nubuck is that nubuck leather is curved from the grain part of the hide. It is also sanded similarly to suede to get a soft nap, but because it comes from a grain of the leather, it is much more sturdy and durable than suede.
Suede Leather – Leather with a rougher surface finish is referred to as suede leather. As you shave off and trim that grain of the leather, you get to the more fleshy part of the leather hide. This split part is usually what is buffed out and sanded to create a smoother texture. Ideal for informal work boots and footwear, and not as common in work boots.
Split Printed Leather – Sometimes, a thick cowhide is split into thinner leather pieces to get a uniform thickness. This much lighter-weight leather is also generally much more affordable but not as durable.
---
Features of a Good Leather Work Boot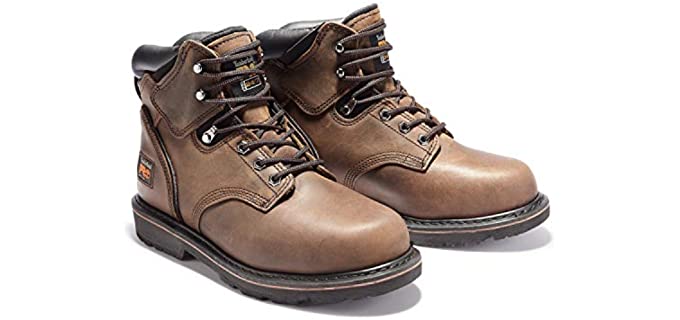 Uppers – Leather work boots have full-grain leather uppers with a smooth, suede, or nubuck finish. The work boots may have a moisture-wicking lining or be unlined.
Safety Features – Leather work boots will have a safety toe that is steel or composite, electrical hazard safe materials, and a slip-resistant outsole as basic safety features. Some leather work boots may be waterproof with a Gore-Tex or similar lining. However, leather is naturally water-resistant. They may also be abrasion, heat, or chemical resistant with other protective features such as a metatarsal guard or puncture-proof plate.
Outsole – Most leather work boots come with a rubber or a Vibram rubber outsole. The outsole usually has a more lug patterned tread, which improves slip resistance. The outsole may also be rated slip, oil, heat, or chemical-resistant.
Options – Most leather work boots brand do offer size and width options, along with a few more neutral color selections.
Fit – Ensure you get a snug-fitting leather work bot. Leather does tend to stretch; however, you should not use this as and reason to get a leather work boot that is too small.
---
Reviews: The Best Leather Work Boots
These are some of our top choices in good leather work boots;
We hope you love the products we recommend!
So that you know, We may collect a share of sales or other compensation from the links on this page.
---
1
The Danner Vicious is an NMT work boot with genuine leather for the uppers.
The uppers are 100% durable leather with a waterproof Gore-Tex lining.
The outsole is a Vibram rubber sole for slip resistance.
There are also 400 grams of Thinsulate insulation for protection in cold weather.
---
2
The Wolverine Overpass is the ideal leather safety work boot.
It has a lightweight Composite toe and leather uppers with a smooth textile lining.
The workboat has a more flexible contour welt construction that will move with you.
There is a removable Ortholite cushioned insole and shock-absorbing midsole.
The outsole is a durable rubber that is slip, oil, and abrasion-resistant.
Furthermore, the work boots are electrical hazard safe.
---
3
The Irish Setter is a pull-on leather work boot.
The work boot has a long leather shaft and an UltraDry waterproofing system.
It has an RPM composite technology and a steel safety toe that is more lightweight.
There is also a heat-resistant durable rubber outsole.
---
4
The Newton Ridge from Columbia is another superb leather work boot model.
The work boot has leather, suede, and mesh design uppers for breathability,
It has advanced waterproofing technology and a comfortable cushioning system.
There is a durable and slip-resistant rubber outsole.
---
5
The Chippewa is an insulated and waterproof leather work boot,
Ideal for outdoor and industrial work.
The work boot has 100% leather uppers and a lug rubber outsole.
It is constructed using Goodyear Welt construction methods.
The hardware on the laces is likewise non-tarnish able.
---
6
From Danner, we have hiking-style leather work boots for women.
It is a 100% leather work boot with a slip-resistant Vibram rubber outsole.
There is a DriLex lining for breathability and a comfortable cushioned insole.
The work boot also has a fiberglass shank for stability and puncture resistance.
---
Index Table: Top Rated Leather Work Boots
---
---