The image w get about a farmer may be a happy person walking on his gorgeous farm, sun shining with a few farm animals and some lush fields in the background.
Well, this is not likely the case, farming of all sorts requires much hard work in very tough work environments.
This is why you need the best work shoes for farming.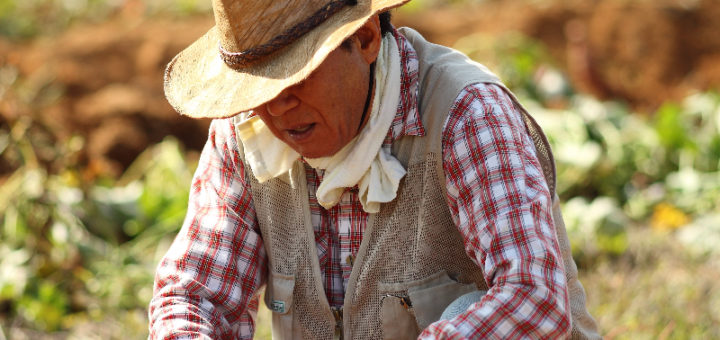 ---
Why Farmers Need good Work Boots
Farmers and ranchers are usually on their feet for long periods of time and are in many positions, bending, crouching, moving all over the place.
They may also be walking on a variety of surfaces dry and wet, muddy terrains, loose stones and rocks, uneven turf, grass, and even solid hard surfaces that each take their toll on your feet and shoes.
Farmers need to have their feet protected from anything from a heavy falling object or heavy animal stomping on their feet to slippery surfaces, wetness, and even sharp objects that can cause a puncture injury.
So deepening on the type of farm you work on and your daily activities you will need proper work boots for farming.
---
How to Choose Farming Work Boots
If you want to boil it down to a minimum there are three crucial aspects to a good Farming Work Boot;
Protection Against all Instances – Your Work boots need to protect you against the worst-case scenarios in all aspects. From a heavy object falling on your feet to a nail puncturing the sole, and many more. They need to keep your feet dry and protected against liquids, dirt, and debris, and also keep them well adjusted to cold or hot temperatures. Then again what about snake and insect bites, we do not always take these scenarios into account. So you basically need protection against all and anything that can cause harm to your feet or legs for that matter.
Comfort for Long Hours on Your Feet – Long work shifts on your feet can also cause fatigue and many other foot ailments, and even painful backs, or joints. All these can be avoided with proper support and cushioning features in your farm work boots that help with proper alignment, provide impact protection, and that still allows you to bend and flex as needed.
Durability You can Rely On – Then again farm work puts much strain and damage to your work boots. Good abrasion resistance, durable and reinforced materials, and quality materials and construction in a farm work boot is a must, otherwise, it will not last you very long.
---
Features of a Good Work Boot for Farmers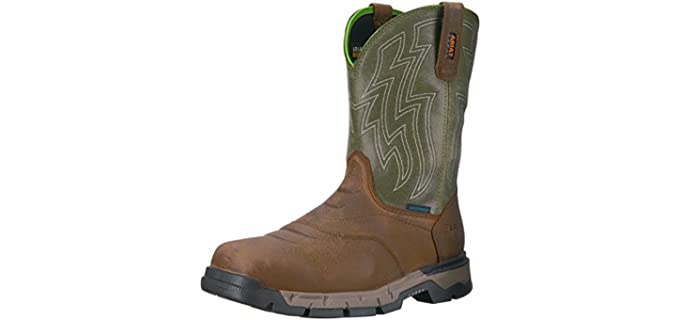 Outsole – We start with the outsole because it is one of the most important features. In farm work, you will be faced with slippery, wet, muddy, and uneven surfaces which will require proper grip from your work boot to prevent slips and falls. Rubber or Vibram rubber are the best options for a farm work boot, as well as a lug slip-resistant tread.
Midsole -Look for a work boot with a durable and shock absorbing midsole such as EVA r a firmer foam. This helps to lessen pressure ad impact on your feet.
Toe Style – the shape of the toe needs to be roomy and comfortable. You may need a steel or composite toe cap for protection against heavy and compression objects. This is always a good idea for farmworkers, especially those working with larger livestock and machinery.
Construction – Look for work boots that are durable and flexible. Most direct Attach work boots are more flexible and Cement construction is quite durable.
Shank – A shank in your work boot provides added stability and support on uneven terrains. It also provides a puncture-resistant shield against sharp objects.
Lining – An interior lining in the work boot helps to wick away moisture and also protect your feet against friction that can cause blisters and chafing.
Footbed – For long hours on your feet you will need a cushioned and comfortable footbed that also supports your feet properly. Look for durable foam such as EVA and a cushioned insole.
Uppers – Leather uppers are the most durable and quite flexible but can be a bit heavy. Synthetic materials or rubber are also ideal for the uppers, particularly when working in wet and muddy conditions.
Metatarsal Guard – Some Farm Work Boot models also come with a metatarsal guard which protects the upper area of your feet against sharp or heavy objects.
Pulls – Many farm Work Boots have pulls or pull tabs inside or outside the work boot that make it easier to pull on and take off the work boot.
---
Reviews: The Best Work Boots for Farmers
Listed below are farm work boots in different categories of farming that are top in their class;
---
1
The Cebu work boot is designed specifically for industrial and farm work environments.
The work boot has a durable heavy-duty sole that is rubber with tractor construction for durability and slip resistance.
The toe and heel are reinforced with rubber Shark Shield technology for endurance.
The Outsole is oil, slip, and acid-resistant for farmers and there is a steel protective toe.
The work boots likewise have a comfortable insole and shock-absorbing midsole.
---
2
The Ariat Hybrid is a farming and Ranching work boot.
It is a pull-on style workboat with a western design.
The workboat has genuine leather uppers that are fully waterproof.
The outsole is a durable slip-resistant rubber.
Inside are four layers of supportive cushioning for your comfort.
---
3
In instances where you need to work in much wet and muddy work conditions, I highly recommend the Muck Boot Chore Classie in full length.
The work boots consist of neoprene and rubber that is fully acid, chemical, and water resistant.
The work boots are extreme;b easy to clean you can just spray them down.
They have a steel protective toe, are electrical hazard safe, and are likewise quite breathable.
The outsole is a lug and slip-resistant rubber design.
---
4
The Carhartt Wellington work boots are ideal for farmers.
They have a protective composite toe and a very flexible sole for easy movement.
The work boots are 1005 durable leather however not waterproof, they do offer good water resistance,
There is a square and roomy toe design and they are pull-on work boots.
The farmers' work boots have layers of cushioning and a shock-absorbing midsole for your comfort and support.
---
5
The Ariat Treadfast are waterproof work boots for farmers.
They have a steel protective toe and are also electrical hazard safe.
The farmer's work boots have 4LR cushioning technology for high rebound cushioning and a 90-degree heel for grip and stability.
The uppers are waterproof PRO construction full grain leather.
The Duratread outsole is an oil and slip-resistant rubber.
---
6
For the ladies, we have the Carhartt workboat for farming work.
The work oot has 100% leather and textile uppers with a breathable lining.
They are pull-on work boots that have a safety toe and a waterproof membrane for full protection.
There is a PU Strobel pad and PU cushioning insole for comfort and support.
The rubber outsole is slip, oil, and chemical resistant.
---
Index Table: Top Rated Work Boots for Farmers
---
---