HVAC stands for heating ventilation and air conditioning. This. Is an occupation where you work with different systems that are useful for moving air between indoor and outdoor areas, along with eating and cooling systems in residential and commercial buildings. These are the systems that keep you warm and cozy in the winter and keep you cool and fresh in the summer. Working with these systems has its hazards and discomforts, and therefore you may need to get the right pair of work boots for this specific occupation.
In this article, we will be looking at work boots specifically for HVAC, work boots that will provide good comfort features, and the much-needed safety features for this type of work.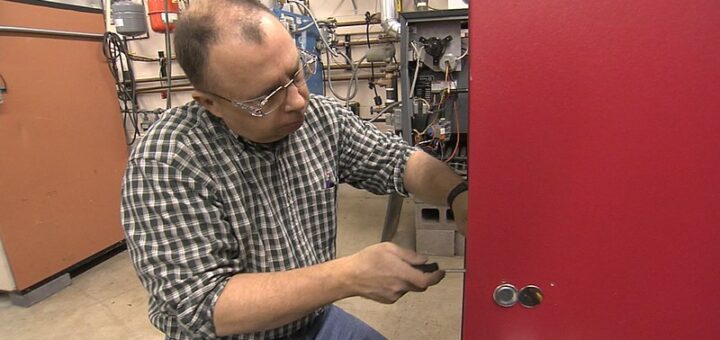 ---
Necessary Features for an HVAC Work Boot
The most important thing about an HVAC work boot is that it gives you the proper foundation to prevent foot pain and foot fatigue. Because you will be on your feet most of the day. You will need a comfortable workbook that supports the arches of your feet and provides good shock-absorbing cushioning.
You will need to take notes on the fit of your work boot as you need something that offers a comfortable fit that will not be too loose so that it slips on and off your feet, and that will also not cause any pressure on your feet. You may be working in hot weather or cold weather, so you need to consider both these factors.
Other than that here or a few other features that are all vital in good work boots for HVAC.
Breathable – When working in very hot weather and conditions, or even with heating systems, you will want a breathable work boot, or that has a moisture-wicking lining to keep your feet dry and cool.
Grippy – Because floor surfaces may be slippery and wet, or even oily in the different areas where you are going to be working, it is a very good choice to have a grippy and slip-resistant outsole on your work boots. I would go as far as saying to go for a slip and oil-resistant outsole
Well Cushioned – For comfort purposes, you want to work with that has a cushioned midsole to absorb shock, and also a softer insole that will provide a comfortable platform for your feet on which you will be standing most of the day.
Insulated – In colder weather conditions, you may consider an insulated work booth to keep your feet warm and protected. Especially when working with cooling systems in icy areas, you may want a warmer, insulated work boot.
Electrical Hazard Safe – As you will be working with electricity, it is extremely important that your work boots are electrical hazard safe, and that they meet the ASTM standards for electrical hazards safety.
Water Resistant – Working with cooling systems and air conditioning, especially, can get you into wet situations, and because you will be working indoors and outdoors, there may be rain and wetness. So it is always better to opt for a waterproof or at least water-resistant work boot.
---
Optional Features
Then they are also a few optional features when it comes to your HVAC work boots;
Profile Height – Some individuals prefer a workbook that has a higher profile or a higher ankle length, such as 8-inch work boots, rather than the six-inch work boots, because they are routinely working on uneven surfaces, and they may be more prone to spraining their ankles. Extra coverage for your ankles can provide stability and protection against sprains and strains.
Mark Resistant Outsole – Because you may be working indoors, you do not want to leave black scuff marks on the floors of your clients. So you might want to look for a work booth that has a mark-resistant outsole.
Type and Fit – You will have a choice of a lace-up or a pull-on work boot with a round toe, a squared toe, or a pointy toe. It all comes down to your personal preference and style needs so you can choose a work boot that works best for you.
Steel Toe – Having a work boot with a steel protective tar protects your toes from heavy falling objects and from crushing objects. Most work boots that have a steel toe, also have a puncture-resistant steel plate underneath. Now, for HVAC work, you might need a steel toe, or you can even get away with a composite toe. However, most soft-toesoft-toeots are suitable. There are very little, few heavy falling object risks involved in this type of work. However, the risks are still there.
---
Features of a Good Work Boot for HVAC Work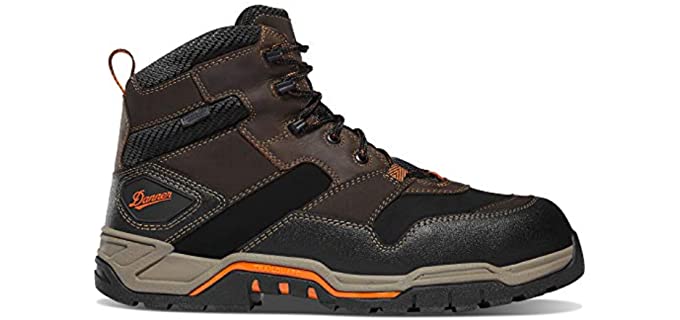 Uppers – Look for work boots with durable and abrasion-resistant leather uppers that have a waterproof lining, or that are water resistant.
Midsole – Your work boots need a cushioned midsole to absorb impact and provide support.
Insole – Look for a comfortable insole or footbed that provides good arch support for your feet and cushioning.
Safety Features – Safety features necessary are especially a slip and oil-resistant outsole, and electrical hazard-safe work boots. A safety toe is optional.
Outsole – The outsole needs to be very grippy, durable, and slip resistant.
---
Reviews: The Best Work Boots for HVAC Work
Here you will find some of the best available HVAC work boots;
---
1
The Lansing has a waterproof lining and slip-resistant rubber outsole ideal for HVAC work.
It also comes with a steel protective toe.
The work boot is also comfortable with cushioning and a stability shank.
The outsole is non-marking, and it is electrical hazard safe.
---
2
The Keen Utility work boot has a more lightweight composite safety toe.
It is waterproof and electrical hazard safe for HVAC work.
There is a comfortably cushioned footbed and it is breathable.
It has a Non-Slip rubber outsole that is also non-marking.
---
3
From Skechers, we have a breathable and comfortable work boot for HVAC work.
It has a steel protective toe and is in an electrical hazard stage.
The work boot is waterproof with a slip-resistant rubber sole.
There is a comfortable memory foam footbed for support.
[/super_product
4
---
Here we have comfortable pull-on work boots for HVAC work.
They are leather and easy to pull on and off.
The work boots are waterproof with a protective steel toe.
They have supportive cushioning and stability technology.
The outsole is durable and slip resistant.
---
5
The Ever work boots are premium leather work boots that are fully waterproof.
They are breathable and comfortable with a removable PU insole.
The rubber outsole is oil, slip, and abrasion resistant.
It is quite a large fit and lightweight.
---
6
From the girls, we have the cut pink comfortable HVAC work boot.
It is leather and electrical hazard safe.
The work boot is durable and water resistant with a steel protective toe.
The collar is padded for a comfortable fit, and it has a cushioned insole.
---
Index Table: Top Rated Work Boots for HVAC Work
---
---