Working on Construction sites holds many hazards on a daily basis. Along with your Personal protective clothing and equipment, the best work boots for construction work should always be considered a priority.
Construction workers have quite a controversial work environment, they come into contact with wet and dry surfaces, wet cement, and there may be heavy falling objects, and even nails and other sharp objects that can puncture their feet. Similarly, contractors are on their feet all day meaning they need to stand, walk, climb, bend and do many more.
Thus, a contractor work boot needs to be something that will ideally suit the type of work you do, and the work environment.
A full-house safety work boot with a slip and oil resistant outsole, a steel or composite shank, safety toe, full waterproof uppers, and very rugged and flexible sole and uppers is required.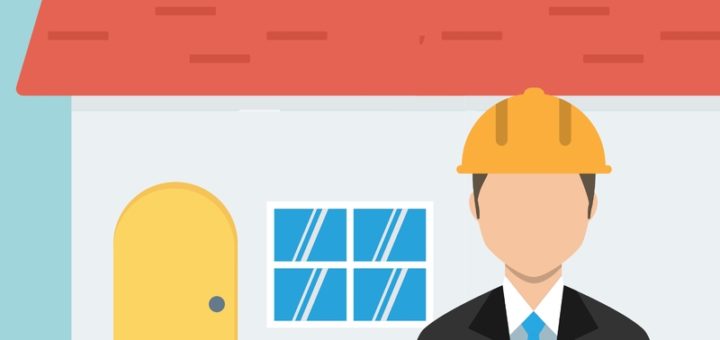 ---
Why Do Contractors Need Good Work Boots
When you look at construction-related incidents, you will see that hand and foot injuries are usually right at the top of the list.
A proper safety work boot and proper gloves are likely your best safeguards against injuries to your hands and feet.
Most safety work boots will have a steel or composite toe cap that protects your toes against heavy falling objects and crushing elements. They also always have either just s slip or a slip and oil-resistant outsole, designed for slip-resistant on slippery, wet, and hard floor surfaces.
Most construction boots also have hardened materials that are integrated into the midsole to provide protection against punctures.
One of the aspects we commonly overlook that actually relates to the most frequent injuries on construction sites is ankle protection. Most safety shoes do offer ankle support. That is why we rather opt for ankle safety work boots that provide better ankle stability.
As with the rest of your protective clothing and equipment, you want your work boots to last long, and thus you should not only select good quality work boots but also take care of them properly.
Finally, because of the demands of construction work, you will need a comfortable work boot that provides proper support for your feet to prevent pain and foot fatigue.
---
Getting the Right Work Boots for Contractors
Construction workers put in long hours, usually under extreme conditions. Thus much thought needs to be put into your choice of work boots;

Durability – Good work boots need to be durable enough to withstand the wear and tear associated with construction work in general.
Safety and Comfort – When you select top-quality safety work boots, you never have to compromise safety for comfort, or vice versa. You can get comfortable work boots with all the needed safety features and extra.
One Size Never Fits All – A single work boot style may fit one person but not the other. You will need to consider the shape and width of your feet, your arch shape, and height, and specialized comfort features, such as moisture-wicking linings if your feet sweat very much or a padded ankle if you have ankle problems. Most work boots do offer different widths fits, which is also something to consider.
---
Features of a Good Work Boot for Contractors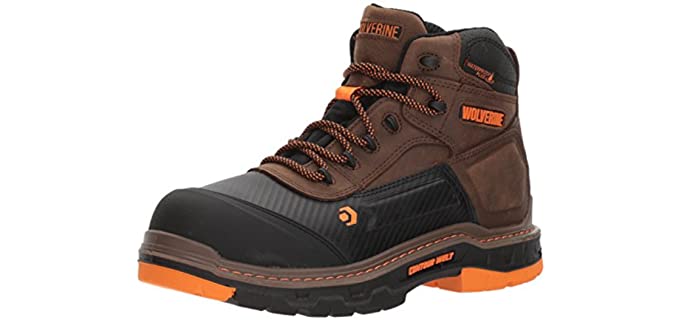 Uppers – Contractors work boots need to have very durable, and waterproof or water-resistant work boots, that are also easy to maintain. Contract work has many facets and the work environment holds many hazards. Most contract work boots are genuine leather which is naturally flexible, breathable and water resistant. A smooth interior lining prevents friction nd wicks away moisture.
Safety Features – For the most part, I would opt for a composite or steel safety toe, as well as a good oil and slip-resistant outsole for safety features. You can also look at work boots that have electrical safe materials, a chemical resistant outsole, as well as an underfoot puncture-proof pate as additional safety measures.
Comfort Features – In construction work, I would most definitely recommend comfort features in your work boot. Look for work boots with a cushioned insole and shock absorbing midsole., other features such as an anatomically shaped footbed and arch support and a shank provides additional support and stability.
Outsole – For the sole in general, you want something that can flex a bit, as construction work involves quite a bit of movement, bending, and climbing. Also, make sure that the outsole's tread is lug and slip-resistant. Rubber is the most durable and best material option for the outsole.
Options – Make sure that you get the perfect snug but comfortable fit with a roomy toe box. Some work boot models do offer wider widths. Color wise I would usually opt for something neutral that complements your work outfits or uniforms.
---
Reviews: The Best Work Boots for Contractors
Here we have a few top choices in the best work boots that are ideal for contractors;
---
1
The Wolverine Overpass is a composite toe work boot for contractors, that holds most of the sfatey and comfort features that you need as you will see now from the list.
It has leather and textile uppers with a composite safety toe.
The work boots have a more flexible and athletic contoured welt construction.
They are waterproof and electrical hazard safe.
There is also a premium Ortholite cushioned insole for comfort.
---
2
The Keen Utility Lansing is a hiking-style work boot, which I find the ideal for contract work.
It has textile uppers that are highly breathable and a steel protective toe.
The work boots ate waterproof and very breathable for all weather conditions.
The outsole is an oil and slip-resistant design with durable rubber.
They are electrical hazard safe and provide underfoot protection.
---
3
The Columbia Newton Ridge is a waterproof work boot ideal for contract work.
It has leather, suede, and mesh uppers for improved breathability.
The work boots are waterproof and have a super-grippy rubber outsole for outdoor work.
They are available in more colors and are a durable quality option.
---
4
The Keen Durand 2 is a comfortable construction and contracting work boot.
These are actually hiking boots that are completely waterproof and very durable for contracting work.
They have an all-terrain rubber outsole that provides slip resistance on a variety of surfaces.
The work boots have a PU midsole and cushioned insole for comfort,
They also feature unique anti-odor technology.
---
5
The Justin Original is a comfortable steel toe contract work boot.
The work boots have leather uppers and a steel safety toe.
They are a comfortable design with a square toe.
The work boots have a J-Flex comfort system and steel shank for stability.
The outsole is a durable and slip-resistant rubber.
---
6
The Ariat Anthem is the perfect work boot for lady contractors.
It is a waterproof leather work boot with a moisture-wicking mesh lining.
The four-layered cushioning technology provides much needs comfort and support.
The workboat also features a durable slip-resistant rubber outsole.
---
Index Table: Top Rated Work Boots for Contractors
---
---