Working a long day on your feet can cause much discomfort and fatigue, which can be particularly bad if you suffer from foot conditions such as Plantar fasciitis, where you have chronic heel pain. Getting the best work boots for plantar Fasciitis can help greatly relieve the symptoms and prevent this condition.
For Plantar Fasciitis, you need a work boot with a well-cushioned footbed to absorb shock, a heel cup, or additional heel cushioning to prevent heel pain. Furthermore, you may need safety features such as waterproofing, a safety toe, and a slip-resistant rubber outsole.
There are a few characteristics to look for in a work boot ideal for Plantar Fasciitis, and in this article, we will look at them and help you find the perfect work boots for your condition.
---
---
How Does Plantar Fasciitis Affect Your Feet?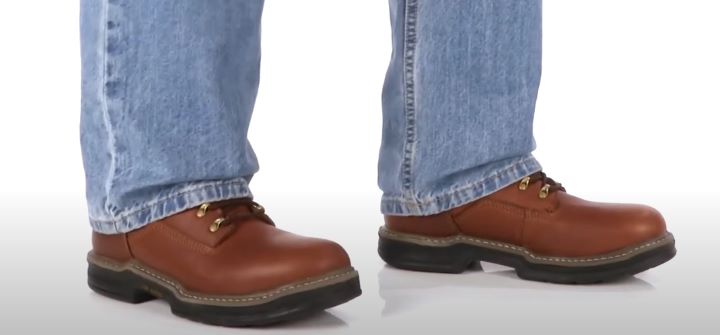 Plantar Fasciitis is a painful condition that is the leading cause of heel pain.
When the thick fibrous tissues called the plantar fascia run across the bottom of your feet and connect your heel bones to your toes to become inflamed, usually because of overstraining or an injury, you may feel a sharp pain in your heels.
This sharp pain is mainly felt when you get on your feet in the morning or sit down for a while.
Plantar Fasciitis pain and tension in your feet can be uncomfortable and interfere with your work performance.
Work boots that provide little cushioning and support can aggravate t the condition and make your feet even more painful.
---
Tips to Prevent and Treat Plantar Fasciitis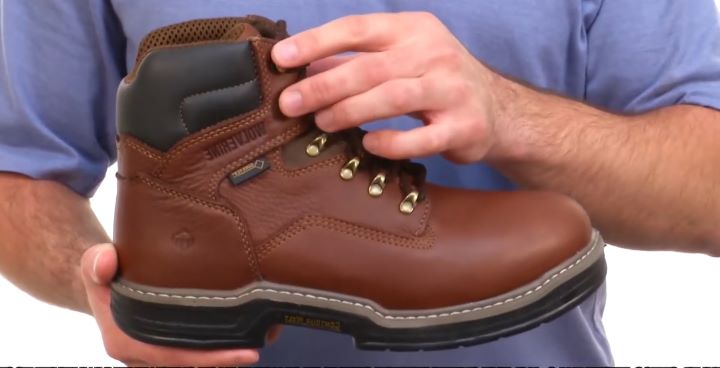 You can easily treat and prevent Plantar Fasciitis by following these easy tips.
Change Your Shoes – When you have a chance or get home, change into comfortable shoes that help give your feet a rest.
Keep in Shape – Excess weight on your feet may cause and can aggravate Plantar Fasciitis over time, so try to stay in shape and lose those extra pounds.
Stretching – You can do regular stretch exercises that will help to strengthen your arches and Plantar Fascia, preventing them from becoming inflamed or injured.
Take Short Breaks – When you are on your feet standing or walking most of the day, make sure to take short rest periods to get off your feet for a while.
Work Boots for Plantar Fasciitis – Make sure to get a work boot with comfort and support features to relieve pain and help prevent or aggravate this condition. Cushioning in the heel area and good arch support are the best features.
---
Features of a Good Work Boot for Plantar Fasciitis
So now we come to the specific features you need to look for in the best work boot for plantar Fasciitis.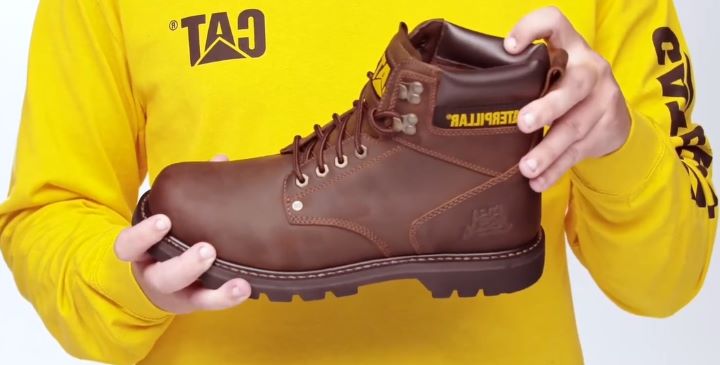 Good Arch and Heel Support – Though you need good cushioning, it is important to first look for a work boot that supports your heel and your arches, look for a deeper heel cup or a contoured footbed that supports the heel and that supports your arches.
Shock Absorbency – Good Cushioning and Shock Absorbency is vital, particularly in the heel area. Look for work boots with a shock-absorbing foam or EVA midsole, cushioned insole, crash pads, and padding in the heel area.
Firm Heel Counter – A firmer heel counter prevents the Plantar Fascia's abnormal stretching and will help diminish pain and inflammation associated with Plantar fasciitis.
Sole Rigidity and Midfoot Cushioning – You will need a sole on your work boots that are slightly more rigid and not too flexible. A thicker midsole design and a rocker bottom style sole will reduce pressure on your heels.
---
1
Soul Insole Shoe Bubble Pro-lite Orthotics Are Designed to Relieve the Pains of Plantar Fasciitis. Stop foot pain so you can get back to doing the things you love to do!
Soul Insoles micro-size orthotics drop off before the heels to somewhat suspend the bones and offload pressure – providing major relief for achy heels.
The biomechanically designed arch support system softly guides the arches of the feet to proper alignment and prevents overpronation.
They come in multiple sizes and thicknesses for men, women, and children and also fit in all kinds of footwear, including sandals, dress shoes, and athletic shoes.
With their simple peel-and-stick adhesive backing, you can easily secure them. You may wash them when needed, and the adhesive will return to normal.
These comfortable memory gel orthotics feel like "walking on clouds," Since they are so small in size, they will not make your shoes too tight!
---
Reviews: The Best Work Boots for Plantar Fasciitis
These favorite work boots provide effective relief and prevention of Plantar Fasciitis and related symptoms.
We hope you love the work boots we recommend!
So that you know, We may collect a share of sales or other compensation from the links on this page.
---
1
---
2
The Keen Utility Steel toe work boots have a removable metatomical dual-density EVA footbed for pain relief and comfort.
A leather work boot with a Locking Lace metal hook design as closure.
There is a removable metatomical dual-density comfort EVA footbed.
The leather uppers ate tough-tec abrasion resistant and very durable.
There are also left and right asymmetrical steel toes for added protection.
The rubber outsole offers excellent slip resistance and durability.
---
3
The Caterpillar Diagnostic is a comfortable heel pain relief work boot with a protective steel toe with insulation.
The Uppers are genuine waterproof leather, and there is some insulation.
Inside is an EVA cushioned insole with Gel technology for cushioning and comfort.
There is a durable and slip-resistant rubber outsole.
They are steel-toe protective work boots.
---
4
The Z-Coil Hiking shoe is an excellent option for a work boot that provides effective Plantar Fasciitis relief.
The Z-Coil has technology aimed explicitly at treating heel pain and plantar Fasciitis.
Additional cushioning in the forefoot helps prevent pressure on the balls of the feet.
A built-in rigid orthotic device for support and comfort and a patented coil in the heel to reduce impact by %50.
The uppers are leather, and there is a wider, roomy toe box.
The sole is durable in slip-resistant rubber.
---
5
A protective and durable work boot with cushioning protects you against heel pain.
The Irish Setter has leather uppers and a soft and cushioning footbed.
They are electrical hazard ASTM F2413-11, M/I/75/C/75 compliant, and safe.
The rubber outsole is durable and slip-resistant.
A removable polyurethane footbed allows you the use of your own orthotic devices.
The King Toe design option has a much larger, roomy toe box.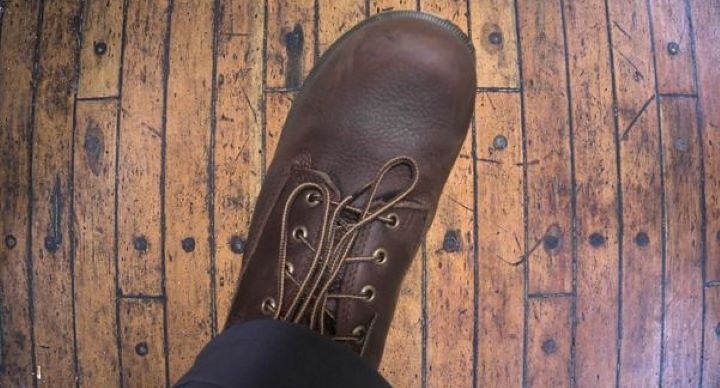 ---
6
The Orthofeet Pain Relief Work Boot offers exceptional comfort and support for heel pain and Plantar Fasciitis.
The Orthofeet Workboot is an orthopedic work boot ideal for Plantar Fasciitis.
There are multiple cushioning levels in the footbed with shapes and arch support ergonomically to relieve heel pain.
The boot has an extra depth design and a wide, roomy toe box.
The uppers are genuine leather, and there is a durable rubber outsole.
You can select from a black or brown color option, and wider widths are available.
---
7
A comfortable and supportive work boot from Chippewa helps ease the symptoms of Plantar Fasciitis.
The uppers are durable leather with non-tarnishable hardware.
There is a removable, fully cushioned comfort insole for heel pain.
The uppers also consist of top-grain high-quality leather.
A Triple rib shank provides stability and support,
Goodyear Welt construction means it is more durable and flexible.
The rubber sole likewise ensures excellent grip and traction.
---
8
The Justin Original Double Comfort has comfort, and support features ideal for Plantar Fasciitis.
The Uppers are 100% genuine quality leather.
The double comfort construction offers to cushion and a removable insole, allowing you to use your orthotics.
There is also a durable and high traction polyurethane outsole.
The work boot comes in a natural aged bark brown leather color.
---
9
The Wolverines Raider offers exceptional shock absorbency and cushioning to help with plantar Fasciitis symptoms and prevent it.
These are composite-toe protective safety work boots.
They have a removable cushioned footbed for comfort and pain relief.
Multishot shock-absorbing compression pads are molded into the outsole for cushioning with a Pu midsole.
The uppers are genuine leather with Multishox welt construction.
There is a nylon shank for stability and underfoot protection.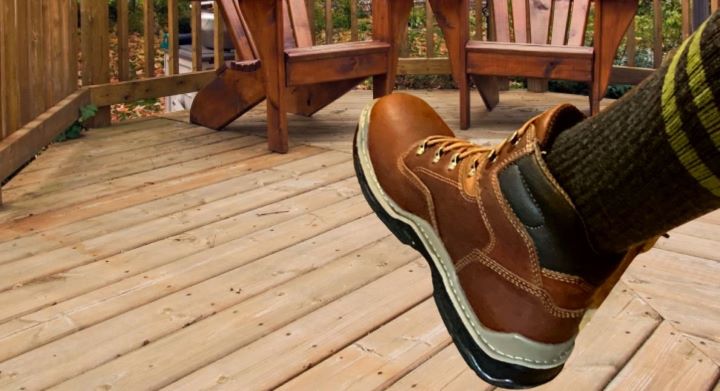 ---
10
The Skechers Verdict is a rugged and comfortable work Boot with ample cushioning for heel pain.
The uppers are genuine leather, and you can choose from many colors available.
There is a cushioned insole for comfort and heel pain relief.
The leather uppers are likewise waterproof, and there are a padded tongue and collar for a more comfortable fit.
The rugged rubber outsole has a lug tread for excellent grip and traction.
Inside is a smooth moisture-wicking fabric lining.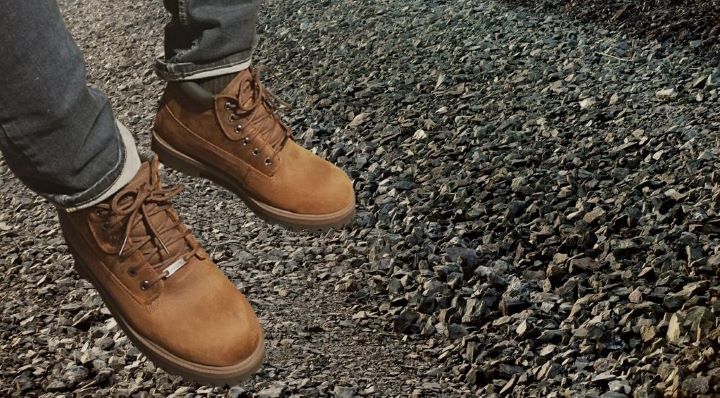 ---
Index Table: Best Insoles for Plantar Fasciitis
---
Index Table: Top Rated Work Boots for Plantar Fasciitis
---
---